Pre-match stats
Aston Villa have won just two of their last 20 Premier League games against Liverpool (W2 D6 L12).
Stewart Downing's last Premier League goal came in the Liverpool v Aston Villa match at Villa Park last May, while playing for the Midlanders.
Steven Gerrard has scored more goals against Aston Villa (9) than versus any other Premier League opponent.
Liverpool have won 21 Premier League games against Aston Villa, their joint-highest number of wins over any opponent in the competition (along with 21 wins over Newcastle).
Aston Villa have only lost two of their last nine Premier League away games but they have won none of the last four.
Liverpool have won just three of their last 12 Premier League matches at Anfield (W3 D7 L2).
Liverpool have had 30 shots more than Manchester United but have scored 40 goals fewer.
Liverpool have been involved in only five games with over 3.5 goals this season, only Everton have been involved in fewer (four).
Stewart Downing has hit more shots without scoring than any other player in the Premier League this season, 62 (including blocked shots).
Villa have conceded more goals from corners than any other side this season (13), while Liverpool have taken more corners than any other side (255).
Starting XIs and Overall Shapes
Liverpool continued with their 4-3-3 framework, although it changed into a 4-2-3-1 shape for this match as opposed to the 4-1-2-3 that was used against Newcastle United in their previous match. Three personnel changes were made: Carroll, Bellamy and Spearing were replaced by Kuyt, Downing and Henderson.
On the away side, McLeish continued with the tried-and-tested 4-4-2 shape, but he was forced to again reshuffle his playing staff. Hutton returned which forced Lichaj to the left back and in turn forced Warnock to left midfield. Bannan lined up on the right, while Herd moved inside to play with Ireland in central midfield. Up front Agbonlahor was partnered with Heskey.
Early Minutes
Recently we've seen Liverpool start with a fierce tempo, fluid movement and domination of the opposition. But not this time. Completely the opposite, in fact. Although Villa were far from monopolising possession of the football, they were clearly the better-looking team from a tactical point of view.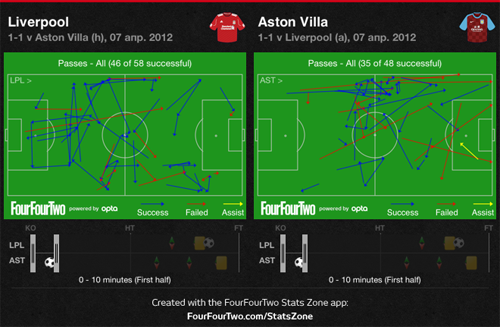 From the start Villa dropped into two banks of four, denying space and time for Liverpool in the final third as much as possible. Once they regained the ball they aimed to pass from side to side in deep areas so that their wingers had enough time to get forward and take up better attacking positions. Then they switched to a direct approach. Heskey was a key part of this. The target man dropped intelligently between the lines, often so deep that he looked like a third central midfielder. Villa's wingers had different roles. Warnock hugged the left touchline while Bannan drifted inside to use his stronger foot. This meant Heskey tended to work the left channel where he could form a triangle with the nearest players (Warnock and Ireland, generally, although the left back could get forward too) before sending the winger down the flank.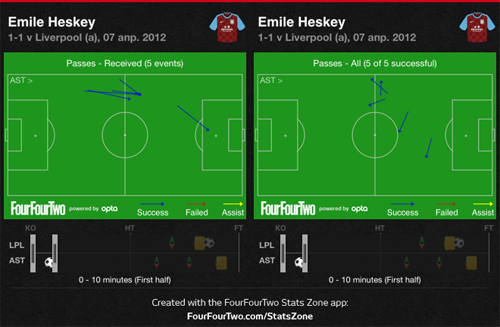 In the tenth minute a move of this kind paid off. Warnock was released down the left and crossed the ball into the box. Doni didn't react well enough as Bannan took the ball on the right-hand side of the penalty area. He knocked it back for the on-rushing Herd who volleyed the ball into the back of the net.
To the End of the Half
Liverpool's starting approach was questionable and not fully balanced. The formation choice – 4-2-3-1 – wasn't inherently "bad" or "wrong", but it was poorly executed and the roles of the various players did not provide balance.
With the 2-1 shape, the midfield triangle naturally did not offer much defensive protection. There was no proper deep-lying midfield presence. This was a problem because the two midfielders at the "base" of the triangle were both attack-minded. Shelvey is an attacking midfielder who likes to get forward, while Henderson is a ball-recycler but not much of a defender. Neither were capable of protecting the area and neither was asked to stay as the deepest midfielder so they could not even act as a protective body in front of the back four. The consequences were obvious in the first ten minutes. Heskey was able to drop deep into an unguarded zone, and Herd popped up in the space to score the goal.
However, with the ball Liverpool's midfield looked pretty good. Both midfielders came deep to pick up the ball and then passed it around to hold onto possession. They also hit the ball well to wide areas or up front to Gerrard. He, in turn, was able to drop deeper and pick up the ball from them. So, from a purely recycling/ball possession point of view, both players were doing their jobs.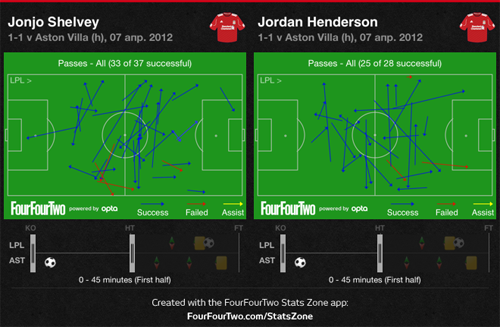 The problem was that, because they had to come so deep to pick up the ball, the team lacked any attacking potency. This was a logical and predictable result of using a 2-1 triangle.
Subscribe to see the rest of Mihail's tactical appraisal of the match
[ttt-subscribe-article]