I've been saying for many months that I don't quite know what to make of this Liverpool side. And it only gets more confusing with the passing of time.
I always felt that I knew where I was with Rafa Benítez's Liverpool, even if the ride could still get bumpy. And I certainly knew where I was with Hodgson's: desperate to parachute off. (The Croydonian was a successful Cessna pilot who looked terrified and confused at the controls of a Boeing 747. What does this lever do? – ah, drop Daniel Agger in place of Soto Kygriakos.)
This is different.
We have:
a manager who had been out of the game for a decade, but who had won four league titles spread across two different clubs, and whose instant impact last season was a breath of fresh air;
a highly-esteemed assistant manager, who helped Chelsea to two league titles in fairly recent times;
new owners, who ended a Boston Red Sox title drought dating back to World War I, but who are still trying to work out just what the hell they've bought;
a Director of Football who, at the time, was ridiculed at Spurs, but whose purchases are now a key part of their new existence as a top four team;
an improved Academy set-up, with exciting young players who, though humbled by an incredibly efficient Ajax side, ended the Next Gen series in third-place;
and a senior squad that has been altered by three different managers (and one DoF) in the past two years but, when everyone is fit, is still pretty strong.
In every area, with regard to the bigger picture, you can see reasons to feel optimistic, and yet nothing is quite working as it should; certainly in 2012.
Liverpool have a fantastic record in the cups this season, particularly against Premier League teams who qualified for Europe: five wins out of six against Chelsea, Man United, Man City and Stoke. And the Carling Cup in the trophy cabinet to boot. But the Reds' league form is increasingly poor – and undeniably terrible during 2012, during which time only Wolves have won fewer points.
It's hard to explain, because of the stark contrast between the league and cup form – often against the very same teams – and also between how the Reds were playing earlier in the season compared with now.
One theory I have is that the success in the Carling Cup – with three months of the season still remaining – resulted in some coasting. Equally, it also coincided with the unfortunate defeat to Arsenal, when the top four chances seemed to peter out. The combination of the two may have collided to disastrous effect.
Some of the subsequent performances have had the air of a post-season tour of a country where the beaches are too inviting. I'm sure that the coaching staff will be livid if complacency has set in, but the psyche of an entire football team is hard to control. It just needs a couple of the starting XI to be drifting, and it can all fall apart.
It doesn't even need to be a conscious decision from the players; just a subconscious easing off, thinking, at the time of the Arsenal defeat, that they were safe around 6th, having walked up the Wembley steps and qualified for Europe. To return to the aeronautical theme, a nosedive of 20,000 feet has caught them by surprise – and now, whether or not the effort is there, they're locked into a negative spiral. Mid-table beckons.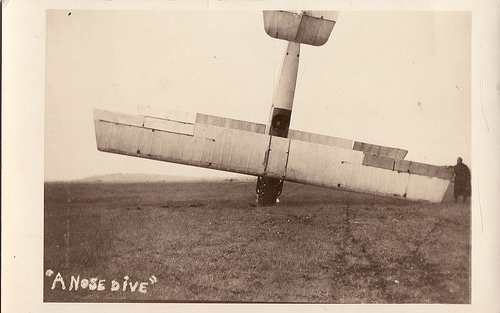 Liverpool have gone from a team playing well and somehow conspiring to lose, to a side that seems resigned to missing glaring chances and watching the other side score with its first shot on target.
The surprise has gone; now they seem to just expect it to happen. They play like they expect to be unlucky, and when they are unlucky, as they were with the early decisions at St James' Park (and Newcastle taking the lead against the run of play), there is no sense of defiance; just resignation.
Maybe Liverpool are a much better team than they look right now – my view is that with Agger, Johnson and Lucas back, the side would be at least 20% better. And a second trophy would certainly do much more than paper over cracks. (If there are indeed deep cracks, then two trophies is, at the very least, a decent blob of Polyfilla.)
But to move forward next season, does it need a change of approach?
British Woes
On the whole, I'm not a particularly big fan of the modern British player. I think the best ones are definitely worth having, and as with anything, it depends on the individual in question. But beyond the elite, do you get enough from them?
Last summer's spending could quite easily be seen as 'sensible'. I know, because I thought so at the time. But looking back, it was also 'safe'; low-risk (or so it seemed), but uninspired. It was solid, unspectacular – all of the main signings had played almost 100% of their team's games last season – but to date, it hasn't worked out too well.
Everyone who went in the first XI spoke English and understood British football. No-one was a maverick who could go off the rails (Bellamy aside, although he was a 'free' and, at 32, maturing as a person). And yet, at the same time, no-one was anything particularly special. No flawed geniuses. Indeed, no geniuses full stop.
No-one was paid high wages, and with the chaotic comings and goings dating back a couple of years (managers, owners and players), perhaps a bit of sensible thinking – 'within the box' – was understandable.
But then Roy Hodgson was unveiled with similar 'steadying the ship' principles. Sometimes 'steady' just isn't good enough.
The key thing to remember is that things change; players who were 'crap' in their first 12 months (or more) at clubs have subsequently come good, even if others will remain unconvincing. But with all but one of the British signings dating back to January 2011 looking more than reasonably assured, it begs a question.
Go back to Roy Hodgson, and neither Joe Cole nor Paul Konchesky – both capped by England – did much beyond make us groan. That makes seven British senior squad signings – all internationals – dating back almost two years, and only Bellamy hasn't looked overawed.
All five Englishmen have failed to 'settle', and if you had that kind of buying record from any other region – South America, say – then you'd start to wonder why they weren't working out; you might even put it down to cultural differences. (It's been said of Italians at Anfield, and only two have been bought.)
Glen Johnson – an atypical Brit in that he's clever and cultured on the ball, and whose game is not about large lungs and feisty tackles – is the last excellent Englishman Liverpool have bought; and even then, perhaps due to injuries, he's not been sensational. He was, however, fully established as a first-choice England player, and at a good age. That combination was not shared by Cole, Konchesky, Henderson, Carroll and Downing, who were either one or the other (or neither, in Konchesky's case).
Expand Britain to include Ireland, and Robbie Keane – who moved to these shores when aged just 15 – becomes another overpriced mistake. No-one had to teach him about English football, and yet he failed to sparkle.
Peter Crouch was often pretty good, and, at times very good; but overall, yet again, bar a couple of overhead kicks, nothing sensational. Jermaine Pennant was man of the match in a Champions League final, but not exactly a dedicated professional who could be that bothered most of the time; talented, but a wastrel. Emile Heskey cost almost £30m in today's money, but with the exception of an excellent debut campaign – in itself unusual – failed to impose himself thereafter.
In the past 20 years, Liverpool have had some world-class – or, at least, international class – English players. However – and this may again be mere coincidence – there seems to be a pattern: they were all home-grown.
Gerrard, Fowler, McManaman, Carragher and Owen were all great players for Liverpool. They weren't all perfect, but they are up there with the best this club has ever had in their respective positions.
Now, this doesn't mean that all home-grown players will turn out like Gerrard, just as not all British purchases will end up like Konchesky. Hard as many have tried, the youth system just hasn't found locals of this calibre in the past dozen years, and in truth, nor have Everton, beyond Rooney (and possibly Rodwell.)
But it does make me wonder if there's something in the process that allows younger players to get accustomed to the demands of a big club as part of their formative education. It's far less of a culture shock going into the first team because they are already 'at home'. (Just as Jordan Henderson and Andy Carroll gradually eased their way into their previous sides.)
At Chelsea, Daniel Sturridge was bought young, and this could be the key: after a brief, unsuccessful spell in the first team, he was dropped, and then, much later on, phased in gently. It's taken time. He played just 13 games in his first season at Chelsea, and 13 in his second, scoring just one goal (having previously scored five in 21 for Manchester City, albeit with just two and three league appearances in his first two fledgeling seasons). Danny Welbeck at United also briefly played for the first team, went on loan and came back a better player.
And this is what happens with youth team graduates in general: they are dipped in the water, a little bit at a time. Fans may be excited by hot prospects, but they don't expect instant miracles. They don't keep saying "£20m for that? Fuck off!"
A loan elsewhere was involved with Sturridge, just as it was with Joe Hart – the one world-class English player at Manchester City. They got Premier League experience, but without it costing their club points if they made mistakes. Micah Richards is another whose introduction over a period of time perhaps made it easier than if a large fee had been paid and been parachuted into the side from day one.
For Mancini's men, Joleon Lescott is another who looked pretty rocky for a long time. He seems more assured now, but it has taken a few seasons for a man who may not even have needed to move house after his switch from Everton, let alone relocate to a new country and learn a new language. James Milner also took a while to impress, and has been, at best, very good; never remarkable.
At Spurs, Gareth Bale spent a long time as something of a joke figure; it took him a staggering 25 appearances just to end up on the winning team. Even though that wasn't necessarily his fault, it took a gentle easing-in, from eight league games, to sixteen the following season, to 23 the one after that, before he looked capable of pulling up any trees.
The reason all this springs to mind is that, in the old days, Liverpool often used to buy the best up-and-coming British players. But then never play them. At least, not at first. It was seen as part of Bob Paisley's genius. It was seen as part of the Liverpool way.
Alan Hansen was signed at 22 – so, no mere kid – and then only played in less than half of the league games in his first season. Ronnie Whelan was 18 when signed, but only really got into the team aged 20. Steve Nicol was signed aged 20, but had to wait 12 months, and even then only played four times that season. Famously, Ian Rush wanted to quit the club after a year on the fringes following his move from Chester, and could have ended up at Crystal Palace.
Yes, Liverpool could afford to keep young talent in reserve back then, due to winning the league most years. There was no rush (just Rush). And there can be little doubt that these particular players were in a raw form back then.
But it's interesting that this quartet, who ended up amassing a mind-boggling 2,241 appearances between them (average 560 apiece), all started out so slowly, even though they'd been purchased for what in some cases were pretty big fees. (For instance, a teenaged Ian Rush cost £300,000 in 1980; the signing of Dalglish had broken the British record just three years earlier, costing £440,000.
I don't know why, but unless you buy players who are sensational and ready-formed, then British buys may need even more adjustment time than their foreign counterparts – who, you'd expect, face more challenges off the pitch (language, lifestyle, family relocation, etc.) and also have to come to terms with the pace of our game. Perhaps the majority of Brits are just too technically and tactically deficient by comparison, or maybe it's a question of mentality.
Why do so many foreign players seem to walk straight into top clubs and, within six months or so, seem to have it nailed? Some may take three or four months to get going, but plenty make relatively seamless transitions.
This does not mean that you give up on anyone who takes a bit longer – quite a few times Arsene Wenger has persevered beyond a year and had success, and we've seen it at Liverpool with Lucas – but the failure of so many British players does make something of a mockery of the notion that they settle more quickly.
Just look at Newcastle, and how well almost all of their summer signings have done, even if the pressure isn't as intense on Tyneside. They've brought in a pretty eclectic bunch, from French and German football, but they seem united as a collective.
Again, looking only at clubs who have been in the top four in recent times (and starting with Liverpool), you can see that Hyypia, Alonso, Reina, Mascherano, Torres and Suarez leap out in a way that no British signings have in the past dozen (or even twenty) years. Not even one bears comparison with those seven. Only Mascherano had experience of English football, albeit just five games at West Ham.
Elsewhere, in the past decade-or-so, we've seen smooth transitions for imports like Fabregas, Vermaelen, Sagna, van Persie; Silva, Aguero, Kompany and Yaya Toure; Makelele, Drogba, Essien, Carvalho, Gallas, Cech, Robben, Ramirez, Mata and Ivanovic; Van der Vaart and Berbatov; van Nistelrooy, Heinze and Hernandez.
The following started slowly, but were excelling from around six months: Hamann, Henry, Bergkamp, Pires, Vidic and Evra. Outside of top four, Carlos Tevez did so well at West Ham he's now played for two of the big clubs. He started slowly, but his talent was apparent halfway through his first season.
Nani, Modric, Nasri and Malouda all took even longer, and Shevchenko never did adapt. Cristiano Ronaldo is interesting because despite too many step-overs, he was very good at 17 after arriving from Portugal, but only sensational a few years later.
The very successful English players signed by these same clubs, where the player settled into top form within six months: Rooney, Ferdinand, Smalling, A. Cole (Chelsea), Parker (Spurs) and Johnson (Liverpool). Joe Cole did well at Chelsea, although Scott Parker flopped there. Phil Jones and Ashley Young have done pretty well at United this season, but without consistent form or fitness. Frank Lampard has had a great career at Chelsea, but wasn't an instant hit.
Only lately has Theo Walcott started looking suitably consistent, and he's possibly Arsene Wenger's second-best English signing, after Sol Campbell. The exciting Alex Oxlade-Chamberlain fits into a couple of brackets: English, young, fairly expensive (£12-15m), but also phased in; a substitute appearance here and there, and a full league debut only after seven months.
Or … maybe there's nothing in this. Maybe it's all just random, and I'm looking for patterns in fairly small data sets. Or perhaps I'm cherry-picking examples, even though I don't mean to. No doubt I've overlooked a few examples for either side of the argument, too.
There's no doubt that the bigger clubs have bought a greater percentage of overseas than home-grown players in the past decade, so there should be a higher number (if not proportion) of successes.
If I'm wrong in thinking that English players might actually find it harder to adjust to life at a big club, then I see absolutely no evidence of it being a more reliable approach than importing from overseas.
It's just that with the whole footballing world out there, maybe it's mad to look mainly in here, even if the players' wives can now all converse in the same language.
Buying the very best English players equates to common sense (Manchester United keep doing so). Buying the next rung down, when you could be buying the very best from most – if not all – other countries, is where it starts to fall down a little. As I've said before, any one of Carroll, Henderson, Adam and Downing on their own does not bother me as a signing; it's just that, when combined, they look underwhelming and overpriced.
(By contrast, young Raheem Sterling can now be eased into the side. He was bought two years ago as a 15-year old, and it's deals like this, and the more recent capture of 16-year-old Jordan Ibe, that can see young English players adapt to the club away from first team pressures.)
The good news is that, having had a Spanish enclave at the time when Spain was the best footballing nation in the world (only to then disband it, starting in 2010), Liverpool now have a Uruguayan flavour, at the time when they are champions of South America.
Work permit issues can make it tougher to procure players outside of the EU, but if, like Coates, they have recent European ancestry, it can make life easier. The link-up with Nacional can strengthen this bond, and while top players gravitate to Champions League clubs, they can also be swayed by the presence of compatriots if the project is exciting. Right now, I'd rather have some of the best Uruguayan players than more mediocre English ones.
Maybe another problem is signing players injured at the time: both Carroll and Aquilani arrived unfit to play, and while both were bought with five years (and not five months) in mind, it meant that when they did finally play, they were off the pace. And by starting life off the pace, people instantly questioned the large outlay; what a waste of money, etc. And the pressure just ramped up. A good start can be vital for any new signing, and neither of these players were able to achieve that.
If the conscious decision to buy British last summer is repeated in 2012, I'll be struggling for optimism. Most of the best ones are already at the elite clubs, with a good proportion having come through their ranks.
I haven't given up hope on those purchased in 2011 (particularly the younger players), and the right Brit at the right price is fine, but there are so many great players in leagues around the world that would surely represent better value for money.
A bit more thinking outside the box might help solve problems within it.