Some pre-match stats
Liverpool have drawn 99 Premier League games away from home and scored 498 goals on the road.
Only Wolves (5) have picked up fewer points than Liverpool (8) in the Premier league in 2012.
Papiss Demba Cisse has scored five goals in his six Premier League appearances for Newcastle.
Dirk Kuyt has scored in five of his seven Premier League starts against Newcastle, including the last three in a row.
Liverpool have won six of their last seven Premier League games against the Magpies, losing the other.
Newcastle's last victory in this meeting came last season against Liverpool at St James Park when Andy Carroll scored in the 90th minute for the Magpies.
The Reds have lost five of their last six Premier League matches, including their last three on the road.
Steven Gerrard has assisted a goal in each of his last four Premier League starts against Newcastle. He has also netted five goals in his last five league appearances against the Magpies.
Alan Pardew's side are unbeaten in their last six matches at the Sports Direct Arena, winning four of those.
Starting XIs and overall shapes
Pardew made only one change following the win at WBA, with Tiote (returning from injury) replacing the injured Coloccini. This forced a change in formation from the lopsided 4-4-2 against Hodgson's team. Here Pardew switched, rather surprisingly, to more of a 4-1-2-3 platform, with Tiote playing behind Cabaye and Guthrie, Gutierrez on the left (leaving Perch to come inside and partner Williamson), while Ben Arfa kept his wider right role with Ba granted the freedom to roam from the left.
On the red side, Dalglish made three changes, but kept his formation 4-3-3 (but with a 1-2, rather a 2-1 triangle), as against Wigan. Henderson, Downing and Kuyt were replaced by Shelvey, Bellamy and Carroll, which meant Suarez roaming from the left, Bellamy keeping his wider presence on the right flank, while Shelvey was granted the freedom to push forward from the midfield area. Carroll, logically, played as the lone forward. However, the biggest and the most surprising change was that Skrtel was granted his favourite right centre-back slot, while Carragher was forced to take his unusual left-oriented centre-back position.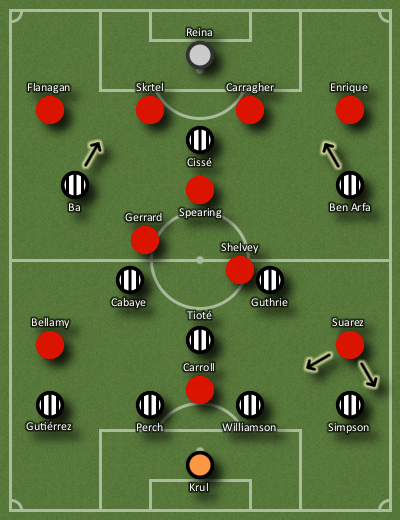 Opening 20 minutes
The match started with a rather sloppy tempo and overall intensity. Both teams played with perfectly identical formations and player roles (see the diagram), as a result creating a sort of overlap in the overall frameworks and similar playing style and attacking approaches.
Subscribe to read the rest of Mihail's tactical breakdown of what went wrong at Newcastle
[ttt-subscribe-article]