By Simon Steers
In our opening league game of the 2010/11 season (under Roy Hodgson against Arsenal at Anfield), the average age of the match day 18 was 26.6 and represented a total cost of £105.6m. Within that squad we had seven outfield players at 28 years or over, five in the first XI. To quantify our progress under FSG and Dalglish, it is instructive to look at how that might potentially compare with our opening league game of the season in 2012/13; just two years after the beginning of the Hodgson era.
(There are a couple of assumptions in this article based on what I believe our summer business may look like; two signings a RM, and a Striker). Working on those assumptions, our potential match day squad could have an average age of 25.1 built at a total cost of £186.5m. That is a reduction in average age of a year and a half, which is representative of the FSG model and focus on developing and investing in youth.
There would also be a reduction in players at 28 or over from seven under Hodgson to three next season; with only two in the starting XI.
Translating into progress
Whilst the Hodgson era has faded away for many of us, it is clear when you assess and compare the side he picked against Arsenal that Comolli and Dalglish had a clear plan to reduce the average age of the squad as well as reducing the wage bill. It is difficult to guess player wages; but you could assume that the overall wage bill at the club may have been reduced by 10-15% given that the ageing players we had on high wages have now in most cases been moved on.
Whilst our performances in the league this season have been inconsistent and frustrating, it should be noted that Comolli and Dalglish are re-shaping the squad to make it sustainable e.g. long term; and progressive e.g. year on year improvement.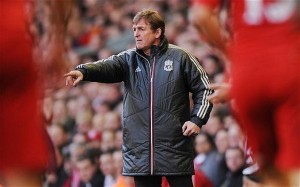 We are only 18 months into what is probably a 3-5 year plan: and whilst the aim this season was to get back into the CL, which is now impossible, there are green shoots of progress when you look at the evolution of our squad and success in the Cups.
The league table doesn't lie; but it can mislead. There is no hiding from the fact that a handful of our performances in the league this season have been poor – Spurs, Bolton, Sunderland and Wigan (twice) spring to mind. Despite the loss of Lucas, the Suarez saga and the woodwork, I believe the squad has underperformed in the league.
To see the rest of Simon's post you must be a subscriber
[ttt-subscribe-article]