In my previous piece, I noted how Liverpool have 8/11ths of a particularly good side – Reina, Johnson, Agger, Skrtel, Enrique, Lucas, Gerrard and Suarez – and that all but one of them (Gerrard) are yet to pass their peak. They're not all perfect, but they are more than good enough.
Liverpool's finishing has clearly been their main problem – see this excellent article from TTT subscriber Andrew Beasley as 'proof' of overall good play. Using Andrew's figures, in terms of possession, total shots and shots on target, then Liverpool have statistically dominated 85% of their matches.
If possession, total shots and shots on target automatically equalled wins, then Liverpool would have 66 points now – the same as Manchester City, but from one game less. But of course, it doesn't. Still, it shows a team playing well, but failing to find that finishing touch. It's proved to be a major problem, but the structure is mostly sound.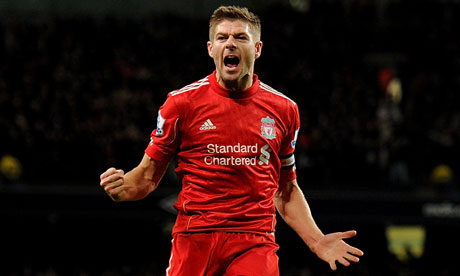 All teams have to make do without their best players, to varying degrees, but not all clubs are in a position of settled strength from which to deal with them. With all this in mind, I've also had cause to look at how frequently the aforementioned eight key players have started together in the league this season.
You may not be surprised to know that the number is zero. That's right – Liverpool's most important eight players have yet to feature in the same XI this season. And even getting as many as seven of them into the same side has been a real rarity (just 15% of games).
A lot has been made of the fact that Kenny has 'spent more than £100m', but it ignores that half of that money has been recouped; it's not simply a case of adding without losing. Torres wanted out through no fault of the manager, and of course, Hodgson's valueless cheap buys only added problems rather than solutions. Had Dalglish spent £100m+ on top of keeping Torres, then of course we should expect more. It stands to reason that the squad would be bigger and better.
Liverpool are still performing better than they did under Hodgson, and are approximately 10 points better off based on the pro rata of 38 games, and five places higher in the table; not great, but not the situation some pro-Hodgsonites are proclaiming. On top of which, cups wins against Chelsea (a), Stoke (a), Manchester City (over two legs) and Manchester United (h) are notable on account of the difficulty of fixture, and of course, there's a cup for the trophy cabinet.
While Roy encountered understandable problems, including little money to spend, he did have a younger, fitter Steven Gerrard able to start almost every game, plus Lucas and Torres fit almost every week. So let's not start rewriting Hodgson's time – even if he continues to prove very good at solidifying relatively small clubs, which I've never denied. His West Brom side that beat Chelsea cost less than he paid for Paul Konchesky and Christian Poulsen, and to me, that both epitomises what a good job he's doing right now and what a bad job he did at Anfield, where a different approach is necessary.
By contrast, Dalglish hasn't been able to call on his best players often enough. An argument can be made here that better players could have been signed to increase the number of key men, and while I accept that to a degree (rarely does a manager get more than 50% of his signings spot-on), I am already including Suarez and Enrique in a list of eight key men, where it otherwise would be six.
So, how well have the team performed when containing these key men, and have their absences affected results in the manner expected?
The bulk of this post is for Subscribers only.
[ttt-subscribe-article]