Liverpool, this season, are nothing if not predictable. You can bet your bottom dollar that there will be glaring misses (usually after excellent passing moves), a strike or two against the woodwork, a woefully missed penalty, and that the opposition will gobble up the one or two chances that come their way. It's almost become a drinking game. The Reds getting on the score-sheet courtesy of 'own goal' may also start to get you drunk.
In the first half against Arsenal, Liverpool were about as superior as they were in December 2009, when, according to Arsène Wenger, a 3-0 half-time scoreline would not have flattered the Reds. That day, Liverpool took the lead, but lost 2-1 to a second-half fightback. At that time, every shot Andrei Arshavin had ever hit at Anfield had gone in. Now that mantle has passed to Robin van Persie (in his first ever start at the ground, he scored two from two).
There's a lot to build on at Liverpool right now, but it's only fair to note that much of it was absent against Arsenal. Agger, Lucas and the criminally underrated Johnson are three of the best players at the club, and though he's not exactly one for the future, Steven Gerrard probably just needs a good pre-season to get in shape for 2012/13. (Presumably England will be home early from the Euros; it remains fairly scandalous that Gerrard was risked at Wembley in midweek, after 120 minutes a few days earlier, and retirement from international duty is now due, especially if England cannot protect their own assets.)
Martin Skrtel continues to impress, and Pepe Reina – who, to me, stood no chance with van Persie's unreadable late volley – has a good decade ahead of him. José Enrique has been a bit more patchy of late, but overall has had an excellent first season. And for a young lad, Jordan Henderson has a style of first-time passing and high possession retention that seems unusual for a Brit (even if his hard-running is stereotypical).
Up front, Luis Suárez is an absolute master at creating space in the area, either with or without the ball. I still believe that he can be more prolific, given that he scored so many in Holland – in itself, not conclusive, given how many others have done so – but also, a one-in-two ratio with Uruguay (26 in 52 games).
But his game is not about dead-eye finishing. He's perhaps too emotional, too excitable; but he's better at putting away chances than we've seen this season.
Given that profligacy in front of goal has been the main problem, you would think that adding a top-class finisher would solve it. Roberto Soldado looks to be of the sufficient quality (and age), but would be hard to procure from Spain, given the undoubted suitors. Despite not setting the world alight in brief spells at Real Madrid and AC Milan, Klaas-Jan Huntelaar is hugely prolific for Holland and Schalke, but turns 29 at the start of next season. These are just two examples, but many others will exist around the globe.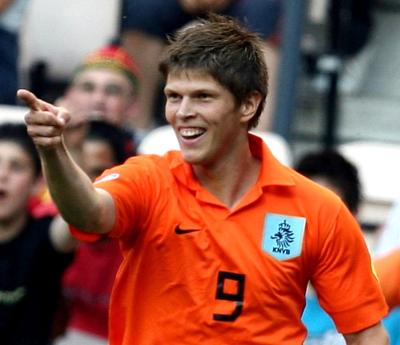 Despite this, there are plenty of examples of teams needing – and often finding – a regular source of goals, only for it to unbalance things, or to not result in the expected success. Manchester United had a relatively barren spell even when Ruud van Nistelrooy was scoring for fun. Gary Lineker's one year at Everton saw him score 40-odd goals, but they won nothing, having won the title the year before he arrived, and the year after he departed.
Arsenal's title success under George Graham ended when Ian Wright arrived, and returned when he was phased out by Arsène Wenger in 1998. Apparently Barcelona needed more physical presence a couple of years back, but Zlatan Ibrahimovic, though certainly no failure, didn't quite fit in with the Catalans' style.
And of course, while Fernando Torres almost helped Liverpool to the title in 2008/09 (and may have done, had he not missed half the season), he arrived on the back of Liverpool reaching four cup finals (winning two), and yet won nothing in his time; and yet a season after he left, another trophy was added (while at Chelsea his cupboard remains bare, as indeed it does from his entire club career). It was a dream to see Suárez and Torres together in red, and had the Spaniard not left, he may never have lost his goal touch (he got three in five games under Kenny), and may still be in the Spain squad.
Also, let's not forget that a decade ago, Arsenal 'only needed a fox in the box'. Wenger bought one: Francis Jeffers.
Arsenal now have Robin van Persie scoring almost a goal a game, with his 25 league goals making him more prolific than Thierry Henry ever was (25 in 27 being a better ratio than 30 in 37), but they are still a long way from being as good as they were eight years ago (and seven years after their last trophy, compared with Liverpool's six days).
I don't think it's necessarily fair to ask where a team would be without a certain player, given that they do have that player; and if they didn't, they wouldn't be playing every game with ten men. But if, despite van Persie rivalling Messi and Ronaldo as the best player in the world right now (sorry Gareth), Arsenal are still only just scraping by, you have to wonder what their problems are?
(The strange thing is, if they lose van Persie, they may improve as a team. It's not a given, but it does sometimes happen. Liverpool won the European Cup within a year of Michael Owen leaving, and bettered any points total achieved during his seven years within two seasons, with forwards like Baros, Cissé and Crouch.)
Final pieces of jigsaws have bugged Liverpool for donkey's years. Under Roy Evans, it was claimed to be Paul Ince, to add the necessary bite; turns out, Liverpool didn't need to tackle as much when John Barnes was in the role, as he rarely gave the ball away. What Liverpool gained in buying Ince, they lost when Barnes moved on.
This is because a football team is a puzzle that never stays still. Form, fitness, injuries, compatibility – it all changes. Maybe Liverpool would be better off creating far fewer chances, but finishing a greater percentage. But if you stop creating chances, that can become a worry in itself.
If last summer's statistical approach to buying was aimed at creating more chances (because chance creation usually leads to increased goals), then that part worked. The problem has been a strikeforce that has fallen below its previous conversion rates, with the exception of Craig Bellamy, whose age and fitness issues make him harder to plan around; a great free transfer, but not one for the XI every week. While he converts more than 40% of his chances, the other Liverpool strikers are below 10%.
One arguably self-induced problem in terms of scoring is with Downing and Henderson being chosen as the two wide men most weeks. After a dip, Downing's play has improved again, and I really like Henderson – I just don't think he's as strong out wide, where his one-touch passing style is limited by only being able to play them infield (whereas in the middle, you can pass left and right).
Between them, they have one league goal. Maxi, Kuyt and Bellamy are all capable of getting into double figures from those areas, and it's vital to chip in with goals around the team.
Long term, Henderson can benefit from his experience this season (just as Lucas benefited from playing at the same age, even when struggling). And the young Wearsider was excellent against Arsenal. But with Charlie Adam most likely to score from a set-piece (not that he's taking them at all well of late), and Jay Spearing yet to even score for the club, it's not a midfield that screams goals. As superb as the Brazilian is, adding Lucas will not change that. Of the strongest midfield, only Gerrard has the sufficient composure, but perhaps his box-to-box capabilities are on the wane as he approaches 32. (It's notable that he's playing deeper of late.)
With wide men who are providers more than finishers, the onus is on the strikers. That suggests a poacher would suffice, as he'd not have to create his own chances; even more true when Suárez is playing just behind him.
So I don't think Liverpool are as far off being as good as the top four as people are suggesting. Add cup encounters against strong sides, and the Reds have had a better all-round season than portrayed.
The 'back six' of Reina, Johnson, Skrtel, Agger, Enrique and Lucas is very strong indeed. Gerrard and Suárez take that up to eight of an XI who are definitely of the sufficient standard; it's just a shame that Lucas and Gerrard have missed so much of this season, on top of which, Suárez served a nine-game ban and Agger has twice broken a rib. (Johnson also missed a portion of the season.) That keeps me hopeful.
Craig Bellamy would make that nine, if he could play regularly enough and a position for him could be found. His performances have been of a very high standard, and the fact that he broke the ProZone record for distance covered in full-tilt sprints (840m) during a match shows his effectiveness, even at 32.
In a strong side, I hold out some belief that Downing can be a success, but he's not someone you look to when struggling, as he's too introverted. He's a good player to have, in that he has some pace and gives the team good shape, and has good game intelligence, but he needs to impose himself on games more frequently to become someone Liverpool rely on.
(It's also fair to note that all of those in their first season at the club should be given some leeway, and judged more harshly next year. If you can criticise Dalglish for putting too much faith in his purchases, you can also argue that experience and understanding should improve as a result.)
Dirk Kuyt has been good enough (certainly as a right-mid), although he's at the wrong end of his career. Maxi is also getting on, but proved last season that he can do a good job. (The gifted Fábio Aurélio is another, but he's just never fit.) Another twilight player is Jamie Carragher, although I dare you to tell him that.
Perhaps some or all of these will move on, rather than stay as squad players, but they are certainly more than good enough for that particular role.
Ditto Andy Carroll. Alas, at £35m, he'll never be accepted as just that. He may still have a very bright future, as there's talent there, but the main issue, aside from his own confidence, is getting him into the side without going too direct. (It works sometimes, but for some, not often enough.) An extra yard of pace and he'd be fairly unstoppable, but with him unable to get in behind defences (in the way that other target men like Drogba and Adebayor could/can), it's hard to see him as clear first choice up front.
Right now, Jordan Henderson isn't 'top four' standard, but in a year or two he could be at that level. He's the captain of England U21s, and perhaps like James Milner, just needs to quietly work his way up to the top. I think he'll prove to be a very shrewd signing, but while centre-midfield looks his best position, you'd favour Lucas and Gerrard (if the captain doesn't play in the hole) for the time being.
Charlie Adam has a lot of qualities, but is getting too much wrong for my liking. His decision-making is poor, and it undoes the good work he produces. If he can cut out the silly mistakes then there's hope yet; he's no Christian Poulsen, watching the game pass him by. And in fairness, he'd be no more than 3rd choice centre-midfield if everyone was fit. I appreciate that I am possibly too harsh on him, but it's because he should be doing better, not because he can't do better.
Jay Spearing and Martin Kelly, while clearly inferior to those in the strongest XI, are fine young squad players. The same can be said of Sebastián Coates, whose reading of the game looks beyond his years, but who, as a young centre-back who can't really rely on pace to get him out of trouble, will get caught out now and again. He's 4th choice now, but will surely rise to 3rd choice soon.
Equally, there's something about Jonjo Shelvey that suggests a bright future in the game. He has a kind of confidence and swagger (without too much arrogance), allied to good physicality and technical skills, that bodes very well. Having  turned 20 only last week, he excelled earlier in the season on loan in the Championship at Blackpool as a 19-year-old, and it looks like just a question of time before he's pushing for a place in the XI.
Beyond them, having turned 17 only in December, Raheem Sterling looks like a superstar in the making. There are plenty of other promising kids, but this lad looks incredibly special. He will surely come into the equation next season, and maybe towards the end of this, if the games are dead rubbers.
So, I make that eight top players – making up the majority of a very strong XI – and more than dozen who are, at the very least, decent squad players (the kind that Manchester United had/have in O'Shea, Evans, Brown, et al), and in some cases, arguably much more than that.
Of course if Liverpool add an outstanding winger, a free-scoring striker and another impact sub, and everyone stays fit (and obviously at the club), then I've no doubt that it would be a team – and squad – that should be good enough for the top four.
It might not even need that much to be added. Of course it depends on what the other big clubs do in the summer, and how they perform next season. But this year, with Liverpool's chance conversion rate so poor – but everything else largely impressive – it may just have needed one extra player.
For the rest of this season, however, it looks like 4th place is now out of reach. The League Cup offers some comfort, but finishing a distant 7th, for instance, with that trophy as the only consolation, is not really enough. With it in the bag, finishing 5th would really be needed to show consistent improvement on last season.
Failing that, adding the FA Cup, or maybe even just making the final (for another big occasion), would offer some satisfaction of going places. Then, in the summer, there'd be a greater sense of building towards something.
But to end with an in-joke for subscribers (after the quite brilliant debate on here last week), just don't mention momentum…