Pre-match statistical facts
Six of the last nine Premier League games between Liverpool and Arsenal have ended as draws.
There have been six 90th minute or later goals scored in the last six league matches between Liverpool and Arsenal.
There have been three own goals and two penalties scored in the last five league meetings between the Reds and the Gunners.
There have been three red cards in the last three Premier League games between Arsenal and Liverpool.
If Arsenal avoided defeat, it would be the first time they have gone five consecutive league games without a loss away at Anfield.
Liverpool's victory at the Emirates back in August ended a run of eight Premier League games without a win for Liverpool against Arsenal.
This is Liverpool's joint-worst tally of points after 12 home matches of a season in the Premier League era (20).
The Reds are one of two teams who haven't lost a home league game this season, but they have drawn eight and won only four of their 12 matches at Anfield.
Arsenal have kept just three clean sheets in their last 20 Premier League away matches.
The Reds have the worst chance conversion rate of any team in the Premier League, scoring with just 8.6% of shots.
Starting XIs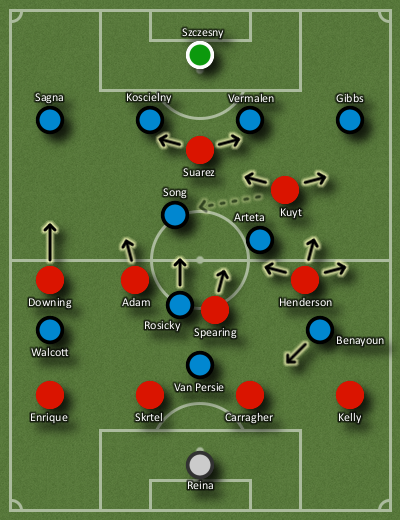 Before the match, both teams had doubts over key players. For Liverpool the question marks were over whether Gerrard and Johnson would pass late fitness tests. Agger was also sidelined due to the rib injury sustained in the Carling Cup final. For Arsenal, Wenger was incensed that Vermaelen and Van Persie had been over used in their nations' midweek friendlies. In the final event, Liverpool were without their two players while Arsenal started theirs. Rosicky, another uncertainty before the game, was also fit enough to start.
Both sides went with the expected formations. I argued before the game that Arsenal would probably line up with their trademark 4-2-3-1; the only tactical dilemma (other than the injury concerns) was whether Wenger would go for a possession-orientated variant (with Benayoun tucked inside on the left to help hold onto the ball in the middle) or the direct attacking variant (with Gervinho working the channels and the area behind Liverpool's right back). Wenger plumped for the possession variant.
For Liverpool the main question was who to play on the left wing. Dalglish preferred to use Bellamy as an potential impact sub, mainly due to his efforts in the Carling Cup final and the 75 minutes he played midweek for Wales. It was logical to start Downing on the wing. The alternative was Maxi Rodriguez, but he is only just coming back from injury and has not had enough match time to be started in such a big game. In the minutes he has played, he has not looked on his best form, either.
Both teams played asymmetric formations which caused congestion in the middle of the field but led to an interesting tactical battle. What made it even more intriguing was that Liverpool were playing a very fluid style, which is unlike previous matches.
The rest of this post's exploration of the game's tactics is for subscribers only
[wcm_nonmember][ttt-subscribe-article][/wcm_nonmember][wcm_restrict]
Nullifying Arsenal…
After the team sheets were confirmed, I was concerned that with Wenger's possession-based style there was a chance that Spearing could be completely overwhelmed as he had been in the Manchester United game. Rosicky was due to play in the hole, Benayoun to come inside and Van Persie has a tendency to drop deep. Hence, I suggested that Adam should be pushed deeper to form a double pivot with Spearing, trying to dictate the tempo from deep. They would allow Arsenal to have possession and draw their full backs forward. Liverpool could then counter with quick passes to the forward trio who could work the channels and exploit the space in behind the advanced full backs. Either that, or they could flood the centre and overwhelm an Arsenal side without a natural holder and playing with an attacking 2-1 midfield triangle. If they did end up with more of the ball, they could try and press aggressively early on, dominating the pitch and hoping to score an early goal before retreating to deeper positions.
As it turned out, Liverpool went with the second option – pressing all over the pitch. But what was more interesting was that they pressed in neither a lopsided 4-4-2 nor a lopsided 4-1-2-3 – it was a hybrid between the two.
Up front, Suarez tried to occupy both centre backs, not giving them time to settle and play simple balls out of defence. This forced the defenders to either pass to each other (and go nowhere) or lump the ball forward (where it was more likely to be intercepted). Van Persie was well-matched by Skrtel in the air, and down the flanks Benayoun was tucked inside and therefore not able to exploit balls out to the flank. The only real option was to seek out Walcott, but, as in the game at the Emirates, Enrique did a good job at keeping the England winger quiet. In only one situation, at around the 8th minute, did Walcott get in behind Enrique via Arteta's long pass from deep. Walcott's tame shot was easily saved by Reina. He failed to get past Enrique with the ball at his feet either, completing only one of his six attempted dribbles all game, and that was in his own half. His passes in the attacking third were also poor, most of them going back to Sagna with Walcott having his back to goal.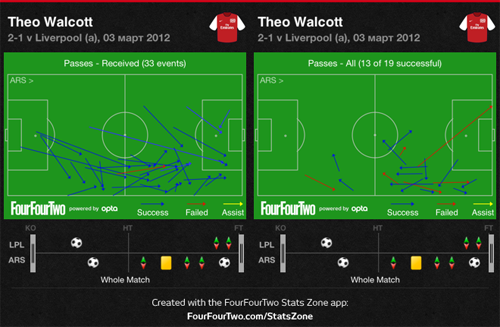 One very interesting tactical decision made by Dalglish and Clarke was in relation to Dirk Kuyt. He was generally roaming just behind Suarez, constantly trying to pick out Song and mark him out as a potential pass receiver. This would keep Arsenal's defenders isolated and force them to hit long balls up to the front. Song and Arteta had to drop even deeper to pick up the ball, which in turn isolated the forwards.
The problem for Arsenal was that Liverpool's central three all had licence to move forward and press all over the pitch. Spearing, generally the deepest of the three, pushed forward in Arsenal's half to try and maintatin the pressing line with Adam and Henderson through the centre. Adam generally pressed Arteta. Henderson filled the right flank (more so when Kuyt came centrally since there was a need to cut off Gibbs) or added an extra body to the centre of the park when Rosicky started to drop deep. But although he was trying to get closer to Song and Arteta he freed Spearing to push forward and ensure that there was no space for any of Arsenal's central three. From his halfway house position – neither on the wing nor in the middle – Henderson could cover both zones and act as an additional central presser or cover the right wing. Arsenal's midfield was squeezed into a small playing area, which meant Liverpool had a four-against-three advantage in the centre. Arsenal were forced either to hold onto possession by using the centre backs and full backs in deep, unthreatening positions, or hit the ball down the flanks or up to the forwards. Van Persie became increasingly isolated, and several times dropped into his own half in order to get the ball. Benayoun didn't offer enough movement, staying too far up the pitch, and therefore remained isolated too. He didn't drop deep to even up the numbers in the middle, nor did he push wide and offer an outlet for his teammates on the flank.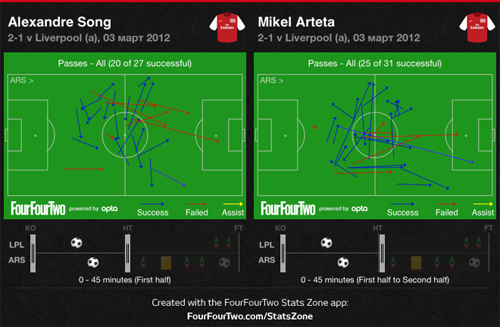 Liverpool clearly suffocated Arsenal. Apart from the 8th-minute incident with Walcott, it was only in the equalising goal in the 31st minute that Arsenal created a real scoring opportunity. Even this was more down to individual player mistakes rather than anything created by Arsenal's tactical plan. Enrique was tucked into a more central area, giving Sagna space on the wing. From there a perfect cross came in and Van Persie headed past Reina. Carragher's poor positioning allowed Van Persie to get ball-side – a clear tactical error from an experienced centre back who should always get himself between the attacker and the ball.
… and then attacking them
Liverpool's hybrid formation and fluid positioning meant that only the back four players had clear and certain zones.
Liverpool's solid defence was the reason they were so successful in attack. Pressing all over the pitch with intensity and numbers meant that Arsenal could not play their usual passing game; but it also meant that Liverpool had the chance to create attacks early on after getting the ball and commence their attacks closer to Arsenal's final third. Once Liverpool managed to steal the ball, their fluid nature meant that it was difficult for Arsenal's defenders to pick them up. Arsenal's high line could have been helpful to Liverpool, but Suarez could not find the right movements to get in behind or through the channels.
This season Arsenal don't seem to know what to do when defending – they don't seem to know when to press or when to get back into their defensive shape as quickly as possible. In this match, Liverpool's aggressive pressing and fluid movement confused Arsenal even more than usual, making it easier for Liverpool to construct their attacking moves.
In general terms, Suarez stayed up front, working the channels both on and off the ball. Kuyt moved around behind him, and the pair enjoyed a good partnership with good one-touch passing. Apart from the quick interchange in the 18th minute which led to the missed penalty, there were several good moves between them and other players on the team. We're already familiar with the fluidity they can bring to the side when they were playing as double false nines early on in the season. The slight difference here was that there was a specific defensive purpose behind their behaviour. Kuyt played behind Suarez, but this did not limit their partnership.
Arsenal were not playing with a definite holding midfielder, but Liverpool failed to take full advantage. This was partly due to the fact that the congested midfield area forced Liverpool to target the space through the channels, especially when Song and Arteta dropped deep. But partly it was due to the fluidity of Liverpool's attacking players. Neither stayed in the same zones, and their search for more space usually made them pull wide. This contributed to the problem that Arsenal's defenders were facing – especially Koscielny, who was constantly forced to pull wide and cover for Sagna when Suarez tried to dribble with the ball. But at the same time it meant that there was nobody in the centre to exploit the movements made by both Suarez and Kuyt.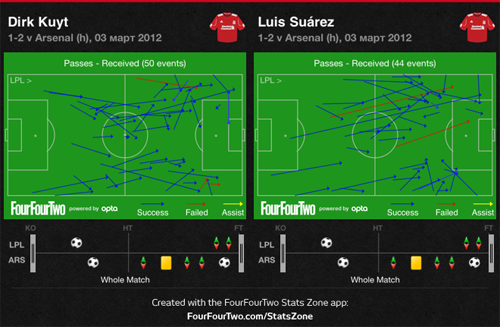 The team looked lopsided down the flanks again; but this is expected when Downing is on the left and Henderson was the right-most midfielder. This contributed to the fluid nature of the overall framework (and helped them press Arsenal all over the pitch) but made them really one-dimensional when attacking. The lack of an attacking full back down the right made things worse. To be fair, Kelly tried to offer an outlet down the flank, mostly in the second half, but he's not capable of providing quite what Johnson can (see: the game against Wolves).
Henderson did, during the first half, pull wide to offer some kind of width down this flank, as did Kuyt more in the second half. Paradoxically, the opening (own) goal came from work down that right wing. First Kuyt received the ball deep on the right and kept hold of it, seeing off a challenge by Gibbs. He passed infield to Spearing, who in turn found Downing in the centre. He instantly set Henderson free down the right flank, and from there he delivered a cross which Koscielny bundled into his own net.
Apart from that situation, it was all too rare to see anyone except Kelly on the right side of the field. This meant that Arsenal were not fully stretched. Things might have been a little better if Suarez had tended to pull right when looking for space before cutting inside with the ball, since Downing was consistently providing a presence on the left.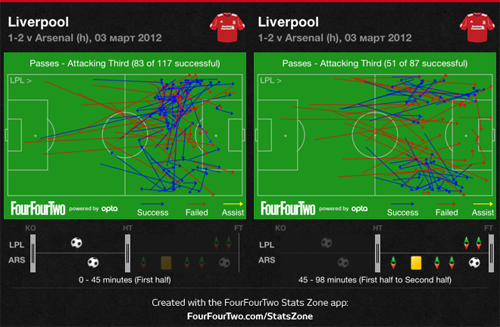 Second half
The match restarted in a similar vein. Liverpool's pressing made Arsenal's passing look sloppy, and they struggled to defend against the fluid movements of that attacking players. Still, it was clear that Arsenal had improved their ball retention and recycling process, taking more time to hold onto the ball in deeper areas and preventing Liverpool from stealing the ball as quickly as they had in the first 45.
The problem for Liverpool was when The  six minutes match stoppage early in the second half for Arteta's concussion from a collision with Henderson seemed to break Liverpool's rhythm. Afterwards Liverpool's pressing was less aggressive and they faded as the match went on. It became easier for Arsenal to control the ball.
It should be noted that Arsenal had definitely improved in the second half, and the passing quality of Liverpool's midfield three gradually declined. Although Adam didn't misplace many more passes than before (there were some poor ones in the first half too), his decision making and overall involvement in the game – both in terms of pressing and fluid movement when attacking – deteriorated dramatically. A few times he went on runs with the ball, but failed to pass early enough to a teammate in a better position. As he started to tire around the hour mark, the whole pressing structure of the team was compromised as he was such a crucial element of it (in terms of his position). He failed to maintain his tactical duty within Liverpool's framework.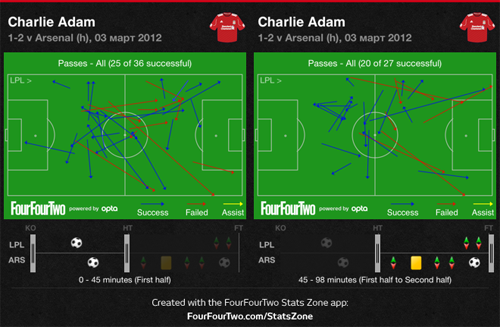 As a result, Henderson spent too much time chasing Arsenal players on his own, and his effectiveness also waned. Kuyt's roaming behind Suarez lost purpose and incisiveness, with only Spearing and Henderson pressing as much as required. The Dutchman's pressing counted for less as Arsenal's midfielders started to pass the ball with calmness and accuracy between themselves and the flanks. Diaby, Arteta's replacement, was a much better physical opponent against Spearing than Arteta had been, and he started to press Spearing as soon as he came on. That ruined the balance of Liverpool's midfield and the link between the central three midfielders, although Diaby was himself replaced in the 80th minute after picking up another injury.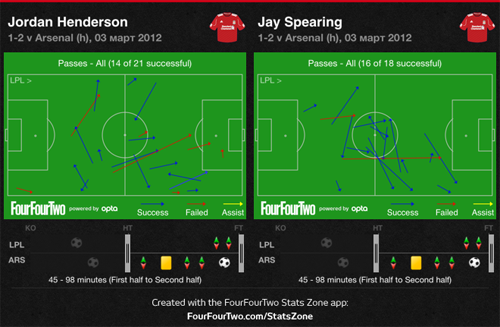 Granted, Liverpool created a few decent team moves, but they were nowhere near matching the fluidity and intensity of the first period.
Dalglish tried to change things by bringing on Bellamy for Downing in the 88th minute, and then, when 2-1 down, he opted to bring on Carroll for Spearing with Kuyt coming on the right and Henderson central. Van Persie scored his second in the 2nd minute of the eight minutes stoppage time after a sublime chipped pass by Song. He worked his way into the channel between Kelly and Carrafger to volley home first time with his left foot, beating Reina at the near post with the sheeer timing and velocity of his volley. Logically, with the dominance already gone and with so few minutes left on the clock, it wasn't a huge surprise that the subs were ineffective.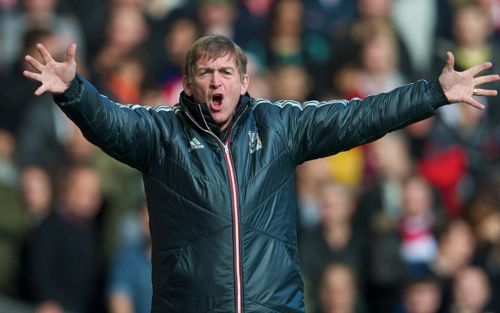 Conclusions
The initial tactical plan of the time was truly inspired. It nullified the opposition's strengths and took full advantage of their weaknesses. The chances that were created (not including the missed penalty) were enough to score more than one goal, but again it was the same old story about opportunities wasted. The goal the team eventually scored was, of course, a lucky own goal, not the result of a well-constructed attack, although credit has to go to Liverpool for the good build up play and sweeping move which preceded Koscielny's error.
The problem, as has been the case several times this season, was the rather poor in-game tactical management. This has been an issue on a number of occasions when Dalglish and Clarke have got their initial plan spot-on. Perhaps Dalglish was biding his time, seeing how well they team had played in the first half and hoping they could "click" again as the game wore on. But seeing how different the pattern of the game was after Arteta's injury, perhaps he should have acted a little earlier. A change in the formation or overall set-up wasn't necessary, especially given the great first-half performance; but once the dominance faded it might have been better to freshen the team up with fitter players and regain the advantages of that initial plan.
As Adam tired (as he does in every match, but especially in a game where he was pressing as heavily as this), the first cracks started to appear. The team defence was not as structured as before, and the team couldn't win the ball and start their attacks high up the pitch. When the team did regain the ball, it was usually in their own half, and so the onus was on the midfield to bring the ball out. Adam was more often than not the man to do that, since Spearing and Henderson were shuttling between wide and central areas. This, due to the difficulties I've already described, was less than ideal. Arsenal also had more time to settle back into their defensive shape.
If Shelvey had come on, it's arguable (though not guaranteed) that the intensity of the pressing could have been maintained in the centre, which would have helped not only the defence but also the attack. Shelvey isn't a great defender, but within that framework – a defence based on pressure rather than technical positioning and defensive skills – it shouldn't have been much of a problem. The back four was solid enough, holding deeper positions and covering any potential counter attacks. His freshness and driven style could have been imported directly into the first half plan without need for major tactical restructuring.
On a similar note, once Downing started to misplace his passes it was probably worth bringing on Bellamy or Maxi if it was felt the Welshman was fit enough. This would have given the team more presence down the left. This became more urgent when, in the 75th minute, Downing failed to deliver a simple pass towards Suarez in the box. His face and body language told the story of a man who lacked confidence and self-belief.
The other solution which might have helped, if we assume Dalglish was reticent to bring on a young and relatively inexperienced Shelvey, was to introduce Carroll for Adam. He would play up front and present Arsenal's centre backs with a direct attacking presence. This would have made the team play a more conventional 4-4-2, but with Henderson moving centrally and Kuyt moving to the right the team would have had enough pressing ability to maintain the pressure. With Bellamy or Maxi coming on in the final 20-25 minutes as well, there would have been a lot of intensity out on the field in Arsenal's third of the pitch.
Still, we should be encouraged as fans. The initial tactics were very effective. The team played arguably their best first half of the season, and it was great to see it work against an opponent of Arsenal's quality. The management should be credited more than we should raise doubts about their second half performance. The last half an hour wasn't great, and better decisions might have been made – but overall this bodes well for the future.
[/wcm_restrict]