A convincing 3-0 victory over local rivals Everton was quickly followed up with a hard fought but deserved 2-1 win over Stoke City in the FA Cup quarter-finals, sealing our second Wembley final appearance of the season. What a difference a week can make in the crazy world of football! Next up for the Reds is a trip to West London to face Queens Park Rangers (8pm kick off UK time).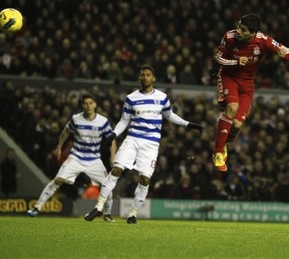 Liverpool won the reverse fixture at Anfield on December 10, 1-0 thanks to a Luis Suarez header. Neil Warnock was sacked less than a month later as Q.P.R. slipped into the relegation zone early into the new year, with Mark Hughes appointed as his successor. But the Hoops have continued to struggle, recording just one league victory since Hughes' appointment. The boost that usually comes from a new managerial appointment has clearly decided to give Loftus Road a wide berth.
STATS
The Reds have the second best defensive record in the league, having conceded just 26 goals in 28 matches, while Q.P.R. have the fifth worst defensive record with 48 goals conceded prior to this match. Unsurprisingly given that stat, the Hoops have kept just four clean sheets in the league so far – just two at Loftus Road – and those four shut outs all occurred within the first nine games of the campaign.
Liverpool in comparison have kept 11 clean sheets, with only Manchester Utd (14), Manchester City (13) and Swansea (12) managing to shut out the opposition on more occasions than the Reds. Q.P.R.'s failure to keep a clean sheet is a big contributor towards their lowly league position, but matters have not been helped by their failure to score on nine occasions. Of those nine games where they've failed to find the back of the net, the Hoops have lost eight.
Liverpool have also failed to score on nine occasions in the league this season – six other teams have failed to score on more occasions than Liverpool and Q.P.R. – and of those nine games, the Reds have lost five and drawn four times.
Liverpool's away Premier League record against Q.P.R.:
Played: 4 Won: 3 Drawn: 0 Lost: 1 F: 7 A: 4 GD: +3 Pts: 9
Liverpool's overall record against Q.P.R. in the league:
Total:   P: 41 W: 29 D: 6 L: 6 F: 69 A: 34
Home:  P: 21 W: 18 D: 2 L: 1 F: 41 A: 14
Away:   P: 20 W: 11 D: 4 L: 5 F: 28 A: 20
Liverpool's biggest away victory and defeat v Q.P.R. (league):
Biggest away win (overall):  4-0 (three occasions)
Biggest away defeat (overall): 2-0 (two occasions)
Biggest away win (Premier League):  3-1 (18/8/1993)
Biggest away defeat (Premier League): 2-1 (31/10/1994
The rest of this post is for subscribers only.
[ttt-subscribe-article]