Starting XIs and Overall Shapes
Stoke didn't spring any surprises. Their starting line up was arguably their best eleven, and their formation was the usual 4-4-2 with two deep-lying central midfielders.
Liverpool's line-up, however, was less predictable. There were enough reasons to believe that Dalglish would stick with an unchanged team after the excellent performance against Everton, playing with a lopsided and fluid 4-4-2. But although there was only one change to the team sheet (Maxi coming in for Henderson), the formation was different, as was the style. This reaffirms that Liverpool are very difficult to predict even when they use nigh-on-identical players. With Maxi on the left, Downing was shifted to play as an inverted winger on the right in what was more of a 4-2-2-2 formation than a normal 4-4-2.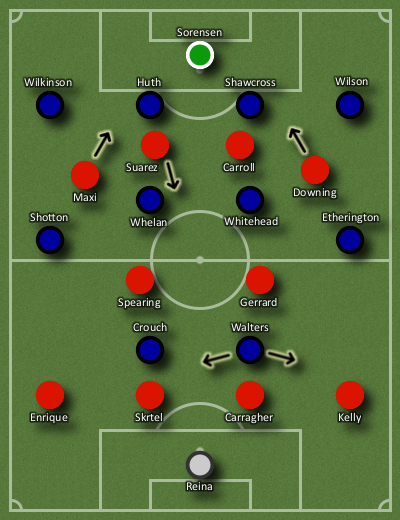 First Half
Logically we expected Stoke to defend deep in their compact "6-plus-2" defensive wall, which would require Liverpool to be creative and fluid in order to break them down. The match didn't play out quite like that.
To read the rest of this post and Mihail's conclusions, you need to be a subscriber
[ttt-subscribe-article]