With Liverpool's season proving to be an archetypal rollercoaster ride – ups, downs, adrenaline and nausea – I will now try and make sense of some of the key issues.
First off, it goes without saying that Liverpool should be beating Wigan at home – but you will always get a few freak results. It was the first terrible home performance under Dalglish, and after lots of 'unjust' draws at Anfield, and the ill-deserved defeat to Arsenal, there was no arguing that Wigan deserved the points.
Despite Wigan's woes, they knew little was expected of them. By contrast, after the QPR game, there was a lot of pressure on Liverpool, not least to 'be Liverpool'. While I don't find Dalglish's excuse of tiredness particularly plausible in this instance (though both QPR and Wigan had free weeks ahead of facing the Reds, who had a far more packed schedule), a club like Liverpool – with massive expectations but not quite the money to deal with them – needs its best players. When fit this season, Lucas, Agger, Johnson and Bellamy have been in that category, while Kelly's additional absence left a rookie at right-back.
Since Agger's rib injury, goals have been leaking left, right and centre. Lucas is the only top-quality midfield shielder the club possesses. Bellamy was scoring goals, and Johnson, who defends better than given credit for, adds another dimension going forward. Some of the understudies are not good enough, but then again, the aforementioned four are amongst Liverpool's best seven or eight players.
Comparisons
The constant comparisons saying that Dalglish's record is no better than Hodgson's are incorrect, and miss the point. Last week, Gabriele Marcotti had noted that Dalglish had the best start of any Liverpool manager since Roy Evans in terms of 'points' won (including cups).
While Hodgson's win percentage was boosted by victories against European minnows in qualifying rounds (and also, like Dalglish, faced one easy domestic cup game: Northampton and Exeter respectively), he never once, in 20 league games, had Liverpool looking like a top side that could go places. Victory at Anfield against Chelsea was pleasing, but a case of hanging on like a relegation-threatened side withstanding a pummelling. Overall, too much long-ball stuff was played, and there was no sense of optimism.
The players were bored by his training methods (which are suited to organising limited sides, to great effect), and he said things like "I hope we don't get beaten too heavily" on the eve of his first pre-season friendly, against Al Hilal, and by the time of his second league match, his ambition when going to Manchester City was "to not lose 6-0". A 2-0 defeat at Everton was bizarrely as his team's best performance. He let Alex Ferguson walk all over him over two separate issues with Fernando Torres, told lies about Rafa Benítez, and seemed more interested in using the job as a stepping stone to becoming England manager.
This, to me, is what lost him the support of fans who were never excited by his appointment, but prepared to give him a go. He soon started insulting the fans, and in so doing, signed his own dismissal papers.
Crucially, with Hodgson, that was all we had to go on. He had nothing in the bank. There was no great start to refer back to, in the way that the Reds' form under Dalglish last season was worthy of a third-place finish. (Even if it was just the spring of the arrival of a new manager, there wasn't even a 'dead cat bounce' under Hodgson.)
Liverpool's current dreadful run of five defeats in six league games coincides with the winning of a trophy and reaching another semi-final, and so, irrespective of what Kenny did 25 years ago, he has already put some credit in his bank. That won't last forever, and of course there are some valid concerns, but it's getting to the point where any kind of failure is met with calls for a sacking. This is not Chelsea.
And bad runs happen; even to good teams. Just a month-or-so ago I was getting sick of hearing how Spurs were actually the best side in the league this season, and Harry Redknapp was an absolute genius. Since then, they've won just two points from 15, and are in danger of letting a supposed title-challenge turn into a return to Europa League football. Still, they're in the driving seat for 4th place, and also have a semi-final to play. Are they suddenly a rubbish team?
Meanwhile, Arsenal (carrying a few injuries) were quite dreadful earlier in the season, but currently look like the best team around. Arsenal did well to stand by Arsene Wenger, even if some of the fans were getting twitchy. It would have been nice had Purslow and co. done the same with Rafa in 2010, but they didn't, and now it's only fair to give Kenny time to give it his best shot.
Holistic
Unless you are an elite side, you can probably only win so many games in a season. There is only so much effort that can be put in, and you will always get flat performances and off days. And this season, Liverpool have had an above-average return in the cups (mostly against Premier League sides) and a below-average return in the league. The squad, and the sides fielded, have not been at the level to do consistently well in both.
Swap the cup and league results in specific fixtures and things would look very different. City at home (drawn) and away (lost), United at home (drawn), Chelsea away (won), and Stoke home (drawn) and away (lost) would suddenly become: City at home (won) and away (drawn), United at home (won), Chelsea away (won), and Stoke home (won) and away (won). That would leave the Reds a fairly incredible 10 points better off in the league; but still not in the top four, and with no chance of a trophy.
It's easy to say that these teams may have not been trying as hard in the cup games (though all fielded strong teams), and of course, cause and effect from changing one result would mean subsequent results won't necessarily have remained the same.
But the crux is this: Liverpool played at least as well, if not better, against these teams in the league matches when dropping points than they did when beating them in the cup. In particular, Stoke away, City at home and United at home were games where the Reds played better in the league, but didn't take their chances. It can start to feel fairly arbitrary why a side takes its chances one day and not another. Why did Liverpool play worse in those cup games but win?
In the bigger picture, my belief is that winning cups can lead to league improvement the following season, even if it's not guaranteed. At the same time, too many cup games in a single season can harm league form.
In 1997, Middlesbrough had a lot of good players, and reached both domestic cup finals. Do bad teams do that? – one, perhaps, but two? They were, at the very least, a top half of the table side on paper, with Ravanelli, Emerson and Juninho in the XI. But they were relegated. Had they got those wins in the league instead, they'd have been safe.
Sheffield Wednesday lost both 1993 cup finals to Arsenal. The Gunners won a European trophy the year after, and the domestic double in question came just two years after their most recent league title. Their league position that season when winning the two domestic cups? Tenth. (Three places below Wednesday.)
Liverpool won the FA Cup, League Cup and Uefa Cup in 2001. At the time, coming third in the league (with 69 points) seemed a big deal, but the following season the Reds had no such cup fortune, but finished 2nd with 80 points. It's not inconceivable to think that the side could have reached 80 points a year earlier had its efforts been focused on the league, but when there's a bigger sense of excitement arising from the cup games, more emotional energy seems to go into it.
But while cup games can harm your side's health, it's difficult for a manager to eschew them and focus purely on the league. This is particularly true of managers under pressure, and that usually means a newly appointed boss trying to make a mark, and those who have gone a while without silverware.
There's also the issue of the Carling Cup being in February. Does a sense of winning something with three months left cause a slackening in intensity in other competitions where the rewards aren't as easily attainable? Spurs in 2008 and Birmingham last season both crashed badly after the win, while Arsenal self-combusted after losing last year's final. You can't really coast after winning the FA Cup, as it's the end of the season.
Inheritance
It's only fair to note Kenny's starting point.
While I believe Rafa Benítez left a fairly strong squad in 2010, it was not  his best; the money-grabbing of Gillett and Hicks had helped see to that, particularly when promising the Spaniard the money from the sale of Robbie Keane to reinvest (on Stevan Jovetić), before withdrawing it to leave the side a striker short.
Roy Hodgson then took that collection of players, and, with a fairly neutral net-spend, succeeded in making it considerably worse.
By the time Kenny Dalglish took over, the following players were in the first team squad: Paul Konchesky, Christian Poulsen, Milan Jovanovic, Danny Wilson, Jonjo Shelvey, Joe Cole, David Ngog, Soto Kyrgiakos, Ryan Babel, Daniel Ayala, Danny Pacheco and Jay Spearing. That's eleven players you wouldn't want to rely on, either because they were too young, or just not good enough.
On top of this, Hodgson had brought back the increasingly injury-prone Fabio Aurelio, who had excelled under Benítez when available, but who was released in 2010 because of fitness issues. That makes a dozen players who weren't of much use, without talking about reserve goalkeepers.
As teenagers, Shelvey, Wilson and Ayala had a lot of potential, but were young and raw. They had a handful of starts between them. I was sad to see Ayala sold, but Sebastian Coates looks an even better prospect.
Pacheco had ability, but wasn't quite good enough. Spearing had been improving, but slowly. Jovanovic suffered the fate of the man who signed him (Benítez) being sacked before he even arrived, and as with Djibril Cissé six years earlier, it may have contributed to a poor start (which never got better).
For all his talent, Joe Cole looked consistently unfit and peripheral, and did so on £100,000 a week. And at £1.5m each, Kyrgiakos and Ngog were never going to be more than hit-and-miss squad players; but bargains all the same when compared with Poulsen and Konchesky, who cost roughly £5m each – ludicrous fees for thirtysomethings. Ryan Babel was a potential match-winner, but never quite worked out how to use his talent effectively, beyond the occasional inspired cameo.
Raul Meireles was Hodgson's one successful, albeit unspectacular signing. Before Hodgson got going, Benayoun and Mascherano – two of the stars of the 86-point finish in 2008/09 – had departed, and as such, I'd come to expect roughly 6th place from the Englishman, given that 7th in 2009/10 was seen by many as an unacceptable underachievement. But when Dalglish turned up, the Reds were 12th and losing games.
Emiliano Insua – now doing well at Sporting Lisbon – and Alberto Aquilani – now at the mighty Milan – were already out on loan. With Benítez edged out of the door, the young Insua had been earmarked as not good enough by Christian 'above his station' Purslow, as had Lucas Leiva. (Yes, Liverpool's 'player of the season-in-waiting' was being hawked around by Purslow, with Hodgson equally ludicrous in his desire to be rid of Agger.) By the time Dalglish took over, Insua and Aquilani had been ostracised. They might not have been perfect, but they were better than Konchesky and Poulsen.
The only players Dalglish could definitely build a team around were Reina, Johnson, Agger, Skrtel, Lucas, Gerrard, Kuyt (for a couple of years) and Torres; seven Benítez signings, plus the club's best-ever Academy graduate.
Also in the squad, Carragher was beyond his peak, but could obviously still play a part, and in the wings, Maxi was a quality player, with a year or two left at the top, who had yet to shine. Raul Meireles was not always convincing in the first XI, but due to injuries, ended up deputising for several players (although had yet to score when Dalglish turned up). And Martin Kelly, blooded by Benítez towards the end of his tenure, was a promising prospect, although like Shelvey and Ayala, very raw.
But then Torres, after three goals in five games under Dalglish after just nine in 20 under Hodgson, made it clear he wanted to leave, dating back to broken promises by the club back in 2010. And Gerrard soon suffered serious injury. This season, Lucas followed suit. Hodgson, in getting Liverpool to a lowly 12th, may have not spent much money, but he did have Torres, Lucas and Gerrard: the heart of the team. He also had Carragher, who was 18 months younger than now.
Signings
"Think you're doing a good job, Kenny? You have spent £113.3m and you're 28 points behind United" ran the Daily Mail headline last week.
Gross spend in a short space of time is almost irrelevant because it ignores what you lose. What if you spend £100m, but lose £200m-worth of players? Should you be £100m better? Of course not – you should be £100m worse.
Net spend is a good guide, but even that's affected by what you inherit (you will have a low net spend if you inherit an excess of saleable assets; if you don't, you won't). The overall cost of the squad when adjusted for inflation (and the XI that can be selected), along with the size of the wage bill, is what matters most.
Liverpool's net spend under Dalglish is roughly £40m; so, a third of the Daily Mail's gross(ly exaggerated) headline. That's not a huge amount given the work required, and in any rebuilding process, mistakes will be made.
My long-held theory is that most managers will be lucky to get 50% of their signings spot-on. This is partly because, in a squad of 24+, you can't have everyone you purchase in the side at once; and as such, some will seem like flops. And also, the fact of the matter is that, due to injuries, form, team understanding/wavelength, language and settling-in issues, and sometimes the need to adapt to a new role, new signings can often struggle to replicate the form that led to the move in the first place. Add the pressure of a club like Liverpool, and it can be tough for some to cope.
I'm never comfortable with the idea that five out, five in will mean improvement. If you lose a world-class player, like a Torres, the odds of finding a suitable replacement are not great.
Luis Suarez, for all the profligacy and controversy, is a player whose all-round game has made up for the loss of Torres; it's just a shame the two were never paired together. Perhaps the Uruguayan doesn't have the right strike partner, and the need has appeared to be for a dead-eye finisher to accompany him; but there's no doubt he's been a gem of a signing.
Now both aged 21, Jordan Henderson and Sebastian Coates cannot be definitively judged; they are both full internationals, but ones who need time. My hunch is that both will prove shrewd acquisitions, based on what they've done right; experience will help eradicate what they get wrong.
Henderson is unlikely to be a right-sided midfielder for the rest of his career, and playing there is not helping him win over the fans – but presumably, it's designed to help the team (and will provide a stern life lesson). Hearing fans cheering his withdrawal yesterday was not nice; reminiscent of the crap that Lucas used to receive. (And even poor old Konchesky didn't deserve the bird.)
Jose Enrique was superb for several months. Super-quick, and eager to go forward, he looked a bargain at £6m. However, his recent form has been iffy,  with his reluctance to use his right foot, and his interest in barging rather than tackling, causing him problems. His final ball isn't great, but generally, at the other end of the pitch, he is rarely beaten by his opponent. That said, another problem is that he holds onto the ball too long, twisting and turning without getting his head up. He's still a very good signing, but needs to prove that the good start was his natural level, and that this is more of a blip.
Craig Bellamy is another very good signing. Despite being 32 with dodgy knees, he recently broke the record for most high-intensity sprints in a game, and has scored some vital goals. A great bit of business, even if not someone for the long-term.
Charlie Adam has also had some good moments, but for all his passing ability, he seems to make too many silly mistakes – be it daft tackles or brainless concessions of possession. Despite all that, he's not a bad player. He's a good player who makes too many bad decisions. Perhaps he's been trying too hard, but if you lack pace in the centre of the park, you need to be able to play like Xabi Alonso to compensate. At times Adam looks capable of matching the longer passes, but he doesn't have the same footballing brain. (Few do.) It would be nice to see him succeed, but I won't hold my breath.
Stewart Downing started the season brilliantly, but his shots were hitting the woodwork and his teasing crosses often inexplicably missed or misused by the strikers. He then had a pretty poor few months. But of late, he's looking sharp and, crucially, full of confidence. He was man of the match against Cardiff, and while it's "only Championship-level opposition", the same applied to the rest of the Liverpool side, and many froze with the pressure of their first final and the expectation that the Reds should walk the match.
My main gripe with Downing was his willingness to shoot time and again from 30 yards, but never pull the trigger inside the box. But against Stoke and QPR, he cut inside from the right with shots that led to goals. He may never be spectacular, and he was overpriced in transfer fee (if not wages), but there's hope yet.
Which brings us onto  …
Andy Carroll
As noted by people on Twitter, Liverpool's results in the last seven Carroll starts (after Bolton): WWDWDWW; but the last seven without Carroll starting (after Oldham): DDLLLLL. That's quite some contrast.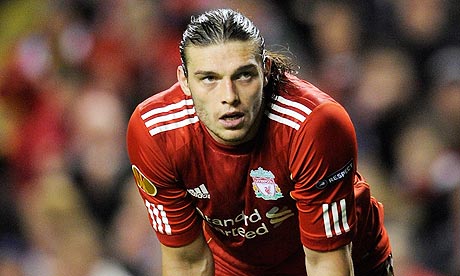 TTT's senior data analyst Dan Kennett posted some great stats on the eve of the Wigan game in the site's comments section (which is worth the subscription fee on its own!).
(Even yesterday's game, though not included, saw Liverpool do better with him on the pitch – 'drawing' 1-1 – than the 1-0 'defeat' of the first half.)
Liverpool (All Comps): P40 Win%=50, Points Per Game = 1.78

Carroll starts: P22 W13 D5 L4, Win%=59, Points Per Game = 2.00
Carroll doesn't start: P18 W7 D6 L5, Win%=39, Points Per Game = 1.50

In terms of 'difficulty':

Carroll starts vs Teams higher in PL than Liverpool (All Comps v Arsenal, Chelsea, City, United, Newcastle, Spurs)
P8 W5 D1 L2, Win%=63, Points Per Game = 2.00

Carroll starts vs "the rest"
P14 W8 D4 L2, Win%=57, Points Per Game = 2.00

No Carroll start vs Teams higher
P6 W1 D3 L2, Win%=17, Points Per Game = 1.00

No Carroll start vs "the rest"
P12 W6 D3 L3, Win%=50, Points Per Game = 1.75

I think this is fascinating. Not only are the team's results significantly better when Carroll plays, but the results with Carroll are exactly the same (2 points per game), whether versus "hard" or "easy" teams!
(Dan has subsequently worked out these stats across Carroll's entire time at Liverpool and posted them in the site's debate section, and they remain impressive.)
While Liverpool's game can be less easy on the eye with Carroll in the side,  and the goals have not flowed for the no.9 as hoped, he's certainly playing better of late; at least he was, until he started being left out.
There are too many other factors to prove conclusively that playing Carroll will lead to better results, but it's better to have non-scoring strikers who help win games (through other contributions) than to have someone banging in a goal a game in 2-1 defeats. Either way, it's food for thought.
Conclusions
Even though £40m (net) has been spent on transfers in 14 months, £30m has been wiped off the annual wage bill. Liverpool are no longer a Champions League club, and have had to cut their cloth accordingly.
The excellent commercial deals made this season – particularly the Warrior kit deal – suggest that the wage bill can now be safely increased and it not trouble Liverpool's Financial Fair Play outlook; as well as making sure that a higher wage bill won't cripple the club (a la Leeds United) if it remains out of the Champions League.
The more time that passes, the brighter Liverpool's future looks, providing Uefa stick to their guns, because the Reds are now run by sensible, intelligent owners whose long-term plan was built around such a scenario. Equally, without a massive stadium, and without Champions League income, the new commercial deals will only go so far. The good news is that clubs like Chelsea and Manchester City, who have been built on artificial wealth, will have to do more than make annual net spends of £100m+.
Whether or not Kenny is definitely the man to take the club forward in the long-term is hard to say; but he's done enough to deserve some time and patience. Equally, those responsible for buying players – and people tend to blame either Comolli or Dalglish when they go wrong, but the opposite person when they do well – need to find a couple of gems in the summer.
None of the current first XI is dropping off a cliff next season. Gerrard and Kuyt are fading forces in their thirties, but far from finished. And Carragher is already a squad player.
Providing Gerrard stays fit, and assuming that Craig Bellamy remains an important asset, the squad can get stronger simply by youngsters improving. Providing he isn't heckled further into his shell, I'd expect Henderson to get better, and Shelvey could usurp Adam, while Coates could perhaps force Carragher further from the first team.
The prodigious Raheem Sterling made the breakthrough yesterday, and looked right at home, despite still being 16 until just before Christmas. He has immense potential, and his pace can make him a threat, but has a lot to learn in terms of when to go it alone and when to pass, and will need some patience. Other good players wait in the wings from a youth system overhauled by Benítez in 2009, with Dalglish's help.
But on the surface, a finisher seems vital. Had Liverpool taken their chances earlier in the season, they wouldn't be in this position; they would have some leeway. More of Dan Kennett's excellent work shows that Liverpool's clear cut chance conversion rate is 10% below the Premier League average, but that their opponents are bagging 10% above the average in games against them. As poor as Liverpool's finishing has been, the opposition, as seen at QPR, are gobbling up an unusually high percentage of a limited number of chances. Can that continue?
Liverpool, and in particular Suarez, hit the woodwork more than anyone else, but the player who used to do so most regularly was Robin Van Persie, whose aim has now improved. So it's not necessarily a case of being a bad striker, but just adjusting your aim by a fraction (and in two recent games, Suarez has hit the post but someone has put in the rebound). If Suarez can get his head straight after the Evra debacle – and his recent scoring form suggests he's getting there – he can definitely become a 20-goals-a-season striker, if not replicate his 50 in Holland.
Then there's the fact that Liverpool won the Carling Cup on penalties (albeit after a very hard run to the final), but in the Premier League have dropped more than five points – the highest in the division – due to missing their spot-kicks. Of course, the cup was won by Cardiff missing more, but despite missing their first two attempts, Liverpool's success rate in that shootout was far better than it has been in league games. (See this excellent article for details of how costly it's proven.)
For all the concerns, I retain a sense of something good bubbling just under. A second trophy would make finishing between 6th and 10th largely irrelevant, other than for anything below 8th becoming worst finish by Liverpool in decades (although Dalglish saved Hodgson that probable ignominy).
Getting back to defending set-pieces the way the Reds did for the first 10 months of Dalglish's return would also help. Whatever system a manager chooses, the defending can get nervy when corners start leading to goals, and that in turn leads to more. (At the other end, Adam's famed set-piece delivery disappeared once he got the yips: another example of the pressure players are put under causing them to wobble.)
Get more intelligence into the defence – Agger and Johnson instantly do that – and into the midfield – Lucas instantly does that – and suddenly the side looks stronger. [Addition from Dan: In the 20 PL games Agger has played 90mins, Liverpool's opponents have created 18 clear chances (39% conversion). In the other 10 it's 19 at 58%.]
Sort out the issue of right-midfield, with Henderson largely lost there, and with Kuyt not as consistent as before, and that will help. More goals from midfield – like those scored by Gerrard against Everton – and that too will make a huge difference.
Finally, find a striker who only needs to score goals at the average rate, and convert penalties accordingly, and we can easily be talking about 20 more points in the season. Get it wrong, however, and we may be in for another bumpy ride.