3 – 6 – 76 – 96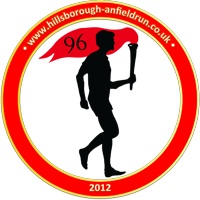 On April 12th, a team of six runners and their support team will assemble outside Hillsborough Stadium, Sheffield (and maybe inside it, on the pitch at the Leppings Lane end, if Sheffield Wednesday's agreement is forthcoming), and set off in a westerly direction, followed by their support vehicles. Over the next three days they will slog up hill and down dale for 76 miles, across that big lump of rock called the Pennines, through the wind and rain, to reach Anfield by April 14th. The day before the anniversary.
They will be raising money for the two Hillsborough support groups, the Hillsborough Justice Campaign and the Hillsborough Family Support Group. This is believed to be the first time that both groups have been involved as joint beneficiaries of a fundraising event like this, and all monies raised will be split equally between the two groups.
The six runners – Dominic Williams, Westley Young, Earle Jackson, John Driscoll, Neil Mitchell and Chris Dale- and the nine-strong support team are all giving their time for free. Two members of the team – runner Earle Jackson and support team member Dean Bromley – were at Hillsborough in 1989, and both still recall it vividly. It's not the sort of thing you forget. John Driscoll lives in Dubai, so he'll be travelling considerably more miles than the others!
The seed for the idea germinated just before the opening game of the season against Sunderland, when Dominic Williams, recently converted to the joys of running, was looking at the Hillsborough Memorial Mosaic in the club museum before the match. An idea came to him – it was so obvious, someone must have already thought of it and done it? But they hadn't. So why not me, thought Dom. Why not arrange a sponsored charity run from Hillsborough to Anfield? So the organising began, the running team was assembled (mostly via online forums), the idea grew. It is now being described as the inaugural Hillsborough-Anfield Run, in the hope that it becomes an annual fixture.
'It's all been done on a shoestring of course' said Run spokesman Conor Brennan, 'but we've had fantastic support from Reds' supporters all over the world, as well as from sponsors and other organisations, '. Both LFC TV and Granada TV have featured the run, and both created big surges in hits on their website (address below).
The runners have been in training for some time already, and the difficulty of their challenge cannot be overestimated. They will be running 30 miles a day for the first two days – back-to-back marathons with an extra four miles thrown in, and the first of them up and down the Pennines – before a short jog of 16 miles on the third and last day. Respect lads.
The route will take them close to the A628 trans-Pennine road (the infamous Woodhead Pass, hopefully free of snow by mid-April!) through to Hyde for their first much-needed overnight stop and pampering. The next day it's on through Cheadle, Altrincham, skirting south of Warrington to Widnes for the second night's stop. Then the last leg into Liverpool through Speke Boulevard, Garston, Mather Avenue, Queens Drive, Walton Breck Road and Anfield, culminating on the pitch for the Fulham game – a dream for any LFC supporter. And that will still happen if the unthinkable happens and we lose to Stoke in the FA Cup. But if we don't, we won't be playing Fulham that day, we'll be heading for Wembley instead (again – yawn!) for the FA Cup semi-final. If that happens, the running team's richly-deserved half-time accolade will be deferred until the next home game, against Roy's Baggies on April 22, as guests of the club.
Hot on the runners' heels will be Dan Gardner of Dan Gardner Productions and his recording equipment, to record a documentary of the Run, to be shown on YouTube and on the Run website, amongst others.
Unsurprisingly, the Run has captured the attention of Liverpool FC, the media, sponsors and Steve Rotheram – the MP for Liverpool Walton who made such a passionate speech about Hillsborough in the House of Commons described the Run as 'a great idea and a superb effort for a very worthy cause. I'm very happy to endorse this run by Dom and the team and wish them every success and encourage everyone to support them by donating, or in whatever way they can. JFT96'
That both Hillsborough groups are beneficiaries has impressed Liverpool FC – it's tended to be one or the other till now. The club is co-operating with the Run, and some famous names associated with the club are supporting it too – Jamie Carragher, David Fairclough, Shanks' granddaughter Karen Gill and the spine of our 1960s league and FA Cup winning sides, Ron Yeats, Chris Lawler, Ian Callaghan and Ian St.John!
All the hotels en route have been made available by free donations from sympathetic managers, led by Michael Sheldon, manager of De Vere's Village Hotel at Hyde, Manchester. 'He's been amazing, spectacular' says Brennan. 'Not only has he arranged our accommodation and meals there, use of gym, masseurs and so on, he put us in touch with the other hotel owners too – and we need nine rooms each night so it's not a small booking!'
Without sponsor support this simply could not have happened, and the team are still in contact with three major businesses for their main kit sponsorship, and would like to get that issue resolved as soon as possible. They would like to give huge thanks to:
Woolton Physiotherapy Clinic in Liverpool, who have donated three physiotherapists who will actually form part of the support team
Maximuscle (sports gear)
Funky Pumpers (honest! – they donated kit bags)
Catch Design (logo)
Dimensions Design and Print (posters)
Up and Running (running jackets)
De Vere Village Hotel, Hyde, Manchester (Michael Sheldon)
Holiday Inn, Sheffield (Steven Vandervelde)
Lavender Hotel, Widnes (Dan Quinton)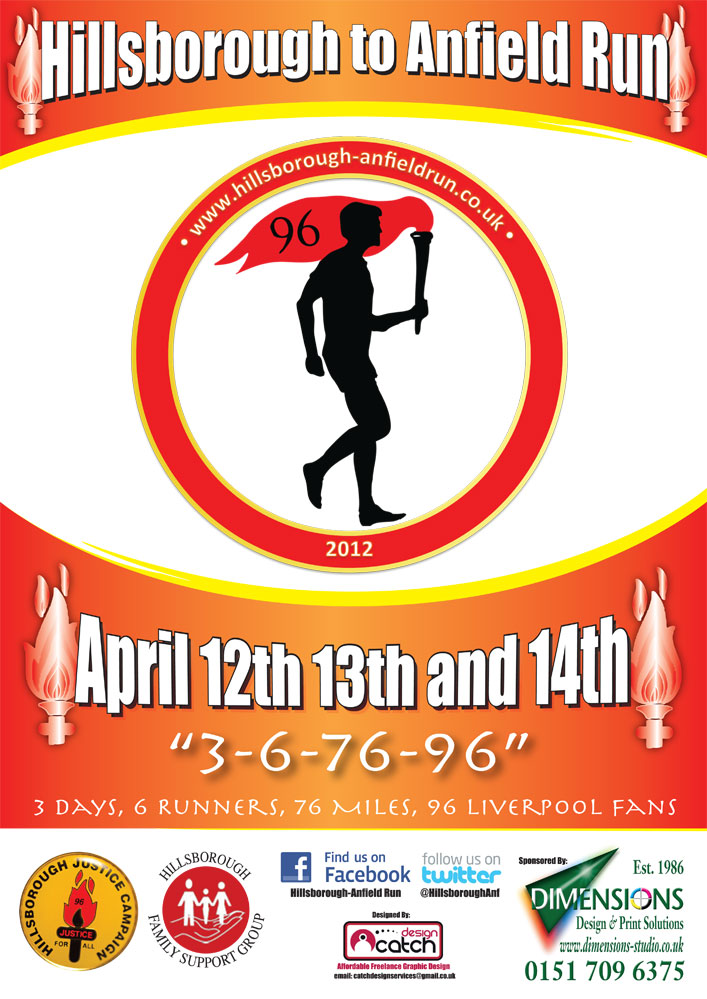 The team would also like to give a huge shout out to the Liverpool Supporters Club in New York, the LFCNY, for sending out emails to all their members, featuring the run on their podcast MP Red, using their forums to publicise the Run itself and many other ways of helping behind the scenes.
The slogan says it all – 3 days, 6 Runners, 76 Miles, 96 Liverpool Fans.
Turn out and support them if they're passing anywhere near you  – see the website for a map of the route: www.hillsborough-anfieldrun.co.uk. There are Facebook and Twitter links on there, and crucially, a chance to donate – just click on the 'Donate' tab. Or just do it from here: