By Mihail Vladimirov.
Pre-match statistical facts
The last meeting between these sides was in the Carling Cup fourth round in October 2007, when the Reds won 2-1 at Anfield.
Prior to this, rather amazingly, Cardiff had won their last five meetings with Liverpool, scoring 18 goals in total in these games. The Bluebirds have won nine of their last 12 meetings with Liverpool in all competitions, though 11 of these came before 1960. Cardiff are the only side who have won their last five league meetings with Liverpool – no other side has won even their last three.
Liverpool are only the second side to reach the final of the League Cup despite playing just one game at home, after Arsenal in 2006/07.
Liverpool are one of only two sides to have won a League Cup final on a penalty shootout, having beaten second-tier Birmingham City 5-4 on spot-kicks in 2001.
A win in this match would see Liverpool equal Manchester United's record for most English domestic cup wins (15: seven League Cup, seven FA Cup so far).
This is the fourth time Liverpool have faced a lower-tier opponent in the League Cup final: they beat Bolton 2-1 (1995), Birmingham City on penalties (2001), and West Ham 2-1 in a replay after the Wembley game was drawn 1-1 (1981).
Just one of the last seven sides from outside the top tier to reach the League Cup final has won (Sheffield Wednesday in 1991).
All three of Cardiff's previous cup final appearances have finished 1-0 (one win, two defeats, all FA Cup).
There have been five previous winners of the League Cup from outside the top tier, out of 15 who have reached the final.
Their 2-0 win over Blackburn in the quarter-finals this season was Cardiff's first win in 11 League Cup meetings with top-flight sides.
José Reina is the only player to have played in all of Liverpool's Carling Cup games this season (6).
Andrew Taylor is the only Cardiff player to have featured in every Carling Cup game this season (7).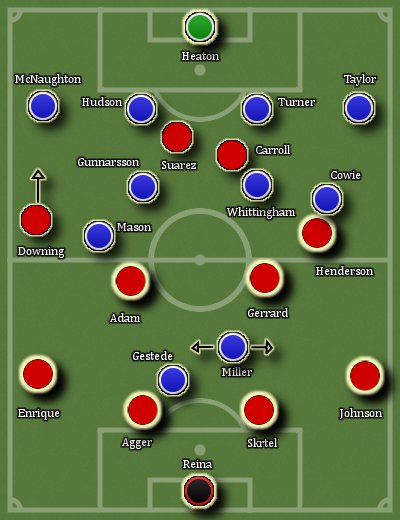 Starting approaches
There weren't many surprises in how Dalglish lined up. The main question was whether he was going to use the 4-4-2 or one of the 4-5-1 variants. In terms of personnel, there was going to be little difference either way. In the end he went for the lopsided 4-4-2 cum 4-3-3 formation, with Henderson filling the central cum wide right position in the midfield.
On the Cardiff side, Mackay lived up to his reputation as a fairly flexible tactical manager, choosing to start with a formation he hasn't been using since the beginning of the season – a narrow 4-4-2 which in defence quickly became 4-4-1-1 with Miller dropping off Gestede, the target-man.
The opening was bright and open, with both teams trying to play positive football and create some early attacks. It was Liverpool who first managed to create anything meaningful, in the 2nd minute when Downing fed the onrushing Johnson around the edge of the box. The full back's beautifully curled right-footed shot hit the underside of the bar but as so often this season, failed to cross the goal line and bounced out, evading the following-up Suarez in the process.
As the early attacking impulses faded, both team started to settle into their proscribed tactical behaviour and approaches. It's not a secret that no matter the formation, Liverpool create many chances through the midfielders but still lack clear and cohesive attacking patterns when it comes to taking full advantage down the flanks. So Mackay had well prepared his team for either one of Liverpool's supposed formations. That was clearly the idea behind Cardiff's narrow midfield. It was the perfect win-win situation for Mackay and his team. If Liverpool had used the 4-1-2-3, which in recent months they have done more often than the 4-4-2 variants, Cardiff's narrow midfield would have ensured the team's central midfield would be flooded and the link between the midfield trio and the front trio easily cut off. This could have forced either the front trio to drop deeper to collect the ball (making the job of Cardiff's deep-lying back four that much easier), or the fullbacks to push forward that much more often, as a result leaving space behind them for potential quick-breaks down the channels or between the lines, as Cardiff's narrow midfield could have ensured enough bodies in both zones.
But if Liverpool were going to start with a sort of 4-4-2 (as turned out to be the case), Cardiff's narrow midfield was going to be tasked with pressing Liverpool's midfield heavily, suffocating  the midfielders for passing options, forcing them to use direct balls down the flanks (where Liverpool are not yet a clear threat, at least not in the way that they are through the centre) or just to hit the ball upfront, effectively bypassing the midfield area, playing into the hands of Cardiff's centre-backs (who were clearly more comfortable with the aerial battles with Carroll than chasing shadows after Suarez) and defensive-oriented fullbacks.
Given the starting XI that Dalglish chose, it was clear he and his staff were unprepared (or at least fairly poorly prepared) for such a surprising tactical move by Mackay. But you can't be prepared for all the potential decisions that the opposition's manager might or might not take. So it was logical that Liverpool's management prepared the team for the most obvious likely potential formation and tactics that the opposition had been using recently (TTT member and Cardiff supporter Joe Harrison verified on here that Cardiff have not been playing with a  4-4-2-type formation in the last half a year or so).
As I argued in my rough tactical preview on the site, given that Cardiff were most probably going to line up with either 4-1-2-3/4-1-4-1 or 4-2-3-1/4-4-1-1, both of Liverpool's supposed formations and their nuances had strong tactical arguments in their favour; either starting with a lopsided 4-4-2 and defending with a 4-3-3; or starting with a sort of 4-3-3 (no matter the form of the midfield triangle – 1-2 or 2-1 shape) but attacking in a more 4-4-2ish overall shape.
The rest of this article – which explores the tactical battle and offers Mihail's tactical conclusions- is for subscribers only
[ttt-subscribe-article]