Before the Carling Cup Final, many experts noted that it was a lose-lose situation for Liverpool. Win comfortably, and everyone says that it was only to be expected, and that, well, it was only the League Cup; lose, and oh the humiliation!
This overlooked two things: the fact that winning a trophy, at this stage of the club's redevelopment, could be priceless; even if the trophy itself is understandably somewhat undervalued. In this sense, Liverpool were big-time winners: a trophy – any trophy – ends the kind of accusations levelled at Arsenal since 2005 (even if they may continue to 'achieve' by remaining in the top four).
However, there was an alternative scenario: win the match, but do so undeservedly or unconvincingly; so that, despite lifting the cup, the beaten underdogs were the moral victors.
While it was as clear as day that Liverpool – and here we go again – were worthy of the win based on chances created, there was a sense of the inevitable towards the end of extra time, when Cardiff, having won zero corners after 116 minutes, suddenly won three on the bounce. And Liverpool continue to concede a high percentage of goals from corners.
Of course, in their way, the Welshmen deserved their goal – if for nothing other than being able to hit the target with more than a mere fraction of their shots.
And when it came down to a five vs five from 12 yards, Liverpool didn't even make their usual easy work of the penalty shootout.
Gerrard was denied by a superb save, but Adam's 'effort' was abysmal. The Reds clawed their way back, and lifted the trophy, but the sense was of a Liverpool team making hard work for itself. Scraping past Cardiff on penalties does not suggest a great achievement, although winning away at Stoke, Chelsea and Manchester City en route was the real hard work.
In keeping with other themes of the season, Liverpool hit the woodwork twice in normal play, and once in the penalty shootout. Free headers were aimed straight at the keeper, umpteen shots were drilled just wide (with several more skied, mostly by a captain who appeared to have left his shooting boots in Cardiff), a couple of shots were cleared off the line, the opposition keeper pulled off a number of smart stops, and on the rare occasions when the Reds' defence was breached at the other end, goals ensued.
Welcome to Liverpool, 2011/12. Still, it's a damn-sight better than Liverpool 2010/11.
The rest of this post – further thoughts on the game, and my experience at Wembley – is for Subscribers only.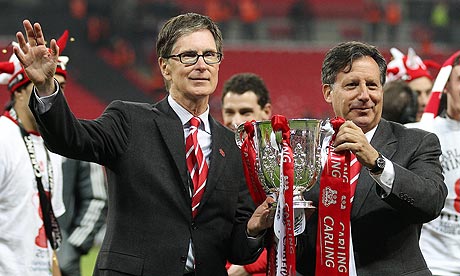 [ttt-subscribe-article]