As we're going to Wembley for the first time since 1996 – I believe it's been mentioned, unlike the eight appearances at Cardiff in six seasons, and that FA Cup semi finals weren't held at the same ground as the final back then  – I thought a delve back into our illustrious record in this tournament at that stadium wouldn't go amiss, especially for our younger subscribers.
Both our number of wins (seven, going on eight) and number of final appearances (now 11) are both tournament records. And our last win of a major trophy at Wembley – against Bolton Wanderers in 1995 – came in this competition, back in the days when Wembley had twin towers but no arch. At Wembley we've won three, drawn three (winning two of the three replays) and lost just once, against Arsenal in 1987. Then we won two (against Birmingham in 2001 and Man Utd in 2003) and lost one (against Chelsea in 2005) at Cardiff.
February 26th 2012 will be our eighth Wembley appearance in a League Cup Final – or whatever it was called at the time – Littlewoods Cup, Milk Cup, Coca-Cola Cup, before those brewers of beers of questionable quality, Worthington and Carling, moved in. I'll stick with League Cup as a generic term. That's what it was when we first appeared in the final in 1978.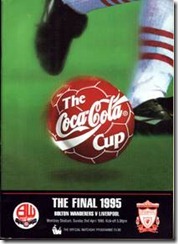 In truth we didn't really used to take this tournament very seriously back then. The supporters, that is. Maybe the players and managers did – a trophy's a trophy after all, and playing at Wembley – well, it's special isn't it? Apparently.
We Kopites always felt we had bigger fish to fry. The 'Mickey Mouse Cup' was a bit embarrassing, beneath us, even being in it along with all the other hopeful deadbeats was a bit demeaning. We had the League title, our proverbial bread and butter, to challenge for most seasons, and as often as not the European Cup. The League Cup was strictly fourth out of four as far as competitions went – an easier stance to maintain when it's quite feasible that you'll win one of the other three. Less so if you're not. You learn to take your triumphs whenever and however you can get them.
Well I suppose it still is fourth out of four (if you're in Europe that is), but certainly not beneath us – or I'd argue anyone else – now. Utd, Arsenal and Chelsea have all won it in recent years and been quite happy to do so. In these days when a club's and manager's records are subject to such intense scrutiny, when the ticker reminding you how long since you won a trophy keeps flashing so remorselessly – ask Arsene – a Whatever-It's-Now-Called Cup is no longer to be taken so lightly. It's all about where your club is at the time, and I would argue that ours needs this cup right now, even if it's only as a first foothold on an ascent of a much higher summit.
The rest of this post is for subscribers only
[ttt-subscribe-article]