By Paul Tomkins.
When arguing that Rafa Benítez was doing a good job (and often a very good job), I often observed how wrong it was to expect Liverpool to automatically return to the glory days. Too much had changed between 1991, when Kenny resigned with the Reds reigning champions, and 2004, when Rafa arrived.
Anyone who thought Kenny was going to work miracles has been reminded of his mortality. However, this doesn't mean that he isn't doing a good job.
Equally, he's not doing a flawless job, but being Kenny, there's a tension where some fans think him beyond criticism and others want to go too far in the other direction (in trying to break this perceived omertà). Stony silence shouldn't be the case – his record and signings are there to be assessed, like those of any other manager – but equally, he should be judged on the situation he inherited, not the one he left 20 years ago, or the one where we were regular Champions League qualifiers until last season.
This season, in the Premier League at least, he's doing roughly the same as last season – and considerably better than the man he replaced. He had the natural boost of his reappointment, where everyone was relieved that Hodgson had gone and the King was back; and when that wore off, he had some money to spend in the summer, albeit not without having to prune the wage bill. The injury to Steven Gerrard – who is still not match-fit, as seen against Stoke – and the suspension of Suarez has meant that, with other absentees, he's yet to even start his strongest side.
Therefore I believe that, overall, he's doing a good job, if not yet a 'great' one.
Dalglish didn't do too well in the cups last season; an away tie at Manchester United was (not unexpectedly) lost, not least once suffering an iffy penalty and an early red card to Gerrard. The Uefa Cup exit at the hands of eventual finalists Braga was disappointing, mind. Roy Hodgson's only relative success at Liverpool was in that competition, albeit against mostly substandard opposition in the easier early rounds.
This season, Dalglish has steered Liverpool to League Cup victories over Stoke (away), Chelsea (away) and Manchester City (away), and even though it's a devalued cup that would not normally be high on our list of priorities, those are never easy games.
While Liverpool's league home record has been surprisingly poor (albeit whilst still remaining unbeaten), the overall record is still pretty good. It's heading in the right direction, albeit not at breakneck speed. Playing good football and creating chances hasn't been a problem, but finishing them off has.
The rest of this post, which looks at various issues, is for Subscribers only.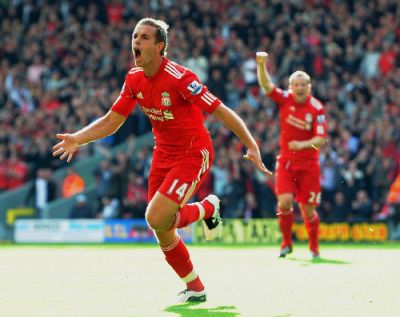 [ttt-subscribe-article]