Manchester City had only won one of their last 13 league games against Liverpool, and Andy Carroll had scored four in three starts against the league leaders, but those promising omens were not borne out as Liverpool slid to their second heaviest defeat of the season at the Etihad.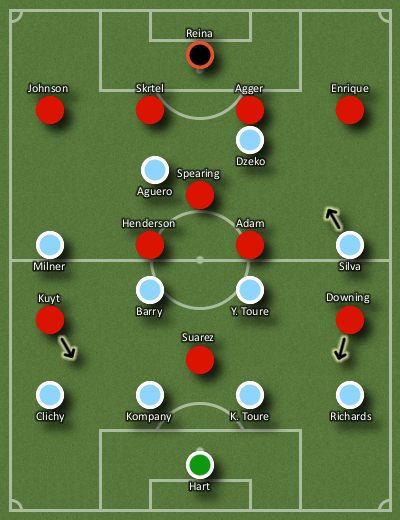 Before the first goal
Neither side produced any surprises in their formations or starting line ups. Mancini chose an attacking formation with passive behaviour; while Dalglish used his usual setup for big matches, the defensive formation with a passive style.
The first ten minutes were pretty cagey, with both sides backing off. Neither pressed, preferring to shut down the spaces in their own halves. For City this was more understandable as it was their second game in 72 hours; but Liverpool had a three-on-two advantage in the centre of the field, which might have encouraged them to close down their opponents. However, Dalglish's initial plan seemed to be to slow the tempo and gradually ratchet up the pressure on the opposition, hoping that by inviting them on they would eventually tire and leave gaps in their defence.
Because of their behaviour, both sides had spells of dominance (in terms of possession) in the opening ten minutes, but neither went for penetrative passes, preferring instead to recycle the ball and wait for their opponents to drag themselves out of position.
Liverpool's three-man central midfield gave them a slight advantage in this regard, and in the 8th minute Henderson sent a delightful through ball to Downing through the centre. The winger sneaked past Richards and went one-on-one with Hart, but the 'keeper managed to block his shot with part of his arm and part of his torso.
Interestingly, in the opening minutes Adam tried several times to push forward and drag Yaya Touré and Barry out of their positions, but the forward trio were unable to use this space to their advantage.
After the first goal
The opening goal came from uncharacteristic mistakes from both Kuyt (losing the ball after a throw in near the penalty area) and Reina (who didn't react well enough and allowed the ball to slip underneath his body).
Liverpool reacted well tactically, trying to put more pressure on City's midfield two. This resulted in more possession, and after about half an hour they had closer to 70% of the ball. The link between City's deep central midfielders and their main creative outlet (Silva) was severed, and the team quickly reverted to a policy of dropping deep to avoid being completely overrun through the middle.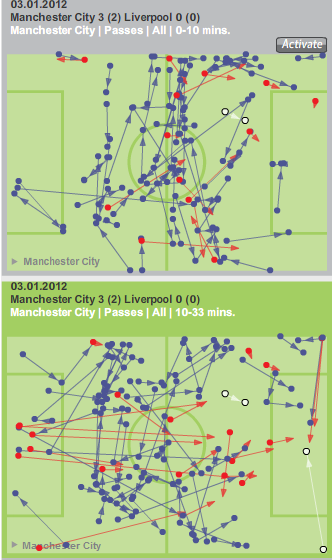 In turn this gave even more space for Liverpool's midfield triangle, allowing them to recycle the ball and dictate the rhythm of the game. As against Newcastle, Spearing played a key role in this, spraying the ball to the flanks and playing the ball off to his midfield partners.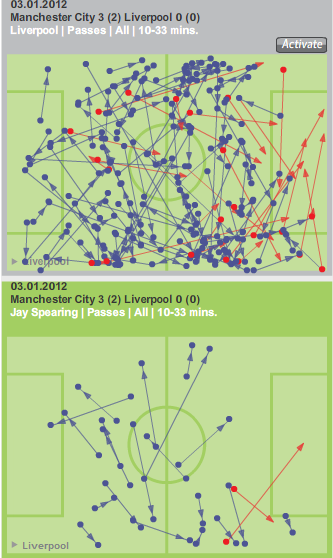 The key man in this period of dominance for Liverpool, at least in terms of attacking edge, was Downing. In the previous match against City he and Enrique had worked exceptionally well against the right back Richards. Downing had preferred not to engage the full back directly, instead letting Enrique (who is a better match for Richards' physique and pace) run at him, while Dowining tucked inside to act as an additional passing outlet.
But in this game, probably because Liverpool's passive approach restricted Enrique's forward movement, it was Downing who took on Richards directly. The situation in the 8th minute suggested that Downing was encouraged to probe the space around and behind Richards, and on a couple of occasions after the first goal he attempted to take him on. This appeared to take Richards off guard as the full back reacted poorly to the first few attempts. He backed off, allowing Downing to have space on the ball and choose where he wanted to run.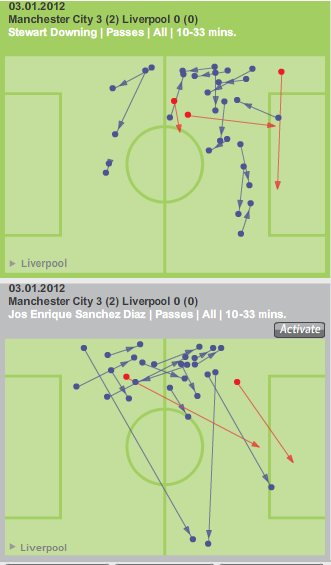 The rest of this post is for subscribers only
[ttt-subscribe-article]