Despite their strong start to the season, Manchester City had only won one of their last 12 league meetings against Liverpool going into this game; and they hadn't won at Anfield in their last eight attempts. It would prove to be the case again.
Starting Strategies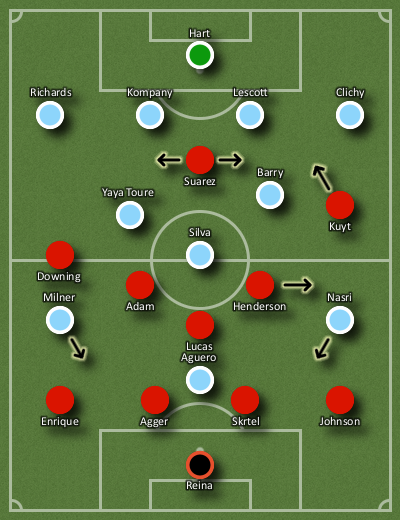 Both sides went for their less-attacking formations, as expected. Liverpool went for the 4-1-2-3 while City went 4-2-1-3. In doing so, both sets of players matched up equally across the pitch, especially in the centre where Liverpool's 1-2 triangle perfectly mirrored City's 2-1.
Interestingly, both Barry (City's deepest midfielder) and Henderson (Liverpool's most advanced) were given the most freedom as they rarely matched up directly against an opponent. Lucas generally marked Silva and Adam monitored Touré. But Henderson rarely pushed forward to pick up Barry, preferring to pull right and cover Kuyt (when Clichy pushed forward) or Johnson (when Nasri cut inside).
From the beginning City dominated possession, largely due to their midfield three and their superior technical skill. This seemed like a deliberate tactic from Mancini as the team often eschewed a good attacking forward pass in favour of a simple sideways ball. The midfield three patiently – perhaps too patiently at times – recycled the ball between them. Silva often came deep to receive passes from Barry and Touré, creating narrow triangles with them and the nearest winger, depending on which side of the pitch they were on.
Nasri and Milner liked to come inside, with the intention of creating a narrow band of three players behind Aguero. This would allow the team to execute what are becoming those trademark flurries of short, interchanged passes in the final third which split the defence and leave a forward to run through on goal. Both full backs therefore had the opportunity to push forward, stretching the play. But given City's overly patient build up, neither Clichy nor Richards was often chosen as a passing outlet.
All of this was combined with Aguero's tendency as a false nine to drop deep into the midfield. So, in essence, City overloaded the centre of the pitch with six players. Liverpool responded with a deep defensive line and very little pressing. The midfield trio stayed narrow and deep to prevent them from being overrun through the middle, and both wingers also came deep and tucked inside. In doing so they could track the inside runs of City's own wingers, while the full backs held deep and could guard against any attacks that came down the wings. City's full backs were often completely unmarked as a result.
City's main weakness is through the channels, particularly when their full backs bomb forwards. So Liverpool logically attacked the flanks with either Kuyt or Downing slipping into the space left by the marauding full backs. Suarez's role in this was key, as he moved around and occupied the two centre backs so that neither could pull wide and cover the gap.
As outlined, Johnson and Enrique were often spare on the flanks because they were deep and the Manchester City wingers were cutting inside, tracked by Liverpool's wingers. So they were able to burst forward on the counter attack, doubling the threat posed on the wings. Between the tenth and fifteenth minutes there were good runs from both men resulting in decent moves down each flank.
After the Twentieth Minute
The first twenty were dominated by City. They had 57% of the ball and outpassed Liverpool at a ratio of three to two.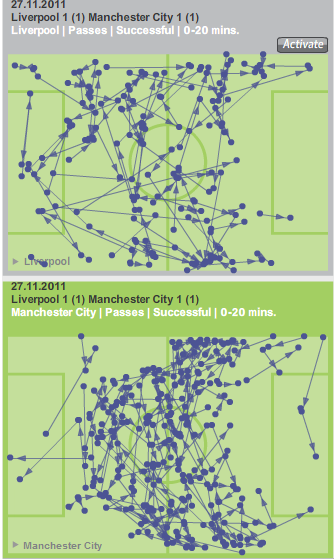 To counteract, Liverpool started to take a more active approach when out of possession. Their defensive line pushed ten to fifteen yards higher up the field and they began to press the opposition more. Henderson and Adam were much closer to Barry and Touré, giving the central midfielders less time on the ball and less chance to recycle possession. The biggest change, however, was Lucas who was now tasked with tracking Silva on his own. He had already shown that he could perform this task, as he had done against Anelka last season at Stamford Bridge.
The congested centre became more congested. The space that City had enjoyed was squeezed by Liverpool's newly-compact lines. Nasri and Milner were forced to go wide, which broke their partnerships with Silva. Johnson and Enrique were able to track the two wingers more naturally. Silva began to roam much more, drifting wide and deep to try and plug the gaps between the midfielders; but once he entered the final third, Lucas stuck to him tenaciously, stopping him from creating anything. The Brazilian used his tackling ability to break everything that entered his zone, even getting the better of the powerful Touré when he attempted to overload him. He was also able to use his mobility and intelligence to shadow City's players and wait for the perfect moment to intercept the ball.
The rest of this post is for subscribers only
[ttt-subscribe-article]