There have been various times in my life when football results have taken a backseat; misunderstanding or misquoting Bill Shankly's ironic words about 'life and death' is common, but when all is said and done, it's unlikely that many people maintain the exact same interest in their team's results, irrespective of the slings and arrows of daily life.
Of course, most fans at some point experience something like the current Blackburn situation, where supporters are too dissatisfied and angry to enjoy the games. They even ended up booing their own goalscorer because he celebrated with the much-derided manager.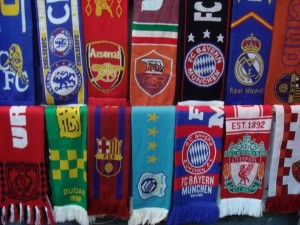 While I find this last particular act bizarre in the extreme, I have to admit to taking no great pleasure when Liverpool won the occasional game last winter under Roy Hodgson, because many fans, perhaps unfairly (but often accurately) feel that, once past the tipping point, the win will condemn the team to several defeats in the next handful of games. At that stage, victory feels less like papering over the cracks and more like Sellotaping the San Andreas fault during an earthquake.
But there are the times when, for personal reasons, football gets put into perspective. Of course, part of the great joy of football is getting it out of perspective.
It is, of course, just a game. But if anyone tells you this in one of those moments when it feels like so much more, it's almost a punchable offence. It's a game that we build up into a way of life, and it's something that greatly enhances our existence. The more emphasis we choose  to put on the game – or find ourselves unable to resist putting on the game – the better or worse each win or defeat feels.
But sometimes it just doesn't matter; of course, we know that normal service will be resumed somewhere down the line, but for me, maybe this weekend, and a few thereafter, just won't seem as important.
We've been there before, as a club; particularly in 1989. Bigger things happen, and football seems irrelevant … but then, over time, its importance creeps back up to normal.
From a personal point of view, the home game against Manchester United in November 2002 was watched in something of a torpor, as I was moving out of the marital home and losing unrestricted access to my son. I therefore wasn't as devastated as I would otherwise have been when Jerzy Dudek let Diego Forlan's shot roll through his legs, but it did seem in keeping with the day.
As I write this, I am sat close to my dad's bed, as he nears the end of his long, 'good' (his words) life. He has been on the Liverpool Care Pathway (a national system of terminal illness care, created in Liverpool) for several days now, and the doctor said his breathing, and the fact that he's been in a coma for a few days, suggests that he probably won't make it through the weekend.
It's incredible for me to think that when he was diagnosed with cancer, and given six months to live, Liverpool were fighting for the title under Rafa Benítez in the first half of 2009, with Alonso, Torres and Mascherano key players. If it hasn't gone so well for the Reds since then, my dad has done miraculously to last this long, and only really saw the illness take hold this summer (and become serious this autumn).
On the back of the door hangs the Aston Villa scarf that was part of a gift package from John Henry, organised when he discovered that my dad was seriously ill. The Liverpool owner phoned immediately to ask after him, and asked me which team my dad supported; I said 'none' – he was a lover of football, more than any one team – but I mentioned that his dad played for Aston Villa, albeit around 100 years ago. Soon after John Henry's call, a big box of Villa merchandise arrived, with a card signed by Randy Lerner. The hat and scarf were used frequently last month, when wheeling dad around the block for some fresh air.
And so Liverpool face Villa this weekend; to me, at least, it seems fitting, even if, to my dad, there is less of a connection to Liverpool FC. Having said that, just as parents switch allegiance to the club their sons end up playing for (with blood the only thing thicker than football water), mine developed a soft spot for Liverpool, by proxy; particularly when writing about the club became my living. When my dad couldn't even remember the most basic things, he could still name current footballers, as well as those from the distant past.
(I went to see the comedian, and Liverpool fan, Dave Gorman last month. When I told my dad who I'd just seen, he said that 'he must be getting on a bit now', for some reason thinking I meant the old Irish full-back, who played for Brentford and guested for Liverpool and Manchester United during the war. "Is he still playing?", my dad asked. A quick Wiki later, and, "No dad, he died at the age of 67, in 1978…". My dad also asked if he could phone a friend of his. "He died 25 years ago, Dad" … "Well, phone him anyway." But then the dementia, or possibly the cancer spreading to the brain, made him paranoid and angry, and that was hard to witness; he thought we were all trying to poison him and wouldn't drink any water.)
[I wrote this last Friday, when we were told that he wouldn't last the weekend. On Sunday morning we were told that he wouldn't last until the afternoon. But he lasted all through the Villa game – which we had on in the background – and all the next night, and as I write this edit on Tuesday lunchtime, he still continues to defy the odds.]
So I've drafted this, and saved it to the site. When the time comes, and the end has arrived, I'll click 'publish' and take my leave for a while (though the site continue as normal over the festive period, with Chris Rowland at the helm). Just as football won't be the same in the coming weeks, nor will Christmas. But life goes on, and what is happening to my dad, although tough to endure, is no tragedy; at 82, he enjoyed his fair share of time on this earth, unlike many of the seriously and terminally ill children at Post Pals.
I'll be devastated, of course, but I'll always have my dad to thank for introducing me to the game I love. If, due to lack of parental indoctrination, I was free to choose the club I supported, I was never going to be free from football itself; it was in the blood. He bought me many things over the years, but football was his greatest gift. Playing, watching, and now writing about the sport has defined my life. Thanks dad.