To say events in the footballing world aren't going Liverpool's way at the moment would be an understatement of rather large proportions. This week the club and Luis Suarez were charged by the F.A. – for failure to control their players and improper conduct relating to an indecent gesture aimed at Fulham fans, respectively – following events at Craven Cottage on Monday night. Suarez has until 4pm on Monday to respond to his charge and Liverpool have yet to decide on how to respond to both charges.
On top of the above Jay Spearing, who replaced injured Brazilian Lucas Leiva, faces a three-match suspension for the red card he picked up against Fulham during the 1-0 defeat, leaving the Reds desperately short of experienced central midfielders. It was of course Spearing's red card which sparked the incident that has landed the club with an F.A. charge.
In that same match we hit the woodwork on two separate occasions to take our tally of strikes to have hit the post or crossbar this season to 12. Via Opta Joe, this is how the PL table would look if every shot that hit the woodwork this season resulted in a goal: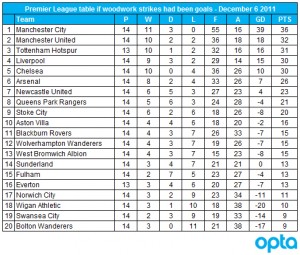 Liverpool's woes this season aren't purely down to bad luck and poor decisions from the match day officials, but there should be no doubt that both can influence the outcome of a game. One of our biggest problems is not creating chances but putting them away. 17 goals scored in 14 matches is not good enough compared to our rivals.
There have been spells where we've dominated teams, playing some fantastic attacking football in the process, but we seem to lack a more clinical finish to find the back of the net. It's hard to see how we can rectify this problem without adding to the squad in January.
With that being said, it's also worth remembering how we performed over the second half of last season when scoring goals was not an issue. Whether it's down to bad luck, bad refereeing or poor finishing, Liverpool have suffered all three on too many occasions this season and that surely can't continue. I still have faith that we can compete for a top four finish. We're just five points behind 4th placed Chelsea and we haven't reached the half-way stage of the season yet, so there are plenty of points still up for grabs.
Finally, to put our current troubles into perspective, here is our record from this stage last season:
 2011/12

Liverpool

: 7th – P: 14 W: 6 D: 5 L: 3 F: 17 A: 13 GD: +4 Pts: 23
 2010/11

Liverpool

: 9th – P: 14 W: 5 D: 4 L: 5 F: 16 A: 17 GD: -1 Pts: 19
We haven't made a significant improvement in terms of points gained but I would absolutely take our current position over where we were at the same stage last year.
Liverpool's Premier League record against Q.P.R. at Anfield:
Played: 4 Won: 3 Drawn: 1 Lost: 0 F: 6 A: 3 GD: +3 Pts: 10
Liverpool's overall record against Q.P.R. in the league:
Total:   P: 40 W: 28 D: 6 L: 6 F: 68 A: 34
Home:  P: 20 W: 17 D: 2 L: 1 F: 40 A: 14
Away:   P: 20 W: 11 D: 4 L: 5 F: 28 A: 20
Liverpool's biggest home victory and defeat v Q.P.R. (league):
Biggest home win (overall):  4-0 (17/10/1987)
Biggest home defeat (overall): 3-1 (30/3/1991)
Biggest home win (Premier League):  3-2 (8/12/1993)
Biggest home defeat (Premier League): N/A
FORM
The rest of this post is for subscribers only.
[ttt-subscribe-article]