It's fair to say that Stamford Bridge hasn't been a favourite destination for Liverpool over the years. The Reds have secured maximum points on just three occasions since football was created in 1992 and we've found our way past Chelsea's various 'keepers just eight times during the 19 matches played there whilst conceding 28 times and suffering 12 defeats.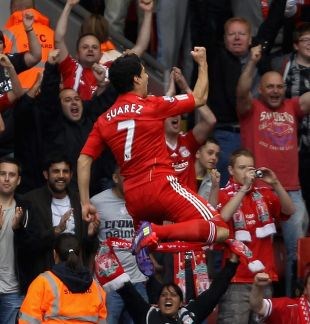 While those statistics won't fill us with confidence, it's not all doom and gloom. Liverpool have won two of their last three visits to the Bridge and Chelsea don't appear to be the well-oiled machine that secured three Premier League titles between 2005 and 2010, sitting just three points above us in the league table despite our inconsistent form.
Chelsea also have an important mid-week Champions League tie away to Bayer Leverkusen on Wednesday night so Vilas-Boas may decide to field a weakened team with one eye on securing Chelsea's place in the knockout stages of the Champions League, which would be sealed by defeating Leverkusen at the BayArena.
Liverpool's Premier League record against Chelsea at Stamford Bridge:
•    P: 19 W: 3 D: 4 L: 12 F: 8 A: 28 GD: –20 Pts: 13
Liverpool's overall record against Chelsea in the league (includes Premier League stats):
•    Total – P: 136 W: 72 D: 28 L: 46 F: 209 A: 187
•    Home – P: 68 W: 45 D: 14 L: 9 F: 142 A: 69
•    Away – P: 68 W: 17 D: 14 L: 37 F: 67 A: 118
Liverpool's biggest victories and defeats v Chelsea at Stamford Bridge (league):
•    Biggest win (overall): 5-2 (16/12/1989)
•    Biggest defeat (overall): 6-1 (28/8/1937)
•    Biggest win (Premier League): 1-0 (three times)
•    Biggest defeat (Premier League): 4-0 (16/12/2001)
Form
After our recent troubles at Anfield, it may be a blessing in disguise that our next match is at Stamford Bridge. The Reds have won three of their five away games in the PL so far – 2-0 v Arsenal, 2-0 v Everton and 2-0 v W.B.A. – although both of our defeats this season have came away from Anfield – 1-0 v Stoke and 4-0 v Tottenham.
Chelsea had a perfect record at Stamford Bridge this season before they suffered a surprising 5-3 defeat at the hands of Arsenal three weeks ago. Prior to that reverse Villas-Boas' men had recorded home league victories over W.B.A. (2-1), Norwich (3-1), Swansea (4-1) and Everton (3-1).
One interesting stat worth noting is that Chelsea have only kept two clean sheets in the league this season.  Just for comparison's sake, at the same stage last season Carlo Ancelotti's Chelsea side had kept seven clean sheets.
Premier League positions prior to weekend fixtures:
• Chelsea: 4th – P: 11 W: 7 D: 1 L: 3 F: 24 A: 15 GD: +9 Pts: 22
• Liverpool: 6th – P: 11 W: 5 D: 4 L: 2 F: 14 A: 10 GD: +4 Pts: 19
Team News
Liverpool's only confirmed absentee is Steven Gerrard (ankle).
Michael Essien (knee) is definitely ruled out for Chelsea while there are doubts over the fitness of Didier Drogba (knee) and Hilario (back).
Liverpool:
Goalkeepers: Reina, Doni
Defenders: Johnson, Carragher (c), Agger, Skrtel, Coates, Enrique, Aurelio, Kelly, Flanagan
Midfielders: Lucas, Maxi, Adam, Henderson, Downing, Spearing
Strikers: Suárez, Carroll, Bellamy, Kuyt
Chelsea:
Goalkeepers: Cech, Turnbull
Defenders: Ivanovic, Cole, Luiz, Terry (c), Bosingwa, Alex, Ferreira, Bertrand
Midfielders: Lampard, Romeu, Ramires, Mata, Mikel, Malouda, Meireles, McEachran
Strikers: Torres, Drogba, Anelka, Kalou, Lukaku
By Mihail Vladimirov
With the disappointing results in the last two home games, the next two matches against Chelsea and Manchester City have added significance.
If Liverpool were to lose both, they are likely to be at least six points behind Arsenal, Tottenham and Chelsea. Even though such a gap is not insurmountable,we are then relying on all three teams slipping up between now and the end of the season if we are to achieve fourth place. Draw both and the gap remains, with Spurs still having a game in hand. Still, it would mean that only Spurs of the leading sides will have taken all three points directly off Dalglish's men.
The simple conclusion, then, is that Liverpool need to win at least one of these matches to maintain their position and their challenge for a Champions League spot.
Formation and style
Chelsea, since Villas-Boas took over, are one of the most attacking sides not just in England but in Europe. They play with a 4-1-2-3 formation, but one that is a far cry from Mourinho's system. This Chelsea side has attacking width (as it did under Mourinho) and stability through the centre (as it had under Ancelotti). That means that they can attack from multiple angles, able to use both vertical (through balls and off-the-ball movement from the forwards) and horizontal (sideways passes, maintenance of possession) attacking moves.
This style means that the team plays in a similar way regardless of the starting eleven. It uses a high defensive line, pressing from the front, attacking full backs and driving runs from the central midfield to support the three forwards.
A slight change in style stems from who is chosen to play defensive midfield. Mikel tends to drop deep, collect the ball and then knock it off to the other midfielders. He also tends to form a trio with the central defenders, allowing them to fan out and cover for the full backs who are freed to make attacking runs. For that reason, Bosingwa usually plays right back when Mikel is available to cover.
The other option is to put either Meireles or Ramires in that deep position. That gives the team a third passing midfielder who can rotate with the other midfielders and go on forward runs to support the forwards. The team becomes very fluid, which causes problems for the opposition who need to be wary about whom to mark; but it also means that all three players can recycle the ball, hold their position, or make driving runs. This needs a platform, so the centre backs tend to sit behind them, covering the central zone. Ivanovic usually plays at right back in this scenario so that there is an extra defensive body; that allows the defence to shuffle across if it needs to cover the left back area when Cole surges forward.
Key strengths
Without doubt, the Meireles-Ramires-Lampard triangle in midfield is one of Chelsea's biggest assets. This sits behind the tactically impressive trio of Mata, Torres and Sturridge. All combine pace, mobility, technical ability and a direct threat on goal.
The rest of this post is for subscribers only
[ttt-subscribe-article]