All teams need to find the balance between attack and defence. Perhaps it's the most crucial equation in football. Formations are designed to meet both needs, with compactness a key when out of possession, and movement essential once in control of the ball.
The further up the table you are expected to be, the greater the need for a higher number of match-winners and magicians. The lower you go, the more likely you are to find a greater number of stoppers, with just a couple of lock-pickers. Occasionally you find players who excel at both sides of the game, and these are like gold dust. Right now, I'd say that Liverpool have at least three: Suarez, Gerrard and Agger, who are as creative as anyone else in their respective positions, but also work hard to win the ball. Perhaps Kuyt should be included, too.
There's a lot of talk about formations, and they are obviously important. But they do not define how attacking a team is. To me, the vital aspect is how many attacking players you get into the team, whether they line up in the defence, midfield or up front.
My biggest gripe with Roy Hodgson was that he put so few forward-thinking players in his team, particularly because he selected defenders who were not comfortable beyond the halfway line. He had "two up front" (ergo he was "attack-minded" – © Andy Gray, Sky, prior to the 3-0 mauling at the hands of Manchester City), but good teams – and both Benítez and Dalglish know this – need a large number of players who can move smoothly between zones, given how the opposition's main aim is almost always to thwart rather than defeat.
Obviously it's impossible to predict Liverpool's side for the opening game against Sunderland next month, and line-ups depend on who is fit, in form and the strengths/weaknesses of the opposition. But it just so happens that it's the fixture that I used to contrast between Benítez and Hodgson when writing in October 2010. I'll return to this fixture in a bit.
Strongest XI
As things stand, with so many central midfielders in particular, it's hard to know what the strongest XI would be, if everyone was fit and and firing. And therefore it's harder to gauge the balance of attacking/defensive intent. And it seems likely that some key players, including Luis Suarez (Copa America) and Steven Gerrard (injury) may be missing, for the Sunderland game at least.
But what I would say is that, if you accept that Liverpool haven't signed any 'fantasy' players this summer – the Brazilian-style winger so many crave – the chances are that the strongest XI (as a rough best guess) could feasibly have just one "non attacking" outfielder (Jamie Carragher), and a greater number of players who are strong both offensively and defensively. (And of course, as noted many times, even Pepe Reina is a footballing goalkeeper.)
Indeed, the most interesting thing about this summer's signings is that they are neither pure defenders/workers nor solely attack-minded. The main demand from fans has been for a silky winger, and that's where some unrest remains with the signing of the more prosaic Stewart Downing.
At this point it's worth noting that three of the Premier League's top five 'defensive' wide midfielders last season were Reds: Maxi, Meireles and Kuyt. (By 'defensive', Who Scored? were looking at tackles, interceptions, etc, based on Opta stats.) What's interesting is that two of the three – Kuyt and Maxi – also broke double figures for Premier League goals, and the Dutchman continued his excellent assist rate.
Meireles represents more of a grey area. While he was far better out wide under Dalglish than Hodgson (perhaps due to the greater freedom he was afforded as part of a more fluid system), all but one of his goals came when stationed centrally behind the main striker, and it appears that he was not a particularly successful attacking player in that position. Also, a lot of his chance-creation stats were from set-pieces and central midfield. So while he's okay out wide, he is in no way exceptional.
(To quote the aforementioned article, "His cross accuracy was a weakness with just 12% of his deliveries reaching their target, while he netted just 1 of his 5 goals from last season from a position on the wing, proving his goal threat is somewhat nullified in this area of the pitch." A caveat I would add is that interchanging of positions after kickoff means that some of these stats may be a little out, but it's still an excellent guide.)
And of course, Maxi's best work came within the space of a few games towards the end of the campaign, rather than spaced out over 10 months. The issue is more one of consistency, but last season was his first full campaign in England, and the first six months were a write-off for many Liverpool players (as it happened, three goals under Hodgson wasn't bad). His crossing accuracy stats are even worse than those of Meireles, at a pretty terrible 8%, but he appreciates how to get into the box at the right time, often appearing centrally in front of goal when the ball is on the opposite flank (as opposed to dribbling into shooting positions from a wide starting point, in the way Luis Suarez often did when moving to the flank to receive the ball).
Statistically, Dirk Kuyt stands out: eight goals in 21 games when playing wide (although I'm not sure how many were penalties, the taking of which of course bears no correlation with starting berth), and a very impressive 19% cross success rate – particularly when you consider that the top crossers usually achieve no better than 25%. So the Dutchman's stats prove what many instinctively know (but others still miss) – Kuyt is a player who is effective in all areas of the game.
While there are faster and more skillful wingers than Downing, many of them don't work hard, show any tactical awareness or bother to track back. That's more acceptable if they are absolutely outstanding going forward – John Barnes was forgiven such 'laziness' – but in the modern game, few teams are happy to carry passengers out of possession. Even Lionel Messi works his little cotton socks off.
If Downing can help maintain the kind of defensive stats Meireles and Maxi posted on the left, but, as a more natural winger, offer a different kind of delivery into the box as well as the 10 goals that Maxi delivered (the former Villa man managed nine last term), then that could feasibly provide an improvement. While Maxi will be more inclined to cut inside and pass or shoot, Downing – who also likes to do that – can just as happily go outside and cross.
While I find it harder to see how Jordan Henderson fits into the strongest XI right now, he is clearly a young player who offers alternatives. Many of Dirk Kuyt's best performances last season came as the most advanced striker; his partnership with Luis Suarez was a potent mix of shared wavelengths and phenomenal work-rate. Should Kuyt play up front, as remains an option with only three recognised out-and-out strikers (Suarez, Carroll and Ngog), then Henderson is perhaps the most likely candidate for the wide-right role, although Gerrard and Maxi are viable alternatives. (The joy of strength in depth.) And while nothing truly remarkable, Henderson is yet another strong all-round team player, rather than a specialist/soloist.
Charlie Adam is yet another all-rounder. His lack of pace means that he's never going to be running beyond the strikers, but he's an excellent passer and a very robust tackler, enabling him to do a similar job to Xabi Alonso, whose defending was grossly underrated.
While Adam's long-range passing appears to be on a par with the erstwhile no.14, he is likely to fall short of the Spaniard in terms of decision making when in possession. (While plenty of British players can also play lovely long passes, few seem capable of just doing the simple thing time and time again, displaying patience before picking the right incisive ball. They pass short, receive it back, and then feel compelled to hit long, whereas the likes of Alonso and Xavi are happy to exchange five or six passes with the same player within five yards of him until a more ambitious ball is on.) Of course, Adam possibly edges it in terms of set-piece play, so he needn't be too much of a poor man's Alonso, even if he is likely to be a slightly pale imitation.
If there's one mark against Alberto Aquilani (beyond his fitness record) it's that he's a specialist ballplayer who doesn't offer too much out of possession. Of course, players like Luka Modric have shown that you can excel in a Premier League midfield with the physical strength of a wet tissue, and that if you rarely give the ball away you can remain a big asset. But ballplayers usually need minders, to compensate. It's often a question of weighing up the pros and the cons, and seeking to strike that balance. Players like Modric and Aquilani need not be luxuries, but they do require protection.
Last season's player of the year, Lucas Leiva, perhaps presents a conundrum. While he is better going forward than given credit for, and not a mere backwards passer, he is far from his best in the final third of the pitch. (Full breakdown of Lucas' passing: 1190 forward, 66.33%; 148 backward, 8.25%; 87 left, 4.85%; 369 right, 20.57%. Courtesy of @BassTunedToRed via @AnfieldIndex.) Like Jamie Carragher, he is most effective patrolling his particular zone, and not straying too far from that comfort.
If both full-backs are ambitious, then you almost certainly need someone like Lucas. Add a work-shy winger, a central midfielder who bombs forward and a centre-back who steps into midfield, and you can see how important the disciplined holder/s become. However, if everyone does a bit of everything, then maybe you can look at a different approach; it's just a risky (brave?) strategy that could backfire if the entire midfield gets carried away and joins an attack. Whether or not Lucas starts every game, he's still an incredibly important asset.
Should the central midfield duo (in a four-man midfield) comprise two of Gerrard, Adam, Aquilani, Henderson and Meireles, then it would contain players who are all capable of killer passes and scoring goals. Of that quintet, only Aquilani fails to offer defensive solidity, although Meireles offers it more by positioning and intercepting than tackling.
(Of course, if reports are to be believed, one of Aquilani and Meireles may yet be sold, and possibly even both. I like both players. I prefer Aquilani on the ball, and Meireles off it.)
So if everyone can offer 'very good' creativity, and share the same work ethic, that can be better than a couple offering 'outstanding' creativity. But if you have some outstanding creative talents, then you may opt to play to their strengths, but add a counterbalance to the side. Every time you adjust the balance by even just a fraction, it has knock-on effects; because for every player you add to the XI, you have to lose another. It's why so many "final piece of the puzzle" signings over the years have failed to improve things – something gets unexpectedly lost, because you never go to 12 pieces.
Balance
All of which brings me around to how badly the balance was out last season before Dalglish returned, and how quickly he remedied it.
The following is my assessment of the attacking capability of Liverpool XIs in a home game against mid-quality opposition (Sunderland, as previously mentioned), and is judged in relation to the the players' starting position within the XI and how they generally performed in that role/system within the previous year or two.
This may seem very subjective, in that it's just my personal assessment, but it's heavily – if not totally – based on statistics (goals scored, chances created, assists, key passes, crosses, etc.), and, I belief, the results are reflected in the goalscoring stats of the team under each different manager. All three XIs are fairly indicative of the thinking of the boss, so it's not like I'm focusing on unrepresentative teams.
Some of the scores may be a little generous, i.e. the '7' awarded to Joe Cole is based on his pretty decent couple of years at Chelsea (when fit) before arriving at Liverpool, rather than the poor, unfit player we saw last season, or the player at his mid-20s peak, when he was a '9'.
Similarly, '8' for Carroll as a centre-forward may seem a stretch based on his similarly injury-plagued, half-paced Liverpool showings last season, but he was certainly an '8', if not a '9' in a Newcastle shirt.
Remember, it is purely their forward intent and capability I am assessing, and not their overall ability; hence why Insua gets an '8'  – he was the top-assisting full-back in the first six months of his only full Premier League campaign (2009/10), with six, compared with the single assist of his replacement, Paul Konchesky, over a similar time period in 2010/11 – whereas the young Argentine's defensive susceptibility would score him down to, say, a '6' if rating him overall. (Weirdly, the more defensive Konchesky was, if anything, even worse at defending.)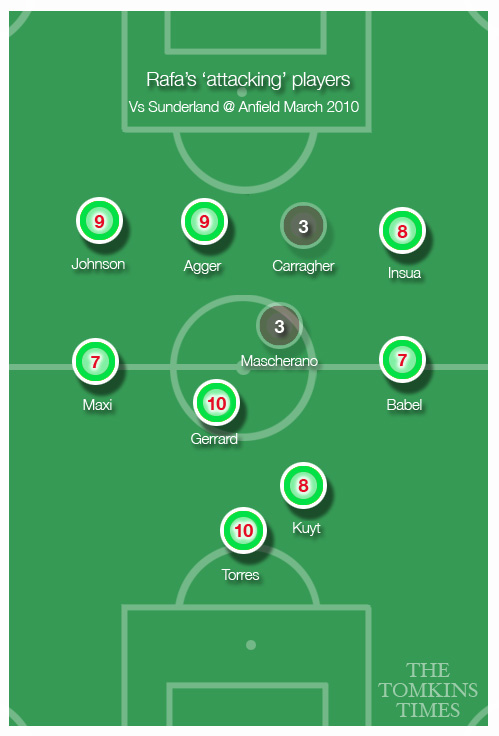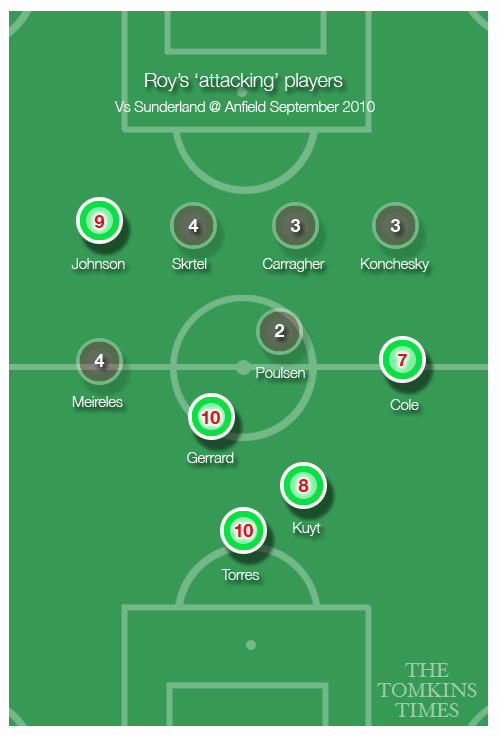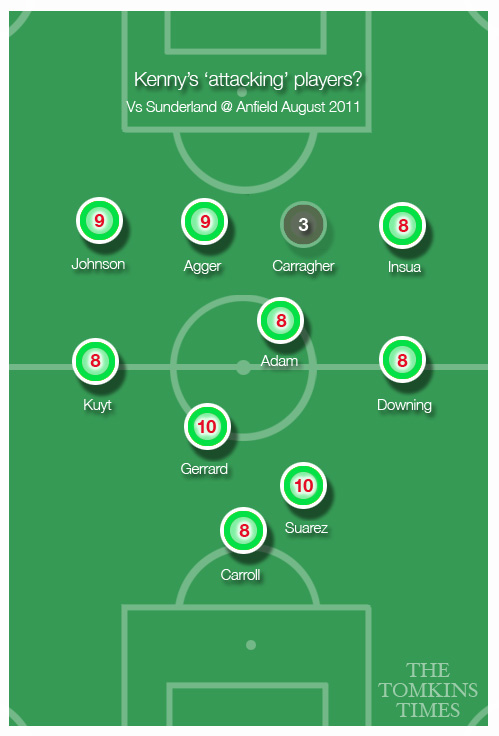 The total team scores are 81 to Dalglish, 77 to Benítez and, lagging well behind, 60 to Hodgson.
Perhaps Kenny has an advantage in the scoring: he has a fully fit (and more expensive) squad to choose from, as it is purely theoretical at this stage. But it does fit in with the kind of sides he was fielding in similar games last season, and the ambition of the players when selected in those particular positions. You could argue that he may field a more defensive left-back come opening day, and that his team may include the insurance policy of Lucas, who would bring the figure down to around the 77 of Rafa's side.
Roy's XI lacks the hugely gifted Agger, who was by this stage injured, but the player had already fallen behind Skrtel in the pecking order, and even, heaven forbid, the likable but limited Soto Kyriakos (whose score would be a '2' in open play, but perhaps boosted to a '5' on account of his set-piece threat). Hodgson did play Glen Johnson, but as with Agger, it was clear that he didn't really trust him.
Rafa tended to play Steven Gerrard in central midfield at home to most teams (except the big boys), but he would usually field a bit more quality on the flanks than seen here. You could argue that in terms of intent, Babel was actually a '9' for attacking – a purely forward-thinking player who offered nothing going back – but the quality, in reality, was rarely better than a '5'. I compromised on a '7', but Yossi Benayoun would have scored higher, at '8' or '9'.
Other times Rafa fielded both Lucas and Mascherano in the centre of the pitch, but again, at Anfield at least, this tended to only happen against the best sides. So while that would lower the central midfield score, the fact that Gerrard and Torres would then be the front two meant a duo of '10 out of 10' players, who were perhaps worth 21 out of 20 when in tandem. (Spinal Tap maths based on them exceeding the sum of their parts. This was a 50-60 goal partnership.) Put Yossi and Dirk on the flanks and the side would be 74 rather than 77, but would work harder than the XI here.
Going back to my earlier statement, if you filled the team with '8 out of 10' players in every position, you'd have a hugely attack-minded team. You don't necessarily need '10 out of 10' stars, so long as you get a good balance. It is no coincidence that much of Manchester United's success has involved the likes of Darren Fletcher and Park Ji-Sung as counterbalances to the more flamboyant stars.
To select three defenders with little forward-thinking ability, as Hodgson frequently did, you'd need a fair few '9's and '10's further forward for it to be acceptably attacking for a club expected to win six out of every ten games. As it was, he went with Poulsen, who was once a young goalscoring midfielder but whose game had become increasingly defensive over the past eight years (to the point of offering next-to-nothing), as well as deploying Meireles on the wing, where he neither assisted nor scored under the former Fulham boss. Liverpool won only 33% of games, and had a negative goal difference. Put Ngog up front instead of Kuyt, and move the Dutchman to the wing, as Hodgson often did (including the dismantling at City), and it's not much better.
So this summer's transfer activity, while not adding a single '10 out of 10' attacking player (in theory, at least), has helped assemble a greater number of '8's … but – and this is important – '8's who will also rank similarly when out of possession.
Out of Possession
For all the passing plaudits that come Barcelona's way, their manager, Pep Guardiola, is most obsessed with the art of winning back the ball.
When I looked at the same three Liverpool XIs in terms of the mix of defensive ability and intent, the results were Hodgson 77, Benítez 78 and the new Dalglish XI quite a way ahead at a superb 84.
Rafa's side is hampered by the inclusion of the very un-Benítezesque Babel, who I scored at 2 (perhaps in terms of how many times he'd track back in a season). Kuyt ranks 10 for work-rate and endeavour wherever he plays, although I only gave Gerrard a '9' on account of his tendency to undo so much good defensive work with lapses of concentration. I scored Torres a 7, although this was a mix of the hungry '9' he started off as and the '5' he became as the sulks set in, when much of the chasing he did was in anger.
Replace Adam with Lucas to the new season's XI, and the hard work/defensive side of the team gets even better. Lucas is the one '10' central midfielder defensively, because he's not prone to being caught out of position, is a brave as a lion, and will tackle absolutely anything. I've pointed out that he made the most successful tackles in the league last season (111), but others say "yeah, but he lost the most, too" (61). However, that just means that he's doing even more to try and stop the opposition; remember, even a failed tackle can put an opponent off his stride, and slow him down for others to pick off. He makes so many tackles because he chases and chases, and that pressing may be something Liverpool, in reality, cannot do without.
The joker in the pack that Kenny possesses is Luis Suarez, who scores a '10' in both directions. Indeed, his partnership with Kuyt scores 18 going forwards, but the full 20 in retreat. One thing that Kenny and Rafa understood – indeed, Bob Paisley's teams with Ian Rush were the first to really master it – is that if you harry and harass defenders into conceding possession near their own goal, you can create chances that don't require defence-splitting passes or sublime skills.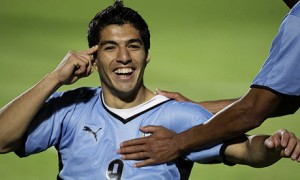 (Thinking back, it was perhaps Rush's superior work-rate that saw Dalglish jettison the equally prolific John Aldridge in 1989, in order to pair him with the league's other most fervent defender-harrier, Peter Beardsley.)
Find a defensively sound left-back, and the 2011/12 team's score could rise to 88. Replace Adam with Lucas – the league's best defensive midfielder last season – and it hits 90, with an attacking score still in the mid-70s.
So, with enough creativity – Suarez, Gerrard, Johnson, Kuyt, Downing – to work their way past defences, this side will also be able to chase and bother them into submission. That bodes well for a top four challenge.