Magical Mystery Tour
To Celebrate 'Istanbul Day', this is an extract from "Golden Past, Red Future", the book I began writing in 2004, and which culminated in an unexpected trip to Istanbul. Subscribers can download a free PDF of this entire book, along with three of my other titles.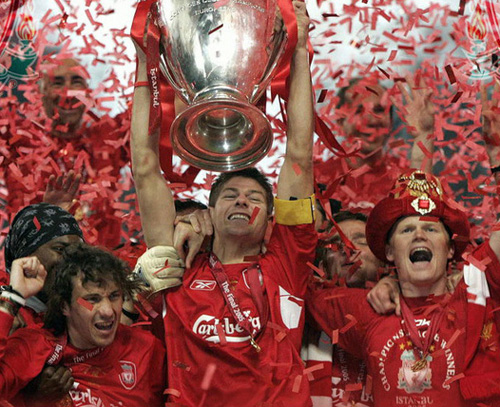 The buzz
Those who travelled in support of Liverpool converged at Taksim Square. The standing area at the top of a parade of shops provided the location to unfurl flags and banners. Below, a crowd of thousands gathered around the bus stops and taxi ranks, spilling onto the road and back around towards the park. Cans of beer were bought from entrepreneurial Turks and a football was repeatedly kicked aimlessly high into the sky; it only needed the presence of Duncan Ferguson to make it feel like watching Everton's desperate attempts to find an equaliser at Anfield in March. As I attempted to inch through the throng, to rendezvous with my 'gang' (who had had the journey from hell to get there –– 'welcome to hell', indeed), this ball came sailing down with ice on it, striking a policeman square on the shoulder. Everyone paused, and the surrounding area fell silent, as the policeman stood with the ball in his hand, holding it as if it were the weapon of a crime. Completely deadpan, he then drew back his foot and toe-punted a drop-kick that ricocheted off a tree and hit a bus. Everyone was having a great time, and nothing –– apart from raucous renditions from the travelling Kop's repertoire –– could disturb the peace. (What a contrast to Heysel, almost 20 years earlier to the day, that there was not one single arrest among the thousands of travelling Reds.)
The sun was shining, there wasn't a cloud in sight, and this small part of Istanbul felt like the centre of the universe. And so began the mass exodus, as everyone commenced their quest to make it to the other side of the city, and the venue for a certain football match.
My party jumped aboard one of the hundreds of specially laid-on buses from Taksim Square to the stadium. It was a remarkable two hours. Reds were crammed in like the London tube at rush hour. To a man we incessantly sang "Ra-Ra-Ra-Rafa Benitez . . .", as we stomped our feet and drummed on the metal plates above the window. The noise carried out to the waving Turks lining the streets and applauding from the high-rise blocks, and to those honking horns in passing cars. It was like the semi-final atmosphere from Anfield, generated by 50 (maybe 150!) Reds packed onto one ageing bus. I was sat next to the only Turk onboard –– an elderly man who had decided to take the ride, to experience something unique. Every time anyone put a cigarette to their lips he was offering his lighter; bizarrely, he sat the entire journey with an unlit cigarette in his mouth, and refused the Liverpudlian offers to return the compliment. He only removed it when trying to sing "Xabi Alonso, Garcia and Nunez", while waving regally to the crowds as if he was the luckiest man alive. We were royalty, greeted by the people of Istanbul as the bus wove through the streets. (Again, how different to years gone by?) Progress was steady, until we got to within a couple of miles of the stadium –– from which point it was gridlock: bus, taxi, bus, taxi, bus, taxi, ad infinitum. Only those on mopeds could make their way through. Oh, and those haring at 70mph the wrong way down the dual carriageway.
There was a party taking place atop the bus in the lane next to ours: John Power, the lead singer of the Scouse band Cast (and before that a guitarist in the legendary La's), was dancing with four or five others, and jumping from bus roof to bus roof, even on the rare occasion when the vehicles were edging along at 10mph. Eventually everyone lost patience at being stuck in a virtual car park. Bus by bus, fans deserted their inert vehicles and began walking the last two, three, four or five miles, across a barren lunar landscape in the middle of nowhere, toward the party taking place outside the ground in the distance, which was lit by what was either the stadium or, some pondered, a crashed spaceship. A red river ran down the hill, to the sea of red, dancing and singing in the Atatürk car park. It was a pilgrimage –– a kind of worship not made by fans of the club for two decades.
Having been urged to make it to the ground early, we had all skipped eating since lunchtime. Food and drink would be available at the stadium, we were told. They weren't. Unless, of course, you had access to the hospitality tent: the Champions League Village. How typical of Uefa to take care of all the dignitaries, but ignore the genuine fans. All there was to greet the rest of us was a stage with disco lights and a parade of festering chemical toilets. The weather had turned: it quickly clouded over, and the evening air had a distinct chill. In the circumstances, it was amazing that the travelling Liverpool fans were in such a good mood. And spirits stayed high –– until the first minute of the match put a dampener on proceedings.
The most remarkable comeback of all time
The Golden anniversary of the world's greatest club competition: 50 years of high drama topped, on 25th May 2005, by the 'final of all finals'. As with the 2001 Uefa Cup final, Liverpool were tipped to bore the world; now, as then, they thrilled it beyond expectation, beyond belief. Except this time it meant a whole lot more: a bigger competition, better opposition, a more remarkable set of events. No team had ever come back from three goals behind in the previous half-century of the tournament's finals. And then came Liverpool: how fitting that the Reds should get to keep the trophy, courtesy of their fifth success in 28 years, given the nature of the victory. The turnaround from 3-0 down was enough in itself to merit a permanent housing of the trophy at Anfield.
Too often in football adjectives are cheapened by their use following relatively meaningless endeavours. As a result, there is nothing that can accurately convey the scale of a truly remarkable, fantastic, wonderful, spectacular, inspiring, unbelievable, bewildering, stunning, monumental, momentous and "incRedible" achievement. The only more remarkable comeback imaginable, would be to see the 2006 Grand National at Aintree won by Lord Lucan on Shergar, with Elvis Presley riding pillion.
Possibly the greatest individual talent the world has ever seen was in no doubt as to who deserved to win. Diego Maradona has never been especially fond of the English, and was surely at the final to support the Italians, having spent many years in that country. However, he left a convert. "Liverpool showed that miracles exist. They proved that football is the most beautiful sport of them all. After this game, my English team is going to be Liverpool. I came across some of their fans beforehand and they told me they were going to win, but that they would be made to suffer. It's just the way it happened. Liverpool are the best team in the world for what they have done in this Champions League. They deserved the Cup."
He was not finished. "Even the Brazil team that won the 1970 World Cup could not have staged a comeback with Milan leading 3-0."
Johan Cruyff, himself widely regarded as holding a place in the top five players of all time, said: "There's not one club in the world so united with the fans. I sat there watching the Liverpool fans and they sent shivers down my spine. A mass of 40,000 people became one force behind their team."
That is the power of the night: enchanting the game's legends and enticing a new generation of fans. Perhaps they will be called 'glory hunters' by many of their peers, but young boys and girls all over the world will now have a special place for Liverpool in their hearts, if their hearts have not already been won over by another club. As great as Chelsea's league success proved –– a new highest points tally, and beating, by one, Liverpool's 1979 record for fewest goals conceded (in four less games, mind) –– it had no single moment to match this night in Istanbul; nothing to quite capture the imagination. As happy as Chelsea fans will have been, none will have experienced the utter delirium of May 25th 2005. No amount of money could buy the drama and excitement tied up in winning number five.
Overcoming power and money was the key: the two most expensively-assembled squads in the world were vanquished, in the semi-final and the final; Fiat-backed Juventus, in the quarter-final, were not constructed on a shoestring budget either. Milan's owner, the Italian Prime Minister Silvio Berlusconi, who has bankrolled his side to an extreme degree, proved a laughably bad loser, but his bitter words only make Liverpool's victory all the sweeter: "Milan played much better throughout. We created move after move while they didn't create one move worthy of the name. What a shame."
What a shame indeed . . . Perhaps he missed the three fine moves which led to Liverpool's goals? He was right to some degree: over the course of 120 minutes, Milan played the better football. No one can dispute that. But who had the greater character? Football isn't just about creating the most impressive moves. Milan's defence had kept nine clean sheets in the competition en route to the final. In 180 minutes, Manchester United could not breach that famed rearguard once. Liverpool did not breach it three times courtesy of luck.
The best victories are never the 6-0s; they are the ones where the odds are overcome, and at half time in the Atatürk Stadium those odds were 360-1 against Liverpool emerging victorious. The better the opponent, the more impressive the comeback. But in order to make a remarkable comeback, you need first to make an almighty mess of things. From darkness comes the light, and those first 45 minutes were black.
It's all gone "Pete Tong"
Fifty-two seconds. That was all it took for the party to be well and truly 'pooped' by Milan. As the rhyming slang goes: it all went Pete Tong. The Istanbul evening –– which had grown increasingly dark and sinister as black clouds gathered in bullying formations, with kick-off looming –– was proving ominous. Liverpool were out of their league, and, it was easy to conclude, on their way out of the Champions League –– for both 2005 and 2006.
The game had barely started when Paolo Maldini received Pirlo's free-kick and struck his shot into the ground. It looped up and arced over Jerzy Dudek's despairing dive. Was it down to Liverpool's zonal marking, or the fortunate result of a skewed cross and a miss-hit shot?
The Reds responded with a gutsy few minutes: Riise hit a phenomenal volley that cannoned back off Jaap Stam, and then Hyypia rose to head towards goal, but Dida was equal to his effort. Milan, with Kaká, Shevchenko and Crespo pouring forward, looked dangerous on the break, and 'Sheva' had a goal ruled offside –– a warning of what was to follow. Liverpool players were still asking for a penalty –– Nesta going to ground in front of Luis Garcia, and in so doing, unintentionally blocking the ball with his arm –– as Milan strode upfield, Kaká sending Shevchenko through down the inside-right channel. The Ukranian's pull-back looked scuffed, but it evaded Hyypia and Carragher. Chelsea's Hernan Crespo, on a season-long loan to the Italians, scooped the ball home from inside the six-yard box.
Within minutes, it got worse. Another stunning break, with Kaká's sublime through-ball curling around Carragher's despairing lunge, and Crespo was in again, this time dismissively dinking the ball past Dudek.
We only sing when we're being humiliated
Half-time provided the reason why Liverpool Football Club is so special. A thrashing –– a meltdown –– was on the cards. It was painful. Losing a game of football is hard at any time. But when you've allowed yourself to dream the impossible dream, and in so doing, made an arduous and expensive journey to where Europe ends and Asia begins, as 40,000 Reds had, it hurts. At half-time, perhaps one or two Reds started their journey home. The other 99.9% stayed on, and began a chorus of "we're gonna win 4-3". It was brave, it was slightly amusing, but it was not sung with any great belief. Those around me in the East stand –– which was a 'neutral' section containing only a handful of Milanese and thousands of Reds –– were signing along, half-heartedly, as texts arrived on their mobile phones suggesting "you're gonna lose 7-0". At the time it was hard to disagree.
It's easy to think of football purely in terms of that rectangle of grass and what takes place within its white lines, but it's so much more than that; if not exactly life and death, then it can end up representing whatever you want it to.
Inspiration in life can be rare, and at times we are all guilty of taking our football club for granted. In this era when the professional game has been tainted by violence, sex scandals, drink and drug abuse, not to mention the mercenary greed of players and their leeching agents, it was nice to be reminded of the power of sport; indeed, the point of sport. It exists to teach us about ourselves, and about life. Everything is contained within the game of football, providing you are prepared to look for it. It is what it means to us –– not to anyone else –– that matters.
If we cannot learn lessons by participating in the game itself, we experience it vicariously through the exploits of those we choose to worship. But sometimes the lines blur, and a true symbiosis occurs. If it's obvious to say that the crowd in Istanbul could not have won without the players (the eleven best players plucked from the crowd, even including the likes of Bolton's Kevin Nolan, ex-Middlesborough star Craig Hignett, and various retired Reds, would not have beaten Milan), then for once it was no exaggeration to say that the players could not have won without the support of the travelling Kop. Just as it had against Juventus and Chelsea in the previous rounds, the noise from the stands affected the outcome of the match.
The first five minutes of the interval saw little activity from the Liverpool fans: a collective too stunned to do anything other than stare at the night sky. And then it all changed. Everything. The atmosphere, the belief. The reason? One song. You'll Never Walk Alone means more –– so much more –– than any other football song. It can be sung in victory, as the final whistle approaches –– as it so often is. It has also been sung at funerals for the lost souls who supported the club, including those who died in so doing at Hillsborough. Its meaning would transcend any comparable terrace anthem if there existed any other anthems to compare. But none do. Its words have not been altered to fit around the club or its exploits on the pitch: they remain true to those penned by Oscar Hammerstein.
At 10.40 Istanbul time the Reds in the crowd rose, one by one, to add their voice to the choral harmony that, despite the soulless arena designed to let sound escape into the night air, reminded the team –– and reminded all the fellow fans –– that everyone should keep their head held high. There was nothing to be afraid of any longer: the storm had passed, and of course, after the storm comes the golden sky.
Above all else: hope.
In your heart.
The effect was so strong, it inspired the players as they sat shell-shocked in the dressing room (or possibly lay prostrate, hoping a hole would swallow them), preparing for the second half, or possibly hoping it never arrived. The muffled sound of the crowd drifting down the players' tunnel lifted them off the ground. Maybe it didn't have them pounding the walls screaming "We can win this! This Milan side are there for the taking!", but it registered all the same.
If the crowd weren't giving up, how could they? If 40,000 people made such a sacrifice, surely there was no option on giving up?
It was hard to avoid imagining how it looked and sounded to the AC Milan fans: how many of them may have paid their money at least partly to hear the legendary rendition? (Especially after their Fossa dei Leoni so amazingly sang it in 1989, following the Hillsborough tragedy.) Liverpool fans singing You'll Never Walk Alone is one of those things opposing fans –– especially in Europe –– feel a great need to experience. It is like those who paid to hear Sinatra, in his prime, singing My Way. There will be much talk about the downside of vacating the current Anfield, but You'll Never Walk Alone travels with the Kop, wherever that Kop may be. You'll Never Walk Alone, it is fair to say, is Liverpool Football Club. It is its philosophy, its belief system. That one song is all you need to know.
It was a very powerful experience, as a fan, to hear the familiar song sung –– and to be part of the choir –– in such footballing adversity. It summed up everything that is good about supporting your team; and in my case, it summed up why Liverpool Football Club is so special. A circle of discovery and inspiration between the players and the fans was completed by the team in the second-half. Believe, and it might just happen . . .
And so it began: the comeback. All credit to the players, for their miraculous contribution. But it started in the North, East and West stands at the Atatürk Stadium, and enveloped the whole of Istanbul. Without that song, the Liverpool players –– described as "dead and buried" –– would, like zombies in ancient myths, have needed to force their way up through the very turf as they fought to exhume themselves.
Dead and buried?
Far from it . . .
The tactical battle
Rafael Benítez received a lot of criticism for his decision to deploy Harry Kewell behind Milan Baros: not just for selecting Kewell, who many felt didn't deserve his place, but as an overall tactical idea. It did not necessarily tally with the perceived wisdom before the game as to where Milan's weaknesses lie. In the build up to the match, several pundits pointed out the success PSV Eindhoven had in utilising the space between Milan's midfield and its ageing defence. Andy Gray, for one, said the best way to beat Milan was to get at them, and attack them with pace. Teams who had been timid and defensive –– such as Manchester United in the 'Round of 16' –– were beaten without the Italians even having to break sweat.
Benítez had never forgotten the first time he saw Kewell: how the Aussie had tortured Jaap Stam at Old Trafford in 1999, when playing for Leeds as a striker. Here was the chance to hope he could do the same once again, while being able to drop into midfield to make the most of any gaps. It made sense, especially as Kewell had finally looked fit and sharp in training.
"One small thing can change everything," said Benítez. "Like when people ask me did I pick the wrong team at the start –– I say why? Because if you have Harry Kewell fit, maybe it would be different. If you don't concede a goal, it would be different for sure. That's football. Football is football,'' he added, quoting Real Madrid's erstwhile Yugoslav manager, Vujadin Boskov, whose limited grasp of Spanish led to him coining the phrase as shorthand for "anything can happen".
Tactics play a crucial role in any major game, especially if you are the less-talented side. Milan's teamsheet is intimidating to say the least, a collection of players on the wishlist of any European manager. Some of Liverpool's players, it is fair to say, are not even on Benítez' wishlist. But when you concede a goal in less than a minute against the best collection of players in world football (Milan possess the attacking stars to rival Real Madrid, and the defensive giants the Spaniards lack), it is a blow to the confidence and a blow to the gameplan. Football is football. The tactics had yet to even come into play before the Reds were chasing the game against the big favourites. Milan's confidence was as boosted as Liverpool's was shattered. Kewell was looking sprightly and determined until succumbing to yet another serious muscle injury. The Australian received jeers from the Liverpool end and some vitriolic criticism in the papers, and yet in those opening 20 minutes no Liverpool player looked worthy of the shirt: eleven men in red were shell-shocked. Kewell left the pitch at 1-0, not 3-0. Before his abductor muscle snapped, his movement had been bright and lively, but by then the entire Liverpool side had lost their composure, and he wasn't able to get into the game –– the same as all his teammates. Fortunately, just as in Cardiff, his replacement scored Liverpool's second goal when chasing three –– only this time it actually counted for something.
It did not need a scapegoat –– in many ways it was no one's fault. Milan were buoyed by an early goal, and from then on their imperious class was impossible for Liverpool to live with. They became an unstoppable force, and although his omission was seen as key, it's hard to imagine Didi Hamann making much difference while Milan were so pumped up. (It took half-time for Milan to take their eye off the ball.) It was like a boxer having a fixed idea on how to face Mike Tyson in his prime, but Tyson finding a crushing blow with his very first punch; once hit squarely on the chin, you are entitled to walk for a while on wobbling legs, if not collapse outright. A predator then moves in for the kill, and that is precisely what Milan did; their mistake was to believe the match was over at half-time.
It didn't help that the occasion got the better of some Liverpool players. It's easy to be critical of players like Djimi Traoré for nervous displays, but this was the biggest game by far in the lives of the starting XI. These are human beings, not androids.
(As I watched the elaborate pre-match entertainment conclude, and took in the wild array of colours, sights and sounds that greeted the players as they strode out, I couldn't help but worry for their nerves: it didn't look like any other game I'd ever been to. It had a sense of occasion dripping onto every inch of the pitch. Even the running track that surrounded the advertising boards –– usually so conducive to a subdued atmosphere –– confirmed it as a major event: only Olympic venues seem to have them these days. And if an Olympic venue is used for a football match, it means it's of great import.)
Many of those playing in red had experienced cup finals –– after all, this was the sixth the club had reached since the turn of 2001 –– but none had been as momentous as this. Only Didi Hamann, on the Liverpool bench, had played in a game as big –– or indeed, in his case, even bigger: the 2002 World Cup final. Vladimir Smicer, another sub, had played in the final of Euro 96, but it's harder to judge the importance of that particular competition. Milan were a team who had been there before. Seven of them had won it at Old Trafford in 2003. Paolo Maldini was in his seventh European Cup final; Clarence Seedorf held a record, having already won the competition three times with three different clubs. Others had played in World Cup finals –– and won.
The introduction of Didi Hamann at half-time was rightly hailed as a masterstroke, as the German held the space in which Kaká had previously been running riot, but the change would have meant nothing had Milan kept their professionalism. Any team that celebrates at half-time has lost its focus. The tactical switch was so much more than swapping personnel: the key was the switch to a three man defence, and how Hamann's introduction liberated others. Gerrard now had the freedom to get forward, but it was no great folly to start him alongside Alonso in the midfield. Why wasn't Alonso keeping tabs on Kaká in the first half, or Gerrard –– who could match the Brazilian stride-for-stride –– chasing back to snap into those famous lunging tackles? There were two central midfielders in red, and yet neither was anywhere near the back four. The entire team was being overrun. In the first half the game seemed to pass Gerrard by. The weight of the world was on his shoulders. Many experts had called it a 'waste of talent' whenever he was employed behind the main striker, and here he was, in what people claimed to be his best position, helplessly watching the game take place around him.
"Game well and truly over"
Andy Gray, commentating on Sky Sports, wasn't alone in thinking Liverpool were dead and buried. ITV were also reading Liverpool the Last Rites. Perhaps the events of the second half –– when it transpired that the game was anything but over –– can be traced back to west London: not to Chelsea, but to Fulham. That October day in 2004 proved Liverpool could come back from the brink of defeat (after introducing a canny midfielder at half-time), and was used as an inspiration for the even more remarkable Olympiakos recovery in December; which, in turn, will have given the players at least a glimmer of hope, even if Milan were an entirely different proposition to the Greeks.
Half-time was when Benítez earned his corn, and confirmed his status as a master tactician. Any Plan A can go wrong if circumstances dictate, but unlike his predecessor Gérard Houllier, Benítez always has a Plan B, as well as plans C––Z if required. "It was very difficult to go into that dressing room and see the players with their heads down," Benítez later admitted. "We talked about different things. We had worked very hard for ten days and we needed to fight to the end. You have to keep believing in yourself.
"We had fought hard to be in the final. I was thinking about what to say and what to change. I needed to change the system and we needed to be more aggressive. I had to give confidence to the players. The first thing I did was explain the plan to Didi. I wasn't thinking about winning then, only about scoring. If we did that then Milan's reaction could be very different. They were afraid and everything changed when we scored. I was last in the dressing room. I didn't hear Milan celebrate but Alex Miller did. He told the players they were celebrating winning the cup. That was a good thing for us."
Milan celebrated at half-time, and had the air of men strolling onto the pitch ready only to complete a cakewalk. They weren't prepared to finish the game –– for them, it was already over. Liverpool were actually better served by Crespo's (cheeky) third than Milan. At 2-0 the Italians would have still taken the second half seriously; as it was, they were smoking metaphorical cigars. (How beautiful, then, that it should have been Vladimir Smicer who was in Taksim Square six hours later, smoking what he described as the 'biggest cigar of his life'.)
Benítez' assistant Paco Ayesteran said of El Jefe: "We were three nil down and had made three mistakes, but to solve the problem showed his capability. I have never seen him nervous because when you are nervous you cannot think clearly, but to change the system was the key. Rafa is someone who thinks very quickly but it is difficult to think quickly and think right. That shows his talent. We couldn't change things in the first half because of the problems with Harry's injury but he came up with a great solution at half time. Didi started winning the second ball and that became a great help."
Liverpool finally got their passing game going. It wasn't perhaps the inspired pass-and-move of the well-drilled Italian aristocrats, but it was effective nonetheless. Riise was released down the left, and while his first attempt at a cross was blocked by Gennaro Gattuso, the second sailed into the heart of the area. Steven Gerrard, now allowed the freedom to get forward into the box, rose majestically to force home a difficult header, using every last bit of sinew to generate the sufficient power on what was only a hanging cross. Game on . . .
Gerrard, who won the Man of the Match award, finished the game at right-back, as Benítez reshuffled his pack for the final time, to ward off the threat of the tricky Brazilian substitute, Serginho. It was a complete mismatch: Gerrard won every single tackle, until the winger gave up taking him on and resorted to crossing as early as possible.
English spirit
If Liverpool lacked the world-class talent abundant in the ranks of the Serie A side, they did not lack heart, or English spirit. That was slightly ironic, given there were only two Englishmen in the team, the lowest ever number of home nationals in a European Cup-winning side. The special never-say-die character (that pundits like Alan Hansen had earlier suggested was so sadly lacking in the foreigners signed by Houllier and Benítez) was all too evident: if Steven Gerrard was the catalyst for the remarkable turnaround, and Jamie Carragher's cramp-defying extra time efforts typical of the man's gigantic season, then what of the other twelve involved –– none of whom were British?
Kewell tried to play on with a torn muscle: utterly impossible for any player, and yet he still got stick. The Australian aside, there was only the injured Steve Finnan (Irish born, but a man who learned his trade in England) who failed to make a significant contribution, having only played that miserable first 45 minutes. Sami Hyypia recovered from an awful first half, where his lack of pace was cruelly exposed, to look as commanding as ever; Xabi Alonso never stopped looking for the ball, and used it with typical intelligence; Luis Garcia never stopped running into space, and neither did Milan Baros, who had a thankless task against the twin peaks of Jaap Stam and Alessandro Nesta (the same applied to Djibril Cissé); John Arne Riise used every ounce of his considerable stamina; and Didi Hamann never let his omission from the original line-up affect his coolness. Each of Liverpool's four penalty takers was from the continent (Gerrard would have taken the fifth), as was the goalkeeper.
Perhaps the three biggest plaudits, in terms of character, need to go to the three most-questioned foreigners who featured in the final. First, Vladimir Smicer, who knew he was playing his last game for the club. He has always loved being at Liverpool, but had been told by Benítez that his contract would not be renewed. Since arriving in 1999 he had put in some sensational displays. The problem was that they were far too few and far between; possibly as, for most of the time, he was deployed in a wide area when it was behind the main striker where he excelled. Whenever he found his true form he fell victim to another niggling injury. His performance as a right winger after replacing Kewell, and then, later in the game, as an orthodox central midfielder (having swapped positions with Gerrard), was superb, and his swerving strike for the second goal, and cool penalty in the shoot-out (at a stage when Liverpool were in danger of throwing away a two goal advantage), resulted in the perfect going-away present. He'll never be remembered as a Liverpool legend, of course, but for all the criticism from his doubters over the previous six years, he has played a full part in achieving something legendary. In twenty years' time, people will smile at the thought of Vladimir Smicer, and his two key contributions towards lifting the trophy. He had earned the right to kiss the badge in a fond farewell.
Next was Traoré, who had rebuilt his career –– and his reputation –– over 50-odd games during the season, but with several pieces of poor play looked like undoing all his good work in the game that mattered most. His lunging goal-line clearance from Shevchenko towards the end of normal time was as important as any of the three goals that hauled Liverpool back into the game.
Finally, Jerzy Dudek, who revived memories of his remarkable debut season for the Reds. If arguments will always persist about the best save of all time (although Gordon Banks' dive to thwart Pele in the 1970 World Cup is still widely regarded as unsurpassable), then can there have been any better 'double save' than that which the Pole mustered in the 117th minute, to deny a bemused and bewildered Andriy Shevchenko? The first stop came from a downward header that reared up on its way to the back of the net; Dudek clawed it away before it crossed the line, but as miraculous as the save was, he could do no more than present the Ukranian –– Europe's deadliest marksman –– with a gaping goal from four yards out. If Shevchenko was the assassin supreme, then the enduring image was one of a cold-blooded execution: Dudek helpless on his knees as, from point-blank range, the Milan no.7 pulled the trigger, to put him out of his misery –– and us with him. The shot fired, the crowd gasped, but instead of the ball rippling the net, it ricocheted off Dudek's arm and flew over the bar. It looked like 'Sheva' had missed the 'unmissable', but Dudek had moved to block the shot, and somehow –– how, exactly, he didn't seem to know, and Shevchenko certainly didn't have a clue –– got enough on the ball to make the deflection meaningful. Nine hundred and ninety-nine times out of a 1000, both keeper and ball would have ended up in the back of the net. This time, they didn't. Was this destiny?
In interviews following the final, Milan players all said they knew at that point that they just could not win; Liverpool players, meanwhile, felt assured they could not lose.
Completing the impossible
When you need three goals to draw level, it's hard to evaluate which is the most crucial. Clearly without the first you cannot score the second, and so on. So each matters equally. But if you had to choose one that had a greater effect than the others, it was arguably Smicer's. Steven Gerrard's strike may have got Liverpool back into the game, but at the time it looked like little more than a consolation. Milan were always going to rock briefly as a result, but it wouldn't be long before a side of such experience regained its composure, and reasserted its authority.
As it transpired, they hardly touched the ball in the next ninety seconds. It may have come their way when an offside flag was raised to Milan Baros' run, but the referee didn't blow his whistle. When they eventually did get the ball back it was in the form of a restart from conceding another goal. The ball was worked from left to right via Alonso and Hamann, until it ended up at Smicer's feet. The Czech let fly with a swerving drive from which Baros did well to pull his hand out of the way. Suddenly Gerrard's goal wasn't a consolation: it was a platform. If Gerrard's header was the slight seismic tremor, the light shaking of the ground, then Smicer's was the confirmation that an earthquake was under way. The second goal, following so quickly upon the first, shook Milan in a way Gerrard's had not; Gerrard's had worried them, of course, but Milan retained a two-goal cushion. Smicer's goal eradicated the Italians' sense of control. Smicer's goal caused outright panic. Once that one went in, the Reds had 30 minutes to score the equaliser –– and at the rate goals were going in, that was enough time for twenty.
The nature of the goal helped too: a semi-speculative shot from distance that the keeper might well have saved. That it beat Dida, who could only palm it into the net, just made it seem like it would be Liverpool's night. Milan's superstars suddenly contemplated how awful it would be to throw away this game –– even worse than the Serie A title they had recently conceded to Juventus. It was only a matter of three further minutes before the comeback was complete. The ball was worked once more from right to left, this time to Jamie Carragher on the halfway line. He strode forward with great purpose, and with admirable composure sent a firm low pass into Milan Baros' feet. The Liverpool no.5 flicked a delightful touch to Gerrard who was powering into the area. (While Baros would yet again fail to score, he made a telling touch in the build up to a goal, as he had with the winner against Chelsea in the semi-final. He played his part.) Gerrard, with the goal at his mercy, felt his heels clipped by the cynical Gattuso, who also gave the Liverpool no.8 a shove for good measure: quickly followed by an attempt to assume the look of an angelic child. The referee had no hesitation in pointing to the spot. Gattuso escaped a red card (in fact, he wasn't even booked) by virtue of not technically being the last man, with Cafu alongside him, but this was an interpretation that made a mockery of the rule. While Cafu was in line with Gerrard, the Brazilian stood no chance of tackling the Liverpool captain, who was well inside the area, and in the centre of the goal, with the ball at his feet. As such, Cafu was out of the equation. The only two men who could intervene were Dida on his goal-line, and Gattuso; and as such, Gattuso should have walked.
The arguments over the penalty, and whether or not the Italian midfielder should have been dismissed, did not help Xabi Alonso's composure as he waited like a condemned man on death row, alternately licking his lips and frowning nervously. The young Spaniard strode forward, and struck a clean penalty hard and low into the corner, but Dida dived quickly to his right to pull off a superb save. As the ball spilled back into play, it was a three-way race for the rebound. Alonso, Luis Garcia and the Milan defender, Alessandro Nesta all sprinted towards the six yard box; the Liverpool no.14 got there first, having the presence of mind to strike home (left-footed, this time) high into the roof of the net. He barely had time to turn around before Baros was hauling him to the ground and his wide-eyed delight disappeared under a pile of red shirts.
History repeating itself
The final would be decided by a penalty shoot-out, just as it had been in 1984. Jamie Carragher could be seen gesticulating wildly to Jerzy Dudek, making it clear that the Polish 'keeper had to do whatever he could to put off the Milanese penalty takers, reminding the No.1 of the legendary antics of Bruce Grobbelaar 21 years earlier. And it worked. Dudek explained his shoot-out antics: "Before the penalties Jamie Carragher came up to me like he was crazy, as he always is. He grabbed me and said 'Jerzy! Jerzy! Jerzy! Remember Bruce!' I just said to him 'Okay Carra, take it easy'. I've seen the videos."
The shoot-out was essentially won for Liverpool with Milan's first kick. Serginho, who had been successful with the equivalent spot-kick two years earlier, found himself totally unnerved, not just by the cacophony of boos and whistles from the majority of fans, but also by Dudek on his goal-line. The Pole did not yet resort to the 'wobbly legs' routine Carra advised (that was to come, of course), but for a while he did wave his hands like a hyperactive semaphorist. Even that was fairly meaningless. What counted was this: as soon as Serginho looked up after spotting the ball, Dudek took a large stride to his left. Dudek was effectively saying "If you've decided to put the ball this side, you now have to change your mind", and the one thing a player is told never to do, is change his mind. Just as Serginho was preparing to slot the ball into the open side of the net, Dudek moved across to his right. It wasn't chaotic jumping around, where a 'keeper only ends up putting himself off; it was considered, purposeful. The Brazilian, confused and nervous, chose to blast the ball. It may well have hit a Milan fan in the South Stand.
Next for the long walk was Didi Hamann, who had missed in the shoot-out against Birmingham in the 2001 League Cup final. This time he made no mistake, planting a firm shot to Dida's right. For the first time on the night Liverpool were ahead. More remarkably, in the aftermath it came to light that the German had finished the match, and taken his kick, with a broken bone in his foot. Liverpool's injury jinx struck again, but this time it came too late to harm the Reds' campaign. (Had the break been more serious, and Hamann been forced off on a stretcher, then heaven knows what would have happened.)
Next, Dudek saved from Andrea Pirlo, whose downcast demeanour was undoubtedly not aided by Dudek's frantically windmilling arms. "One or two Milan players changed their habits,'' said Benítez, "and Jerzy did a really good job when he went to the other side and saved.''
Up stepped Djibril Cissé. The referee made him re-spot the ball, and usually such a pause is fatal to a player's concentration and composure. But the Frenchman, as we all now know, is made of tougher stuff than most. He must also have felt that destiny was on his side before he strolled up to the ball and coolly slotted it past Dida. Tomasson scored his, Riise missed –– his placed, not powered, penalty well-saved down by the post –– and suddenly Milan found their scoring boots. Kaká ignored Dudek's gyrations and lifted his high past the Pole. Smicer's penalty was as good as any, and the most pressured of any the Liverpool team had taken, and so it was suddenly left to Andriy Shevchenko to keep Milan's hopes alive. Surely he would succeed: after all, hadn't he won his team the Cup two years ago, in exactly this situation? As he waited his eyes seemed hollow: was he haunted by his improbable failure to score at the death? Dudek appeared to have dived out of the way of the ball, as the Ukranian sent his kick centrally, but the Pole stuck out a trailing hand…
And that was it.
Liverpool were Champions of Europe.
Simple . . .
What a way to say farewell
All three of Liverpool's scorers against AC Milan, including Cissé and Hamann in the shoot-out, missed a large chunk of the season through serious injury. It was fair to say that, at last, they were receiving their pay-back.
Even the players who will be shown the door will have no real complaints; they won't be happy to be leaving, of course, but if they have to, what better way to go out? If it may seem unduly harsh to release or sell players who have played their part in a momentous success, then sentimentality cannot be allowed to get in the way of essential team rebuilding. Some who are tipped to be shown the door will remain as valuable squad players; others will perhaps only play once at Anfield next season, in the visiting team. While Benítez will now have money to spend, he cannot restructure the whole squad. Great players rarely come cheap, and making wholesale changes presents new problems: gelling a side, and settling new players quickly. Where Benítez had three years in many fans' eyes to make Liverpool challengers for the title, the problem now is that expectations have been raised.
And so the cycle of success breeding expectation continues: the club's past –– now, its present –– craves repetition in the future.
Benítez was not going to fudge the issue of releasing those for whom he can find no great use. "You have to speak to them face-to-face because the worst thing is not to tell the truth, to keep people in your squad when they are not playing so that they lose confidence." All players will respect such respectful treatment. The other benefit of freshening the squad is that it will ward off complacency. Anyone considering resting on his laurels will be history.
Where now?
So will Istanbul prove to be a one-off success, or the springboard to further glory? It seems highly unlikely that Liverpool can dominate the game in the way they once did, given the strength of Chelsea, Arsenal and Manchester United, but the Reds now have a chance to make it a regular four-horse race for the major honours.
Winning the trophy will present problems for next season. Being in the Champions League (should Uefa finally come to its senses), along with the World Club Championship in Japan in December 2005, will make progressing in the Premiership harder. The Reds are now there to be beaten: a notable scalp, more so than ever, for which scalp is more to be coveted than that of the Champions of Europe?
The benefits, however, should far outstrip the drawbacks. The confidence that victory will breed will be impossible to measure: but it will be significant. The team has learned to believe, and perhaps no amount of adversity can stop the Reds when their backs are against the wall. Olympiacos and, more crucially, AC Milan, will be part of Benítez' team talks for the rest of his time at Anfield. You can tell players not to give up hope; but nothing can beat reminding them that they have done it before, in the most miraculous comeback of all time.
The joyous celebrations after the match, and the homecoming tour through the city –– where up to one million fans lined the streets –– will have further strengthened the team bonding, and improved the spirit within the ranks. On the 25th May, a team came of age. The manager now has the money to improve the squad. The world's top players will have been captivated by the team's showing in Turkey, but also by the special support of the fans. Forget money alone; players would love to represent a club that receives that much support from its followers. Liverpool has always been a special football club –– we knew that. But across the continent, younger players may never have realised; older ones may have forgotten. Beating AC Milan was the most timely reminder possible.
Liverpool will earn an estimated £30 million from their European Cup win in Istanbul –– but this doesn't take into account the immeasurable knock-on effect on the club's general appeal over the forthcoming years, where more shirts will be sold, more merchandise will be bought, and so on. Christmas stockings from Woolton to Warsaw, even as we speak, await their copy of 'Du-Du-Du The Dudek: Dance Your Way To Fitness The Jerzy Way!' Over the course of the competition, Liverpool earned £20.2 million in performance bonuses (which included £4.5m for winning the final) and their share of the media revenues. Taking into account gate receipts and sponsorship bonuses, the club's total earnings from participation in the Champions League will rise to about £30 million, according to Deloitte's sports business group. One obvious benefit will be the £10m guaranteed for reaching the group stage of next season's competition –– the most likely outcome, despite Uefa's mixed messages.
Meanwhile, Carlsberg, who had been dying to claim that Liverpool were 'probably the best team in the world' since its association with the club began in 1992, could finally smile to themselves. Having come close to giving up interest in the Reds, the Danish brewer agreed to extend its £5 million-a-year shirt sponsorship deal for another two seasons.
As fans, we care about trophies, not about how much money our club has in its coffers. But the two go hand-in-hand to a degree. You don't need the most money, as Liverpool proved, but you do need some. And the more you have then the more –– if in the right hands –– that can be done with it. And in Rafa Benítez, all Liverpool fans can rest assured on that score.
Postscript
Where does inspiration on the football field end, and 'real life' begin? Does one bleed into the other?
I'd say yes. And this is how . . .
In some ways the end was only the beginning for me. Getting home would prove to be one the toughest challenges of my life –– certainly the most physically gruelling. It started with the horrific journey by bus to the airport which took more than three hours –– great for the first hour as the celebrations rang out, before everyone grew weary, or completely passed out. Next was the total chaos of the airport, where Turkey turned us into tramps: coupons for food in the marquee feeling like the procedure at a soup kitchen, and as the sun came up, fighting for cardboard boxes on which we could lie in the gutter outside the terminal, as, in dirty, smelly clothes, we all sought to get back to England. Sleep was a gamble, as no one knew when their flight would be called. At 5am a dazed Veggard Heggem wandered past on his own. Finally at 6am everyone was allowed into the terminal. Not that any planes were about to take off.
At 9am I managed to get my first sixty minutes of sleep in 30 hours, passing out on the dirty terminal floor, and at 10am I was woken: people were going to "storm" passport control. None of the flights to Luton had been called in the eight hours since the first was scheduled to leave, while only a handful of flights had departed to the north of England. In the end the airport staff said to just get onboard the plane on the tarmac, no matter which Luton flight you were booked in on: planes were treated as buses, in that if you could get onboard, it was yours. As we were driven by coach to our Boeing 737 we saw a group of Reds run down the steps of a parked-up Airbus and sprint to an adjacent plane on the tarmac. It resembled a game of Musical Airplanes. Any way you could get out of Turkey, you were going to take it.
All the while, the reminder from the fans at half-time, and the players in the second-half: don't give up.
My ordeal was not over. Back in England, and totally exhausted, I encountered roads as chaotic as those in Istanbul. What should have been a two hour drive north took three times as long: a car transporter had caught fire and melted the motorway. It was then that recalling the efforts of the Reds meant most –– to keep me going, to keep me sane. I envisaged Steven Gerrard's extra-time tackles on Serginho, and Jamie Carragher's cramp-defying efforts to keep Milan at bay. Most of all, I pictured Djibril Cissé side-footing his penalty past Dida, and his ecstatic celebration. When his career was left in what appeared to be tatters by that horrific double leg break in October, writing this book had not even been considered. If Cissé felt a special sense of destiny on his side, then I could but think that luck, fate, destiny or simply good timing had played its part in this project. It was suddenly going to resemble a work of fiction; trouble was, surely no one would believe it? The final chapter would read as 'magic realism'.
I had a book to get home to finish, a deadline to meet. Rafael Benítez and the boys had given me an ending worth any possible price I would have to pay. As I sat in yet another traffic jam, the events in Liverpool, broadcast on the radio, kept me company: one million Reds lining the streets to greet a victorious team returning home.
Again and again I said it to myself: Liverpool Football Club, Champions of Europe. Liverpool Football Club, Champions of Europe.
And no, it hadn't all been a dream . . .