Like most people, I expected Kenny Dalglish to give Liverpool a lift. While he wouldn't have been my first choice last summer (due to his time out of the game), such was the depression surrounding the team  by the autumn that it was crying out for someone inspirational and in touch with the club. If a caretaker was needed, he had to be the man.
But I probably didn't expect such a positive impact, given he inherited a team lacking confidence and, as the season has progressed, a high number of injuries.
In just 14 league games Dalglish has easily surpassed Roy Hodgson's points tally from his 20 (27 points compared with 25). In those 14 games, more goals have been scored than in the 20 under the predecessor. Ironically, clean sheets are occurring far more regularly than under the more defensive Hodgson. All this means that the goal difference has swung from a ghastly -3 to a very encouraging +12 since January.
But is it enough to secure a full-time return?
Managers need several things going for them. Few will have everything on their side; almost all will have weaknesses, because they are human beings. And as with most things in life, even good qualities will have a flip side; nothing is ever 100% right or wrong. If you're a nice guy, some players may take advantage of you; if you're a no-nonsense boss, it may lead to mutiny. No-one can be all things to all men, and modern squads tend to consist of every type of personality and nationality.
But if you look at several important categories, Kenny Dalglish ticks the boxes.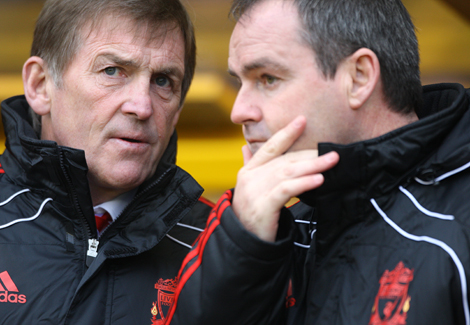 Experience
Logic tells us that experience helps with decision making. The more situations you've faced, the more of a memory bank you have to draw from, and recall what worked and what flunked. This leads to better instant judgements; see the excellent book 'Blink' by Malcolm Gladwell for how this works.
The experience of simply being an ex-player is not enough, though, because managers think differently to players. They have to think about the overall project, not simply their own part within it. It's a holistic approach, and requires so many different strengths that even people who have never played the game can succeed to incredible levels. (Arrigo Saachi, a former shoe salesman, being the most famous example, having created one of the game's great sides at AC Milan in the late '80s. "I never realised that in order to become a jockey you have to have been a horse first", he once noted.)
Managers have to stake their reputations on buying and selling players; judgements footballers don't have to make. They have to take responsibility for tactics, motivation and, of course, the results themselves. You need a feel for the game, which players obviously have, but there's a lot more to it than simply that. You need communication skills and an analytical mind, which plenty of footballers lack.
Dalglish was one of the few successful player-managers when he first started out, and in the minority of world-class players who were just as successful in the dugout. But he was also aided by perhaps the most experienced back-room staff in football at the time, with the masterful Bob Paisley also on hand for advice. The squad was full of the ultimate winning experience – most had league titles and European Cup medals – and they knew Kenny well.
His initial problems related more to now being seen as their boss; but he was almost certainly the most revered player in the dressing room anyway. Mark Lawrenson noted that he soon felt put in his place by Dalglish when he was late for training. Phil Neal, overlooked for the role, sulked, and was quickly despatched. Dalglish was boss.
Now, 26 years later, Dalglish is brimming with experience. Despite a decade out of the dugout, he is the wise old head; particularly when compared with the other name that's been bandied about in connection with the job, that of the precocious Andre Villas Boas.
Villas Boas is the 33-year-old Jose Mourinho/Bobby Robson protégé with an absolutely jaw-dropping 87% win percentage with Porto this season, and this after the club sold two of its best players (one being Raul Meireles). The club have already won the Portuguese league, and are into the Europa League semi-finals, having put 10 past Spartak Moscow over two legs (five home, five away). This comes just a year after his first managerial role, with second-tier Académica, who were bottom and winless when he took over in October last season, and ended up escaping relegation by ten points.
Of course, with 35 years in management, Roy Hodgson was the apotheosis of the 'experience' candidate in 2010. But it seems that the right kind of experience is just as vital. Different clubs come with different pressures; at Liverpool, it's about living up to an incredible history, dealing with heavy expectation and appeasing one of the globe's biggest sporting fan-bases. Coping with that weight is necessary.
It's also about winning more than five out of every ten league games: something Shankly, Paisley, Fagan, Dalglish (first time around), Evans, Houllier and Benítez managed to do, and what Kenny is currently doing once more (for this seaso he equals Benítez's overall average of 57%).
Souness and Hodgson, however, fell well short. Avoiding defeat is not enough. Hodgson had experience, but not a lot of it was with similar kinds of club; he had 35 years of needing to win a lower percentage of games each season to satisfy expectations. But the '35' he gave us was his league win percentage.
With all this in mind, the dynamic Villas Boas demands serious consideration. To have achieved what he has, at such a young age, in two very different situations, shows a real gift. But it's still hard to see anyone fitting in quite as well as Kenny Dalglish.
Symbiosis
In this context, symbiosis is the meeting of minds between the club, its fans and the manager. Perhaps this is an even bigger deal at Liverpool than most clubs, because of the legendary relationship between Bill Shankly and the Kop. The goodwill needs to flow from one to the other, and back again.
For almost 40 years, Liverpool fans knew for certain that the men managing their club got the institution. Every manager was either appointed from within, or an ex-player. Then arrived Frenchman Gérard Houllier. But even he had lived in Liverpool, and stood on the Kop as a young teacher. Upon arrival he said the right things.
Next up was Rafa Benítez, a Spaniard, but he understood the fans from day one (and continues to attend the Hillsborough memorial service); proving that you don't have to be appointed from within, or from the city – just simply judge the situation correctly, and act to defend the club and its supporters whenever possible. He chose to join Liverpool after winning the Spanish title twice in three seasons – and added the Uefa Cup – and we felt honoured that someone so successful would wish to head our way. It felt like a good appointment.
The first man who failed to get onto the same wavelength as the fans was Roy Hodgson. There was some skepticism amongst the support at the outset, based on his lack of major achievements in the game, and his oft-noted desire to manage the English national side sooner rather than later. Many fans felt he was using the club as a stepping stone, although his allies described it as reward for years of hard work.
The initial press conferences were impressive, and skeptics (myself included) were being won over. But strange comments began appearing in pre-season, such as "I hope we don't get beaten too heavily" before the friendly with Al Hilal, and "I hope we don't get beaten 6-0" before the Premier League game at Man City in August. (I recently turned 40, and I'm not sure the Reds have lost by that margin in my lifetime. It also implies that losing 3-0 would be acceptable, and that was the final result.)
Red flags were everywhere, and I don't mean on the Kop. Bottom-tier Northampton Town were described thus: "They'll be a formidable challenge – there's no question about that." No wonder they arrived in good spirits. By all means don't disrespect the opposition, but equally, don't treat winnable games as missions impossible.
It wasn't long before Hodgson criticised the fans protesting against the then-hated owners. He also seemed intent on putting his own reputation before that of the club. If it's fair to say that the majority of fans were not exited by his appointment, he used up what goodwill there was by refusing to back his players in the face of criticism from Alex Ferguson, in amongst a succession of increasingly bizarre press conferences where the pressure appeared to be getting to him.
It's easy to underestimate the importance of such comments, but fans are looking for leadership, and for a sense of symbiosis. Hodgson never endeared himself to the local press, or local-based national journalists. He gave his time to columnists at the nationals, who were his allies. In fact, if you were to write a set of rules of what not to do at a major football club, Hodgson provides a number of perfect examples. Hodgson demands mention, because he is the dark by which we now recognise the light.
And his comments about Kenny standing no chance of getting the job last summer because he himself was in the frame were never going to endear him to the Kop. He was the appointment of distrusted executives, who themselves were not in tune with the club and its supporters.
Perhaps most crucially, Hodgson also failed to understand how the fans expect the team to play, as evinced by a negative goal difference. No-one expected to finish in the top three, but as the club languished in the relegation zone in October, it was hard to argue, based on the quality seen on the pitch, that things were likely to improve to the required standard.
A manager has to be in tune with the supporters, and the club's history and traditions. That doesn't mean adhering to the tactics of 50 years ago, or matching improbable successes. But insulting the intelligence of fans by constantly lowering expectations beyond acceptable levels is not the act of someone in tune with his surroundings.
Instantly, Kenny Dalglish came in and spoke like a winner, even if no-one expected miracles. He said that the team was capable of going on a long winning run, but would be taking it one game at a time. There was no talk of hoping to avoid being thrashed. He spoke like a Liverpool manager.
The same 'awful' squad that Hodgson's allies attacked was soon playing as well as any team in the country, and results dramatically improved. It wasn't just that Dalglish was loved by the fans; he got what was required. It's wrong to expect anyone else to be able to match what he offers in terms of his gravitas, but Houllier and Benítez proved that you don't need to be from the boot room to get the fans on your side (for a fews years, at least).
Authority
I've written about this before, even going so far as to say that it's possibly the most important aspect of management. It's what leads players to believe in the man in the hot-seat, but it also relates to the situation above the manager; do the powers-that-be believe in him? It's about credibility, trust, aura.
Players can sense lame duck managers, just as dogs can smell fear.  They will exploit any weakness. Equally, they can respect those whose records demand it, and run through brick walls for them. Perhaps the most charismatic and authoritative manager is Jose Mourinho, yet his time at Chelsea faltered rapidly once he fell out with Roman Abramovich.
It doesn't take much to lose that authority. Players will blame a manager before taking a good hard look at themselves. Rafa Benítez had a lot of authority at Liverpool between 2004 and 2009, but by 2010 a lot of it had evanesced.
Perhaps all relationships between players at managers reach a point of no return. As Jonathan Wilson notes, "The great Hungarian coach Bela Guttmann refused ever to spend longer than three years at a club because he felt that after that he could no longer motivate players."
When Alex Ferguson sees his relationships break down – as seen with Beckham and Stam – he sells the player with impunity. His authority is such that no-one dare question him. But other managers – less embedded at a club, less successful, less powerful – would perhaps be the one to be shown the door ahead of a valuable star. The Manchester United players know who is boss, and that helps.
Imagine if Roy Hodgson had tried to sell Fernando Torres. There would have been mutiny amongst the fan base. And yet when it happened on Kenny Dalglish's watch, we quickly got over the shock, and accepted that the striker was a bit of a fading force. There was not one iota of outrage directed at the new boss, or the owners (apart from a few of the cyberspace crazies).
Perhaps this shows double standards on our part. But it is a reflection of track records, not an arbitrary dislike of the Londoner.
In a recent Goal.com article, three of the worst 10 transfers of 2010/11 were Hodgson purchases: Joe Cole, Paul Konchesky and Christian Poulsen. Given that he only made six signings, this is some going. Brad Jones and Fabio Aurelio (due to injury) have also had little impact, although unlike the three selected, neither was bought for the first XI, and neither cost more than £2m. With all this in mind, no-one wanted to see who Hodgson would reinvest the £50m on, with visions of £20m spent on Carlton Cole.
The fact that Kenny could sell the star player – even if the decision may have been made for him (due to Torres wanting away, and FSG not wanting to keep unhappy assets) – and not suffer dissent shows the authority he holds in the eyes of the fans. And as the fans are less likely to get on his back, his authority is less likely to be diminished in the eyes of the players, who can tell from the crowd reaction how the boss is viewed. And none of the players need telling who Dalglish is, or what he means to the club.
Could any other manager have gained such a response in January? Had Dalglish gone back to work at Newcastle and sold Andy Carroll, he would probably have been castigated by the Toon army. But at Anfield he's a protected species. This is not to say that he isn't double-guessed and questioned, in the way that all supporters express doubts from time to time (even Ferguson gets it). But those doubts are left at the turnstiles.
And of course, if a manager is undermined from above, his authority is likewise weakened. In Benítez's case, it was by Gillett, Hicks, Parry and Purslow.
In Hodgson's case, such undermining was more inadvertent, when FSG appointed Damien Comolli as Director of Football.
However well-intended, the Director of Football position always undermines the in situ manager to at least some degree. It implies "I don't trust you", and British football folk are particularly distrusting of the role. The British management culture is sole control. But it's understandable why FSG, as newcomers, would baulk at handing over tens of millions of transfer kitty to a man they didn't appoint; or, indeed, to any single individual.
Their intention was to turn to the wisdom of crowds, and spread the responsibility in scouting and securing players, by bringing in an expert in the buying of players (or at least someone who shared their methodology in analysing performance). But it's always a PR blow to the manager, and perhaps puts doubt into the minds of some players as to who is calling the shots. Given the innate 'threatening' nature of the DoF, the manager needs to be seen as strong and commanding in the eyes of the players, fans and media.
Kenny Dalglish, even as a mere caretaker, has that authority. It helps that he took the role knowing that Comolli was already in place; therefore, no-one could say that he was undermined. But even so, he has clout.
If anything, time has eased some doubts that surrounded the legend towards the end of his first spell in charge.
By 1991, his penchant for excluding top-scorer Peter Beardsley, along with his proclivity to play a number of 'defenders' in midfield – not to mention buying the aging David Speedie and the hapless Jimmy Carter – had plenty of fans scratching their heads. But this is a different beast: older, wiser, and not living under the cloud of Hillsborough.
Tactical acumen
Tactics clearly play an important part in modern football. But if a manager is a lame duck, it doesn't matter what formation he plays; the players have to respond, and so does the crowd, and that becomes all the less likely if there is a lack of trust and a sense of uncertainty. Rafa Benítez didn't become a worse tactician overnight, but some of the players had stopped responding in the way they once had. (Hodgson never really got some of them going to start with, and his tactics were horribly flawed to deal with the expectations.)
Next season, tactics will perhaps play a bigger part for Dalglish, if he gets the job on a full-time basis.
Team spirit and togetherness is perhaps the most vital component for getting out of a slump, and Dalglish engendered that. He has managed the players incredibly well, and that is far easier to do if you are a living legend. But tactical naivety can just as easily undo all that good work, and thankfully there's been no sign of that.
From the moment he reclaimed his puffy manager's jacket, Dalglish showed he understood the abilities of the players at the club better than his predecessor. He also showed far more versatility, switching from 4-2-3-1 to 3-5-2 and finally settling on a 4-4-1-1 that could easily be viewed as 4-3-3 with Suarez pulling left and Kuyt to the right, either side of Andy Carroll.
Where Hodgson tried to force things into his flat 4-4-2, Dalglish found success with players operating between the lines. Where Hodgson preferred pure defenders like Kyrgiakos, Skrtel and Konchesky, Dalglish knew that the likes of Agger, Johnson, Aurelio and Kelly were vital in order to dominate possession and take the game to the opposition.
The only criticism would be a couple of games in which Andy Carroll was targeted with long balls from the back, but on the whole, the football has been fluid and inventive, whatever the formation and whatever the personnel.
Carroll won't be as effective as a goal threat until there's better service from wide areas, although with Kuyt likely to keep his place on the right, where he guarantees double figures for the season, the team only needs one winger.
(In the modern game, full-backs often provide a lot of crosses, and this is something the likes of Johnson, Kelly and Aurelio can do.) And Carroll can bring others into the game; he's not just there to get on the end of crosses. (I covered some of the tactical issues in more depth here, including how the addition of pace will alter how the team can set up.)
Of course, the credit for the revival must be shared with Steve Clarke. While Kenny is canny with a chalkboard, Clarke is seen by many to be the driving force behind the tactical side of things. But it doesn't really matter who is the ideas man, so long as the manager is seen to be in charge, and everyone is seen to be singing from the same hymn sheet. Clarke behind by a less-commanding figure would not have the same effect.
The key is to have the entire skill-set covered by the management team, and that appears to be the case right now. Add the less quantifiable qualities, like symbiosis, respect and authority, and it's hard to think of anyone better suited to the Liverpool job right now.