Although United pulled back a last-minute consolation goal, there was no denying that this was a rout; not a total thrashing, but about as comprehensive as you normally get in these types of game, where often a single goal decides things.
While the star of the show was arguably Luis Suárez – whose jinking run in a tight space was my highlight of the season, and who was involved in all three goals – there were plenty of others who contributed to a resounding victory. No-one played badly, and even Fábio Aurélio was looking like his old self until (also much like his old self) a muscle twanged.
Yet again, Liverpool did not rely on those players who are supposed to drag the team to victory while the others do little more than make up the numbers.
Gerrard, perhaps due to injury, had a quiet game, bar two excellent long-range efforts (although he rarely performs to his highest standards against teams like United, Chelsea and Everton). He was fairly disciplined, and if the tactics determined that he held his position, he did so better than in the past.
Carragher (like Rafael) was lucky to stay on the pitch after a reckless tackle, and shuffled around at right-back like someone who clearly no longer suits the role; but he did a job, and that's about all that could have been asked. Pepe Reina didn't have an awful lot to do, bar watch Hernandez's late effort sail in, while the club's best defender and libero, Daniel Agger, was out injured. And of course, Liverpool FC lost its star player when he moved to Chelsea.
On top of that, there's Roy Hodgson's single really good buy, Raul Meireles, who looked a fine player earlier in the season, but since the change of manager, has started to look a great one. His runs from midfield were tremendous, and the positions he takes up – now that he's free to roam – showed why he's been making the headlines with his goals of late, even if he didn't score today.
Take that lot out of the equation, and most of the club's critics would say that there's not a lot left. It's just deadwood; often an excuse to batter Benítez, despite a handful of bargain buys who are positively buoyant under Dalglish.
Soto Kyrgiakos, who, despite having the mobility of a snail buried in cement, was faultless after coming on as an emergency sub; Maxi's movement and first-time passing was first-class, as was his work rate; Glen Johnson showed that he can look a top-class full-back on either flank even when asked primarily to defend; and of course, Lucas Leiva epitomised precisely why no-one attempts more tackles in the Premier League, on account of his incredible hard work and clever reading of the game, while his distribution goes from strength to strength.
And of course, then there's Dirk Kuyt. Constantly questioned, Kuyt yet again proved that he is the ultimate big-game player. This is the third outstanding game he's had as the spearhead striker since Kenny's return, following on from the games against Stoke and Chelsea; and of course, two of the three came in massive fixtures.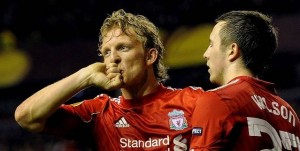 To go with goals against Chelsea, Arsenal and Everton (who, of course, only belong in that company by virtue of the derby), he now has a hat-trick against United. This means that he now has at least three goals against those opponents. This is before getting onto the vital goals at key times in games, like the one that qualified the Reds for the Champions League against Standard Liège in 2008, or the late goal in Athens that gave us a couple of minutes to contemplate adding that city to a list including Istanbul.
In a strange way, he's better when the opposition is stronger, because the tempo is often higher. In the last few games – since the victory over Chelsea, in which he was immense – he'd looked terrible (but of course, even at his worst, he gives 100%, and that can have infectious properties.)
Perhaps he needs the Reds' best technical players to be around him – so that it's closer to the Dutch national team, for which successive managers continue to find space for him in the XI, despite an excess of far more naturally gifted individuals. While there's the guarantee of great technique when picking from Van Persie, Sneijder, Van der Vaart and a host of others, those chosen are almost always supplemented by Kuyt.
If the game is slow, Kuyt can look clunky, with his bandy legs you could drive a bus through. But here's the paradox: usually clunky players look even worse when there's less time, and they're hurried; strangely, Kuyt often looks better.
His one-touch passing can be superb, and while lacking pace and silky skills, he somehow swerves past defenders and makes things happen. Perhaps most of all he needs to be surrounded by movement, and under Dalglish – in the total opposite of Hodgson, when it was glaringly absent – Liverpool have that in spades in the majority of games.
Kuyt has a brilliant understanding of space, and is therefore able to find players who move off of him; static team-mates leave him exposed, and he gets in a muddle. While more pace is clearly needed in the team – and with the wings the obvious position for it (if Carroll and Suárez are to be the usual striking combo) – Kuyt's place has to be under threat to a degree come the summer. But his versatility and attitude – as well as an aptitude for pass-and-move – should keep him as a key component of the squad, even if he doesn't start as often.
There's one more unsung hero, lurking behind the scenes, whose influence I'd like to salute.
The rest of this post is for Subscribers only.
[ttt-subscribe-article]