I recently gave an in-depth interview on a range of football-related subjects to the excellent Back Page Football website, but before it appears on there, I will share it with subscribers to The Tomkins Times.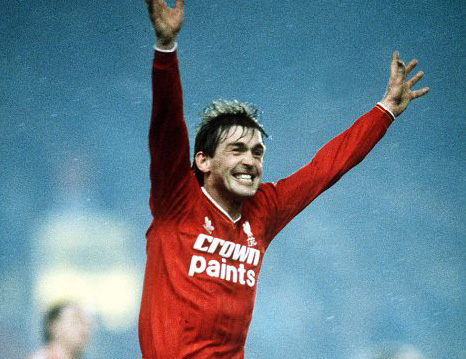 [wcm_nonmember][ttt-subscribe-article][/wcm_nonmember][wcm_restrict]
What triggered you to open up a blog, and at that – one that was partly paid-subscription only?
A series of events, really. Due to health reasons I had to give up my career as a designer in the late '90s. That led to many years writing for independent LFC sites as a hobby, as something I could still do from home, for fun. In late 2004 I decided to write a book on the Reds' season. That ended with Istanbul, and as the book did relatively well I wrote several more.
Unfortunately, as any author will tell you, there's not much money to be made from writing books, unless you're a big literary name or celebrity shifting a lot of units. Most authors of specialist books have 'day' jobs (journalist, academic, etc), and I wasn't in that position. The trouble I was having was that bad results would affect sales, and the poor start to the 2009/10 season meant that at the time I was effectively earning less than minimum wage and unable to pay my rent.
So the idea of a subscription blog made sense. One of my readers, Anu Gupta of Digital Query, suggested the idea, and at first I was sceptical. He offered to build the site, and only ask for payment if it took off. I've had all sorts of offers from people in the past for things that sound too good to be true, and always were! But as good as his word, a week later, a WordPress site with a pay-wall was ready.
I thought that if I could get 200 subscribers I could at least pay my rent, and know that, even if a few subscribers came and went, there'd be a fairly steady and guaranteed income. I had a fairly large mailing list, and within 48 hours had passed that target, and to my amazement it's been growing steadily ever since.
Overall, how has the experience of writing books and columns about the club you love been?
Mixed! You're more emotionally invested, and for reasons I still can't fully fathom, I appear to be the Marmite of football writers: lots of very loyal readers, and lots of 'haterz' as Ryan Babel might say!
But for all the pitfalls, it's been an incredible experience overall. To be invited to spend four hours chatting about football with Rafa – including a tour of Melwood – and taken out to lunch by John W Henry because he'd read my books when purchasing the club, were events I never could have imagined happening, given that I am an independent writer. I never studied journalism or set out to be in this business, so it can still be a little weird.
You've written for a number of different sources down through the years, do you enjoy the freedom that comes with your own website or do you set your own deadlines and requirements?
Very much so. I like to get my view across without anyone else changing my meaning with the deletion of a key paragraph or by adding a misleading headline.
I also like to go into detail with my thinking, and while some people think this means I waffle on, I think my readers appreciate something that attempts to have a bit of depth to it. There are some excellent short-article writers out there, but that's not my forte. If people don't have the attention span, then they don't have to read it – but it does make me laugh when the pieces get pasted onto other forums, and people get offended that it's more than 400 words. "I'm not reading that!" – well, don't. No-one's forcing you to.
I enjoyed my time writing for the official Liverpool site, although it wasn't without its limitations. I always wrote what I believed, but it could end up being couched in wishy washy language – a kind of self-censoring, to tone things down – which I fully accepted given the medium.
I really like the people who work for the site, but between 2008 to 2010 the club and its owners made it a task I wasn't entirely comfortable with. With those people gone it's now a better site again, although I think I made the right decision in stepping down when I did – Gillett, Hicks, Purslow and Hodgson did not make for a club I recognised and related to – and although it's changed for the better, I'm happy focusing on my own site now.
The site seems to have built a very strong community since its establishment, is this a fundamental part of The Tomkins Times?
I really didn't foresee that. My original blog didn't have many posts on, because it would be attacked by spammers and trolls, but once behind the pay-wall people felt a lot more comfortable making their views known, aware that they were not going to get abused. Everyone thinks it's a great community, but of course, that doesn't mean all outsiders would think the same. It's a good mix of locals and match goers with those from further afield.
A couple of other Liverpool fans also write for TTT, contributing on a wide range of LFC aspects. How do you find the quality of Liverpool FC writing across the internet?
I think there's some excellent stuff out there, but to be fair, I don't know how it compares with other clubs because I don't spend too much time looking.
As for my site, it's a growing list of quality contributors. I chose the name of the site to help people find it if Googling my name, and as a pastiche of the Huffington Post. Now it perhaps makes me seem egomaniacal! At the outset I didn't expect to have other people writing for it, but I'm blessed that some talented individuals are happy to contribute, particularly as it gives a wide spread in terms of areas of expertise and perspective.
Football blogging has become very mainstream, you can find a site on nearly every topic on football – how do you view the different realms of football writing which we can access so effortlessly?
To be honest, it's hard to keep up – there's so many good blogs out there. I get asked a lot by people to read theirs and I just don't have time – it's hard enough for me to keep up with the ones I want to read,  of which there are quite a few, as well as the quality newspaper articles.
You, like many other football writers, have latched onto Twitter as a way of communicating. How do you look upon this new generation where fans, players and players can interact instantaneously?
Ah, Twitter. So essential, and yet at times also absolutely bonkers. It has brought me into contact with so many excellent football writers and knowledgeable fans, but also with so many lunatics! At times everyone is shouting their opinions at you, but if you follow the right people, and are lucky enough to get some sensible people messaging you with interesting information, you can be very enlightened about what's going on in the game.
You're very vocal of your opinions on Twitter, but the response is occasionally mixed or negative. Why do you think is this?
I do understand a lot of the criticism, but at times it can be baffling. I don't think I've ever been controversial, but of course, if you are extremely ignorant, then rational argument can be offensive to you. Some might say I was very outspoken about Roy Hodgson, but in that case I was simply reflecting what 95% the Liverpool fans were thinking: whatever his merits as a manager, he was not right for our club.
No-one in football can be 100% right when thinking about how things will pan out, but I think I have a better than average record of getting things right. I lost faith in Gérard Houllier in 2002, before a lot of people saw the crash coming. I foresaw Liverpool winning the Champions League before the quarter-final was played, and fairly accurately predicted the manner of progression to the final. I was fairly certain that Roy Hodgson would be a disaster. And in his first five seasons, whenever Rafa Benítez hit a tricky spot, I was right in saying that we'd come through it, to the point where we were in contention for silverware right up until the May of each of those seasons. I was wrong in thinking he'd come through things in what proved to be his final season, and some of his signings that I thought could be inspired flopped, but I don't think anyone put in more work than me in that period in trying to accurately assess the job he was doing.
I work as hard as possible to base my thinking on a mix of 'evidence' and an understanding of the game that comes from being a football nut from a young age, including spells as a semi-pro and several years as a season ticket holder at Anfield, to a love of numbers and patterns in life.
But I've had the abuse for years, well before Twitter. People want to chop you down if they think you're too big – tall poppy syndrome. So there's that, and other forms of jealousy. There's also the fact that often when people don't understand something they feel inferior, and lash out at those trying to do something a bit more involved. There's also the fact that, at times, I might be talking absolute crap. It happens.
Recently you published a non-Liverpool book, providing in depth transfer figures from each club since the Premier League began. What was the inspiration behind PAYP, and in particular, the CTTP?
In order to assess how Liverpool were performing, I increasingly found myself analysing where the club fit into the current financial landscape, and what could be realistically expected of them; in other words, finding benchmarks to compare with that weren't the nonsensical "but we're Liverpool, we should be winning the league!". As that research expanded, it then made sense to write about all clubs during the Premier League era.
The Current Transfer Purchase Price came about after I'd devised a similar system for "Dynasty: 50 Years of Shankly's Liverpool", in order to make comparisons on prices paid across the decades. I used a percentage of the record of the day, be it 1960 or 2009, but accountant and published statistician Graeme Riley suggested that we collate all transfers from any given season and take an average, in the way that the Retail Price Index is calculated, and then compare year on year. That way we could ascertain football inflation, which obviously has its own factors above and beyond standard inflation. To keep things manageable we focused on the Premier League years only. From this we could say what a player purchased in 1992 – or even entire teams – would have cost in '2010 money'. So we could accurately compare performance across the seasons in relation to each club's expenditure.
This opened up avenues for all kinds of analysis, and some interesting trends were found in the data. We asked some high-profile writers who follow certain clubs to comment on 'their' club's figures, and we could see how much, on average, it cost to achieve certain levels of success. Managers were also ranked in terms of how they performed in relation to the cost of the team.
Are there any more books in the pipeline, and would you hesitate to organise another collaborative project a la PAYP?
It's the work I'm most proud of, but it took a lot of effort. I hadn't planned on doing another book, but this time it was purely a case of the idea being too good to ignore, rather than the need to try and eke out a living. It had some fantastic reviews, and I hope to keep the project alive – there's new analysis at www.transferpriceindex.com and we'll be producing the 2011 index in March – but I have no plans to produce another book on this or any other subject.
And finally, some questions on Liverpool. How do you think Liverpool Football Club will change as a whole under new ownership?
I think you only need look at the reputation of Tom Hicks and George Gillett in America in comparison with that of John Henry and FSG to know that the new owners are in a different class, as people and as sports businessmen.
As they came in when the season was already underway and with Liverpool heading in the wrong direction, they've had their hands tied to a degree, but I think in time they'll prove their worth. I know they didn't want to get into what are seen as bad football habits and set the wrong tone – sacking managers too quickly, overspending on players – but sometimes they can be the right things to do, if the manager is clearly the wrong man, and if the player can add value greater than the sum of his fee and wages to the team. In other words, if a club buys a £5m player for £10m in January, yet he saves his team from relegation, then he suddenly looks a bargain.
The return of King Kenny has been a delightful sight for fans the world over. Do you think he can revive the times of old and extend his short-term contract?
I do, although I don't see Liverpool ever dominating again in the ways or yore.
Equally, there are some exciting managers out there, including the much-coveted Andre Villas-Boas, who FSG might decide are better choices – I honestly don't know.
What I do know is that, so far, Kenny has employed a mix of modern tactics with traditional Liverpool passing values, and spoken like the leader of such a club should. Also, it's hard to think of anyone any Liverpool player could have more respect for. On top of that, at a time when the crowd were getting restless, it's hard to see them turn on Kenny.
Perhaps Kenny wouldn't be the ideal man for a club like Fulham, whose fans would focus on the negatives, but equally, Hodgson was never the right man for Liverpool. Sometimes it's about the fit, the chemistry. At Liverpool, Kenny could once again prove that he's perfect for the job. In an age where the word is horribly overused, he's a legend.
Finally, we would be interested to hear your opinions on the the much debated Liverpool squad. Is it really as bad as people suggest, or does it just need some additions and the right man behind it?
Performances instantly picked up after Hodgson left, and results have, too. Liverpool were on course for 48 points under Hodgson, and a negative goal difference. Extrapolated, Liverpool would get 67 points over 38 games based on Kenny's record of two wins, a draw and a defeat in his four league games, and a +29 goal difference. But of course, we were already 20 games in when that started, so we'll do well to get 60 points in 2010/11.
While the sample sizes are small, it does show an instant and fairly radical improvement with the same set of players. But of course the squad needs strengthening, as a profit has been made in the past five transfer windows. Rafa's signings after 2008 weren't as good as before then, although Aquilani showed enough last season to suggest he could follow Modric and Nasri as an overseas ball-player who took a while to find his feet in England, but who, by using his brain, could find time and space in the hurly-burly of an Premier League midfield.
To make matters worse, Hodgson and Purslow conspired to loan him out, along with Insua, and paid to bring in inferior replacements, with only Meireles of the six players signed by Hodgson likely to last beyond a year or two at the club. While Hodgson had limited funds, he did not buy or sell well, and only weakened the squad, bringing in mediocre players who were, on average, 30 years of age.
But a lot of good young players were brought to the club by Benítez, and the youth academy has some really outstanding talent – world-class for their age group, without doubt – ready to emerge. So long-term I think the club is going to go from strength to strength, and the squad will naturally improve when they mature, before key players get too old.
With a strong core to the first team, a couple of astute signings could take the Reds back into the top four next season, but it might take a couple more years to be back at the level we were as recently as 2008/09.
Thanks for chatting with us Paul, best wishes to TTT, and your future book writing.
[/wcm_restrict]