By Kais.
King Kenny's second consecutive win – and his first at Anfield during this new reign – saw Liverpool move up the table into 7th place, albeit under somewhat fortuitous circumstances, particularly with respect to the goal.
Tactical Line-ups
• For the Reds, Liverpool continued with the protean 4-3-3/4-2-3-1 that King Kenny prefers, with Gerrard returning from his suspension to replace the indisposed Lucas Leiva alongside Christian Poulsen and Raul Meireles in the three-man central midfield configuration.
• The visitors were deployed in what was essentially a 4-4-2, but with Clint Dempsey often drifting into central areas and Moussa Dembele typically dropping deep into the 'hole', it often assumed the complexion of a 4-4-1-1.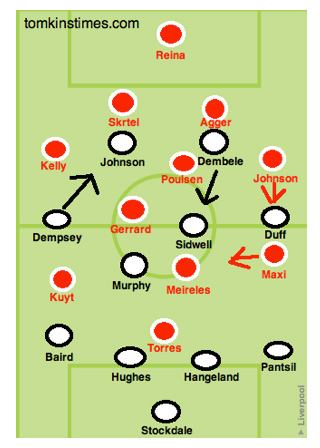 Key tactical points: (1st half)
• In sharp contrast to the methods of each team's predecessor, Roy Hodgson, both teams sought to press the other high up the pitch, rather than sitting back and attempting to keep shape in their own half and invite the opposition onto them. For Fulham, Johnson and Dembele, in particular, were fervent in their attempts to close down either Agger/Skrtel whenever Reina attempted a short-goal kick in order to begin a Liverpool attack by passing from the back. The Reds, however, were not as asphyxiating in their pressing as they had been in previous games under Dalglish, choosing to defend about 10-15 yards deeper than usual – presumably to negate the menace posed by Andy Johnson's pace.
• Liverpool started off at a characteristically high tempo (as has been typical under Kenny), with plenty of fluidity and verve, especially in midfield areas.
• Interestingly, in previous games under King Kenny, the midfield triangle had generally been inverted – arrayed as a '1-2', rather than a '2-1' – with one clear holding midfielder in front of the back four, and two central midfielders on the same 'band' ahead of him. In this game, however – notably in the first half – the midfield triangle was aligned as a '2-1', with Gerrard in a deeper role alongside Poulsen, while Meireles played in advance of the two, supporting Torres by attempting to exploit space in the trequartista (literally, the position three-quarters up the pitch) sector. While this didn't quite evoke the acclaimed Mascherano-Alonso-Gerrard triumvirate, the intention was certainly to recreate the destroyer-passer-creator dynamic.
• The disposition of the team thus more closely resembled Rafa's 4-2-3-1, or even Spain's 4-2-1-3 with two deeper-lying midfielders (the 'double pivot') and the third central midfielder situated in more advanced areas, as opposed to the more 'Dutch style' (which Kuyt spoke about earlier this week) 4-3-3, which comprises one holding midfielder and two central midfielders ahead of him (typically the way Barcelona's midfield is set up, with Busquets deeper than Iniesta and Xavi)
• Given that Liverpool had the 'spare man' in central midfield – the trio of Poulsen-Gerrard-Meireles contended with Fulham's duo of Murphy and Sidwell – it is no surprise that the Reds were able to comfortably play 'around' Fulham in midfield – particularly in the first twenty minutes. The idea to play Gerrard deeper was presumably to draw Murphy (who was in a more withdrawn position than his partner Sidwell) out to confront him, thus leaving space in front of Fulham's back four for Meireles to attempt to capitalise on. Indeed, this helps to explain why Liverpool had more possession in the game (54%-46%), and why Poulsen's passing, for instance, was far more accomplished here than it had been against Wolves: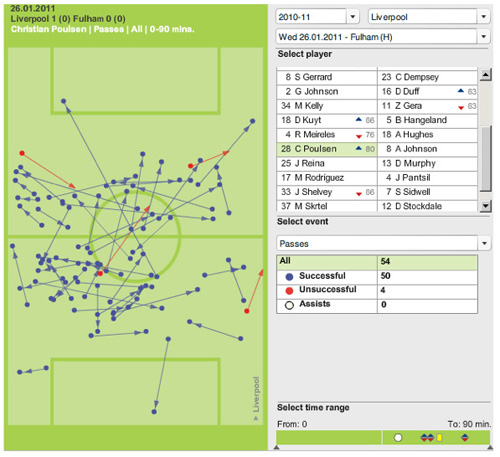 The rest of this post is for Subscribers only.
[ttt-subscribe-article]