Although both games have been lost, Liverpool have at least tried to pass, move and press higher up the pitch under Kenny Dalglish. The appointment of Steve Clarke will hopefully prove a shrewd one, and there's no need to panic after what was always going to be a very difficult start. If people thought writing off Roy Hodgson after six months was knee-jerk, then giving up on Dalglish after four days would be off the scale.
Results following Hodgson's departure will still be affected by the situation he left behind: an unbalanced squad and, more vitally, a team bereft of confidence in a league position not experienced at this stage of a season since the dark days of Graeme Souness in 1992/93.
Yes, the away form was generally poor last season, but as with Hodgson's overall away record, it went from bad to much, much worse upon his arrival – from failing to win many between January and May 2010, to losing almost every game on the road in recent months.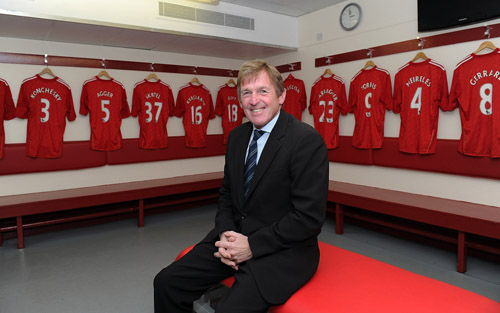 As noted in this piece, Liverpool actually had a fairly strong second half to last season: the points won extrapolate to 68, which most seasons would mean the top four. So it's not like the dip was a hangover from the final league games of last season. Hodgson had the summer to make his changes, with six signings, a few sales, a new coaching team and new tactics.
That's not to say it's all Roy's fault. Gillett, Hicks, Benítez, Parry, Purslow and Hodgson are all guilty in the squad deficiencies, to differing degrees. There's still a very strong core, but it's been weak at the edges for a while, and unfortunately, all Hodgson served to do (with the aid of Gillett, Hicks and Purslow) was weaken it yet further.
It seems fair to say that Benayoun, Mascherano, Aquilani (six league assists) and Insua (six league assists) all offered more last season as a group of players than the ones Hodgson brought in to replace them: Poulsen, Koncheskey, Meireles, Cole and Aurelio. In some cases was not Hodgson's fault the players left, in others it was.
However, (along with Purslow) he was in control of reshaping the squad in the summer. Add reserve keeper Brad Jones, and Hodgson is responsible for 25% of a squad of 24 players, and only one – Meireles –has performed better than below average. Six players is quite a large number to bring into a squad, and if all fit, comprised a third of Hodgson's preferred match-day 18. That's a massive intervention in such a short space of time.
Ahead of this season, Benítez brought in Jonjo Shelvey (excellent potential at just 18), Danny Wilson (ditto) and Milan Jovanovic (thus far a frustrating flop). He leaves some other flops, but also some top-quality footballers, such as Reina, Torres, Agger, Johnson, Kuyt et al, and some excellent value players, such as Lucas, Ngog, Maxi, Kyrgiakos and Pacheco, who cost less than £10m combined as the purse strings tightened.
But what Dalglish inherited was a team already in a deep hole by January. He's given everybody a lift, but it's a big hole.
In both games since Hodgson's departure the formation has changed, and the ball has been passed on the deck, with better movement and less hoofing. But at Blackpool in particular, once the team went behind the confidence visibly drained.
A lot of effort went into the game at Old Trafford, especially with ten men, and tired minds and legs were no match late on for a Blackpool team at home, who were fresh, having been rested in the FA Cup ahead of the encounter. One thing you can't do, if you're Rafa, Roy or Kenny, is send out your second string against Manchester United, even if you want to focus on the league.
(I had a lot of people Tweeting me last night to say "but they're professional athletes, it makes no difference". If both teams have played the same amount of games in the past week, at the same intensity and at the same intervals, then yes, there's no excuse; but no matter how fit you are, repeating games in a short space of time takes its toll. By the same logic, you could ask professional marathon runners to go again five hours later and expect them to run a personal best. That's why all clubs employ sports scientists; all clubs with lots of fixtures rotate and rest; and is precisely why Ian Holloway left out so many players when effectively surrendering in the FA Cup at the weekend to lowly Southampton.)
With Gerrard, Cole and Babel unavailable – three of the creative players in the squad, even if two only fitfully so – it fell upon some fringe players, and in the final analysis they failed to deliver, especially in terms of the final ball. It's not a line-up I'd be eager to see again, but in the circumstances (with Everton looming, too), I accepted it.
The only criticism of Dalglish on the night was that, given the visibly tiring legs, substitutions could have been made earlier; I criticised Hodgson for this, so I cannot ignore it when his replacement does the same. But the overall approach to the game was much better, and Torres looked a far happier bunny for most of the match.
Getting the confidence back from a squad drained of it since the summer will be a challenge. But at least the ideas are once again palatable to the majority of Liverpool supporters. One or two astute signings this month will help inject something new into the equation, and then in the summer some more extensive surgery can take place.