With Rafa's apparent departure from Inter Milan, there's a growing bandwagon calling for his return to the Liverpool hot seat. For some, that time can't come soon enough. But as ever, it's a complex issue.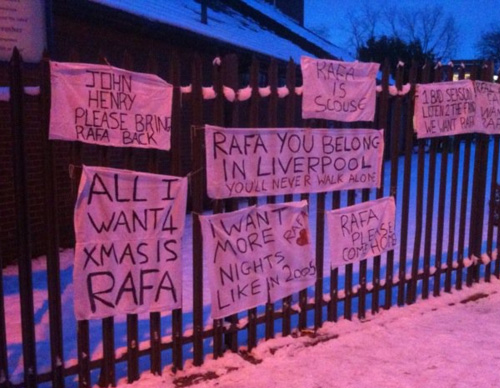 (Note: not my handwriting, honestly…)
Rory Smith's article in the Telegraph neatly articulates both sides of the argument, and it's well known which side I fall on. But the vital fact is that there will always be some kind of argument; it seems there's little middle ground. (Oliver Kay also wrote an excellent piece that appears in the latest edition of the excellent Well Red Magazine, discussing the way the media views both Benítez and Hodgson.)
I find the notion that Benítez is anything less than an excellent manager baffling; always have, always will. That a man who has won every type of trophy available – domestic league title (twice, in a major league, with an outsider), domestic cup, domestic 'super cup' (Community Shield), Uefa Cup, European Cup, European Super Cup and now World Club Championship (and also improved Liverpool in the league to levels not seen for two decades) – is somehow an incompetent duffer is just ludicrous. He has his faults, but that is some CV, and all achieved since Roy Hodgson's last trophy in 2001.
By last season, thanks to the awful owners Hicks and Gillett, Liverpool were selling more players than they were buying. Then there was Chief Executive Christian Purslow, who had no prior experience of running a football club, and whose decisions in the summer left a lot to be desired; the good he did in helping to oust the owners was undone by a short-sighted approach to the footballing side of things.
So it was against this backdrop that Liverpool experienced what was deemed an 'unacceptable' season, even though the Reds performed better in terms of winning games (18) and gaining points (63) than in the final year of Houllier's reign (just 16 wins and 60 points). Indeed, even if you average out Houllier's final two seasons, it still equals only 62.5, a fraction less than the 2009/10 total of 63. (Rafa's final two seasons saw an average that was ten points better than Houllier's full six-season average.) Currently, the Reds are on course for just 49 points, well below last year's figure.
My view was that Rafa was an exceptional manager whose job at Liverpool had probably become untenable because of the general dysfunctional nature of the club, and because several players wanted him out. Even Mourinho at Chelsea found such a confluence of such factors hard to live with; results started to dip, and he was sent packing.
Had NESV arrived at the end of last season, I think (and it's just a hunch) that Rafa would still be manager today. I can only guess at how the relationships would have unfolded; I can see similarity in vision (the desire to buy young players on the way up and produce a successful Academy, and the possession of a winning mentality), but also potential clashes, given that few managers are happy to work with a Director of Football. But I think Benítez had a similar approach to Comolli, judging by their track records in the transfer market.
But of course, part of the reason why Benítez became seen as a megalomaniac is because there was a distinct lack of football knowledge at the top of the club: a vacuum of suitable thinking, with clueless owners and rookies running the club; and because, until 2009, he couldn't make the necessary changes to an under-performing youth system, which was producing tight-knit teams full of endeavour, but no first-team talent. Even now, no youngster released by the club has gone on to become a proper Premier League star, let alone Liverpool standard (although after a few years away, Adam Hammill shows some promise.)
Benítez started to micro-manage everything because that need arose, and because he is a perfectionist (which can be a flaw as well as a virtue). He clashed with Rick Parry and Steve Heighway over the Academy, but to my mind, rightly so; just look at the talent that's there now, as well as the Barcelona gurus running the institution. This will prove the Spaniard's greatest legacy for the club, I'm sure. None of this is to say that he didn't make mistakes, but arguably no more than any other top manager makes.
While I think that NESV would have stuck with Rafa, and given him the support needed to succeed, bringing him back now is a very different issue. It's one thing to keep someone, because it changes little, and you can finesse things behind the scenes; it's quite another to sack someone and bring someone else back to a club where, for all his allies, he retains some enemies.
The same old wounds would be opened up, and if the media were rabid in their treatment of him beforehand, you can only imagine how they'd be if one of their darlings was replaced by 'the nasty foreigner'. (Of course, the club shouldn't be swayed by the media, but they do add another layer of pressure.)
How Rafa performed at Inter does not alter my perceptions of how he performed at Liverpool. Essentially, with a mountain of injuries (no priests or sugar in sight), he had, after a promising start, experienced something similar to Capello in the summer: one bad month. Prior to the first game against Spurs his team's style of play was being applauded, and but for a remarkable few minutes from Gareth Bale, a thrashing would have been all that people remembered from that particular game. Instead, Inter hit a wobble.
As it was, with a tired, aging team, he still qualified for the knockout stages of the Champions League for the 7th time in his personal eight appearances in the groups, and won the World Club Championship. The league form was average, but it ignores that the likes of AC Milan and Juventus were injecting a lot of new quality into the ranks, whereas Inter had instead sold Italian football's best young player (Balotelli) and, with an aged squad, brought in no one of note. (For more on the issue, see this informative article for an interest assessment of his time in Italy.)
I have no doubt that Liverpool traded down in the summer. The biggest crime of Benítez's replacement has been a failure to understand the approach demanded at one of the biggest clubs in the world; everything he's done so far would be perfect for Fulham – where he excelled – but, to date, has been a total mismatch for Liverpool.
But he still has the job, and any manager who remains in his position always has the chance to prove his critics wrong. For as long as he remains it is his duty to try and get things right, and that includes the not-so-small task of adapting an approach and playing style that very few fans will ever accept.
(Even Bolton Wanderers fans – starved of success for decades longer than Kopites – were unhappy with such an approach, the entire time Gary Megson was there, even though they kept their head above water. Liverpool fans don't want needlessly flashy football, but they do want a style they can buy into. On that score, Hodgson has yet to even come close to delivering, as evinced by a negative goal difference. It is his style of play and his comments to the media that have seen him fail to win the hearts and minds. Very quickly, Owen Coyle has done the exact opposite at Bolton, and while that doesn't mean he could definitely do the same at Liverpool, it shows how a new approach with the same set of players can make all the difference.)
Rafa's return to his home on Merseyside perhaps puts more pressure on Hodgson, but the current Liverpool manager has had a relatively easy ride from the media so far; if he thinks he's under pressure, he has yet to face dealing with regular attacks from all the national papers (each one had at least one serial Benítez baiter) and from Sky Sports, whose key presenters were best pals with Rafa's nemesis, Sam Allardyce, and others in the LMA cartel. Yes, the Kop chanted Kenny Dalglish's name, but it's not been non-stop attacks that Hodgson has had to field, despite some pretty big failings on the evidence so far. (Of course, I'd much rather see a Liverpool manager with the media on his side, but not to excuse mediocrity and a failure to grasp what's required, and imply that Liverpool fans are daft as a result.)
It shows how much the area means to the Spaniard; his intention was always to return to the Wirral. To quote Anfield Road writer Andrew Heaton: "I also think Rafa's 'weakness' of 'fighting for what you believe in' was what the unbreakable bond with the city and supporters was forged upon".
Again, this is where Hodgson has fallen short, perhaps by trying to be too diplomatic, so as to not upset anyone within the game (including the FA, whom he had hoped would be his employers this summer, with the position of England manager apparently still his main dream).
But you only have to look at how 'diplomatic' Alex Ferguson is to anyone who criticises either him or his club to see how standing up for your club (and by proxy, its fans) is essential. Perhaps Benítez picked too many fights, but it's better than having no fight at all. He fought for the fans, and most appreciate that. Ferguson, Mourinho, Benítez and even Wenger often get into verbal spats with adversaries because they share a certain mentality. They don't get into them in order to get an historic draw, either.
In the meantime, Roy Hodgson remains in charge, and I don't see that changing before the summer at the earliest. He deserves to be backed in the transfer market in the way that any other manager does, but Damien Comolli must make sure that, unlike the raft of older players brought in during the summer (most of whom were average at best, and have contributed to a poor season), the signings must be flexible enough to serve the club beyond Hodgson's tenure.
And then, in the summer, NESV will be able to sit down and make an informed decision about how Hodgson performed based on the entire year, and take a good look at the viable alternatives. I very much doubt that Benítez's name will be on the list of potential candidates, should a new manager be sought – but that doesn't mean his time definitely won't come again. In football, you never know.