Originally published on July 1st 2010. As much as I remain a fan of the Guardian and its football output, I continue to find Paul Hayward's take on Liverpool as daft as any I've encountered. But it's not like I'm being wise after the event:
The Media Narrative In Full Swing
Good luck to Roy Hodgson. On many levels he'll need it.
Then again, maybe he won't. The press seem to love him, so that's one fewer battle he'll face than Benítez.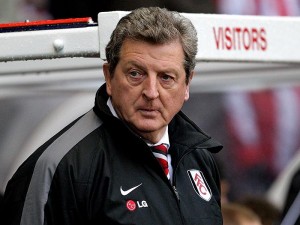 Having said that, I fear that some of the press, in taking one last chance to swipe at the Spaniard, are doing Hodgson no favours; in a quite comical piece, Paul Hayward of the Guardian seems to not actually understand what the former Fulham manager is all about.
By building him up into something he's not, he's providing false hopes. He's putting unfair pressure on the new Liverpool boss.
First, the Guardian man's digs about the old one.
"By the end of the Rafael Benítez reign one of the game's great clubs had adopted a kind of mechanical pragmatism designed to destroy the opposition's plans rather than impose their own."
"Anfield's regulars were suffering but were too loyal to complain. They filed out through the Shankly Gates bored. It was inimical to Liverpool's followers to see their heroes win games by calculation alone. They revered Benítez for the 2005 Champions League win in Istanbul but could recognise the creeping joylessness of his football and his apparent inability to derive any pleasure from a goal."
Yes, we must have managers who dance and sing after scoring. This is what the fans want. (Of course, no fuss was made when Rafa gestured and looked happy after a goal against Blackburn. Many top managers know that if you smile one minute, someone will try and wipe it off your face a minute later. Or say that you're a disrespectful so-and-so, as they cry foul to the press five days later.)
As for the joylessness of the football, that was certainly true to some degree last season. But it was mostly away from Anfield where the lack of goals was indeed a problem; by contrast, only three teams scored more goals at home than Liverpool managed at Anfield. There were dull games there too, but people seem to think all 19 home games are always a breeze.
And while 2005 is mentioned as if it's the only thing Benítez did right, it's worth remembering that just over a year ago Liverpool fans had been given their closest run at a league title in 18 years, and were the Premier League's top scorers.
I don't think 86 points were racked up by "calculation alone", and it's ludicrous to suggest that was the case. Benítez's team, shorn of Torres for large chunks, outscored a United side containing Ronaldo, Tevez and Rooney.
"Hodgson's Liverpool will get back on the front foot. They will assert their pedigree. Nullifying the opposition will not be their religion. This is the first step out of the darkness for a side who finished seventh in the Premier League and now face a second Europa League campaign."
This is perhaps my main problem with the piece.
Because if there's one thing Hodgson is not it's an 'attacking' coach. His Fulham side have done brilliantly these past two seasons. However, both times they scored just 39 goals.
Now, you cannot expect a side like that to be scoring hundreds of goals. But given that Fulham's average league position over those two seasons is 9.5 (7th and then 12th), you'd expect them to rank at a similar level if they were a perfectly balanced side, or higher if they were an attacking side.
Instead, both times they ranked as the 13th-top scorers. Making for an average of … 13. In both seasons, relegated sides actually scored more goals than Fulham, including Burnley.
Now, that's not Hodgson's problem; he did his job well. But the love of God, let's not make out that his success there was achieved by brushing all-comers aside, at home and in Europe, and that, by contrast, Benítez only specialised in dour football. To me, it's a bit like praising the raisin for being a dried fruit, while at the same time criticising the currant.
At Inter Milan it was slightly better, but they were the 4th-top scorers when finishing 3rd, and joint-6th top-scorers when finishing 7th. This was no team on the front foot; not least given the number of games they drew. Again, Roy did pretty well there. He did not, however, employ 'total football'.
At Blackburn, with an expensive squad, the goalscoring stats were unremarkable. Again, I'm not saying that in itself is failure; just that I can see precious little to back up Hawyard's confidence of front-foot football.
There have been high-scoring games for Hodgson, but then again, Liverpool share the record for the most Champions League goals in a single game (8); put four past Madrid, Chelsea, Arsenal and Man United; and as previously mentioned, were the Premier League's top scorers the season before last … and still the Haywards of the world paint Benítez as ultra-negative.
"High on Hodgson's to-do list will be a purge of all the obscure shadow men brought in by Benítez during a carnival of talent speculation. Clearing out the no-names and nearly men is a vital task which Hodgson has performed already at Fulham." [Edit: Hodgson left a team whose average age was 30. Not exactly overhauling a squad, is it?]
There is some deadwood at Anfield, although Benítez himself had already begun shipping some of it out. There are plenty of cheap players on cheap wages who will be surplus to requirements, and one or two well-paid and costly ones.
Presumably though, there is some left at Craven Cottage too: £10m on Andrew Johnson anyone? I don't know enough about them to comment, but there are plenty of unfamiliar names in their squad, outside of the core of Fulham's impressive side.
Worryingly, in his 1.3 seasons at Blackburn, Hodgson spent £75m (today's money, TPI) on pretty much nothing but deadwood. And his Fulham signings have been far from perfect, too: some gems, some dross.
But as I always argued in Benítez's defence, all managers sign loads of players who end up on the periphery, and their fare share of expensive flops; it just depends if you want to highlight them.
"This will lighten the wage bill, provide money for acquisitions and offer chinks of light to a marginalised academy, the finishing school for Michael Owen, Robbie Fowler, Steve McManaman, Jamie Carragher and Gerrard."
Marginalised academy? Really? Or one in the middle of being overhauled to finally produce a player worthy of a regular spot? Have Liverpool let a load of top-class locals go in the past six years? (Ten years, even.) Who attracted the two famed Barcelona youth experts to Anfield last season?
In 2009-10 only 9 appearances (all by Smalling) were made by a Fulham player brought through their youth system (Liverpool had 72 by comparison, although that of course includes Carragher and Gerrard). In 2008-09, not a single appearance was made at Fulham by a trainee (Liverpool had 69). Every single appearance was by a player who had been brought in from outside.
Again, if Roy thought that was for the best, then that was for the best. But he hardly has any kind of record in giving youth a chance.
Indeed, out of the 49 managers to have at least two full Premier League seasons under their belt, the average age of Hodgson's teams – 27.65 – is the 5th highest. By contrast, Rafa Benítez ranks 30th – at 26.22, a full year-and-a-half younger – and this is below the averages of both Alex Ferguson and Arsene Wenger.
"Hangeland's arrival from Norway displayed Hodgson's eye for an undiscovered talent: a virtue to be appreciated at a club £350m in debt."
A great bit of business. Top work.
But only one example. Will a club £350m in debt appreciate a manager who's most expensive signing at Blackburn was £7.5m Kevin Davies (£17m in 2010 money, TPI) – a horrible flop – and whose most expensive signing at Fulham was £10m Andrew Johnson?
I don't mean to look like I'm attacking Hodgson; I'm not. I'm just doing something really crazy, called research.
And hell, trying to set the record straight at the start, so Liverpool fans don't turn around a few months later and say "I thought this guy was supposed to be a youth-chance-giving-up-and-at-'em-attacking-general?"
Hodgson has a lot of strengths – he spoke with great authority at his unveiling today – and hopefully we will see them all come to the fore. And he may change some of his approach, and surprise us in certain areas. For him this is a new team, a new club, and he has the chance to shape it.
But to date, he is not known for attacking football; his record in the transfer market is not special; and he has no track record in blooding young players. Anyone thinking differently, based on his record to date, is most likely setting themselves up for a fall.