I'm back to take another depressing look at the chalkboards. Skipped a few games in between largely down to the fact that the chalkboards didn't have any interesting tale to tell. While the news from the Wolves game isn't positive, there are a few things worth noting.
I'm still trying to understand how we lined up last night. Kuyt on the left and Meireles on the right? Why oh why?!! If you're trying to bring Gerrard bring back into the line up, why would you:
Drop Maxi Rodriguez who's been the best personal form since he moved to the Reds?
Move Meireles from center of midfield, where he'd really started to excel, to the right wing, a position that doesn't come naturally to him?
Play Kuyt on the left-wing instead of the right?
Of course all this comes down to the "insistence" on playing a 4-4-2 system. The most natural thing in the world would have been to drop N'gog and play Gerrard off Torres. Now that's no fault of N'gog, but it would have let us retain the midfield that has worked reasonably well on it's day i.e. Maxi on the left, Kuyt on the right and Lucas + Meireles in the center of midfield.
Selection and formation surprises were the only holiday surprises in store for the Red faithfuls, as there was no pleasant surprises forthcoming on the performance front. (Yes, a good performance at home to Wolves would count as a surprise where we are at.) The Reds were awful from start to finish and the chalkboards have survived to tell the tale.
Wednesday, 29 December 2010
Lineup: Reina Johnson Skrtel Kyrgiakos Konchesky (Aurelio 73) Meireles (Cole 73) Gerrard Lucas Kuyt N'gog (Babel 62) Torres
Result: Liverpool 0 – 1 Wolves (HT 0-0)
Scorers: Ward 56 (Wolves)
For matters of comparison, I've picked the same fixture from last season, played almost exactly an year ago. It also happened to be the first league start for one Alberto Aquilani. Just saying.
Saturday, 26 December 2009
Lineup: Reina Johnson Carragher Agger Insua Benayoun (Spearing 88) Aquilani (Pacheco 84) Lucas Aurelio (Kuyt 76) Gerrard Torres
Result: Liverpool 2 – 0 Wolves (HT 0-0)
Scorers: Gerrard 62, Benayoun 70
Reina watch
Let's start with the chalkboard I usually end with. This chalkboard is a personal favourite, as regular readers would know, and this time I have an especially awful looking chart for you.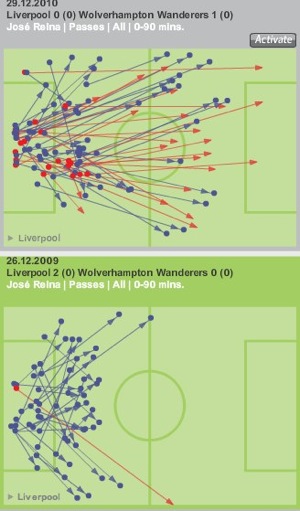 One of them looks like the Reina we know and the other one looks like a drugged Reina with a blindfold on, trying to kick the ball as far as humanly possible. I'll leave it to you to figure out which is which.
Some like it deep
"In too deep, can't touch the bottom" goes the Pearl Jam song, but you can count on Roy on proving Vedder wrong. If we continue playing like this, it won't be too long before we're back hovering around the bottom of the table.
Looking at the passing heat map below, it's evident that only 16% of our passes were in the Wolves 1/3rd, less than half of the 38% last year. Conversely, we spent twice as much time passing the ball in the defensive 3rd (36% compared to 18%).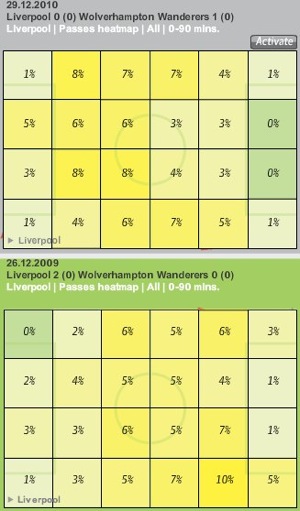 We managed 541 passes in this game, a good number compared to most of our games this season, but still far short of the 668 we managed in the equivalent fixture last season. The pass completion rate also fell down from 82% to 72%. To put that in context, that's around 150 successful passes less from where we were last year.
The next chart proves how we practically invited the Wolves upon us (pun intended), with the direction of play reversed to show the areas where they used the ball.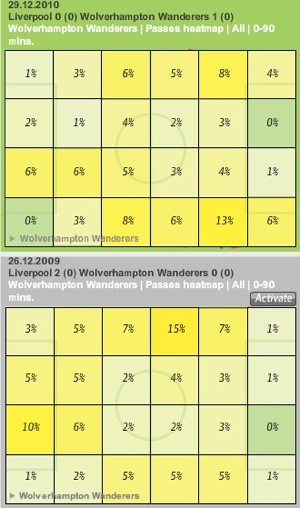 The percentage of time spent in each third reads 22-39-39 compared to 37-42-21 last season. Almost the same amount of time spent in the midfield, but the time spent in the attacking and defensive thirds has been reversed for all practical purposes. And that doesn't make for pretty reading if you're a Liverpool supporter. (Wolves did get a man sent off in the second half last season, but even so, the pattern of play was largely established. And remember, we're not comparing this performance with the very best of Liverpool in recent seasons.)
"All you get from young players is relegation"
Roy's comments, not mine, during his stint at Vikings. That would explain his experienced buys, Konchesky and Poulsen. With the latter finally finding his feet at Liverpool (firmly planted on the bench), let's take a look at how the former fared, compared to the performance of a young buck last season.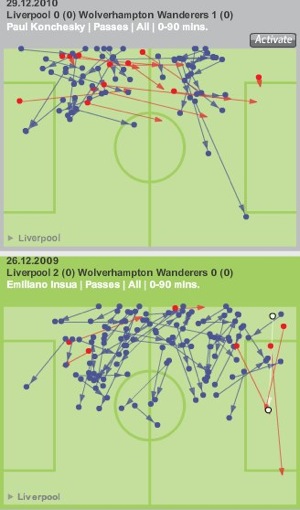 In numbers that reads:
Konchesky
74 minutes
46 passes attempted
34 succesful passes
74% pass completion rate
0 assist(s)
Insua
90 minutes
65 passes attempted
59 succesful passes
91% pass completion rate
1 assist(s)
Loaning out Insua, one of the best left-backs in the world in every age group growing up, and paying people for the privilege looks like a better decision with every passing day, doesn't it? Yes, he had his shortcomings, but which young defender doesn't? Experience and proper coaching would have taken care of that. Okay, absence of the latter under Roy is probably what sealed Insua's fate then. By February, Insua had six assists for the Premier League season; Konchesky, who looks no better at the back than the young Argentine, has just one.