It's only fair to acknowledge that Liverpool have been playing well and moving up the league of late. After a fairly terrifying start to the campaign in almost all respects, things have settled into a more comfortable pattern. It took 16 games, but the Reds are finally into positive goal difference, the latest arrival at that point since 1964/5.
Going into the Newcastle game, the Reds are three points closer to the top than at this stage last season, which people have called 'progress'. But as I write, with two fewer points, Liverpool are also three points closer to the bottom – and two more adrift of 4th place.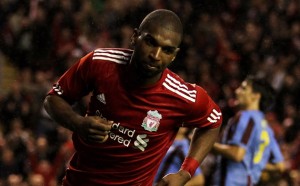 This has been the most open, unpredictable season since 1998/99, which is backed up by Graeme Riley's data from the Transfer Price Index project. (Write a book about how predictable the league has become since that season on account of increased riches for the few, and then it goes and turns itself on its head; although the top four are as you'd expect, just not necessarily in the same order.)
As well as Liverpool have been doing of late, the Reds are still only mirroring Roy Hodgson's performance at Fulham. In fact, his first 16 games of the past three seasons are eerily similar.
In the first 16 games of the last two seasons, Hodgson's team have won six, with five of those victories at home and only one away. The year before, it was five home wins but none away. Last year Fulham had scored 20 goals at this stage; the same as this time with Liverpool (12 down on last year).
Of course, such results for Fulham were very good; for Liverpool, they are still not even mediocre. However, there's been a steady improvement in the past couple of months, which was almost derailed by two abject away performances following the fine win against Chelsea.
With three wins in the first ten games, I felt that seven wins in the next ten were necessary just to reach the 'acceptable' level of 50% (with six wins from 16 that would need four wins from four). But perhaps that was unfair, given the topsy-turvy nature of the league this year and the bedding in process. (Benítez's league average was 55%, and last season – a failure – was 47%.)
Hodgson's record since the takeover has been pretty good, and the Reds have won five of the last ten league outings. Of course, there was always likely to be a positive bounce once the old owners were excised and new people to impress were in place, and we'd need for that to settle down a bit before saying the manager has things sussed.
It's also essential to point out that, even if some of the criticism was over the top, much of it was brought on by the manager himself. He made some strange decisions on certain players (although apparently ill-advised by Christian Purslow), and some even stranger comments in press conferences that were not becoming of a Liverpool manager. His football style in the opening months left a lot to be desired, even allowing for the newness of his ideas to the team. Even Henry Winter, a big ally of the Londoner and one of his predecessor's harshest critics, noted that he needed to be more positive in word and deed.
Players that I steadfastly defended – Lucas and Ngog in particular – are now showing their worth on a more consistent basis, but of course, squad reshuffling meant that they have been more needed; Lucas, in particular, has benefited from the departure of Mascherano, and, having been seen as inferior to Poulsen for too long, the manager's realisation that the young Brazilian is a better option that the waning Dane was welcome.
Maxi, another supposed flop who, after a slow start last winter (having not played for Atletico Madrid for a while before arriving), impressed the Kop enough to earn his own song last season. He's another who has benefited from a run in the side, in his case due to Joe Cole's enforced absence. The team's struggles were often when Hodgson had four of his signings in the XI; since that's gone down to two, things have improved, although that, beyond Poulsen, might also be coincidental.
The manager has said he didn't like what he saw early in the season, but that this (recent form) is what he's all about. In some areas it's good enough, but is the overall approach quite what's required?
There were moments in the Villa game when I got a sense of security from the way the Reds were defending; it was reassuringly solid, and that's what Hodgson always believed would take time. (I never expected Hodgson to be as bad as it looked like he might prove; even now, we're not quite at the 'pretty decent' standard that I thought would be his level, but it's getting there.)
The problems remain the away form, but perhaps more crucially, the lack of a Plan B in Hodgson's armoury (as also noted by Fulham fans; he has one approach, and sticks doggedly to it, and is loath to make tactical substitutions).
Plan A has worked quite well thus far – get a lead and rather than take risks, defend that lead not by keeping possession, but by ceding it and dropping deep. A lot of Liverpool fans are struggling to come to terms with this particular aspect.
It failed against Arsenal (unluckily), Sunderland, Wigan and Spurs to varying degrees, as leads were squandered, but as it's worked six times, that equates to 'more often than not' when scoring first. (Although this is perhaps in line with most teams' chances of winning after getting the first goal.)
However, that Sunderland game is the only one when the Reds have gained a point from being behind, and the total is zero for points won if conceding the opening goal. (Comebacks have occurred in Europe, mind, but Hodgson was not brought in to improve the Europa League form.) [Edit: and now, following the Newcastle game, that too has been added to the list of losing when conceding first and failing to gain more than a point in games when trailing.]
Of course, continue to keep clean sheets, and any goal will win games. Back-to-back 3-0 home victories were very welcome, even if both West Ham and Aston Villa arrived low on confidence and, unlike Sunderland and Blackpool, unwilling to really have a go at the Reds. But you can't blame Hodgson for his team easily beating what was in front of them.
There was a good sense of togetherness on the pitch against Villa, and we've seen that before when Gerrard and Torres have both been absent; the rest have to play as a team a bit more, and take responsibility. The two superstars, as well as being the best match-winners, are also the two most likely to wear long faces and appear to sulk.
If the players are happy with Hodgson – and reports of unrest seem to be dying away – then things should remain okay for the remainder of the season. Equally important is that Comolli is keen to work with whoever is the manager, be it now or in the future.
Unity is key, and it was a club fragmented by divisive owners until a couple of months ago. John W Henry is adamant in wanting a united set-up.
It's a question of balancing the need to protect the standards – and an abiding criticism of Hodgson has been how he hasn't met those basic standards, and how he's talked down Liverpool's expectations to mid-table levels – and accepting that it's not possible for him to get things perfectly right at this stage, and acknowledging when progress is being made.
A lot about the way Hodgson has performed still leaves plenty to be desired, but equally, results and performances are on the up and the press conferences are less head-scratchingly bizarre (for a while, he seemed to have a gun aimed permanently at his foot). How much further 'up' performances and result go, and how long they stay there, will determine how long he remains as the manager, but I'd be shocked if it isn't at least until May.
As I noted several weeks ago, if things improve with the so-called deadwood he inherited, then we will have to acknowledge Hodgson is doing a better job, but equally, we can still be correct about our belief in (most of) those players.
I'm not sure I'll ever be a fan of Hodgson's tactics for a club like Liverpool, because it's not the way I expect to see the game played by bigger teams, and also because I have reservations about its effectiveness when you need to win 5-6 out of every 10 league games from August to May just to make the top four (and now perhaps 7 out of every 10 with the gap that exists). The inclusion of only one 'footballer' in the back four is a worry – successful teams have more than one footballing defender – although the Lucas/Meireles partnership in the centre of midfield is working very nicely indeed.
But if results continue to stay fairly strong, and the football is a bit more positive (particularly in terms of defending too deep), then criticisms will gradually fade away, even if there's a long way to go to actually inspire the fans. (I noted on Twitter, to much abuse, that it was strange how the visiting manager was being serenaded by the Kop and yet the home manager never has been; it wasn't meant to be snidey, simply an observation.)
It's fair to say that Hodgson's approach has also altered somewhat since those awful early months, as noted by the excellent Zonal Marking, in terms of a return to a more pressing game in the first half versus Villa. So again, 'we' were right in terms of wanting to see certain changes, but 'we' were wrong in thinking there would be no tweaking whatsoever. In the second half, the Reds reverted to Hodgson type, but it worked; even winning that half of the game 1-0 (although risks were taken by dropping off after half-time, with Reina's save soon after the interval a key moment).
Hodgson's transfer policy was flawed (based on age and overall quality), but that's no longer down to just him, with Comolli now the chief finder of talent. Obviously we want the Frenchman to bring in players that Hodgson can utilise, but crucially, to be of the calibre that any Liverpool manager could make use of.
So while I'm still not exactly enamoured with Hodgson, I have to admit that things (as we head into the Newcastle game) have been getting a lot closer to an acceptable standard. If they continue to improve, then I will continue to revise my opinion.
While I try to base my thinking on objective measures, there will always be a subjective element, particularly on the issue of style. Unless you outperform expectations, then a more prosaic style is harder to justify. Hodgson's greatest challenge remains being positive enough to meet expectations, particularly if good results lead to those expectations rising again.
But with better results also comes increased belief, so it'll be interesting to see how things pan out.