Shortly after Liverpool went 2-1 down at Newcastle, the following passage of play evolved (82 minutes into the game).
Is it the case of two expertly drilled banks of four, or an example of a midfield that is too concerned with protecting its defence than being prepared to go on the offensive at a time when it's required?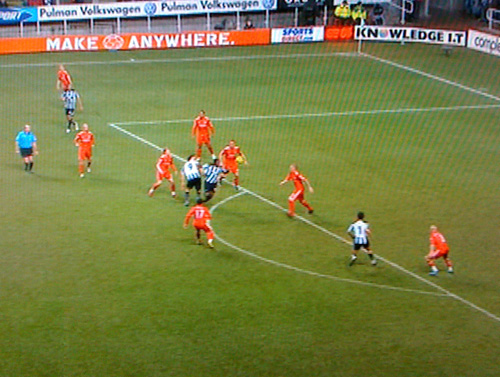 From open play, Liverpool defend against four Newcastle players with the rigid 'back eight'. The ball drops to Skrtel who, with little other option – he can't exactly pass to players so close to him around his own congested box (although Maxi is possibly on for a simple ball) – hooks it upfield. (I say hooks, as he does hook it rather than hoof it, but it's still a fairly rudimentary response.)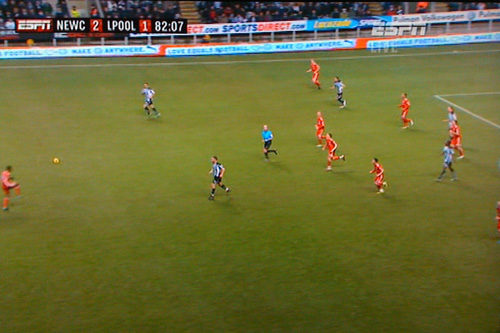 The ball arrives at Babel, with Torres some further distance beyond him. To get the Reds back into the game at that stage, it's essentially two versus six; at least until the cavalry arrives. In this instance, Babel does well to forward on in Torres' direction, but the Reds are totally outnumbered; only Maxi makes it anywhere near to the other two before a Sol Campbell howler wins Liverpool a very fortunate free-kick.
Now, abandoning all discipline when the game is still effectively there to at least be drawn is not what fans expect. However, an almost pathological need to defend with such organisation seems to suggest a serious flaw with the manager's approach; which is possibly why he has won only one of his last 27 Premier League games away from home, dating back to August 2009.
While Lucas may have been at fault for the third goal [edit: people have pointed out that he was covering for Kyrgiakos who'd pushed up front], it could also be argued that midfielders are more concerned with retreating to the edge of the box en masse than engaging by pressing the opposition.
Now, this is just one example taken out of the context of a game of constant movement. But does it suggest valid concerns, or was this a case of organisation that will work more often than not? Is this why Liverpool haven't won a single point in games when conceding the first goal?
Defending in the manner seen below – at home to Chelsea – is fine when it works (and on that day, despite Chelsea hitting the bar, the Reds got the three points), but for Liverpool to be more than a mere "top half of the table side", a bit more positivity is surely required? In certain situations you can get everyone behind the ball, but it often leaves little option but to 'clear your lines', with the ball coming straight back.
This can be perfect if you're the underdog, but at Liverpool, that doesn't happen a lot.