Now that the Reds have got some kind of foothold under Roy Hodgson, unless results take a disastrous turn for the worst, the 20 game mark appears to be the fairest time to draw further conclusions.
(And as such, I'm not going to say too much until then, for fear of repeating myself; I will of course continue to interact with subscribers of this website and write about Liverpool FC, but not analyse every last performance in a make-or-break fashion.)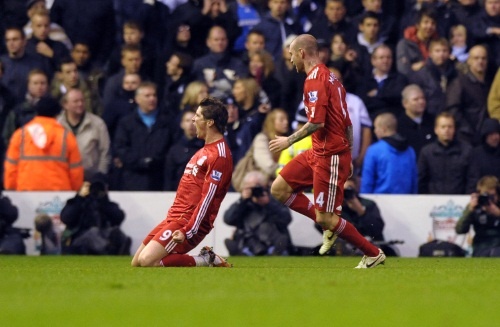 If the Reds win six of the next nine, that'll mean a 50% win rate after 20 games.
Four out of 11 is not good enough, no matter the circumstances, especially with six of those games at home. But the weirdness of the season as a whole – with good teams dropping lots of points – means that all is not lost.
(Spurs struggling to cope with both Champions League and Premier League exertions, as my followers on Twitter will know, is something that I predicted.)
If Roy suffered the consequences of the negative energy of the old owners, he now has the positive bounce of the new ones. Therefore, 20 games should see how it all evens out.
Right now, everyone is trying their hardest to keep their place at the club, when under Gillett and Hicks, getting out seemed the sensible option. But boosts only last so long. While I believe that the long-term strategies and stability of NESV will obviously benefit the club, things will probable die down a little in that regard, once the euphoria wears off.
So far Liverpool have scored just 12 goals in 11 league games. It's not been since Souness' awful time in charge that the Reds had a negative goal difference after 11 games (1992/93). That suggests that the balance still isn't right. But the first two-goal victory of the season came against Chelsea, and that's not to be sniffed at.
As fans, we've been used to our team winning 47-66% of league games each season for the past five seasons (average of 58%), so 36% doesn't make for great reading. But each win from now on has the chance to improve that figure. Beat Wigan and it becomes 42%; lose, and it's back to 33%.
Talking of percentages, having 35% of the possession at home against any team does not fill me with the greatest confidence, but right now, any kind of win will do; it's just a question of what such an approach can expand into. That's where some concerns remain.
The only great attacking display the Reds have put in this season was against a Blackburn team shorn of its two key defenders, but that remains the blueprint of what to do to weaker opposition at home. Reproduce that more often than not at home, and we might be onto something.
It's fair to note that a couple of times in the last two league games the Reds have broken brilliantly – each time, against Bolton and Chelsea respectively, Maxi went close to scoring. That side of the game is a lot better.
But perhaps more encouraging, after the way the Reds sat off teams in the early part of the season, was that against Napoli and Chelsea, goals were scored by winning the ball due to pressing in the final third.
Each time, it took one pass to Gerrard and Torres respectively to result in great finishes.
My one major concern with Roy Hodgson remains the ability to get the team to play possession football in the right areas. There's not been a lot of impressive interplay in the final third, and little outstanding creativity between the lines to unlock defences who have men behind the ball. Still Pepe Reina is booting it upfield more than passing the ball.
With a preference for solid defenders and defensive organisation, the Reds are going to be fine at that end of the pitch.
But you need footballing defenders to help break down massed defences; to alter the shape, and get in behind teams. Especially as the midfield, while strong and fairly well balanced, isn't exceptionally creative right now, so there's not a lot of compensation. Good teams tend to have a footballing centre-back, and full-backs who can get in behind the opposition.
I always likened Houllier's (similar) style to 'underdog football', because it worked best when teams came and had a go, and the Reds weren't expected to do a lot. Soak up the pressure, and hit on the counter: bingo.
At the weekend, Liverpool were underdogs for a home game; the worst ever odds on a Liverpool home win, I believe. The Reds had so little of the ball that the odds ended up making sense; but on the day, Torres made the difference. In terms of effort and finishing, the Reds deserved the win; on overall play, perhaps less so.
As confidence picks up, it can lead to improved displays; so we could have that to look forward to. But also picking up are expectations, which can lead to inhibited displays. A major criticism of Roy Hodgson has been that in trying to keep expectations manageable he's tried to convert them to more of a level associated with Fulham. That just won't wash.
Personally, I'm back to giving Roy the benefit of the doubt, and seeing how it goes. I don't have especially high expectations, but they're better than they were a few weeks back. If he fails to deliver, NESV have no vested interest in keeping him – he wasn't their appointment in the first place, so they don't have to protect their own reputations by keeping him.
If he delivers, they'll make a decision based on his record and his ideas for taking the club forward. Of course, these will need to mesh with those of Damien Comolli, whose Spurs record is examined in great detail here.
Therefore, Roy deserves credit for hanging in there, altering his tactics to at least some degree, ditching his worst signing, and starting to 'get' a bit more of what the job is about. To expect people to just switch from horrified – as many were by the start – to overjoyed in a couple of weeks is a bit much.
However, as long as the Reds maintain some steady progression, then even with the occasional setback I think everyone will be happy … for this season at least.
"Pay As You Play: The True Price of Success in the Premier League Era" is out now.
Amongst other things, the book looks at the increasing correlation between transfer spending and success, with plenty of evidence presented to back this up. All 43 clubs to play in the top-flight between 1992 and 2010 have their own chapter, complete with views from an expert fan/journalist. To be 100% fair, managers are rated on how they performed purely in relation to their budget: looking at things like cost-per-point (in other words, how expensive their team was in relation to the league points garnered, and weighting this against the norm for such a level of achievement). And a lot, lot more.
Exclusive material relating to Liverpool will be made available to subscribers of The Tomkins Times. The contributors of other clubs will feature the research in their own work.
Jonathan Wilson: "An ingenious and intelligent look beneath the surface to reveal what the headlines too often don't tell us. Fascinating."
Gabriele Marcotti: "For years we've judged football and football people without the analytical tools to do it properly. Finally a book that attempts to do so intelligently. Hopefully a harbinger of more to come!"