There was pressing. There was a higher defensive line. There was no Poulsen to slow the game down. Meireles was not marooned on the wing. The game was taken to the opposition. There was passing and movement, playing to the strengths of the players. It was what so many of us have been calling for.
Play like that in six of the next eight games, and Roy Hodgson might find the criticism from fans (myself included) dissipating. So that's my promise: more of this, on a consistent basis, and all can still be forgiven.
Of course, after the abject start to the season, there's no leeway now. That's the problem; one good performance doesn't undo that damage. The Reds remain in the relegation zone with exactly one-quarter of the season gone, with a goal difference of -5. In any other season that would be utterly unthinkable.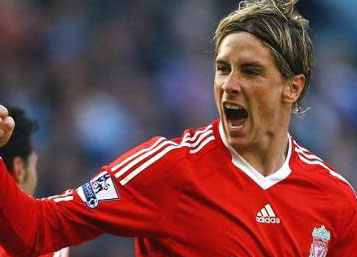 But a well-deserved win – 2-1, but only kept respectable by Paul Robinson in the Blackburn goal – can become a platform for continued improvement. An understandably edgy last 20 minutes did not detract from a superb first 70, and as well as scoring and being a decoy for the second, Soto Kyrgiakos – one of the Reds' best attacking players all season (which says a lot about the form up to now) – was also denied two blatant penalties.
If Roy stop the embarrassing, unbefitting comments in the media and come to understand what Liverpool fans want from their manager – defending his own players rather than deferring to the likes of Alex Ferguson – then he can have some hope.
Keep this up, and I'll admit I was too premature in some of my judgements.
However, the performance also showed what his critics have been saying all along: the players are there; if not to be top four, then at least to be in the vicinity. The players are there to play football and create chances. Eight members of the squad played in the 4-1 win at Old Trafford, and plenty of other talented players remain at the club.
Soto Kyrgiakos has been immense as a Liverpool player; one of Benítez's supposed flops, he continues to excel at both ends, all for a measly £1.5m. (Roughly the same price paid at the end of last season for the hugely promising Jonjo Shelvey.) £1.5m was also the price paid for the club's top scorer this season, David NGog.
Without Poulson anchoring the midfield (as in mooring it to the bottom of the sea), Lucas Leiva – outstanding for Brazil the other week – showed that given the right colleagues, he's a top young talent worth a lot more than the £6m paid. Martin Skrtel looks back to his beastly best, and Maxi – a free transfer – showed that if the Reds play at a good tempo, he can pass and move with the best of them (as he did at the end of last season, and for Argentina at the World Cup). And the formation was 4-2-3-1, following the style of the previous manager, rather than the 4-4-2 usually preferred by the current one.
Of Hodgson's own signings, Joe Cole and Paul Konchesky had pretty decent games – Cole was in and out, but when 'in' he was making things happen – and Raul Meireles confirmed that he is a top-class central midfielder, after games wasted on the wing and up front.
Perhaps the first home game of the new NESV era showed that with the ownership situation resolved, the talent is able to express itself; last season, under Benítez, and this season under Hodgson, has involved that black cloud.
We were never going to see the best of Liverpool with Gillett and Hicks lingering like a bad smell (that also makes your money vanish), but we did expect at least a few decent displays this season. Game nine, and we finally have one.
In the week an Arsenal fan told me he thought I was being too harsh on Roy, but admitted that we were awful versus Everton. When I said that Roy felt that was our best display, he saw my point.
By contrast, this was like watching the Brazil of 1970. Perhaps that's part of the problem for those defending Roy – a lot haven't seen the 90 minutes of our every game this season. Even at 0-0 at half-time against Blackburn, you could feel some pride in the display, and not feel embarrassed by the timid tactics.
But let's not get carried away either.
It was only at home, and perhaps it's got so bad that a very good performance at Anfield (following a 0-0 in Europe that was trumpeted by some as if it was a 1-0 win at Real Madrid) is seen as a real achievement.
Well, it's not; it should be the norm (not every week, as no-one can have it all their own way every week, but most weeks).
Blackburn are a poor side, and without their two rocks at the back – Samba and Nelson (also their set-piece weapons) – they were weaker at both ends of the pitch. They lacked the pace and skill to hurt Liverpool, so in some senses they were the perfect opposition, especially after their other giant, Nzonzi, limped off. Today's visitors were 17th in the table, not 7th.
But the one thing I've been asking for since mid-August is something to cling to in terms of performance. It has taken far, far too long, but at least it arrived; better late than never.
This performance and result still doesn't prove that Roy is the right man for the job. Today, Plan A worked. There is still no evidence of a Plan B, and his awful away record as a Premier League manager has yet to be addressed. The next two games – Bolton away and Chelsea at home – will tell us more. Four points, and/or two good displays, and some momentum might build.
But today's 2-1 win does give him something to use as a benchmark to show us what his team can be capable of. He got the players expressing themselves under the pressure of an on-field crisis, and he deserves credit for that. There has clearly been player unrest, but play like this, and if the manager stops saying the wrong things to the press, and that can continue to heal.
So with that in mind, my promise is to back off and give him a bit more of the benefit of the doubt (in the way that I had been giving him until the end of last week).
It's still by far the worst start by a Liverpool manager since before Shankly, but that will be forgotten if a real revival – and not just a mini one – transpires.
The football today put a smile on my face, and I'd rather that continue to be the case than end up being proven right about Hodgson's suitability. Prove me wrong beyond a couple of games, and I'll be a happy man.
(Edit: as someone just pointed out to me, four of the next six games are away, as the Reds have played more at home than on the road so far. After those six games we'll have a better idea of how good we can be under Roy. Despite all of the above, with regard to the long-term, I still don't see Roy as having the dynamic vision necessary to get the Reds back to where they were a couple of seasons ago. But as the best time to change a manager is the summer, his main aim has to be to do a sufficiently good job until then, in order to retain his position and not damage his reputation; then, unless he achieves something remarkable come May, look for someone of the very highest calibre.)