At Fulham, Roy Hodgson had a lot of success reviving the fading fortunes of players like Damien Duff, Danny Murphy and Aaron Hughes. Buying someone like Duff was a masterstroke for such a club.
But what he's trying to do at Liverpool reminds me a little of how Souness tried to transfer his success at Rangers to Anfield; albeit in a different way.
Souness took good English-league players to Ibrox (Terry Butcher, Trevor Steven, Gary Stevens), and it worked wonders.
But when he tried to reverse that (Mark Walters, Istvan Kozma), it was a disaster – because he was buying players who were excelling in an easier environment. Once they were put up against better players, their confidence dropped, and their relative lack of ability exposed.
Now, if Roy's aim was repeat his Fulham trick with Christian Poulsen – an ageing, fading force – then there's a big snag. Players like Poulsen and Duff often need to rehabilitate out of the spotlight. Duff had fallen away a bit after a great start at Chelsea, and flopped at Newcastle. Therefore, Fulham was a lower pressure environment. And no-one was expecting much from him. He was now a big fish in a small pond, rather than vice versa.
While you can never rule it out, it's far, far harder to find lost form at a club like Liverpool. Because every mistake is magnified; every awful display is a weight around the neck for the next game. Careers tend to be revived by dropping a level – either in expectation, or to a less-intense league. You don't often revive your fading fortunes at a club like Liverpool or Manchester United. It's too much pressure.
Poulsen has 'extra-big-club' experience at Juventus; unfortunately, he was not a success there, so you cannot say that he had proved he could cope in the spotlight. So while I can see some of the logic – he was once a good player – he also looks painfully slow, and the Premier League is unforgiving to those who lack pace (unless you're as gifted as Xabi Alonso, and can always find time and space).
If you can pull it off, it often makes the most sense to buy a player with problems (the Nottingham Forest approach outlined in Soccernomics), but it's easier said than done to revive a career.
(Of interest is that Forest built success on the back of rescuing players, but never maintained that success beyond the initial burst; although of course, winning the league title and back-to-back European Cups is nigh-on impossible for such a club to maintain. But it worked when Forest were an unfashionable side; once they were fashionable, it stopped.)
Another problem is if the player is at the wrong end of his career; 'let them lose their legs on someone else's pitch' was Bob Paisley's motto.
Back then, of course, Liverpool were not desperately scrabbling around for bargains. At times, Benítez and Hodgson have been forced into such moves, because of debt placed on the club.
However, look at many of Bill Shankly's best signings and they were in their early-to-mid-20s. Paisley often did the same. So did Benítez. (And though not monumental fees, there are reasons to believe Poulsen and Konchesky were overpriced; more on that later.)
Maybe it's similar with Joe Cole, although unlike Poulsen, you'd think he has enough about him to be marginally effective at worst, and at best, rediscover the promise that marked him out as a real prodigy.
I think we know that Cole is used to pressure, and despite massive wages, the lack of a transfer fee made it a gamble worth taking. But he's another player who was picked up at a time when his confidence wasn't sky-high. If you can reinstate it, great. If you can't, you just get more of the same. So far, bar the odd flash of brilliance, Cole has been on the edge of games, whether on the wing or in the hole.
And unlike Poulsen, at least Paul Konchesky was not in a career trough, but again, at 29, has limited shelf-life for a fee of almost £5m. The problem in his case is one of adjusting to life at a big club. Used to the league? Tick. Used to the manager's ideas? Tick. But of the necessary quality and experience? Undetermined. Lee Dixon isn't convinced.
In fairness to Roy, it's natural for managers to go back for players they've worked with before, or to plunder leagues they're familiar with. But that's more of a problem when the clubs they managed were so good.
Noted scout and football analyst Tor-Kristian Karlsen (the man who brought Lucio, amongst others, to Europe) shares my concerns.
He feels that Hodgson – who managed in Karlsen's native Scandinavia for many seasons – has a narrow outlook to scouting, and that his style of management is more suited to smaller clubs or lower-pressure leagues. He also worries that he's more likely to scout the weaker north European countries.
Now, I have never denied that Rafa's struggles last season were partly down to his recent purchases, but he spent money trying to introduce flair to the side, especially at full-back (for a more progressive approach).
Also, the fact that Aquilani was hunted by Juventus – for whom he's shining – shows that this was a pedigree player rather than a chimera; for me, one to stick with while adapting, like Pires, than consistently fail to deliver, like Cheyrou. He may not have been 100% suited to English football, but he showed real creativity in the second half of last season, once finally fit.
Age Concern
I have to hark back to a point I made in August: the age of the players being sought, and how, as with tactics, it strikes me as a backwards step.
The greatest thing about Benítez's legacy was how many talented purchases were still relatively young: Reina, Torres, Agger, Mascherano, Johnson and Skrtel.
I made the point a while ago that the problem with what Benítez inherited from Houllier was that Hyypia, Hamann, Babbel and Henchoz were all 30/31. So his good players had little shelf-life, and little sell-on value to revamp the squad.
Houllier also left players like Cissé (who cost £25m in today's money), and the likes of Cheyrou, Diouf and Diao. So his successful older purchases were too old to either cash in or rely on for more than a couple of years, and his younger ones were horrendously over-priced and just not good enough. Cheyrou and Diao were given away in the end, having cost around £20m in today's money.
Not that Benítez didn't have his flops; but resale value was always crucial. He understood it. Flops came and went, but they raised the money that bought the successes. And until the money dried up (as much as £15m recouped on Robbie Keane, none of it seen by a Liverpool manager), he was able to constantly upgrade: Sissoko to Mascherano, Bellamy to Torres, Josemi to Arbeloa.
He may not have always got the players right (few managers do better than 50%), but the policy was sound.
I said at the time that Benítez overspent on Keane, even though he was proven in the Premier League.
Even so, £5m for Poulsen seems even more foolish. Much of the Keane money was recouped (and even more will be if Keane remains at Spurs). Poulsen will lose the club a greater percentage of his fee.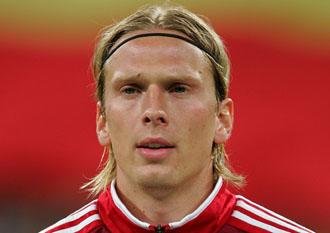 I fear the same applies to Konchesky, at 29, who is valued the same as Insua; in two years' time, Insua will be a more experienced player, and still young, at 23. He'll surely be worth at least what he is now. Konchesky will be 31, and worth next-to-nothing.
Over the course of Premier League history, prices for a player aged 29 and 30 are 40 per cent lower than one aged 28. (Source: our TPI research.)
However, as with a new car whose value depreciates once driven off the forecourt, the value drops rapidly; the average for a 31-year-old is less than half that of a man 12 months younger. By 32 you're almost giving them away. Poulsen will turn 31 this winter.
Compare him with the Greek.
Kyrgiakos (£1.5m) scared the life out of me in some of his early displays, but it didn't take long to look a decent back-up, and in truth, put in some excellent displays last season. It's typically crass to include him as a prime example of the 'dross' Rafa left, because he was cheap and not a household name. For his age, £1.5m was a sensible price. £5m would have been crazy.
The idea that Kyrgiakos and Ngog were mistakes in a rubbish squad makes little sense, when one is adequate back-up and the other is clearly an up-and-coming talent. You can add the £1m paid for Insua to those two and still get Poulsen's fee, and have three players with an average age of 24, instead of one almost 31. So it's not like Roy has no part to play in the bad start to the season.
Why Overhauling Is Dangerous
Regular readers will also know my theory that, by and large, you have to buy four players to land two good ones. Obviously this is a law of averages thing, but since the remarkable 1987 it's hard to think of a calendar year where a Liverpool manager got close to a 100% success rate. Indeed, the same applies to all managers. This is why rebuilding a squad in dramatic fashion can often be catastrophic; you have to make sure you're not easily letting go talent, because you will probably regret it.
Hodgson came in, and immediately put four of his own players into the outfield ten.
Some signings will flop, and some will succeed. Having looked at the records of men like Benítez, Wenger and Ferguson, a 50-50 split seems about right.
The successes will vary in the level of their brilliance, and the flops will range from mediocre to awful, but if you had to say 'good buy' or 'bad buy', you'd probably find as many going into each category. (And while expensive players flop, what paying extra gives you, instead of a guarantee, is an increased likelihood of making a big impact.)
Like Souness, I seems that Roy has tried to do too much too soon to the first XI, and bought in the wrong manner. Raul Meireles looks like he could prove to be a class act; but too many question marks remain about the fitness of Fabio Aurelio, the 'has he still got it?' of Cole, and the quality of Konchesky, Poulsen and Brad Jones. None of these players has a long shelf-life. It was quick-fix spending, and it has resulted in only further breaking things. It's early days, but none of Roy's signings has time on his side. At the moment, neither does he.
Liverpool are now without Mascherano, Benayoun, Aquilani and Insua; not all Roy's fault, certainly, but the replacements have not proved to be as good, and have contributed to the worst start in living memory. Benítez left those players; but Roy couldn't convince Mascherano and Benayoun to stay, and opted to not have Insua and Aquilani as part of his squad.
Not only have Roy's tactics not worked, but his own signings have added little. Compare and contrast to the impact made by Alonso and Garcia, two players totally new to English football in 2004, under a foreign manager who supposedly didn't understand English football. Rafa had the right idea, but sometimes bought the wrong players. I'm yet to be convinced that Roy has the right idea.
More to follow throughout the week, including subscriber-only content.