By Joe Pepper
So we all feel down in the dumps. Me included. Eighteen months ago the club stood on the crest of a wave. Who would have thought that so much could go so wrong so quickly? Imagine being told back then that the club would fall out of the elite Champions League group, lose both Mascherano (probably) and Alonso, that Rafa would leave, that Roy Hodgson would take over, that we would worry about Torres joining Manchester City (for heaven's sake), that there would still be no stadium on the horizon, and that we would seemingly almost become wholly owned by the Chinese state? A lot can happen in eighteen months. What could happen in the next eighteen months? The club could win the league, be sold to Bill Gates, have a 100,000 all seater stadium built and buy Lionel Messi.
So what better time to list another twenty reasons to be cheerful?
At this point – a disclaimer. I had to try very hard to come up with twenty. I'm definitely not in the "everything is rosy camp", and my reaction to Monday night's game was nothing short of nuclear. But having watched the game a second time, with 24 hours to calm down, I had a different perspective. A frank discussion with my brother (who is also a red) helped me see things a little differently. Right then – let's crack on with the twenty reasons to be cheerful, in no particular order. (Warning – not guaranteed to cheer you up).
This post is for Subscribers only.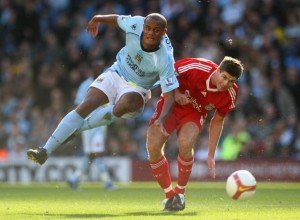 [ttt-subscribe-article]