Recently I've been described by a couple of people on Twitter as the most negative Red they've ever encountered. While my disposition isn't quite as sunny as when I was writing for the club's official site (which required the omission of criticisms), I've always just tried to call it as I see it, based on evidence and analysis, with a bit of gut feeling thrown in.
While I foresaw a tough start to the league season, I didn't expect it to go quite so badly. It could have all been different, of course, but for the late, late Arsenal equaliser. But that still doesn't really explain the shambolic showing at Man City. It's 52 seasons since Liverpool started with a home draw and away defeat; the Second Division days, before Shankly.
I've long-since accepted the notion that if several key players, and the men in suits, really weren't happy with Benítez, then replacing him was always going to be more simple than replacing all of them.
Last season's failure was put down by those suits to the problems with the boss, so a new boss of any identity should at least ride the wave of that relief. While financial problems meant that the squad wasn't as good as it should have been, there wasn't an awful lot wrong with the majority of it 12 months earlier.
As an English manager with experience of the Premier League, and given his age, Roy Hodgson was never going to be a long-term solution, but instead, someone who could do a job from the start, with the explicit aim of regaining a place in the top four. With his far more personable approach with players, and the shadows and long faces of last season banished, I expected a better start than this. There's no shame in losing at City, but the performance was the problem.
I had my misgivings about Hodgson pre-dating his appointment, as noted on this site; I am on record from 2009 as being a massive fan of his work at Fulham (in my book, Red Race), but I am also aware that most managers who'd done similar work in the past did not see that translated to bigger clubs.
The stats showed that he liked to field a very experienced (i.e. old) side, and his style was rooted in the 1970s ideas of English coach Allen Wade, whose work subsequently inspired Sven Goran Eriksson and Gérard Houllier. He was not a club builder, and didn't look to youth. He was a good man-manager and organiser of defences.
While I've warmed to the man based on his press conferences, I am still awaiting evidence to dispel my niggling fears about his suitability to Liverpool. This does not in any way mean that he is the wrong man; simply that I am still looking to see evidence (at this early juncture) that negates my admittedly preconceived notions. He has plenty of time to set that right.
I'd hoped that the home game against Rabotnicki was such a moment, as the Reds dazzled, but the opposition were amateurs on tour who'd spent the day taking pictures of the stadium. Since then, possession football has been totally absent, conceding the lion's share of the ball against Arsenal, Trabzonspor and now City. This is more like Liverpool 1998-2004.
Liverpool's average age so far this season in the league is over 27; in any given Premier League season (the good and the bad) it hasn't exceeded 26.5. Liking experience isn't a crime, and it's fine if the players are good enough. But it backed up another belief: Roy prefers older players.
Part of the problem is that it costs a lot more money to buy players at the right age, in their 'prime of value' from 21-27, so I have some sympathy here; Roy is working within the awful confines that haunted the previous manager, although last season certain pundits said it was not a valid excuse.
And 4-4-2, with two similar strikers, and trying to hit long balls into the channels, strikes me as archaic. It's a formation that's hardly used these days, and almost never by the top clubs. To do so without a recognised winger on either flank, and with only full-back comfortable of getting forward, was worrying.
For the record, I Tweeted well before the game that I didn't see how Ngog and Torres would work together, seeing as they are not a natural pairing; both have similar assets, although Torres, the superior player, was the one lacking the sharpness going into the game. Beyond the first few minutes, they didn't exchange a single pass.
Prior to the game, Andy Gray eulogised about Roy's decision to play Steven Gerrard "where he belongs", claiming that he never understood why Benítez and Capello used him anywhere but his best position in the centre of midfield. "I don't know" he blustered, "you'll have to ask them", as if it were some crazy foreign notion.
Gray also explained how man-marking will improve Liverpool at set-pieces, and he said that he was delighted for Liverpool fans that the manager was being really positive, with two strikers – making it clear, in a sarcastic tone, that it's something Benítez would never have dared do.
Gerrard had a couple of bright moments, not least when hitting the post, but on the whole the game passed him by, as did James Milner for the opening goal. Liverpool were beaten from a corner – when having no men on the posts and marking zonally would have rendered Tevez offside. And 4-4-2, contrary to Gray's bold proclamations, was a disaster. Rather than play between the lines, the Reds are now playing in straight lines.
When will Gray learn the the numerals 4-4-2, even with two out-and-out strikers, does not necessarily make a team attacking? Last season, Liverpool had two attacking full-backs; this season, just half (Johnson, as he's only done so half the time). So it's swings and roundabouts as to how many attacking players are in the team.
But losing the midfield in numerical terms five to four, and therefore starving the front two of possession beyond 'out balls', is not an attacking move.
Gray said that Gerrard would be happiest playing in the centre of midfield. It ignores his happiness at winning a lot of games and scoring a lot of goals as the semi-striker; a role that garnered him the Footballer of the Year award and, most recently, his best goals for England in a scintillating second half display. His best position is the one that suits the team, not him.
Even though Liverpool lost to Arsenal last season, the Reds bossed the first half by a country mile and should have been 4-0 up at half-time (according to Arsene Wenger). In recent seasons, the Reds have put four past the Gunners on several occasions at Anfield, and actually bossed those games for long parts.
And the draw at City earlier in the year was fairly even stuff, with Liverpool never rattled. Arsenal at home and City away are traditionally good fixtures for the Reds. But this season, Liverpool's midfield has barely had a touch.
Now, you can do that and still win games by taking your chances; not least by breaking with breathtaking skill and verve, as seen by Germany in the World Cup. But you cannot do it habitually and expect to get very far. At times under Benítez, Liverpool controlled games to a fault, and didn't make it count. But the opposite – having so little possession – means you run the risk of being overrun.
If Sky, and Gray, are going to go great lengths to tell us how much better things will be under Hodgson than they were under Benítez, then what do they say after a reversal like that? (A game for which Gray said he preferred Roy's approach.)
I'd rather Liverpool were winning games every week, but if they don't, I do want to call to account those who spent so long criticising the previous manager last season, and continue to do so this. (Again, they are the ones who keep bringing up his name; any praise of Roy is always couched in a criticism of Rafa.)
Liverpool were losing 3-0 on 68 minutes, and Roy made his first change on 78 minutes, some 15 minutes after the point Rafa would tend to (and get slated by Gray for leaving it too late).
At that point, Roy brought on Babel, who was taken off in midweek at half-time, just seconds after scoring: another Andy Gray no-no.
Babel didn't start the next game (this one) either, and the previous manager was slaughtered any time he did something like that. Ngog didn't start the game after he scored against Arsenal, too. Torres went off when we needed goals to win the game. And when Roy changed his team heavily for the Uefa Cup, he wasn't rotating, merely "making good use of his squad".
If Roy wants to make these decisions, that's fine; aside from not being a fan of 4-4-2, I have no great problem with any of these judgement calls. He's the manager and he's entitled to do so. But why are the same decisions (or even more extreme versions) being met with a different reaction?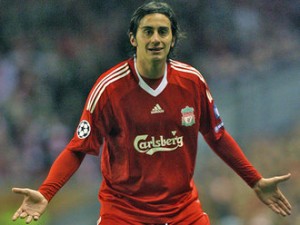 I'm also baffled as to why, with the squad in need of bolstering, a talented defence-splitter like Aquilani is not even going to be considered – no transfer fee this season as it's a loan, and no player to call upon. While Mascherano was missed last night, Aquilani in the hole would have made more sense than Ngog. I appreciate the Italian's frailties, and admit that he still had plenty to prove, but he was one of the more talented individuals, in a squad that needed strengthening, not weakening. Time will tell, but I do still find it odd; if we'd got £12m to invest in the side this season, I'd have seen the point.
Similarly, Insua is also being totally frozen out. While he is not the perfect left-back, he is more natural there than Agger, who, in turn, is a better centre-back than Skrtel.
One thing I did expect was early season optimism, and the buzz you get from a new man in charge. But now, it seems, we haven't even got that. Roy is discovering that Liverpool is an incredibly hard club to manage. Already the press conferences are tetchy (according to Oliver Kay), when at Fulham they were light-hearted.
It's a club that turns managers into nervy, paranoid stress-heads, and I hope Roy retains his composure, and maybe after that first win – surely against West Brom at Anfield? – he can avoid the problem that befell him at Blackburn: dragged into the bottom three early on, never to escape.
Anything but three points in this game – after a tough, hostile trip to Turkey – and then it's trips to Birmingham and Manchester United while almost certainly in the relegation zone. And while the fixture list gets easier from then on, the fear becomes the kind of tailspin we saw last season; once things start going wrong, its hard to arrest.
Based on resources, Liverpool are currently equipped to finish about 6th. City are equipped to finish in 1st, but given the newness of the project, in the top 3 at least. But this wasn't even City at their strongest; several of the major new signings weren't available.
I do not expect or demand that Roy match Rafa at his best, from just two seasons ago, but I do believe it's his job to improve on last season: Rafa at his worst. However, I think 5th or 6th would be fine. What he cannot do is slip well below 7th come May.
A tough start to the fixture list means that 17th at this stage is to be taken with a pinch of salt. But it's vital to not stay down there for too long. All is not lost, but with the upcoming games, in the next few weeks it could get worse before it gets better.