Perhaps like a lot of Reds, I'm struggling to come to terms with revised expectations brought about over the past year. In fairness to Roy Hodgson, very little of this is his fault.
The club has fallen a long way in a short space of time, and it can be traced back to when the money ran dry. And the job of managing Liverpool FC is one I don't envy anyone having to undertake.
Above all else, I aim to be fair. It's not always easy, and I don't always achieve that. I get stuff wrong. I do feel that Benítez is a better manager than Hodgson, just as I feel Torres is a better player than Peter Crouch; which doesn't mean I don't rate Crouch (I spent years defending him to naysayers), or accept that there will be times when he'll be the more effective player.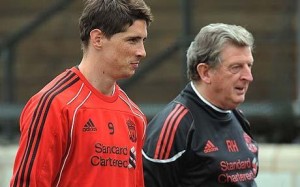 But I don't necessarily think Benítez would automatically have done a better job at Liverpool this season. Frankly, I'm not sure what to think, such is the craziness surrounding the club.
I preached patience under Rafa Benítez, although that didn't mean I avoided questioning his methods in the first year or so; I clearly did, but as time moved on, I learned to trust how he did things.
I didn't like all of his signings, for example, but on balance I think he got good value for money, as evinced in how many of his players (even some of his flops) have left for a profit; and how Reina, Mascherano, Kuyt and Torres, his star signings, have all been subject of interest from other major clubs this summer, as did Alonso last summer.
Even so, I see no great harm in questioning someone's methods, so long as you are not condemning him or demanding that they be easily understandable to you. I'm doing my best to judge Roy Hodgson only on what he's done at Liverpool so far; but without ignoring the context of what went before: his overall ethos. That colours my judgement a little, but I hope not to be too prejudiced.
Some of it what he's done so far I like, some of it I don't. I hope to be able to discuss both without being labelled a pessimist or an optimist.
I apologise if I have been overcritical of the man in charge, or in any way unfair on him. I'm sure I will get stuff wrong as I come to terms with how he works. But equally, it's not fair to compare my work on here with my work for the official site, which was undertaken with the difficulty of appeasing the Press Office, and in the knowledge that the people I was writing about may well be reading it.
(As I've noted before, as one example, I had comments about Crouch lacking pace – in amongst my praise for him – edited out, and that too many of Riise's free-kicks hitting the wall. After a while, you start censoring yourself. I do understand why it's not good to have criticisms of the players and management on a club's official site, as it can upset those concerned; perhaps they shouldn't be so sensitive, but there you go.)
In my previous piece on this site, there were criticisms and praise of both Rafa and Roy, but it's always interesting to see how people interpret what I say to suit what they want to believe.
What I will make clear, as I did throughout last season, is that the squad is thinning and thinning all the time. And that judging Roy's signings is difficult, because like Rafa with Kyrgiakos, Maxi and Jovanovic, he's searching out bargains.
In the last couple of years, Rafa had to break even in the transfer market; and standing still in terms of investment in personnel means you go backwards, as those that do invest heavily quickly overtake you. As yet, Roy hasn't even had that luxury; he's in profit, and it's hard to see him get all of the money from the sale of Mascherano, if it goes through.
My overall fear remains that he's going mainly for older players to solve a short-term need, but that's not necessarily his fault. This is more a problem with the way the club is being run. We are neither modeling ourselves on Arsenal, where youth is key, nor the likes of City.
I'm not sure Roy can have a proper club-building policy, because he cannot afford any of the kinds of medium-expensive purchases like Alonso, Kuyt, Mascherano and Torres, who served the club well and have seen their values rise.
If Roy did get the full money from the Mascherano sale, and the player leaves for a profit, that would show the benefit of bringing the player to the club in 2007. The problem is, if the money gets lost in the accounting, and if Poulsen, 30, is his replacement, in two/three years' time, there's no player (he's retired or released on a free), and there's no money.
Can Roy find a few like Reina/Skrtel/Agger/Benayoun/Garcia/Arbeloa/Crouch in the medium-low price range? And can he avoid those like Pennant/Morientes/Josemi/Riera/Dossena? Time will tell. It may well be that £5m on Poulsen ends up being considered one of his biggest deals.
On a personal level, I have no problem with the likes of Poulsen, Konchesky (as mooted) and, of course, Joe Cole. It does worry me that, aside from Wilson and Shelvey, who were lined up last season, we're now signing players in their late 20s/early 30s, but again, I can't be sure that's Roy's desire or just the position he's in (even if he has a track record of fielding older XIs).
With the exception of the gifted but inconsistent Cole, it's hard to see many of his signings lighting up our eyes with expectation. Even Stoke appear to be able to spend more on a single player right now. Liverpool spending £8m seems almost far-fetched. So if some of Roy's signings seem a bit mid-table, it's because, currently, that's the budget. (Will he spend more than the £10.5m shelled out on Andy Johnson for Fulham? Although if he does, hopefully it'll work out better for him.)
As I said the other day, with the lack of a transfer fee for Aquilani before 2011, it suggests to me one unnecessary hole in the squad, for all the player's fragility.
But maybe the club really is so desperate as to want to save a couple of million pounds in wages at the expense of naturally gifted player, or the manager felt he would be disruptive if kept around (I've seen no evidence for this, although that doesn't mean it couldn't be true). Insua being frozen out is another weird one, although a sale process had been instigated while the club was manager-less.
As with Aquilani, I can't be sure of Insua's mental state – although forcing him out of the club is not the way to make someone feel valued. These aren't black and white issues; I can just give my opinion, with that caveat to be borne in mind. I happen to think the squad would be stronger with them kept around.
In some ways, including budgetary, it looks like a repeat of the problems that dogged Benítez's final campaign, from which he never really recovered, and 'lost' some of his senior players in the process.
Mascherano has put Roy in a corner, much as he did with Rafa last season, when Barcelona first made their furtive approaches.
Roy had to start with international 'hangovers', much as Rafa did last season; then it was the Confederations Cup and World Cup qualifiers, this time the World Cup. Rafa had two difficult fixtures in the first three games last season (to sides who ended up 4th and 6th), but the opening pair of games this season have been unenviable to say the least (teams likely to finish 3rd and 4th). Both have/had a lot of injuries to deal with, although last season saw more disruption at the heart of the team in the opening month, with centre-backs dropping like flies and young debutants forced into the action.
So now Roy has a long trip to Turkey to contend with; made all the harder due to the absence of so many major players. If the Reds lose, I won't be blaming him. If it's a thrashing, then of course he'll have to answer questions, but I'd expect any injury-ravaged Liverpool side under any manager to struggle in such a difficult environment.
I wouldn't miss the Europa League if it ends before it begins in earnest, as it takes a lot out of players before the all-important league games. Liverpool were close to making the final last year, but no-one seemed too excited.
But equally, when everyone is fit it's a way to keep the fringe players happy, and give some of the younger players experience. It can damage league confidence if you lose in the competition; or it can help gain it back if you win in it.
The next dozen league games will determine much of Liverpool's season. The Europa Cup won't.