It was encouraging to hear Roy Hodgson say in a press conference last week that the squad was not in need of a complete overhaul; backing up my recent assertion along those lines (made in response to Gérard Houllier's ludicrous claim that he left behind a much better collection of players in 2004.)
And now, Roy's even gone so far as to bring back one of Rafa's favourites – Fábio Aurélio – who was released in May not on footballing grounds, but because of fitness issues (which were reflected in the pay-as-you-play contract he refused.) Rafa clearly wanted him as part of the squad, but only now, it seems, was the Brazilian deemed worthy of a more risky deal.
So if we had the Rafalution, now we have the Royvalution … except, it's more a case of evolution.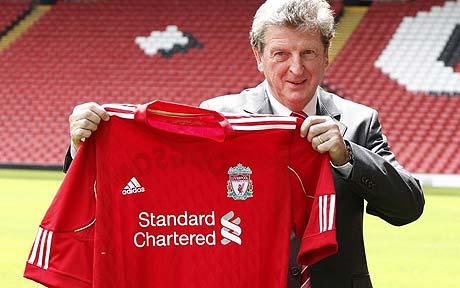 Those who thought players like N'Gog and Lucas were not worthy of the shirt, and were picked by Rafa only because he 'favoured' them, can hopefully now see that they are clearly part of the new manager's plans too.
Like Benítez, Hodgson can see that N'Gog is a talented player, if not in Torres' class; then again, who is? (And how many are even close?)
I always argued that as the Frenchman fills out, he will become more effective. Equally, once he wises up to canny defenders, he'll improve further. It's an education. He's only 21, and while pacy young strikers can burst onto the scene as kids, hold-up play takes time to learn.
And Lucas was handed the captaincy in the Europa Cup, when older, more experienced players like Agger and Skrtel were available. Kuyt is another who Fulham fans tell me Roy will like.
There will be changes, as Roy stamps his own authority on the squad, but it's thankfully not looking like a case of throwing the baby out with the bath water. Fernando Torres' decision to definitely stay will mean that replacing one of the key men, in the key positions, does not need addressing. My nightmare scenario was seeing him sold too late in the transfer window to reinvest the money (if indeed it would be offered to Roy).
I always maintained that the squad that ended last season is about as good as you'd get for one whose fees total just £140m, and where a failure to find good local youngsters in a decade is not the manager's fault. (Again I repeat, because it's still being overlooked: the overhaul of the Academy in 2009 might be Rafa's greatest legacy. He didn't destroy it, as some claimed; he sought to get the place to finally deliver.)
Of course, some players are now worth less than the fees paid; others far more. It's not perfect, or possessed of the depth of a £250m squad, but it's very strong in several areas.
In some ways, the squad has already been improved. Shelvey and Wilson are theoretically sound investments; potential stars of tomorrow who can do a basic job today, as they serve a first-team apprenticeship.
And of course, there's the fact that teenagers Pacheco, Kelly and Ayala – all blooded last season – are now a year older, stronger and wiser.
One thing I often noted about Benítez's buying policy is that he rarely plumped for ageing stars; so while this trio – and others – will be better players in 2010/11, no-one has fallen off the other end of scale, as was the case with Hyypia last summer. Only Jamie Carragher presents any age concerns, but he does play in the one outfield position where experience can compensate.
While Liverpool may lose players, it won't be due to old age. That said, there is a gap in the middle ground relating to incoming transfers.
Jovanovic, at 29, is a very fine footballer indeed; but as yet, we don't know if he'll settle in as hoped. I'll be happy if, on average, he gets close to the form Albert Riera showed in his first five months at the club, while simultaneously accepting that even week-old roadkill shows more movement and initiative than the Spanish w(h)inger last season.
And Joe Cole, while statistically inferior to Yossi Benayoun in terms of contribution over the past three years – more assists but an inferior scoring rate per 90 minutes played – does have that X-factor that could (finally) make him a real superstar. If he has 25% more talent than Benayoun, he also misses more games. So some question marks remain, but a fit Cole will be a real asset.
Selling Insúa would weaken the squad, but I'm not sure he should have been Liverpool's first-choice left-back this season anyway. What I do believe is that he has the potential to be something special when he's 24/25, and also, as his excellent assist rate suggests, someone who can be deployed further up the field. My frustration at his (possible) departure is limited more to his potential than him being the finished article. I hope he stays.
Of course, almost certain to leave the club is his fellow Argentine, Javier Mascherano. As one of the handful of Liverpool players who can rightly be considered (if not confirmed) as world-class, his departure would weaken not just the squad but the first XI. But I've long-since been resigned to him leaving, and felt that his poor start to last season, and terrible disciplinary record in that campaign, counteracted his better moments.
Hopefully the links suggesting the third and final Argentine, Maxi Rodríguez, is also up for sale are wide of the mark. As someone on Torres' wavelength from their time at Atlético Madrid, it would be a worrying move.
Having said that, who plays where – and indeed, who gets in the team most weeks – is an interesting question right now. Then again, you need two good players for every position; formation, form and fitness often dictates the rest.
While still lacking anything approaching a world-class winger, the Reds have a lot of very good wide midfielders.
Is Joe Cole to be considered one of these, or finally destined to play in his favoured position off the main striker? Jovanovic can also play up front, as, of course, can Kuyt. Maxi, meanwhile, played in central midfield for Argentina in the World Cup.
Then there's Ryan Babel, who remains a Grade A enigma, but whose natural gifts make him someone to consider rather than instantly discard. David Amoo fits into the same category, but as a teenager, still has an excuse about his final ball. (Unlike Babel, he seems happy out wide, as an old-fashioned winger.)
Then there's the fight for the 'hole'. Gerrard? Cole? Aquilani?
Even Kuyt, if Roy wants to get closer to an old-fashioned 4-4-2, but do so with a striker who is used to supplementing the midfield.
Buying Policy
Limited funds don't stop you from buying good players. But they do make it much harder to buy a certain kind of player.
Liverpool's buying strategy so far this calendar year – and this applies equally to Rafa, who sourced many of the stars (Maxi, Shelvey, Wilson, Jovanovic), as much as Roy Hodgson – has a clear gap in the middle ground. It's the gap where money really tells.
Jonjo Shelvey and Danny Wilson are two of the brightest prospects in British football. But while Wilson has played under the microscope at Rangers, neither has been tested beyond sub-Premier League standard.
At 18, that's no problem whatsoever; many 18-year-olds haven't played beyond the reserves. But these are great prospects and not nailed-on certainties; neither is ready to be a regular first-teamer yet. They are vital signings in terms of building a club, but as supplementary transfers.
At the other end of the spectrum reside Maxi, Jovanovic and Cole: international players entering the final stage of their careers; possibly still in their peak, but fast approaching 30 and, crucially, available on a 'free'.
Again, I think all three are potentially excellent signings; Maxi has proved his quality after he found his match lungs last season. Jovanovic has pace and an eye for goal. And Cole has great innate ability. I have no complaints with any of these being brought to the club.
But these are not long-term investments. These are here-and-now-only purchases. You won't lose a lot if they flop; equally, you won't possess any resale value further down the line.
The real money in football goes on players who are good enough to instantly elevate the team, but who can be sold in four or five years' time for a major profit, to fund the next wave. It's not about buying just to sell; it's about having the opportunity to do so, and not be left with an expensive, unsellable flop.
Mascherano, Torres and Alonso were three of Rafa's most expensive signings. But with a mind to 'speculate to accumulate', each added tens of millions to his value while at Anfield, and did so by delivering quality out on the pitch. It's win-win.
At 25, Aquilani still has a big reputation in Italy, should he ever need to be sold. Still only 23, Ryan Babel, for all his flaws, could still gain back his fee if Roy can't coax consistency from him. (I believe Birmingham offered around £11m in January.)
Also 25, Glen Johnson has many years left ahead of him in the game.
And though they weren't as expensive, Agger and Reina, like all the others, were aged between 20 and 25 when they signed. At 'only' roughly £6m each, at the time they were still the record amount the club had paid for a goalkeeper and a defender.
Only Robbie Keane, for £19m aged 28, didn't make much sense in financial terms (even if, in theory, most of us could see what he was supposed to offer on the pitch, even if he ultimately failed to do so). The speed with which he was offloaded was vital to it not being a total disaster; he wasn't terrible at Liverpool, but once it was clear he would not be a success, losses had to be cut, and in so doing, were duly minimised.
It seems unlikely that Roy will get the chance to spend in this way this summer, unless he sells first. Not since 2007 has there been any significant investment in the squad that didn't come after someone left for good money.
Indeed, marquee signings were not a big feature of his predecessor's reign: only seven at £10m+ in six years; not a huge amount considering the spending of rival clubs and the income from consistent Champions League football (and from selling some big-name players).
The problem now is that players like Torres, Alonso and Mascherano – early 20s, already full internationals – are no longer being brought to the club. And that's one of the reasons why it's vital that a new owner is found.
Hopefully Kenny Huang will prove a better custodian than Gillett and Hicks, should he be that man. But even if he is, it might come too late for this transfer window. (While I welcome the speculation, I do think that owners need to be judged on their actions and not their words; we've been caught out by that before. And while it is theoretically possible, it's hard to believe that anyone could be as bad as the two Americans; or, given the stick they've received, would even dare to try.)
Once Mascherano departs, it'll be interesting to see if Roy is allowed to spend £15m+ on a player.
Indeed, everyone will be waiting to see if all of the money goes back into the squad; at the time of writing, Liverpool sit 20th out of 20 Premier League clubs in terms of team investment this summer; so far, it's all about profit. (So much for the 'big summer' Tom Hicks promised; unless he was referring to the money he'd be making.)
If Roy can avoid the problems of last season – most crucially, too many injuries – he will stand a good chance of a smooth evolution that brings the best out of the talent Rafa left behind. If some of the players were indeed unhappy with Rafa's man-management, they've now got a clean slate; that excuse has gone.
Getting back into the top four will be no easy feat, with Arsenal having added quality at both ends of the pitch, before even contemplating Man City's spend-till-we-get-there attitude.
Chelsea and United looked nailed-on for the top four, but even if Spurs suffer a Champions League hangover (as I suspect), City and Arsenal will expect to be up there, too.
But it seems far less like being the catastrophe that I feared could happen when it looked like prospective transfers might fall through (Wilson, Jovanovic), and more crucially, big names would leave and the funds potentially vanish.
Equally, Roy has talked a good game so far, and done everything that's been asked of him in terms of actions. I don't think he's the master tactician that Benítez is, but perhaps he'll offer more in other areas.
And if the league season gets underway with Gillett and Hicks ousted, well then, hell, any lingering pessimism might vanish completely.