Of all the falsehoods that get spouted about Benítez, the misrepresentation of his record in the transfer market is perhaps the most baffling.
John Toshack is the latest to be quoted criticising, saying that Rafa has spent €300m and only signed three good players: Torres, Reina and Alonso.
(Note: Benítez's net spend is only around £90m, although he has paid out circa £250m on players – a big total, if you ignore that much of that money was raised by selling other signings. However, the cost of his squad has rarely been above £150m at any one time, whereas those of rivals have been £200m-£300m.)
But getting back to Toshack's point, is Mascherano not a success, then? Despite the Argentine's undoubted pedigree, he was in West Ham's reserves and not looking like a natural for English football. Now he's regarded as the world's premium holding midfielder, and valued well in excess of the £18m paid.
What about Agger? Is there a better footballing centre-back in Britain (who can also defend)? And like Skrtel, he's only just entering the second half of his 20s (both are now 25), when centre-backs start to really look the part (look at how Michael Dawson has improved in his 27th year). If the pair can stay fit, they have the best part of a decade at the top ahead of them.
What about Yossi Benayoun? – a goalscoring record at Liverpool almost twice as good as Joe Cole's at Chelsea, and one of the best players of the second half of last season. Injuries have disrupted his campaign a little this time, but he's still close to double figures, and in recent weeks he's played some great stuff in the build-up to goals. At £5m, he was an absolute steal.
Or Glen Johnson? It might be too soon to make a conclusive judgement (although that doesn't stop Aquilani being written off in the same space of time). His defending is supposed to be suspect, but for Liverpool he's hardly put a foot wrong at either end of the pitch, and is another who has had to overcome serious injury this season.
(Stats from Opta: Johnson has made more successful crosses per 90 minutes than any other Premier League defender; created more goalscoring chances per 90 minutes than any other Premier League defender in open play; and his rate of 2.19 completed dribbles per 90 minutes is 0.83 more than any other Premier League defender. In other words, on average, he completes one more successful dribble per match than any other full-back.)
Fabio Aurelio was arguably the best left-back in England last season. Cost? Zero. Again, injuries have proved hugely frustrating – he came with that risk – but what a good footballer he is. Is he not a good 'get' on a free transfer?
Then there's Dirk Kuyt. He's not everyone's cup of tea, but he is versatile, reliable, committed, and yet again is in double figures for goals, despite a lot of time spent on the wing. He also creates a lot for others, and although not a 'highlights player', often does the job of two people at once. I think he's worth his weight in gold, and so have successive Holland managers.
Elsewhere, Lucas, N'Gog and Insua are all promising players, with Lucas, in particular, starting to make that breakthrough towards convincing the doubters; the other two only turned 21 in 2010, so patience is required. Each has done enough to suggest a bright future, without the guarantee of anything exceptional.
If we're talking bargains – which Rafa supposedly can't spot – then Maxi and Kyrgiakos have been two of the Premier League's better investments this season, for a combined fee of £1.5m.
Kyrgiakos has surprised me in how well he's adapted, and to be honest, the biggest compliment is that, with his clear lack of mobility, he looks no worse than a 35-year-old Hyypia as the 4th-choice centre-back; replete with experience, positional sense, bravery, and the height to dominate forwards.
But it is Maxi who has the potential to become a regular; indeed, in the league, he's already achieved this. Almost 30, he still has good pace to go with the assured technique, but is never going to be a jaw-dropping player who has fans on the edge of their seats.
His game is about movement, finding space and rarely giving the ball away; as well as popping up in the box at the right time. (With a bit more luck, he could be in double figures by now!)
It's unclear if he offers something radically different to Kuyt and Benayoun, in the way that Ryan Babel would, if only he could get his brain to engage with his feet on a more regular basis. There's still a perceived need for an outstanding old-fashioned winger, but Maxi is clearly a good addition to a squad simultaneously weakened by Albert Riera's stupid behaviour.
Then there are those who've been sold. Where do they fit in with Toshack's thinking? If you note Rafa's total spend, taking into account every single player, then you cannot intimate that only three were successful.
Did Luis Garcia not provide, say, six goals on the way to winning the Champions League, and a decisive FA Cup semi-final goal? He drove me mad at times, but equally, he drove the team to Istanbul (not literally, although he may have driven them to Madrid last week).
Did Peter Crouch not enhance his reputation at Liverpool before leaving  (in search of first team football) for a profit, even though he was just 12 months from freedom of contract? Is Arbeloa, another whose contract had just a year left to run but still departed for more than he cost, not now a regular in the Real Madrid side?
Did Sissoko offer nothing in those snarling two years before the serious eye injury, after which he left to Juventus for a profit? (A fee which helped facilitate the purchase of Mascherano; the same as the Bellamy money going, in some way, towards the procurement of Torres.)
And if critics are going to include young players who vanished without trace, what about Ayala and Pacheco, two teenagers whose cameos this season suggest they won't suffer the same fate?
(Of course, young reserves who've yet to really feature are always the 'answer' to some fans, before they become the 'problem' after their first poor game or dip in form. It takes time to mature, and the learning curve of first team football can be brutal; but is necessary all the same. If they are loaned out to get this experience, that too is seen as a sign of weakness.)
Hypocrisy
Why Rafa's spending is totted up into one large figure, rather than taken for the 'buying and selling' to trade up that it is, remains baffling to me.
So is the incredibly common insistence on listing only his flops. Contrary to any other manager, he seems to get judged by what he gets wrong, whereas they are judged by what they get right.
All managers get plenty wrong in the market; they don't know how the player will adapt, nor do they know if he will stay free of injury. And of course, you can't really have a squad of 25 perceived successes at any one time, because some will automatically be viewed as failures if they are not in the starting XI.
Take Alex Ferguson. How many top-class strikers has he signed in the new millennium? Van Nistelrooy and Rooney.
That's two in a decade, with one eventually replacing the other. (Plus Carlos Tevez on loan, but then turned him down.) Louis Saha was also a success, but not without caveats.
But that's enough. Clearly. The key is that he's got some major signings very right indeed; as has Benítez. (Another key is that Ferguson buys players to bed into a side used to winning titles – a priceless commodity he eventually instilled into his club, after seven years of trying – and has always had a more expensive squad to pick from than the current Liverpool manager, and a far bigger wage bill.)
What about Bellion? Owen? (More injuries than league goals). Alan Smith? (Ended up a defensive midfielder.) Diego Forlan? (Talented, but often hopeless at United.) Mame Diouf? And what about Berbatov? £31m, often on the bench, despite ability; not a total flop, but then nor was Robbie Keane at Liverpool.
Manucho? Dong? – onomatopoeic players, clearly.
Ferguson's successes were, on average, around the £20m mark in value. The flops range from free to £31m, and easily outnumber the successes. But my point is, no-one says "for every Rooney there's a Dong and a Forlan".
When people talk of the midfielders Ferguson has signed, they don't focus only on Veron; yet when discussing Benítez, there seems to be a disproportionate amount of attention foist upon Robbie Keane.
"For every Fernando Torres there's a Fernando Morientes, an Albert Riera, Andrea Dossena or a Robbie Keane," wrote one Media Muppet last week, hinting at four perceived mistakes (even though it was done with an 'or') for every success. Does it read the same if I reverse it and say that for every Torres, Reina, Mascherano and Alonso there's a Dossena? – you're instantly left with the impression of an (untrue) 80% success rate.
The fact is that most top managers get plenty wrong, but also a fair few right, and the occasional über-star.
A lot of it is about perceptions, and people have a mindset about Benítez.
Take N'Gog, who has 8 goals in 17 starts this season: a very good record for a young lad, including a few vital goals. Compare his record with Carlos Vela at Arsenal. The exact same age, Vela has one league goal in his 23 league appearances for the club since his arrival in England.
But because he scored a hat-trick in the Carling Cup against Championship opposition in 2008, including one stunner, he seems to be viewed as another example of Wenger's genius at scouting youngsters. Maybe N'Gog would only fit the narrative if he had banged in the goals for the Gunners in the League Cup. Vela certainly has promise, but so too does N'Gog.
And it's not as if Rafa cannot spot young talent; he had a deal in place for Aaron Ramsey, well before he joined Arsenal, but others at the club thought there were better local talents already at the Academy. (Quite who, I've no idea.) Pato and Walcott were also approached before they were fully on the radar of most people, but again, Benítez was denied by the Liverpool hierarchy.
But this is an area where the Reds have finally acted.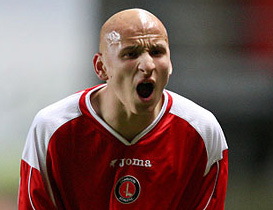 Jonjo Shelvey, signed from Charlton for an initial £1.7m, and Danny Wilson, believed to be close to a move from Rangers, are two 18-year-olds who, unlike Paul Anderson and Jack Hobbs for example, would arrive with a lot of first team experience.
While the Championship (in which Shelvey played aged just 16) and the Scottish top division are not Premier League standard, it tells us a bit more about their ability – and temperament – than merely being talented but untried.
Meanwhile, Raheem Sterling, 15, recently signed from QPR, has masses of potential. It seems that Benítez has finally received the backing to bring in a better quality of British youth player, without having to wait for the Academy to automatically provide outstanding locals.
Improvements
Whether or not Shelvey makes an impact next season, it's important to remember the different rates players develop at.
The list of vastly improved players in the Premiership is incredibly long, both for those who've changed opinions this season, and those who did so a while back and continue to shine.
Look at Zamora, Malouda, Bale, Dann, Bent, Lennon, Rodallega, Carlton Cole, Gomes, Downing, Modric, Nani and Pavlyuchenko: amongst the best performers at times this season, but a year or two ago, often seen as joke figures. I'm sure there are more I've overlooked.
Others, like Milner and Dawson, were seen as unremarkable but have developed massively in their mid-20s.
Go back a bit further, and Peter Crouch and Darren Fletcher were the victims of the boo-boys. Back further still, and even Lampard and Carragher were once regarded as two who were never that special.
Adebayor, Flamini and Hleb were seen as Arsenal flops (or at the very least, unremarkable) for at least two seasons. Two seasons! Malouda, at Chelsea, is another who only started to shine in his third year.
Just because of all these players improved or adapted doesn't mean every squad player at Liverpool will do likewise. Equally, players who have a good first season or two can fall by the wayside, temporarily or permanently.
But again, we need to remember that every manager gets a lot wrong, because there is no option to get everything right. It just doesn't work that way. There isn't enough luck – not a single player failing to settle or avoid injury? – or room in the team, to have it be so.
It was only when researching for "Dynasty: 50 Years of Shankly's Liverpool" that I realised how many 'flops' Shankly invested in; but the key point is that those he got right, he got really right. (You could say the same of Benítez: some flops, but Torres, Reina, Mascherano, Agger and Alonso all stand comparison with the stars of any Liverpool era.)
Indeed, I keep using the Arsene Wenger example, because it's widely believed he can "do no wrong" in the transfer market; on numerous occasions I've quoted journalists saying as much. While I agree that he's about as good as there is, he also signs his fair share of apparent mistakes, even if some may come good later in their careers.
Christopher Wreh, Gilles Grimandi, Pascal Cygan, Alberto Mendez, Jeremie Aliadiere, Tomas Danilevičius, Łukasz Fabiański, David Grondin, Nelson Vivas, Matthew Upson, Luis Boa Morte, Moritz Volz, Sebastian Svärd, Igors Stepanovs, Jermaine Pennant, Oleg Luzhny, Remi Garde, Stathis Tavlaridis, Jose Antonio Reyes, Philippe Senderos, Julio Baptista, Richard Wright, Kaba Diawara and, dear God, Francis Jeffers.
Admittedly I don't even know who some of those players are, and they might have been young kids bought as a 'punt'; but does that make them any different from someone like Gabriel Paletta, who only last week (in a Sunday rag) was quoted as one of Rafa's "forgettable" flops? Or a selection of teenagers brought to Anfield in exchange for what amounts to loose change in today's prices?
Some of those signings by Wenger were also far from disastrous, but then neither was Mark Gonzalez at Liverpool; he was mediocre, and he left for a small profit. He wasn't a bad player, as shown by his return to form in Spain. Nor was Upson a bad player after leaving Arsenal, but his time there, as a young centre-back, was seen as a failure.
If there is one criticism that is harder to counter it's the sheer turnover of players at Liverpool. There are reasons for this, as I will explain, but not everyone will appreciate or accept those explanations.
A lot of the turnover has been due to a need to 'trade up'. For someone accused of persisting with certain individuals who are struggling, Benítez is ruthless when it comes to those who, once he's seen them at close quarters, lack what he's after. It's led to a large number of purchases and sales, and in some ways that might not be helpful, but the alternative would have been getting an abnormally large number of cheap signings spot-on, and making no mistakes whatsoever at the top end of the market (again, unrealistic).
If he sticks with someone, it's because he believes they can make the grade; plenty of others have found themselves quickly spinning out through the revolving door, so it's not like Benítez is sentimental. At times it's seemed a little chaotic, especially with those brought into the reserves – too many average players were scouted. But again, a good deal of this comes back to budgetary limitations, and a lack of real starlets already in the Academy pipeline when he arrived.
Conclusion
On the whole, the expert panel I assembled for "Dynasty" rated Benítez's signings very highly, certainly by comparison with any Liverpool manager since Dalglish.
Souness only signed one unqualified success (rated as an 8 or higher) – Rob Jones – and Roy Evans didn't manage any. Meanwhile, Houllier's best signings were all defensive (in the Value For Money rankings I devised, his top 7 were all players whose job was to stop the opposition, with the exception of Gary McAllister).
But Benítez has signed a truly great striker, a undoubtedly brilliant keeper, an outstanding defensive midfielder, an outstanding playmaker, and, I believe, in Daniel Agger, a centre-back who (if Peter Bruckner can keep him fit) can still go down in history as one of the Reds' greatest.
I also honestly believe that Glen Johnson can join that list, if he continues to consistently do from right-back what no winger signed by Benítez has managed: provide genuine width, pace, skill and delivery (but doing so from a deeper position, that can make it harder to pick up his runs).
The key, though, is leaving no weak areas in the team, and indeed, in the squad as a whole. And for this, more money is required; money that doesn't come from having to sell other useful first-team/squad players.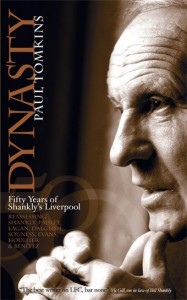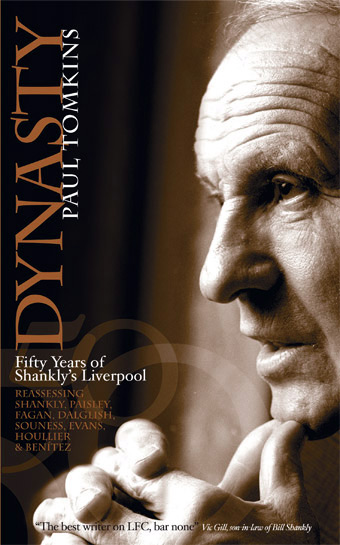 "Dynasty: 50 Years of Shankly's Liverpool" is available from Amazon.co.uk and most major bookshops.