First of all, let me say that anything in life has its good and its bad sides. Nothing, and no-one, is perfect. Football is not exempt. Every good player will have bad games, and every system a manager deploys will work sometimes and fail on others. Football relies on skill, and judgement, but also luck, run of the ball, force majeure, and the many facets of cause and effect.
A player making a great overlapping run is instantly a fool if the ball to him is cut out. A striker can miss with a technically brilliant effort but score with his arse. A goalkeeper can make 15 brilliant saves but be written off upon his first slip up.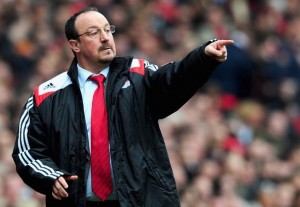 For anyone who paints my viewpoint as one in which Benítez can do no wrong, let me make it clear that this is bullshit.
However, he deserves to be judged like all managers and that clearly isn't the case with the British media, who seem to distrust his standoffishness (he's not their mate), his foreignness (he doesn't do things in the traditional way) and his intelligence (he uses technology, stats, etc).
Personally, I don't feel that the media is biased against Liverpool; big clubs are big news when they're doing well, and even bigger news when they're not.
But I do think that many of its more vociferous members are biased against Benítez. Andy Gray seems obsessed with questioning every Benítez method that he sees as failing, without praising the ones that work. Gray loves players like Gerrard and Carragher, but seems set against Benítez.
Henry Winter, who has written for the official Liverpool site and who is generally one of the better journalists, recently said that "Unlike Sir Alex Ferguson, Arsène Wenger, Mark Hughes, Martin O'Neill, Harry Redknapp, Carlo Ancelotti and David Moyes, Benítez is an incredibly difficult person to warm to. Too detached, too cold."
I found that stunning, but it did explain why journalists are rarely in a hurry to give him the benefit of the doubt.
Brian Reade, famous Liverpool fan, columnist and author, believes that there was an agenda against Benítez from the start. His face didn't fit.
So I've compiled a list of what I see as the myths used to malign the manager, and given my explanations as to why they are untrue. The aim is to eventually create more in-depth articles on each subject that link from those listed below, in the manner that the ones on Rafa's transfer record and zonal marking do.
The in-depth analysis that follows is for Subscribers only.
[ttt-subscribe-article]