With the latest controversies surrounding Alex Ferguson, and not one but two excellent newspaper pieces finally taking the United manager to task, I thought I'd share this excerpt from a chapter in Red Race.
[…] By the end of March, the tables had turned not once but twice; Liverpool had thrown away their advantage, and travelled to Old Trafford on the 14th of the month facing the possibility of being nine points behind United should they lose, and with the home side still having a game in hand. Within nine days, the gap was down to just one point, although Ferguson's men still had an extra match to play.
All talk of 'Rafa's rant' had subsided, and this time it was Ferguson who was using a press conference to focus on Liverpool. The contrasting styles of the two managers could not have been clearer: the canny, irascible Scot and the young continental calculator.
Ferguson's own supposed meltdown came after Rafa Benítez had put him under some pressure, not least with the incredible 4-1 win at Old Trafford. No-one could have forecast such a result. The reaction of the United players was crucial; Wayne Rooney, who had earlier that week said that he hated the Reds, was an unhinged dervish, screaming at his team-mates and waving his arms in frustration. Liverpool were not only awarded a penalty at Old Trafford, but United's Serbian centre-back Nemanja Vidic was also sent off. Neither decision was debatable, but crucially, neither decision was bottled by the official. Liverpool ran out convincing 4-1 winners, in perhaps the biggest shock result seen in a match between the two in recent times.
With a straight face, Ferguson claimed United were the better side, something that even the most one-eyed United fan, excluding the clinically insane, could not agree with. If the score line slightly flattered Liverpool, it could have been even worse for the home side had Gerrard and El Zhar made more of gilt-edged openings. By contrast, Pepé Reina's goal was barely troubled.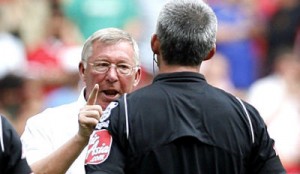 It was Benítez's 100th league win, achieved in just 181 games, and only legendary duo Bob Paisley and Kenny Dalglish can boast a better record at Liverpool. Dalglish's 100th victory came in his 167th game, while Paisley's arrived in his 179th; Bill Shankly's 100 wins came in 184 games. By stark contrast, Ferguson took 231 matches to arrive at his ton.
Ferguson then followed this six days later with an equally bizarre and hugely inaccurate statement about Liverpool spending more money than United since Benítez arrived, thanks to figures apparently worked out, at his request, by United's Sports Technology department (but which just happened to match those of a seriously misleading United blog). As Benítez prepared to unhinge Aston Villa, United's staff, we were led to believe, were focussing on Liverpool's expenditure rather than their own imminent opponents. Either way, it was a sign of the state of mind of the United manager. It now seemed that it was actually Benítez who had got under Ferguson's skin, and not the other way around.
Thankfully for those who crave accuracy in their reporting, the figures quoted by Ferguson were widely dismissed across the media, although as Winston Churchill once noted, "A lie gets halfway around the world before the truth has a chance to get its pants on." Patrick Barclay of The Times (one of the papers to print the figures of the respective spending to disprove Ferguson), said on Sky Sports, "You don't need a Sports Technology department to know how wrong the United manager is, just the back of a cigarette pack."
Rant
As for Rafa's 'rant', it's worth comparing a composed oratory read from a sheet of paper with one of the United manager's more colourful exchanges with the media, back when Juan Sebastian Veron was failing to justify his £28m transfer to Old Trafford. With delicacy and wit, the United manager said: "I'm no' fucking talking to you! He's a fucking great player! Yous are fucking idiots!"
Then there are the numerous times he's boycotted a media outlet because they have disagreed with him or been critical. However stupid the media can seem, the agreement is to play ball; other managers 'man up' and face the mic, after all. Before and after the game against Liverpool at Old Trafford, Ferguson refused to speak to Sky due to the kick-off time of 12.45pm, despite the police advising a lunchtime start, and countless other games over the years starting at such a time. It's all part of Ferguson exploiting his position as the 'most powerful man in British sport'. In January 2009 The Times listed Ferguson at the top of their Power 100 list, saying: "He has been shaping our sporting lives for decades, to the extent that he is atop our summit, and the hard part is not establishing where his power starts but where it ends."
There can be no doubt that Ferguson has in many ways earned that great power. It comes from a record of success, combined with the political clout and financial muscle of the club he has managed. A famously bad loser, he uses every weapon in his armoury to ensure victory. Indeed, what is called 'mind games' is often just insulting or disrespectful behaviour. It is his prerogative to try and get away with whatever he can get away with; push the envelope, wring every last drop of advantage out of any situation.
While he was largely more polite, it's unlikely that Bill Shankly –– another sore Scottish loser who could swear blind in defence of his club –– was cut from much different cloth. It is a manager's job to try and eke out any advantage he can, just as a forward has the right to go over a defender's outstretched leg if it's purposefully left to dangle in his path.
But, as with players diving without even the merest hint of foul play, it is up to the authorities to step in and act when Ferguson oversteps the mark, and to stamp down on him when tries to 'bully' their own governing bodies and match officials. This is where his continual moaning about the FA makes it harder for them to censure him; any attempts to do so play to his paranoia about the world being against him, and can be used as evidence of a conspiracy.
What Benítez wanted to know was how Ferguson and his then-assistant Carlos Quiroz could get away with questioning the integrity of the referee after a home FA Cup defeat to Portsmouth, as well as attacking –– not for the first or last time –– Keith Hackett, the referees' supervisor. When John Terry had a red card rescinded early in 2008/09, Ferguson said: "If it had been a Manchester United player Hackett would never have done this for us." That is a clear accusation of bias.
This followed his attack the previous season, following the Portsmouth defeat. "He's not doing his job properly," Ferguson frothed about the Hackett, before turning on Martin Atkinson, the official in charge of the game. "The referee's performance today was unacceptable, but he'll be doing it again next week."
Alan Swann, Chief sports reporter at the Peterborough Evening Telegraph, and, far more pertinently, himself a Sunday morning referee, wrote the following piece after that game:
"Is it any wonder us referees at junior level are abused from pillar to post when the management of Manchester United behave as they did at the weekend? To listen to Sir Alex Ferguson and Carlos Quiroz as I did on the radio on Saturday evening I thought their match referee Martin Atkinson had ruled out three good goals, failed to give United several penalties and handed Portsmouth a soft one in return.
"Instead Atkinson denied United one spot-kick which was far from nailed on and … well that was about it. Hardly worthy of the embarrassing rants I endured and if there is any justice the book will be thrown at two grown men who behaved like petulant children."
It wasn't. No action was taken. It backed up Benítez's point –– or rather, led to Benítez's point –– that United's management, though punished on occasions, are too powerful to pull up for every offence.
If any neutrals think this is simply biased against United, then consider the view of Graham Poll as expressed in the August 2009 edition of FourFourTwo: "Alex Ferguson has an aura. The first time I reffed a game at Old Trafford, I did something heinous like add on nine minutes of injury time and I got the full hairdryer. He was letting me know that what I'd done was unacceptable.
"Manchester United has a special feel that can get to some referees, but I learnt to cope. I used to think that if I couldn't give anything but a nailed on penalty against United because Fergie would go mad, I'd bloody well make sure that was my policy for giving penalties to United too.
Later, when talking about José Mourinho, Poll says that "he could never intimidate me the way Ferguson did." The word 'intimidate' is crucial.
Poll ends the piece by explaining that Rafa Benítez does not get involved. "He doesn't try to know the ref or even talk to him. But to be fair he's consistent. If there's a controversial decision against his team, he's as aloof as he is if they've won. I guess if you ask referees how we'd like it, that's how it should be."
© Paul Tomkins 2009 Red Race is now in limited supply, with less than 200 copies remaining, available only through Amazon Marketplace. The book will not be reprinted.