I appreciate that it's difficult for anyone covering lots of clubs, as well England (and maybe even other sports), to have specialist knowledge of Liverpool FC. I accept that, as a result, journalists make judgements on snippets of information, and often regurgitate the old myths.
(For example, Liverpool's marking at set-pieces has been largely excellent for four seasons; therefore when it's not working, that doesn't immediately make it a terrible idea; too many journalists jump on bandwagons with no facts to back up their assertions. But that's the English football way, alas.)
Some editors clearly wanted sensational stories. But plenty of fans want the truth. Some journalists care about the facts, but of course, there are those who just want a good story; and as the saying goes, the truth must not be allowed to get in the way.
Even after listing countless facts on this website, in eight books, and on the club's official site, which I have backed up with detailed evidence, some journalists and pundits insist on saying that Benítez has had more money to spend than is true. This is just one area of misrepresentation (see my Myths series).
My visit to see Benítez last week made some sit up and take note, and I appreciate that.
The Independent had the good grace to give my full name and list accurate details of a small part of the discussion that took place. And thank you to The Guardian, which has ranked my interview no.1 in its list of favourite Sport reads this week.
The Sunday Times, however, didn't bother using my name, labelling me simply as a "blogger", in a piece that amounted to little more than a hatchet job on Benítez.
("Blogger"? They must have missed 'Golden Past, Red Future' a noted top seller as the first book written and released about Istanbul; 'Dynasty' having been in the FourFourTwo/Amazon Top Ten for all but one month over the past year; and 'Above Us Only Sky' reaching the overall Amazon top 40 chart, with all three books rated as 4-star by non-LFC supporting reviewers at FourFourTwo. At the very least I am an author. Therefore, I can only conclude that the Sunday Times' piece was written by "two random men who happened to have access to a computer".)
The Times then produced a shocking piece about Benítez outspending Ferguson since arriving in England; figures warped by the £80m United recently received for Ronaldo (whose absence is yet to be fully tested, given that the season is still new), and even more alarmingly, including Djibril Cissé, who even a fool should know to be a Houllier signing that the club was already committed to bringing in. We all make mistakes, but that was a howler.
And the whole piece just shows the lengths some people will go to in order to skew the true facts.
Perhaps most negligently, the author failed to understand that much of Ferguson's successful 2006-2009 team was already in place in 2004, while Benítez, with the exception of a handful of players, inherited a bunch of near-worthless duds. When Benítez arrived, Ferguson could call on big, big signings like Ferdinand, Van Nistelrooy, Ronaldo and Saha, plus all those excellent youth team graduates (that took a long time to come through the United system; Ferguson himself started off with kids like Mark Robins and Lee Martin.)
The journalist's comparison would only have possessed any merit if both men were starting from scratch at the time; by contrast, United, with a big, successful squad, had been champions a year earlier, when Liverpool were not even qualifying for the Champions League. Whose need to spend money was greater?
(Edit 31.10.2009: A shame that he hadn't spoken to a colleague at his paper. This superb Fink Tank piece underlines what I am arguing.)
All bias aside, I would ask this: if Rafa has so much money to spend, why are Liverpool now a distant 5th in terms of current squad cost?
Why does the Reds' squad, at around £158m, cost almost £45m less than Spurs', who are 4th, and rank even further behind those at United, Chelsea and City?
Why are four squads in the £200m+ region, and Liverpool lagging this far behind?
If Benítez has had these generous funds, then where has all this money gone? Not into anyone's back pocket, that much we can be assured of; he's not in the market for a bung, after all.
Stop. And think.
It's never gone into the team at one time, as you will realise if you read on. Players have come in, but only after other players have gone out to raise the money.
If you start off having to rebuild a squad, replacing over 50 players from top to bottom at your club, then you cannot do so with marquee signings – even if the club could afford them, which in this case, it clearly couldn't.
You have £10m to spend on Alonso, and £6m on Garcia: money spent to near-perfection (you win major trophies thanks to their passes and goals, and get £33m in return). But then that first summer you're left with pennies to put towards Josemi and Nunez (as part of the Owen deal).
Even a big-name striker, Morientes, bought in January 2005, cost only £6.5m. Oh to be able to afford a Drogba or a Rooney, Benítez must have been thinking.
Benítez was further hampered by losing Owen on the cheap (not that manager's fault) and being forced to accept the pre-agreed club-record signing, Djibril Cissé, who could be good, but was hopelessly erratic; great pace, fierce shot, but sometimes the brains of a billiard ball.
So you should see that over the years, Rafa's budget has often gone on players like Sissoko, Bellamy, Crouch, Carson, Arbeloa, Leto, Gonzalez and Alonso, who succeeded or failed to varying degrees, but who each raised money by leaving for a profit, which has in most cases been used to buy a better upgrade. How else would Torres and Mascherano have been afforded?
How did Liverpool see off Chelsea and Manchester City in the race for Glen Johnson? Yes, he wanted to play for Liverpool and Benítez; that was vital. But it was only possible because Portsmouth owed Liverpool money for the purchase of Crouch and the loan of Jermaine Pennant.
Does this not set alarm bells ringing? Does this not suggest that, actually, the manager does have at least one hand tied behind his back? You can twist figures how you wish, but at least I fully explain my findings.
Admittedly, the money spent by Benítez also went on players like Pennant, when bought for £7m in 2006. Liverpool needed a right winger. But £13m (less than half the British record at the time) for Simao was beyond the club's resources, and other more established targets were also too expensive. Was this Benítez's fault?
And once Benítez had bought Dirk Kuyt in 2006 – now a big success on the right of midfield, and worth every last penny – there was no money left to buy Dani Alves.
Remember, Liverpool could only afford Kuyt after a personal loan from David Moores! Have Chelsea and United had such concerns in the past five years? Come on, seriously?
(While no-one can seem to tally what the owners are saying with what has clearly been spent, I also don't think that the situation would be any better with David Moores still at the tiller; he couldn't afford to be in control any more, as a man of only moderate wealth compared with the oligarchs. However, oh for someone who actually pumped lots of real money into the club. Liverpool needed proper investment then, and they need it now.)
You can call Benítez a bad judge of player, but when he's been unable to spend around £15m on top-class individuals at a time when his rivals were spending £30m, then of course he's going to be gambling with 'maybe' players. It seems that club couldn't even afford £6m Michael Turner this summer, despite a large profit on the manager's dealings in 2009.
A lot of his 'maybe' signings, like Reina, Agger, Aurelio. Arbeloa, Crouch, Benayoun, Insua and Garcia, who arrived with big question marks and for relatively small fees, turned out to be big successes. Three of that list became full internationals while at Liverpool, while Crouch, after just one game for England, went on to really establish himself.
Arbeloa only left on the cheap because he could not be tied to a longer contract, as did Crouch. Fabio Aurelio, now called up for Brazil, could be the fourth to get full honours for one of the world's major nations (England, Spain, Argentina and Brazil).
And again, there's hypocrisy over Benítez's successes in the market.
Last week on Sky I saw Henry Winter suggesting that Alex Ferguson had taken this raw lad from Everton, named Wayne Rooney, and made him a real talent; yet it was after the player had already starred in Euro 2004!
Winter's logic was England could win the World Cup because Rooney had become a star at United, and therefore Ferguson should not be censured for law-breaking comments about a referee. Is this what we expect from intelligent football writers? I don't think so. So, the rules don't apply if you happen to have paid £25m on an England striker?
Yet Benítez gets little credit for buying Torres, who everyone thought was a big risk. "He'll never score you enough goals", they said. Instead, people say that Torres will leave because Liverpool aren't high enough in the league – totally missing the point about the relationship between the two men.
Ditto Xabi Alonso. Benítez gets no credit for plucking the lad from a relatively small Spanish club, winning trophies with him, then selling him for a £20m profit.
Then there's this question: who is the only manager to get the very best out of Steven Gerrard and Fernando Torres? Yep, Benítez. But all he gets is grief for fielding a "two-man" team.
How come this pair excel under Benítez for Liverpool in big European games, yet don't show the same consistency for their countries, even often against lesser lights? Compare their scoring records, or performance ratings, for club and country. And who keeps injuring Torres? Spain!
In 2006, Benítez wanted Simao and Alves; both players later went to big clubs for massive money, after his failed attempts to bring them to Liverpool. These were class acts. Jermaine Pennant wasn't. Is Benítez a bad judge of player, or just one hamstrung by funds not befitting of a Champions League club?
With Alonso having had two below-par seasons in a row, Benítez wanted Gareth Barry, now doing so well at City, but it seems that once it became a bidding war this summer, with Martin O'Neill moving heaven and earth to scupper a deal last year, the Reds were out. City were prepared to pay a bigger fee and offer more in wages; I assume this is what Rafa meant when he said Barry went there because of "money". I don't believe he was accusing the lad of greed.
In 2007, Benítez thought he had tied up a deal for a Brazilian wunderkind, who is now one of the world's hottest strikers, but through no fault of his own the player was not snapped up. Other top-class youngsters, also now at major English and European outfits, were in his office, but again, nothing happened quickly enough. The managers who bought these players were praised, but Benítez was in there first.
Alas, you (or rather, people at your club) snooze, you lose.
It's not just scouting great players, but having the ability to make the move happen. Everyone knows Rafa's frustrations at deals taking too long, and he has been under various owners who couldn't put in sufficient cash at any one time; certainly not compared with £100m summers for Chelsea (two years running) or City.
Despite a very promising first season, Ryan Babel hasn't lived up to expectations. So far, he's failing. But Man United paid a similar fee for Tosic, who's at the same age (22), yet has barely been near their first team. He cost £17m as part of a deal with a lesser light, and has played just two league games in his calendar year at the club. Nice luxury, eh?
That's before looking at Nani and Valencia, two other right wingers who cost more than Babel. Say what you want about Babel, but Nani has been worse. The difference is, with less money spent on the squad, Liverpool cannot afford to carry Babel, whereas United can carry Nani and Tosic.
Positional Sense
Not convinced? Read this:
There is only one single position for which Benítez has spent more on a player than Ferguson: right-back.
Both United centre-backs cost more than any of Liverpool's; the Reds' record for the position is Skrtel, at £6.5m, United's is £29m Ferdinand (add all four of Liverpool's together, and it still only equates to less than half of the Ferdinand fee). Vidic, another Benítez target, went for more money to United. Fair play, Alex.
The top left-back fees for both managers stands at around £7m. Ferguson definitely spent his better with Evra, although Liverpool now have Insua, who cost only £1m, and who recently made his Argentina debut at just 20. He's not in Evra's class yet, but maybe he's better than the Frenchman was at the same age. Then there's freebie Fabio Aurelio, recently called up by Brazil.
Reina, at £6m, cost more than the excellent Van der Sar (how many utterly crap keepers did Ferguson go through to get him?), but Reina has 13 years left ahead of him, compared with one or two for the United keeper. However, Fabien Barthez cost more than both, at £7.8m.
Both United's main strikers cost between £25m-£30m; Liverpool's record is £23m, on Torres.
In central midfield, Mascherano and Aquilani cost a fraction below £20m, as did Carrick, Anderson and Hargreaves; five more-or-less equally big signings, two for Liverpool versus three for United.
And of course, Ferguson once spent £28m on Seba Veron, that runaway success in the position. (I loved how the Times listed the £14m United got back as part of the reason Ferguson's net spend is lower. Classic. Losing £14m is good business if you pick an arbitrary and unequal starting point.
(Why not do the same and compare Harry Redknapp's spending at Spurs with Rafa's since he took charge around this time last season? In that time, Rafa is in profit, to the tune of around £18m. Redknapp is in debit, to the tune of approximately £50m. But that wouldn't be fair, would it?)
On the wings, I've already discussed Nani, Tosic and Valencia, while at £12.8m six years ago, Ronaldo still cost more than any Liverpool wide man (Babel being top, at £11.5m).
So that just leaves Glen Johnson, at right-back, as the one player who cost more than any Ferguson-bought equivalent in the same position (plus Van der Sar, if going purely on current squads).
But United aren't going to have it all their own way this season, as has been seen by their performances against Burnley, Manchester City, Sunderland and Liverpool. Despite costing in excess of £60m more than Liverpool's squad, it's not clear if United's depth is as strong as in recent seasons.
City and Chelsea
Now do the same at City and Chelsea. Both clubs' keepers cost more than Reina. Left-backs at both clubs cost more than any at Liverpool; Chelsea have two who cost more than double Dossena's fee, and indeed, double what all three Liverpool left-backs cost.
Both have centre-backs who cost around than three times the price of Liverpool's record for the position; City have two. Chelsea have a right-back in Boswinga who cost roughly the same as Johnson.
In midfield, Essien easily outstrips anything Liverpool have spent on the position, by a good £5m. John Obi Mikel, at £16m, is not cheap either, while the £11m paid for Frank Lampard in 2001 would be over £20m in today's money, and his wages are stellar.
Up front, Drogba cost more than Torres, as did Tevez, Robinho and Adebayor at City. Could Liverpool have a £17.5m signing like Santa Cruz simply to warm the bench? Or £18m Jo out on loan? That's even before considering the £12m-14m spent on Bellamy (who Liverpool had to sell to afford Torres).
Benítez has signed just two fairly expensive forwards since 2004 (still well short of the British record of £32.8m), but Robbie Keane, who failed, was then sold, for a fee that can, in time, equal what the club paid.
However, it appears that the manager did not get that money back to reinvest in the side. If he did, I can't work out why he had to pay £2m for a Greek centre-back when he wanted one of two more expensive English stoppers, in Turner and Upson.
Now, Arsenal are the other exception to this big-spending rule. Their squad costs less than Liverpool's, but their wage bill is higher.
However, they are also a 'yo-yo' club within the top four. Two seasons ago they were the outstanding team for two-thirds of the campaign but finished 3rd, perhaps due to a lack of depth; last season they started like Liverpool have this time around – hence Wenger's truthful comments about how ludicrous it is that Benítez has been getting such awful abuse.
Arsenal struggled last season with injuries, and therefore results. A World Cup-winning manager was sacked by Chelsea, yet he had neither Essien nor Drogba for most of his tenure; his replacement did really well, but he did have those two key figures. It's an easier game with world-class players, eh?
Even then they ended up with 83 points, three behind the Reds (who were supposedly a two-man team, but lacked one of those men half of the time).
The only two ultra-consistent teams in the past four years have been Chelsea and United; the two biggest payers who, until this season, also had the most expensive squads.
Liverpool have been the third-most consistent team in England in that time, ahead of Arsenal. And Liverpool have reached two Champions League Finals – more than Arsenal and Chelsea – and won one – also more than Arsenal and Chelsea.
Soccernomics
Again, please, everyone – go and read Soccernomics. And that applies to people being paid to write about the game.
A club's wage bill has been proven, through extensive studies dating over many seasons, to reflect where it finishes in the league, to an accuracy of 92%.
Liverpool have the 5th-highest wage bill, down from 4th last season. City have flown past, with several strikers on £100,000+ a week, even before getting to the sums being paid to Gareth Barry, Joleon Lescott, et al.
David Conn, the highly regarded writer at the Guardian who specialises in off the field issues, recently said "Liverpool's north American owners, Tom Hicks and George Gillett, have produced not a sod of the new stadium they arrived in 2007 with a promise to build, but have saddled Liverpool with debt, including the £174.1m cost of their own takeover. In the summer, they did manage to refinance their borrowings, reportedly with a commitment to reduce the £313m the club owed down to £250m. That was not an apparent boost to Rafael Benítez's transfer kitty, and still leaves Liverpool seriously stretched.
"In their 44,500-seat home, Liverpool have for years now been the relatively poor relations in the Premier League's top four; their income last year, £159m, was way below that of Arsenal and Chelsea, and almost £100m behind Manchester United, who loom as the next Premier League opponents at Anfield on Sunday."
Let's get back to squad costs, though.
In 2009, Benítez has sold Keane, Alonso, Arbeloa and Leto for a maximum of £57m (if Keane's bonuses are met).
At a time when he should have been able to strengthen the squad, to build upon last season's exploits, he has spent just £36m (rising to £39m). This is not through choice, as everyone knows. After all, who would not want to invest in his squad at a time like this?
Why is the club stalling this season? Aside from injuries and refereeing blunders (while both players and management also have to take their share of responsibility for those bad results), the squad has been left slightly lighter in numbers.
Net spend is important. But Liverpool could have sold Mascherano (who was until last week absent in mind) and not bought Aquilani (who's thus far been absent in body), and had exactly the same season, only with a far lower net spend. They could have sold Torres and Reina, too, and been mid-table, but Rafa massively in profit.
Let's remember: Ferguson has only had three months without Ronaldo, whose £80m fee now lessens his net spend massively, and yet whenever he's sent out a weakened team in the league since the winger's departure, they've either lost (Burnley), or somehow escaped (Sunderland).
And even their best team, missing only Darren Fletcher, was hopelessly lacking cutting edge at Anfield, against a Liverpool side lacking Gerrard and Aquilani, and with Torres not fully fit. (I accept that Aquilani is still an unknown quantity, but in theory he is in Rafa's strongest XI.)
A couple of years ago, United looked an awesome side, with Ronaldo, Rooney and Tevez attacking from all angles, and Scholes and Giggs still at the races; last year they won the title based mostly on defensive brilliance. This year, they've yet to impress me at all. That can all change, but it's yet to be seen if the profit Ferguson has made was the right thing for the team.
Their squad doesn't appear as strong as it was, but it hasn't been tested to its limits yet. A few more injuries, and we'll see.
Even so, Ferguson still has a far more expensive squad than Benítez, and a far higher wage bill. So that tells you the story of relative wealth.
If United can win the league this year without Ronaldo (and Tevez), then fair enough, that net spend will have at least some significance; but despite a good start, United have yet to 'achieve' anything after receiving that £80m. And according to the findings in Soccernomics, Liverpool should not be able to get close to United based on the most crucial factor in the sport.
I'm repeating this paragraph from another piece I wrote: Soccernomics, written in part by a Manchester United fan (the economist Steven Szymanski), concludes that although Alex Ferguson is a top manager, United's ability to have such a high wage bill during the Premiership years means that his success is only in proportion with what a man with his resources should achieve; not greater.
According to Soccernomics, wages are nine-tenths of the law. In that case, Liverpool overachieved last season. By some distance.
Szymanski and Kuper conclude that Player transfer fees are unreliable. For instance, Michael Ballack cost nothing, but is paid £121,000 a week, plus a hefty signing-on bonus. You can buy players cheaply or expensively, or have kids come through the ranks, but ultimately the best end up on high wages, or they leave.
See how much sense it makes now? My aim is not do disparage Ferguson, whose record demands (and gets) respect. It is simply to make sure Benítez is judged fairly. Until Liverpool can afford a wage bill to match the big payers, the economics of football dictate that no manager can win the club a league title.
When the roles were reversed 20 years ago, Ferguson's net spend was twice as high as Kenny Dalglish's. Yet United spent most of the first four years of Ferguson's tenure mid-table or below.
But of course, Ferguson had to spend big to try and close the gap. It took six years, and the departure of Dalglish, to do so.
Cost of Premiership Squads 2009/10
Despite the vital wages factor, having money to spend in the transfer market matters, too. And it's certainly something used against Benítez.
Within an accuracy of a few percent (given that transfers are hard to measure with 100% certainty), the following is a list of the most expensive Premiership squads.
Note: all fees are the maximum, when all clauses are met. Some figures have been updated since this piece was first published.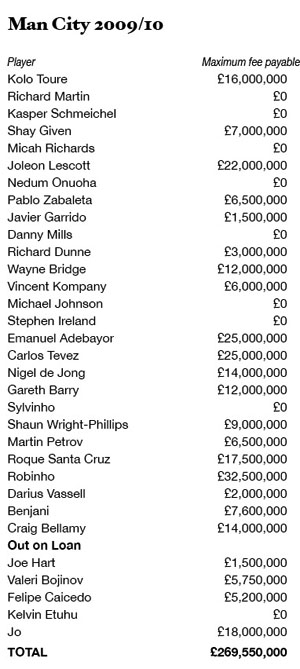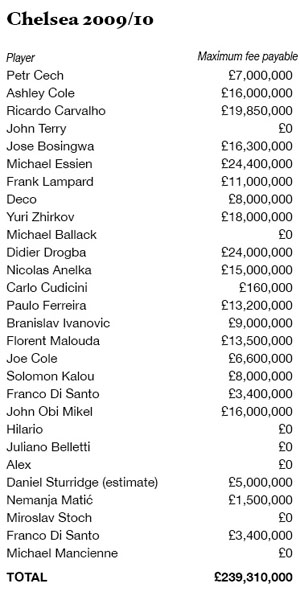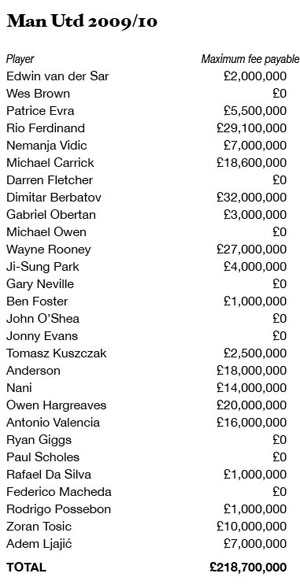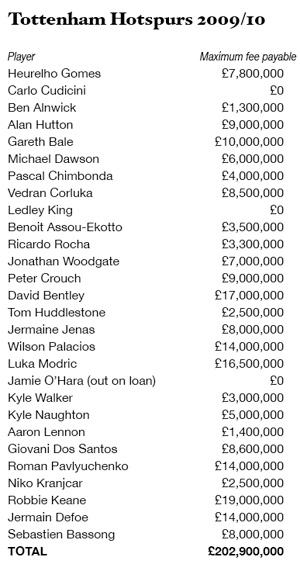 (With the above squad in mind, I found this from Harry Redknapp quite incredible. I've now updated it to include Kyle Naughton and Kyle Walker, and removed Chris Gunter)