This is a quick update on a previous article which originally appeared on my old blog.
Since Sunday I've been asked by a lot of people what David N'Gog's goal record is for Liverpool, based on minutes on the pitch.
Last season, excluding the Carling Cup, he played 452 minutes. In that time he scored three and was involved in three more, for a Goal Involvement rating of one every 75.33 minutes, and a goal every 150 minutes – still better than one every other game.
This season, taking into account all competitions (I've included the Carling Cup so far, as both Leeds and Arsenal away – tonight – are suitably tough fixtures), he has scored three, but has no other Goal Involvement of any kind.
His three goals have come in 208 minutes of football (excluding injury time). That is a goal every 69 minutes.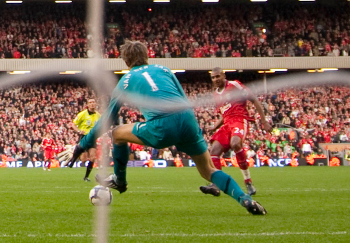 Overall, since arriving he has played 691 minutes of football, excluding injury time.
He has been involved in a goal every 77 minutes, and he has scored one every 115 minutes (or just under a goal for every "full game" playing time of 90 minutes).
Or six goals in roughly seven full games.
This rate has been inflated by lots of late appearances in 'dead' games, although it can sometimes be hard to get into the pace of a game as a sub, and also difficult if your own team has taken its foot off the pedal while cruising.
While it's incredibly unlikely that he could maintain such a world-class strike rate if starting matches regularly – certainly at this early stage of his career, and while still relatively new to English football – it shows that Benítez is right to have included him on the bench on numerous occasions. It also shows that rather than "David Who?", people should see him as a good member of the squad, with potential to get much better, and a veritable bargain at just £1.5m (for a man currently starring for the France U21 team).
Also, anyone who has seen N'Gog in the reserves in the past seven or eight months will attest to him being a class above anyone else in there, notching almost whenever he plays, and showing great all-round ability. He has at least been the equal of Nemeth at that level, and has added pace and height – although the Hungarian is a classier finisher.
(Then again, Fowler was a classier finisher than Shearer, but the latter's pace and power meant he could be even more prolific. Finishing is important, but quicker/stronger players can often get more chances. Hopefully Nemeth will return a more hardened predator after a year in European top division, to give Benítez a headache.)
In an ideal world, I'm sure Benítez would rather call upon established, full internationals from the bench, but neither Keane nor Crouch were happy doing so, and the Reds' relatively limited wage bill dictates that such players cannot be induced to sit on the sidelines. Hence N'Gog, and the talented but erratic and moody Voronin.
The criticism of N'Gog was that he hadn't scored many important or match-winning goals, but his great strike against a physically tough Leeds United team at Elland Road and now his game-killing goal against United (when he had a lot of time to think, and therefore panic), are now starting to be answered.
As such, 20-year-olds like Insua and N'Gog are an important way forward for Liverpool. Both have plenty of scope for improvement, but both are heading in the right direction.
And while I don't have the figures, I expect that a certain M.Owen of Manchester has not matched N'Gog's strike rate  (per-minute) for the season so far.
Note from member Matt Naylor: Own has scored 3 goals in 454 minutes of football, that's 1 every 151 minutes. Perhaps even more frightening for Manchester United fans is £32m man Dimitar Berbatov's 3 goals in 941 minutes or 1 goal every 5 hours or so!