Now that The Tomkins Times is over a month old, I wanted to first of all say thank you to everyone who has signed up, and look at ways at improving the site and taking things forward. We have a few further ideas in the pipeline, but it's been a crazy fortnight, as you can imagine.
The past couple of weeks were certainly not part of the plan!
First, hardened as I am to idiot reporting, I didn't expect the utter bile directed at Benítez, in some of the worst newspaper pieces I've ever had the misfortune to read, during what was an undeniably bad run of results. And second, I didn't expect to end up at Melwood, meeting the man in question, and getting what others might see as a world exclusive scoop, but which for me was just an absolute pleasure (and education).
This altered the balance between free and member pieces, with my need to set the record straight taking over from my need to provide exclusive content for Subscribers. However, members are getting some further analysis and answers to questions from me in the comments section, not to mention some frankly brilliant posts by other users. And those who are paying are helping support my writing, whether it's for them or for the wider world.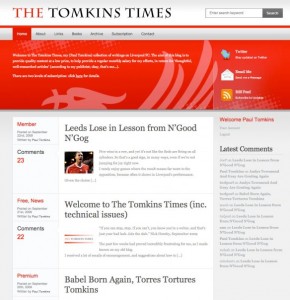 Things are settling down again after the United game, although there was still some utter tripe in the press in the aftermath. More fool me for expecting pumped-up fools who'd dug trenches to admit their mistakes. But hey, it feels less important to correct them when anyone could see how good the Reds were on Sunday, without key players to boot.
So my aim is to make available more public pieces in times of "crisis", and keep more for subscribers when things are relatively "normal". I have one further 3,000 word piece I wrote on Sunday morning (hyped up ahead of United game!) that I feel needs to be free for all, especially after that absolute turd of an article in the Times about Rafa's spending, but from then on I will hopefully do more only for those who are paying.
Any further suggestions, please list them below, and we'll see what we can do. Anu (Web Guru) has a few good ideas, and I want to make sure I can retain as many subscribers as possible. It is important for me that people don't feel cheated, and while most understand my situation, I don't have the right to expect that from everyone. Also, I don't take anyone's subscription for granted.
There is also a Members tab at the top of the page, where things can be brought to our attention. Either in this thread, or that link, post your feedback, good and bad, and your requests for us to (eventually!) look into.
Once again, thank you to all those who have posted excellent comments and analysis, to help make this site far more than I could have hoped for.