When a manager has less money to spend than his main rivals, and/or less time to build his dynasty and bring through the players his own youth system has helped develop, he needs a point of difference if he is to succeed. Copying the methods of a rival –– especially doing so with lower resources –– suggests he will remain chasing coattails; become a pale imitation, if you will. Something unique is required.
Arsène Wenger sticks to his unique principles, hoping that passing the ball better than anyone else will lead Arsenal to success. Or at least, passing the ball more quickly and more often. The distinction regarding the quality of passing is that Liverpool, not Arsenal, have the best collection of 'searching' passers in the country; the Gunners' game is more about the fast turnover of possession, with the manager making timing averages of how often the ball is exchanged.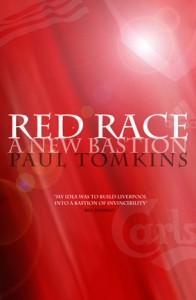 Wenger has also seemed intent on trying to bring through an entire team of youngsters, who, the theory goes, will mature together with incredible understanding and loyalty. Of course, it hasn't really worked –– as yet. But Barcelona's recent success was built on very similar lines.
Perhaps the difference is that players see Barcelona as the pinnacle, a place that they don't want to leave; Arsenal, while certainly one of the game's powerhouses, will always be somewhere players –– particularly those from the continent –– are willing to leave for the ultimate glamour clubs (just six months after arriving, Andrei Arshavin was quoted in the press as saying he wants to play for Barça, although anything written during the transfer window needs to be taken with a pinch of salt). In 2008, the Gunners lost Alexander Hleb to the Catalans, and Mathieu Flamini to AC Milan. A year earlier, Thierry Henry had also moved to Barcelona, although arguably once he'd passed his peak (recent form notwithstanding, when he's been excellent, but not quite his old stellar self).
A team will also reflect the identity and idiosyncrasies of its manager. Players will inject their own personalities, but a manager will naturally gravitate towards those players who match his ethos when dipping into the transfer market.
Like its manager, Manchester United are talented but hot-headed; passionate, but liable to combust, as the hairdryer blows a fuse. They play on the edge, often stepping over it, particularly in the era of Roy Keane and their snarling, pack intimidation of the referee. Eric Cantona was another of this type: brilliant, but totally bonkers. You could almost imagine Ferguson kung fu-kicking Mike Riley into row Z over the failure to award a penalty, so the two had similar anger issues.
By contrast, the current Liverpool sides mirror the traits of Rafa Benítez: they are the epitome of control. Controlled aggression, control of the ball, control of the game, and control of emotions. A good example is Steven Gerrard, who now fits this profile, but was very different before 2004. He has developed under the Spaniard's tutelage, to the point where he is arguably the best player in the world.
As Liverpool swept aside Aston Villa on 22nd March by no less than five goals to nil, Sky Sports seemed intent on criticising Benítez for not looking happy. Comments were made several times during and after the match, to the point of becoming tiresome. Did they want Rafa somersaulting onto the pitch, gyrating his hips and doing some kind of samba? Perhaps –– although like some lovelorn teenager, they claimed that all they wanted was a little smile.
Liverpool, with a squad that cost up to £80m less than United's last season, have less flair overall (although the chasm of a few seasons earlier has narrowed considerably, even before United lost Cristiano Ronaldo and Carlos Tevez), but, in 2008/09, you could have made a good case for Dirk Kuyt, who embodies Benítez's ethos, actually being a better man to have in your side than the preening Portuguese.
A few years ago, that would have seemed laughable. Even beyond laughable.
Even now, to most, that may probably seem the case. When things are going his way, Ronaldo is unstoppable. (And in fairness, he did end the season in top form.) When they aren't, he's like a spoilt brat. He pouts, he postures, he gesticulates, he dives and he feigns injury. The previous two summers were spent looking longingly at Real Madrid, in the most overt case of flirting seen since Peter Andre and Jordan acted like bonobo monkeys in the jungle.
Eventually he threw one too many toys out of the pram, and got his wish. But before leaving, he endangered United's season, and even when helping rescuing it in the final weeks, he endangered it once more with a bizarre tantrum at being taken off in order to be rested ahead of the imminent Champions League Final –– suggesting that he was more interested in the personal glory of winning the Golden Boot, which ended up going to Nicolas Anelka as the league's top scorer.
Dimitar Berbatov is another case in point. A decent amount of goals and, joint-second in the Premiership (with Steven Gerrard, Cesc Fabregas and Frank Lampard) on ten, a very good number of official assists –– as befits a target man in such an attack-minded side. And yet at times he showed all the enthusiasm of a snail after six sleeping pills. Continents shift with more visible enthusiasm. In terms of raw talent, the Bulgarian, like Ronaldo, is miles ahead of Dirk Kuyt. In terms of a desire to win, and support his team-mates, he's light years behind.
In the right team, Berbatov can thrive; while he didn't play consistently well as an individual, United still won the league, and with three more points than the side from the season before, which was seen as their best-ever vintage. He scored 14 goals in 42 games, although only nine in the league. Dirk Kuyt scored 15, with 12 coming in the league. He played nine more games (51) than Berbatov, but around 75% of his appearances came on the right of midfield.
The point is not to denigrate Berbatov, who is still one of the game's X-Factor players (whether or not he does enough in terms of effort and attitude, he didn't cost £32m without reason), but to demonstrate to those who continue to deride Kuyt that his contribution can at least be the equal of a £32m striker. Indeed, Kuyt has the opposite of star quality; he does little to 'wow' anyone.
But he does the unfashionable things brilliantly (you never see a YouTube video of running off the ball, or chasing back, or taking up clever positions, and rarely ones of goals scored simply by knowing to be in the right place at the right time and shunting the ball over the line with zero fuss or unnecessary embellishment). His contribution can be overlooked on the TV, but on first seeing him the flesh people always seem to remark at how he works even harder than they expected.
By winning the league with three more points than the previous season, Ferguson can claim Berbatov was worth the £32m, and that's hard to argue with. But Liverpool are now close on United's heels, and cannot boast such lavish signings. As such, a bit more guts and gusto is required at Anfield, to counter the more luxurious players Ferguson can afford. If United work hard –– and they do –– Liverpool have to work that little bit harder.
Liverpool's squad also cost far less than those of several other Premiership teams. So for the Reds, composure and discipline has to be a defining factor; a point of advantage over more expensive sides. The same applies to cold, hard tactics, rather than emotion and elaboration.
In other words, the very things Benítez is criticised for –– his emotional detachment, his head ruling his heart –– are the very things that make Liverpool genuine title challengers on far fewer resources.
Cristiano Ronaldo's ability is widely admired, but his behaviour is hard for neutrals (let alone Liverpool fans) to sympathise with. If Ronaldo was fouled too much, and not protected by referees, as claimed by both himself and Ferguson, then that needed to be addressed. Then again, Ronaldo's propensity to take elaborate dives and exaggerate contact cannot have helped him.
Talented players should be tackled, not hacked down –– just as Fernando Torres deserves far more protection than he often receives. Of course, the Spaniard tends to try and get even with the football, rather than the studs of his boot. Look at how Torres was fouled three times in a couple of seconds at Old Trafford in 2008, only for a foul to be given against him; when both he and Mascherano politely asked the referee why, the former was booked and the latter sent off. The Argentine almost certainly got what he deserved, because of the length of his protest –– he kept chipping away, and can have few complaints –– but the responses obscured the original baffling decision to not award Liverpool a clear free-kick.
Then there is the persistent inconsistency shown by the FA, who appear scared to fully censure United, dating back to their aggressive haranguing of referees in the '90s. Mascherano received a two-match ban following his dismissal, despite no foul or abusive language, but within a year Wayne Rooney only received a one-game ban, for an even worse 'crime' of hurling the ball very aggressively in the direction of the referee, refusing to leave the field upon the showing of the second yellow card (as he ranted at the ref), and punching the corner flag on his way off. Compare this with the behaviour of the Liverpool midfielder, and you can see that the England man, even though he also didn't swear, was far more out of control and aggressive than the Argentine.
It's not even as though Liverpool have a record of abusing referees or of ill-discipline; only Jamie Carragher tends to get verbal with them. So much for consistency, and so much for the 'respect' mandate. It only adds weight to Benítez's claims that Manchester United get away with more than other teams, on account of their manager's disdain for the FA and the power he holds within the English game. Yes, United do get censured, but they also get away with plenty, too. How Paul Scholes escaped a red card in the title-deciding match the previous season is still a mystery.
While Ronaldo and co. may have felt hard done by over certain rough-house tactics, the winger got away with no less than five kicks at opponents off the ball last season. Each should have been punished with a red card. None was. Some escapes led to United going on to win the match, often thanks to his subsequent input.
Then there are the horrible tackles, like that on Danny Murphy at Craven Cottage, that stemmed from frustration at things not going his way. The Portuguese winger, who never really even won the hearts and minds of the United faithful, should have spent much more of the season serving suspensions. The abiding memory of the Champions League Final was of Iniesta, Xavi and Messi stealing the show, and Ronaldo losing his temper with all and sundry, and resorting to bad challenges.
Let's not for one moment pretend that Liverpool don't foul or make bad tackles –– every team does, and almost every player makes at least a challenge or two that can best be described as 'ill-advised' –– but it's noticeable that since Benítez arrived, Steven Gerrard's red mists have become much, much rarer. Prior to 2004, Gerrard was culpable of some pretty unpleasant tackles, and of playing on instinct rather than thought.
Liverpool's disciplinary record is now excellent, and not by accident. Benítez's side look to harry and close down quickly, and get in the faces of the opposition, so they will concede free-kicks. But it has been more clumsy fouls, like those of Mascherano and Lucas, that have been the source of yellow cards, and the one red shown. Liverpool are clearly not a dirty side, nor one that harasses referees en masse. Again, this is a reflection of the manager. With Wayne Rooney, we've often heard the tired old line of "you can't take the devil out of him without compromising the talent"; in which case, why has Steven Gerrard improved by controlling his aggression and using his head more than his heart?
Daniel Taylor, who covers United for the Guardian, had a telling take on their defeat at Fulham. "What we saw on Saturday, when United finished the game with nine men, looked suspiciously like a side that was struggling to cope now the pressure is close to intolerable. OK, Paul Scholes's red card when he handled Bobby Zamora's goal-bound header, allowing Danny Murphy to put Fulham ahead from the penalty spot, was an instinctive reaction, something that can easily happen. But Wayne Rooney's sending-off came from a loss of self-control that, coupled with Cristiano Ronaldo's tiresome histrionics, epitomised United's lack of care and judgment.
"United's manager also complained about Rooney's second yellow card, when the forward picked up the ball and hurled it roughly in the direction, but actually a fair distance beyond, where United had a free-kick. "Did he throw the ball in anger? Yes, because he wanted the game to be hurried up," came Ferguson's defence. "Did he throw the ball at the ref? No, the ball went to where the free-kick was taken."
"Notwithstanding the fact that this was not true (the ball went past everyone and was not even close to a United player), the most important question was this: was Rooney asking for trouble? Dowd had already flashed six yellow cards and one red as well as warning Ronaldo he was one more misplaced word away from being sent off. Rooney's was a fit of pique, coming only two minutes after Zoltan Gera had hooked in the second goal, and he is fortunate that the FA is unlikely to take any action over the way he left the pitch, punching the corner flag as he went. Rooney is 23 now, not 18. He has been around long enough not to put himself in these situations."
Whereas Rooney is left unfettered, because of the belief that he needs to play on the edge to be successful, Gerrard has been shown how increased discipline can lead to better performances and fewer suspensions.
Again, this highlights the difference between Ferguson and Benítez. Each man has his faults as well as his strengths, but Benítez rarely gets the credit for the attitude he instils into his team.

Mr Duracell
For all his supposed shortcomings, and lingering critics, Dirk Kuyt is absolutely critical to the way Liverpool play. But better than Ronaldo during 2008/09? Quite possibly so.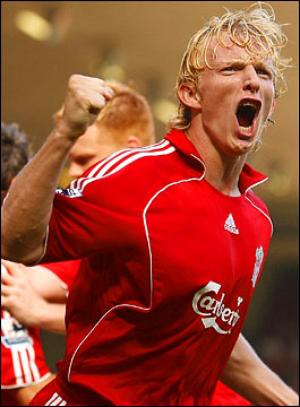 Kuyt works hard, both in and out of possession; he is clever, with good game intelligence, if not overtly blessed with skill; he is versatile, meaning he can move about the pitch and perform to a high standard as the game ebbs and flows; and his control, while occasionally sloppy, is very underrated. Perhaps he has to concentrate on his control more than other players, but for the most part he deals with balls whipped to the wing with aplomb. (Where his control isn't quite good enough at times is when he has his back to goal as a centre-forward, when even the slightest lapse in control allows one of three opponents –– either one of the centre backs or the holding midfielder –– to steal it away.)
Crucially, given the role he now plays, he can deliver real quality into the box. He may not beat his man to get the delivery in, but David Beckham was a master at just delivering the ball without bothering to attempt tricks; it's the ball needs to beat the man, after all. Kuyt's delivery isn't as good as Beckham's, but he has a centre-forward's knack of knowing where the man in the middle wants the ball.
Above all else, he never gives up. And that is vital; better players will throw in the towel and not deliver when the chips are down, but not the Dutchman. He is a man of substance, not a prima donna. It was no coincidence that he was involved in many of the late escapes seen throughout the campaign. Gary McAllister noted that "Dirk Kuyt is a player who is not as pure on the eye as some but he's had a fantastic season."
Kuyt's value was never more apparent than last season, when he finished as the league's 6th-top scorer, and it's 6th-top official assist-maker, with not one single winger ahead of him in this latter category. Given that he doesn't take corners or free-kicks, which helped other players rack up assists, or indeed take penalties, which boosted the tallies of the players ahead of him in the scoring chart, that's a great contribution, even before considering his work-rate and general team ethic.
While Ronaldo outscored Kuyt, he would not have done so without the aid of set pieces. Of course, he deserves great credit for the way he takes free-kicks, with incredible swerve; the Dutchman certainly couldn't match him in that respect. But free-kicks and penalties can be taken by players who make no other effort in the match. And when it comes to penalties, Kuyt has a 100% record for the club, including some of the most high-pressure kicks imaginable (Champions League semi-final shootout, plus two vital ones away at Everton, including a last-minute spot-kick to win the game). Kuyt has to defer to Gerrard and Alonso, but if he didn't –– and it's not due to his own deficiencies –– he could quite realistically have ended up with 23-25 goals this season, just shy of Ronaldo's tally. From open play, Kuyt scored more goals than Ronaldo. He also directly created more for others. And he worked harder than the Portuguese, by some distance. Both scored important goals, but Kuyt really delivered at crucial times in crucial matches throughout the season, not just in the run-in. Vitally, Kuyt lifted those around him by the example he set.
In FourFourTwo magazine, in a section about Johan Cruyff's outmoded desire to see all teams play with two wingers, Dutch football write Simon Kuper noted: "Nowadays, players run three times as many kilometres per game as in the 1970s [when Cruyff developed his ideas]. When players like Dirk Kuyt or Gianluca Zambrotta can play in two positions at once, it doesn't make sense to post a stationary winger waiting by the touchline for the ball all game."
The Daily Mail's Martin Samuel, one of the few enlightened journalists on the subject, wrote (in a piece that related to the way England now want to play) in March 2009 that "[Kuyt] … is the changing face of modern football. The striker comes out of the space and the midfield and wide players flood into it. What Capello wants from his wide forward, Kuyt has been doing for years now, often to little credit. His work ethic, unselfishness and ability to operate in a netherworld between the touchline, forward line and midfield make him the epitome of the modern attacker. Kuyt will never have an FA Cup final named after him like Gerrard or draw comparisons with Pele as Rooney did in Portugal but at the top of his game for Liverpool, pound for pound, he continues to punch his weight against the best of them. He knows what his manager wants and he delivers it without ego or introspection."
It might not make him worth £80m, but to Liverpool at least, Dirk Kuyt remains priceless.