Bob Paisley: "Believe it or not the most thrilling experience of my life has nothing to do with football! It was the unforgettable sight of Vesuvius in eruption while stationed near Naples during the war. The most pleasurable experience is a football one, and came when I won an Amateur Cup Final with Bishop Auckland in 1939. Though I hope to have a few more seasons still in senior football, I am studying to be a physiotherapist and masseur when my playing days are over. We married men have to look to the future, you know. Cricket and golf are my summer games, and "thrillers" my favourite reading matter."
Derby matches are usually so tight that it is remarkable indeed when one of the clubs has the satisfaction of really thrashing their neighbours. But to score 5 away from home, and it could have been 10, is rare indeed. Sure, Liverpool had a GREAT team at this time whereas their city rivals were still a few years short of becoming a real force in the land again. But Welshman Ian Rush was the man who destroyed his boyhood heroes with the most clinical display of finishing that could have been seen in a match of such importance. His pace and accuracy tore the home team apart.
The First Time : Saturday 23rd August 1969
I had been to Anfield before … but only to sit down. In any case my opportunities for going were limited because although my home was between Chester and Liverpool my school was 200 miles away in south-west England. But the day finally came when I was allowed to travel to Liverpool on my own and it was with great excitement that I boarded the bus which would take me from Chester up to Birkenhead. From there I took the ferry across to Liverpool and then another bus up to Anfield from the Pier Head.
In a bygone era, before the internet or, indeed the luxury of TV and when a foreign player was considered one born in Ireland, Scotland or Wales, Liverpool's first representative in a World Cup was Laurie Hughes, a scouser who had signed for the club in 1943. The Second World War was still being waged at this stage and so Hughes would not make his league debut until 1946 – a year after the conflict finally ended. Hughes, or 'Big Lol' as he came to be known, was an uncompromising but skilled central defender who was comfortable with the ball at his feet. By 1950, when the first World Cup in twelve years was ready to kick off in Brazil, Hughes had established himself as one of the top flight's finest defenders and was the only Liverpool player called up for what would prove to be an ill-fated campaign. For 'Big Lol' in particular, it was a strange year – for Liverpool, he took the place of one Bob Paisley as the Reds were vanquished by Arsenal in the FA Cup final and then flew to South America to make his international debut. His career in the white of England would last three games; the cataclysmic 1-0 loss to the USA in the tournament resulted in an early departure and probably cost Hughes further caps. He remains the only England international whose appearances began and ended at a tournament.
Thirty years ago today, Liverpool and Juventus met in the European Cup final in Brussels. It was our fifth European Cup final in nine years, having won the first four.
Thirty-nine people died in the Heysel Stadium when a wall collapsed following fighting on the terraces. Most of them were Italians and supporters of Juventus but there were also four Belgians, two French and one from Northern Ireland.
Thirty years later, rival fans still sing 'Justice for the 39' and ''Murderers' to us.
We are still tainted by and taunted for Heysel – the forgotten tragedy.
Videos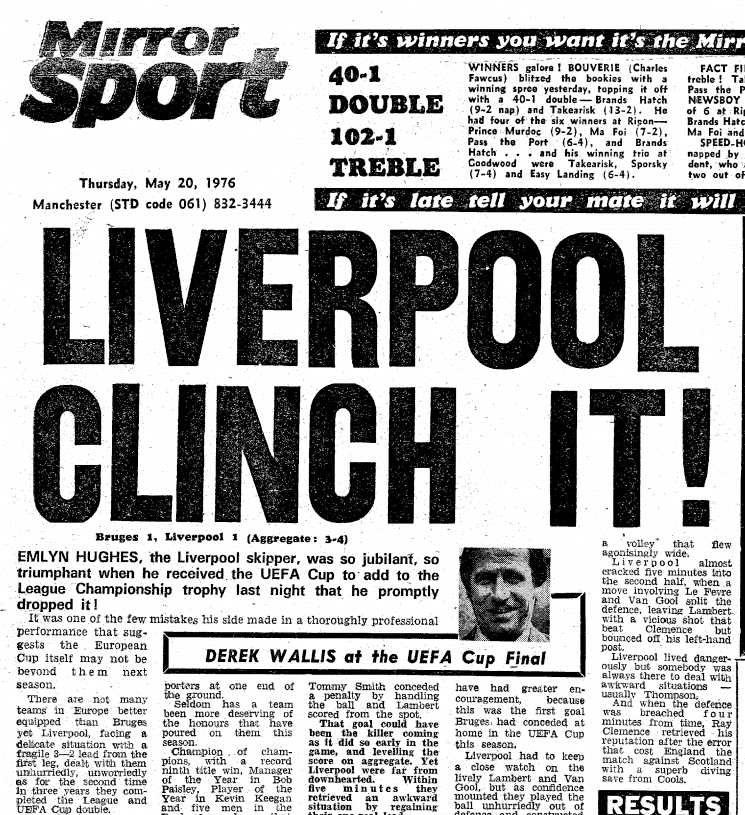 The championship was won in dramatic style at Wolverhampton and Liverpool set off for Belgium knowing that if they could hold out for a draw the trophy would be theirs for a second time. But again there was an early shock. Tommy Smith was penalised for handball and Lambert drove the penalty out of Clemence's reach. But Liverpool's reply was instant. A free-kick on the edge of the box was touched sideways by Hughes for Keegan to drive into the net. The rest of the game was pretty even but as time wore on Bruges put more into attack and Liverpool not surprisingly more into defence, knowing that a draw would be enough on the night. There were still some heart-stopping moments though – one shot against a post and a cross a few minutes from time which eluded players from both sides when only a touch would probably have resulted in a goal. The final whistle was greeted with great joy by the thousands of Liverpool fans who had made the short journey across the Channel and Emlyn Hughes stepped proudly forward to receive the trophy and complete the club's second League and UEFA cup 'double' in four seasons.
Liverpool Daily Post report – ENGLAND can be proud of Liverpool. Merseyside certainly is. In becoming the second English side to bring the European Cup home, they comprehensively accounted for Borussia Moenchengladbach. In the end the scoreboard said it all with just one word in capital letters – LIVERPOOL.. Emlyn Hughes and his team of heroes will never forget this night in Rome, for the massed thousands gave them a tremendous salutation as they paraded the cup before them.
Liverpool, playing marvellously co-ordinated football at times, became the European Cup when they defeated Bruges, the Belgian champions, 1-0 at Wembley last night to rapturous accompaniment from their supporters, whose songs of rejoicing rang loud and long into a warm, clear London night.
After struggling for a time to disentangle themselves from their opponents tight marking and outwit their offside tactics. Liverpool's football found something, though by no means all, of the quality of Rome where they won the European Cup a year ago. Birger Jensen, Bruges' Danish goalkeeper, thwarted them for a time but 25 minutes from the end, Kenny Dalglish won Liverpool the match with his 30th goal of the season, and apart from one precarious moment when the ball was cleared off the line, it was all over bar the singing.
If Liverpool did not achieve quite the simple, ritualistic victory that many had expected and while none of their players became the dominant figure that Kevin Keegan had been in Rome, they still produced an impressively intelligent performance which in some ways was more creditable than their defeat of Borussia Moenchengladbach, who fell far below their potential.
Bruges were more awkward opponents. They were without Courant's skilful influence in midfield and the possibility of the injured Lambert making an appearance in attack could only have been a rumour put about to disconcert the enemy. lacking two such important players, they decided to concentrate on stifling Liverpool's movements with dedicated man-to-man marking and an offside trap ever improving in efficiency. (Guardian)
In the final, Liverpool would meet Real Madrid who also had a close encounter in their semi-final. Real had looked to be in a comfortable position after the first leg in Madrid when goals from Santillana and Juanito had given them a 2-0 lead to take to Italy, but Inter had been in no mood to accept defeat. In a packed San Siro Internazionale took the game to Real and broke through on 57 minutes through Graziano Bini, but with Stielike and Camacho on top form, Real held on until the final whistle to record a famous victory. Few would have believed, after Real's sixth European Cup win in 1966, that it would take 15 years before they reached European football's showpiece game again, but this was to be their first appearance since beating Partizan Belgrade in Brussels, and with Liverpool being their opponents, football fans around the continent looked forward to what promised to be a classic encounter. (European Cup History)
Alan Kennedy, the match-winning hero of Paris in 1981, gave Liverpool the most dramatic European Cup victory of all time in Rome last night. After the game's most coveted prize had been reduced to a penalty shoot-out, the veteran fullback blasted home to bring the trophy back to Anfield for a fourth time. Ironically the man who broke a million Italian hearts was the legendary national hero Graziani, who blazed high over the crossbar with Roma's fourth kick to seal their fate. This most haphazard end to a night of high drama began sensationally when Liverpool substitute Steve Nicol drove high and wide with the first kick. (Liverpool Daily Post)
Paolo Maldini wasn't just holding the trophy at halftime, he was planning his fifth acceptance speech. What he never foresaw was the homing device triggered by 35,000 Liverpool fans in the Ataturk Stadium who inspired their side to transform the most humiliating night in their history to the most triumphant. The European Cup didn't fancy Paolo. She wanted Steven but it took a series of remarkable chat-up lines from the Liverpool manager to ensure his skipper got his wicked way. The only reason Liverpool weren't fatally wounded by a first half blitz is the fortunate fact immortals can't be destroyed. Gerrard and company have rewritten football "possibilities" throughout this campaign but even the heroic efforts of Olympiakos, Juventus and Chelsea were rendered insignificant compared to this. It shouldn't have happened. Some of us aren't convinced it did. Only the pinch marks confirm it. We thought it was all over. It wasn't. (Liverpool Echo)
(A must read series of articles chronicling the Reds' few ups and many downs since Sky invented football.)
Looking back from our current vantage point, the world in 1992 – both footballing and in a larger sense – was at once familiar and strange. The toppling of the Berlin Wall had symbolically ushered in the end of communism only a couple of years previously. A coalition of western and Arab countries, under the virtual hegemony of the United States, had launched Operation Desert Storm the previous year, forcing Saddam Hussein's Iraq out of Kuwait. Nelson Mandela had recently been released from prison as the apartheid regime in South Africa was finally toppled. Bosnia – Herzegovina declared full independence and the Balkan Wars started in Eastern Europe; a harrowing conflict that would result in mass genocide and, eventually, UN intervention. In the UK, the divisive reign of Margaret Thatcher had ended two years previously after mass demonstrations against the introduction of the hated Poll Tax but political and social turmoil continued to rage, culminating in a three day riot in Bristol a month before the inaugural Premier League season kicked off.