By Anthony Stanley (TTT Subscriber Dannyluke10).
The proud heritage and history that Liverpool, as a football club, possesses is reflected in the fact that, since the World Cup began in 1930, only Manchester United has had more representatives at the tournament from English clubs. Liverpool have had sixty seven of their players named in World Cup squads while our northern rivals have had eighty three (of the other top six clubs in England, it reads: Spurs: fifty one, Arsenal: sixty three, Chelsea: sixty and Manchester City: thirty seven). But Liverpool players have a curiously underwhelming record while playing for their country in international football's premier competition; only Sir Roger Hunt and Fernando Torres have made any significant contribution to a World Cup-winning side while on the club's books and in the case of the latter he was patently on the way out of the club. In terms of pure winners, this doesn't compare too badly to our English rivals; Arsenal has had three players who have performed the feat while United have had four.  But, as will be elaborated below, our players have just not had the greatest of times in the summer months combatting for the golden trophy.  The fact that the Reds were relatively late to the party of globalisation can be directly reflected by our players' performances in World Cups; up until the nineties (when we seemed to rummage in Scandinavia for potential deals), Liverpool drew heavily from the talent pools of the British Isles and it took the arrival of Gerard Houllier and Rafa Benitez to truly thrust the Reds into proper footballing cultural diversity. Considering the talent that has come and gone through the ranks of the club, one word could probably sum up the history of Liverpool players in the World Cup: underwhelming. Given the particular idiosyncrasies of Kopites (Scouse first, English second), it makes for some interesting parallels.
In a bygone era, before the internet or, indeed the luxury of TV and when a foreign player was considered one born in Ireland, Scotland or Wales, Liverpool's first representative in a World Cup was Laurie Hughes, a scouser who had signed for the club in 1943. The Second World War was still being waged at this stage and so Hughes would not make his league debut until 1946 – a year after the conflict finally ended. Hughes, or 'Big Lol' as he came to be known, was an uncompromising but skilled central defender who was comfortable with the ball at his feet. By 1950, when the first World Cup in twelve years was ready to kick off in Brazil, Hughes had established himself as one of the top flight's finest defenders and was the only Liverpool player called up for what would prove to be an ill-fated campaign. For 'Big Lol' in particular, it was a strange year – for Liverpool, he took the place of one Bob Paisley as the Reds were vanquished by Arsenal in the FA Cup final and then flew to South America to make his international debut. His career in the white of England would last three games; the cataclysmic 1-0 loss to the USA in the tournament resulted in an early departure and probably cost Hughes further caps. He remains the only England international whose appearances began and ended at a tournament.
Four years later, when the competition was held in Switzerland, Liverpool did not have a single representative at the tournament. It was a year of ignominy for the Reds; by the end of the season they were consigned to the Second Division, ending an eight-year stay at England's top table. Here they would stay until Shankly brought them back to the First Division in 1962. However, being banished to the Second Division wasn't quite the sentence it has become now. Wages were more commensurate with the 'normal' English worker and the £20 wage cap was still in place (it would not be until 1961 that this would be abolished after a lengthy war of attrition by Jimmy Hill and Ray Crawford). Indeed, despite plying his trade in the second tier, the next Liverpool player to star in a World Cup was Alan A'Court, who played three times for the national team in the 1958 World Cup, held in Sweden. Initially, and just prior to the tournament, Walter Winterbottom called A'Court up as a replacement for Tom Finney, despite the former having scored a mere six goals in forty four appearances – and this outside the top flight. But he was, in the words of John Williams, 'a sparky left winger with a fierce shot … an undoubted star in a weak Liverpool team'. The Prescott born player's appearances in Sweden were hardly joyous however; England bowed out at the group stage after drawing with the Soviet Union, Austria and, eventual winners, Brazil. But it should be noted that A'Court had a distinguished career with the Reds; by the time he was only 24 he had appeared in over 200 league games for Liverpool and would actually go on to play in the Reds' first ever European tie against KR Reykjavik in 1964.
Another Liverpool player also took part in the tournament in Sweden, the Scottish goalkeeper Tommy Younger, who had been signed from Hibernian for £9000 in 1956. He was Scotland's captain as they finished bottom of their group; a creditable draw with Yugoslavia was followed by defeats to Paraguay and France, the latter in which Juste Fontaine, on his way to securing a record breaking haul for a single tournament, scored the winner. After the competition, Younger headed back north to take up a player/manager role with Falkirk.
In 1962, the World Cup returned to South America as Chile hosted the tournament. Liverpool had one representative at the tournament; the prolific Roger Hunt. As Shankly led the Reds back to the top tier of English football, Hunt had played a starring role, scoring 41 league goals. However, he was not selected to play in this particular competition, though happier times for him – and England – were only a few years away. But in Chile, Roger Hunt looked on as England gave their best performance in a World Cup to date; they were eventually knocked out by eventual winners Brazil in the quarter finals, Garrincha and Vava securing the Samba Boys' win – hardly a disgrace.
1966 was of course a seminal year in the history of the English game – Liverpool won their seventh league title, and their second under Shankly. Hunt had scored 30 league goals and was now firmly entrenched as an England international, despite stiff competition. Three Liverpool players were in the England squad that would go on to lift the Jules Rimet trophy on their own soil; Hunt was joined by Ian Callaghan and Gerry Byrne. Though Callaghan played in the first game against France, he would ultimately be left out as Ramsey's 'wingless wonders' began to evolve – Alan Ball was seen as a more industrious worker than the affable and likeable Callaghan. But the scouser was a true legend for the Reds and would win five league titles, two FA Cups, two UEFA Cups and two European Cups playing for his beloved Liverpool. Having made his debut in 1959, he was still going strong in the Reds' midfield nearly twenty years later. Gerry Byrne didn't play in the tournament in England but had already secured his place in the hearts of Kopites everywhere when he had played the 1965 FA Cup final with a broken collar bone, sustained early in the game. This being before substitutes were permitted, Byrne played the game and extra time as Liverpool eventually overcame Leeds United – he even managed to set up a goal for Hunt with one of his foraging runs from the left. Try that for size, Ashley.
Little elaboration is needed to describe Sir Roger Hunt's stunning Liverpool career (245 goals in 492 appearances) but 1966 was undoubtedly the zenith of his international one. He was an ever present and scored three goals as England finally secured the ultimate international prize. (For any who don't know, he's the one who turns away, arm aloft in celebration, as THAT shot from Geoff Hurst bounced down from the crossbar – Ed).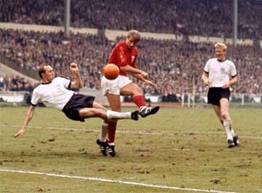 Sir Roger, World Cup winner
The 1970 World Cup that was held in Mexico is, of course, cited by many as the ultimate in glorious football and the apotheosis of what the competition should be. Though the romance of watching exotic players on colour TV for the first time has probably resulted, for some generations, in looking back through a prism of slight exaggeration, England arguably had a more complete squad than the winners of four years previously. But they only had one player from Liverpool in the squad – the twenty two year old Emlyn Hughes who didn't play a single minute of any game in the stifling heat of the Mexican sun. Though he would later go on to enjoy phenomenal success as Liverpool's captain, his England career, like others such as Trevor Brooking and our own Kevin Keegan, was blighted by bad, unfortunate timing; England would not qualify for another World Cup for twelve years.
In 1974 in West Germany however, there was a representative from the Reds – 27 year old Scottish midfielder Peter Cormack. Signed by Shankly from Nottingham Forrest in 1972, he played for the Reds for three years, winning two league titles, two UEFA cups and an FA Cup. In total he played 125 times for Liverpool, scoring 21 goals before losing his place to an up-and-coming Ray Kennedy. As the total football of Holland lit up the perpetual hovering storm clouds and torrential rain in West Germany, but eventually succumbed to the pragmatism of their hosts (and their own, possibly historically influenced, self-indulgence), Cormack was an ever-present as the Scottish team recorded the first of their 'glorious failures' in the tournament. Unbeaten against Brazil and Yugoslavia, and after beating Zaire 2-0, they went out of the competition on goal difference.
Four years later in Argentina, it was again Scotland who flew the Scouse flag, boasting two genuine legends of the club in their ranks; Kenny Dalglish and Graeme Souness. Led by the jingoistic Ally MacLeod, the Scottish squad flew off to South America finding themselves in the strange circumstances of being lionised by the entirety of the British media. After being asked what he planned to do after the World Cup, MacLeod famously quipped: "retain it". The scene was set for another episode of glorious failure. Defeat to Peru and an uninspiring draw with Iran meant they had to beat the Dutch by three clear goals. Our own King Kenny scored in a stunning win but the 'too little, too late' 3-2 victory was best exemplified by someone who looked like a school janitor scoring a spectacular individual goal to briefly give the whole of Britain something to cheer for. Alas, it was not to be, and Souness and Dalglish flew back to Liverpool and more unbridled success.
England made a return to the tournament in 1982 and this was, to date, the World Cup which featured the most Liverpool players; Dalglish and Souness were now joined by Alan Hansen wearing the Tartan blue while England had the Liverpool pair of Terry McDermott and Phil Thompson in their ranks. All of the above players were bona fide stalwarts for their clubs; heroes with countless accolades and honours accrued while wearing a red jersey. In dusky Spain, however, it was again strangely underwhelming. Despite playing in every qualifier for England, McDermott was left kicking his heels on the bench for the whole tournament. Phil Thompson was an ever-present in defence but England were eliminated at the second group stage – despite remaining unbeaten in the competition. The Scottish Liverpool triumvirate fared even worse; Alan Hansen, who would go on to captain Liverpool to countless trophies, collided with Willie Miller against the USSR, allowing Ramoz Shengelia to score. It was the death knell for their prospects of advancing beyond the first group stage. Souness played all three games and acquitted himself well, scoring his first international goal in the same match. King Kenny again managed to get on the score sheet – a well taken finish against New Zealand – but that was as good as it got for him and Scotland. The whisperings that would be tritely said about him and other Liverpool players, that he didn't do it for his country, were beginning to gather pace.
The World Cup returned to Mexico in 1986 and Liverpool had two representatives at this particular tournament; Jan Molby from the exciting Danish debutants and the Scot, Steve Nicol. Alan Hansen had been left out by Alex Ferguson who questioned his commitment and Kenny Dalglish had pulled out through injury (the synchronicity of this had given Ferguson some barely needed ammunition to mutter about conspiracies). England didn't have one single Liverpool player in their ranks; a strange anomaly that would become more widespread within the domestic game and elsewhere in Europe, as football became increasingly internationalised over the next two decades. But the Reds drew hugely from Welsh, Irish and Scottish reservoirs as they clinched the double in Kenny's first season; Steve McMahon was the only Englishman who took part in the 1986 final against Everton, for example, and even that was as a substitute.
Nicol played in every game as the Scots again bowed out at the group stage, beaten by the Germans and managing a draw against a cynical Uruguayan team. They also lost to Jan Molby's Denmark. Molby, however, didn't start any games for the Danes as they crushed all in their group before becoming spectacularly unstuck against a mediocre Spanish side. Both players would carve out fine Liverpool careers post-Mexico, the Scot distinguishing himself as one of the finest (and most versatile) defenders of his generation. Molby, owing largely to off the pitch issues, never quite hit the heights that his talent suggested he was capable of.
Italia '90 kicked off four years later to the strains of Pavarotti's Nessun Dorma and with an air of cynicism. Time wasting and long punts from a keeper's hands following a back pass were now the order of the day. Shocked by the sterility of their flagship, FIFA would eventually act and ban the back pass and this would go some way to explaining the explosion in footballing popularity that occurred during the nineties in England. But arguably just as important, at least in the short term, was the tears of Paul Gascoigne as a nation fell in love with football again, through the weeping of the so called best English player of his generation. Never mind the fact that the actual best player of his generation had been suspended for the match that inspired the crying; that John Barnes missed the match is almost forgotten now. Barnes had a solid if unspectacular tournament and was shackled by a combination of playing with inferior players and brutal, cynical defending but could be deemed unfortunate not to have had more of a spectacular impact. He scored what should have been the winner against Belgium but this was harshly adjudged to be offside, minutes before David Platt secured his future on Italian soil with a memorable, hooked winner. Steve McMahon fared less well than his club colleague, gifting the Republic of Ireland an equaliser in the first group game. Peter Beardsley, who four years previously (while playing for Newcastle) had been instrumental in earning Gary Lineker a move to Barcelona, also featured but never got close to his Mexican heights.
The Irish also supplied three Liverpool players as, in their first ever World Cup, they bounced all the way to the Quarter Finals in Rome. Ray Houghton and Steve Staunton featured heavily but Ronnie Whelan was essentially sacrificed for Jack Charlton's Neanderthal mode of football. John Aldridge, months after his move to Real Sociedad from the Reds, also played his part but none of the four players came close to recapturing their club form, a consequence of the tactics of their Geordie manager which owed much to the dinosaur idea of POMO (Position of Maximum Opportunity), which had been advocated by Charles Hughes and championed by the likes of Howard Wilkinson and Graham Taylor; thankfully the change in the back pass rule would make this largely obsolete.
Liverpool's Glen Hysen captained Sweden to a miserable three defeats out of three. Hysen had been a stylish arrival from Fiorentina and had played his part in Liverpool regaining the league title. A combination of factors, not least the resignation of King Kenny and the subsequent arrival of Souness, led to him returning to Sweden to finish his playing career.
One other Liverpool player took part in the tournament. Gary Gillespie, who would win three league titles and two FA Cups with the Reds was part of the now almost traditional Scottish disaster. After being catastrophically beaten by Costa Rica in the opener, the Scots rallied and beat the Swedes before narrowly losing to Brazil.
In all, eight Liverpool players took part in the competition, a new high, although the results were, at best, mixed.
1994 and the last frontier of football was finally conquered as the party headed to the US, unfortunately without England. Liverpool were represented at the tournament by two players; the evergreen Ronnie Whelan who hardly played for Ireland and the Norwegian left back Stig Inge Bjornebye. Norway's tournament was as inauspicious as his early Liverpool career but Bjornebye eventually prospered under Roy Evans making 139 appearances for the Reds.
England had regained their place at the tournament as the World Cup kicked off in France four years later with three Liverpool players in their final squad; Paul Ince, Steve McManaman and the prodigious Michael Owen. The latter would of course write himself into World Cup folklore (and possibly, embryonically, out of Liverpool hearts) with a mesmerising goal in St Étienne and he made a mockery of Hoddle's almost wilful refusal to start him. By the end of the tournament the teenager was the hottest property in world football. Ince was steady if unspectacular and, the soon to be departing McManaman, a bit-part player, being overlooked in favour of Darren Anderton.
Bjornebye was joined by Oyvind Leonhardsen in flying the Reds' flag and they achieved one of the results of the tournament, beating the favourites Brazil in the State Velodrome before being knocked out by Italy. Brad Friedel was also still a Liverpool player as he kept goal for the USA who finished bottom of their group. It was symptomatic of the complete reversal of the domestic game that, while Spurs called on the services of Jurgen Klinsmann and Chelsea a World Cup winner in Frank Leboeuf, we made do with the likes of Leonhardsen and Friedel. Kopites were given a lift by the form of Michael Owen but we all wondered was he more England's than ours.
By the time of the next World Cup in Japan/Korea, Owen had been crowned European Player of the Year – the first Liverpool player to do so since Kevin Keegan. His performances in a white jersey in Munich probably went a long way to secure the coveted prize but he had also played a spectacular role in our Treble season – particularly in the FA Cup final. But the coltish boy wonder of France had been replaced in the public consciousness by the media and agent created Frankenstein of David Beckham. The shadow of a metatarsal hung over the English collective psyche as Owen, almost under the radar, scored two expertly finished goals. His Liverpool strike partner, Emile Heskey, the only other English representative, also managed a goal against Denmark.
Perhaps 2002 is most notable from a Liverpool perspective for the signing of two Senegalese, El Hadji Diouf and Salif Diao (contrary to popular belief, they were signed before the tournament began); the duo became synonymous with the Reds' inability to improve on the previous season's runners up position, and in the case of the former, became one of the most reviled to ever don the red. Kopites watched Diouf tear the reigning world champions apart in Senegal's opener and slavered at the player we had acquired – how little we knew then.
Dietmar Hamann, an unqualified successful signing from the Houllier reign, was monumental in the tournament as Germany unexpectedly reached the final before being overwhelmed by a reborn Ronaldo. The defensive midfield lynchpin left the tournament with his already formidable reputation enhanced.
The same could not be said for Jerzy Dudek however. The Pole had enjoyed a stellar debut season for the Reds but was calamitous in Korea and Japan as Poland conceded seven goals on their way to finishing bottom of their group. In some ways, this tournament could be called the beginning of the end of Dudek's Anfield career as he never seemed to regain his confidence (although there was one hell of a swansong).
When the festivities kicked off again in Germany, Dudek had been replaced, not only in the Liverpool goal, but by Artur Boruc in the Polish defence. No fewer than four English Reds made the trip; Jamie Carragher, Scott Carson, Peter Crouch and Steven Gerrard. The latter two both performed well; Crouch scoring the winner against the mighty Trinidad and Tobago in a laboured performance. Gerrard finished the tournament as England's top scorer, also netting against Trinidad and Tobago and adding another against Sweden. Jamie Carragher, a colossus in the heart of the Reds' defence, played a few minutes and missed a penalty in a shootout. Carson, of whom so much was expected when he first signed for Liverpool, was Paul Robinson's understudy and failed to play a game as England eventually crashed out to the Portugal of winking Ronaldo.
The rapidly maturing Spanish side featured three of Rafa's most successful signings; Xabi Alonso, Luis Garcia and Pepe Reina. Of these, only one played with any regularity as Xabi scored in the Spaniards opening victory against the Ukraine. They were then promptly knocked out of the tournament by France.
Two other Liverpool players took part in the German proceedings but neither exactly covered themselves in glory – either on Teutonic soil or in a Red shirt – Harry Kewell and Jan Kromkamp from Australia and the Netherlands respectively.
Comparatively and numerically, Liverpool kept the best for last. In South Africa in 2010, only Barcelona were better represented as Liverpool had twelve players at the party. Fabio Capello selected Steven Gerrard and also managed to coax Jamie Carragher out of retirement. The Bootle born defender played two of the opening games before being replaced by Matthew Upson as England were destroyed by Germany. Gerrard captained the side who were, quite simply, awful.
For the first time ever, Liverpool had two Argentines at the competition; Javier Mascherano and Maxi Rodriguez. The former was a midfield powerhouse for Liverpool and played a major part in the Reds securing a second place finish in the Premier League in 2009 and he captained the South Americans to a quarter final clash with Germany where they fared no better than his adapted home country, being trounced 4-0. Maxi was something of a cult figure in the red shirt of Liverpool and was a vital source of goals; unfortunately he would also be indelibly associated with Rafa's final year and the arrival of Hodgson.
As would Sotirios Kyrgiakos, a £1 million signing from AEK Athens. The defender was honest, hardworking but painfully slow and made thirty appearances for Liverpool before being shipped out.
The Netherlands had two Liverpool players in their squad – Dirk Kuyt and Ryan Babel. The former's tournament was, like his Liverpool career, highly productive as he played all seven games scoring once and contributing three assists in Holland's march to the final. In the case of Babel, it was as underwhelming as his career at Anfield proved to be; he failed to make an appearance.
The Reds' cultured Danish centre back, Daniel Agger, played in all three group games as the Scandinavians finished third in their group behind Holland and Japan. His partner in the heart of Liverpool's defence, Martin Skrtel, had more joy as Slovakia reached the second round before being eliminated by Paraguay.
Spain, now European Champions, were finally casting off the burden of their underwhelming history. They won the 2010 competition with a side that featured Pepe Reina as back up goalkeeper and a half fit Fernando Torres who only started three games. Within a few months, El Nino would be a Chelsea player.
At the time of writing, the 2014 World Cup has just kicked off. Liverpool have eleven players at the tournament and six in the English squad alone – Gerrard, Johnson, Henderson, Sterling, Lambert and Sturridge. The others are Mignolet (Belgium), Reina (Spain), Toure (Ivory Coast), and Suarez and Coates (Uruguay).  Flanagan and Lucas are also on stand-by for their countries.
Many Kopites are ambivalent; do we wish England to have a good tournament and risk our players coming home from South America carrying a hangover? Are we proud that the side fashioned by Rodgers has such strong representation in the side or are we worried that they may be indoctrinated into Hodgson's mode of football and have lasting damage done to their development? Do we want to see our prized asset, Luis Suarez, light up the tournament only to worry about the lurking Real Madrid? Do we even want him to play, knowing he may be carrying a slight injury going into the competition? If, as has been argued above, Liverpool's history in the competition has been an underwhelming one, could it be that most Kopites would settle for more of the same? One thing is for sure; this may be a World Cup party but the real festivities won't begin until August.