Red Race: A New Bastion – out now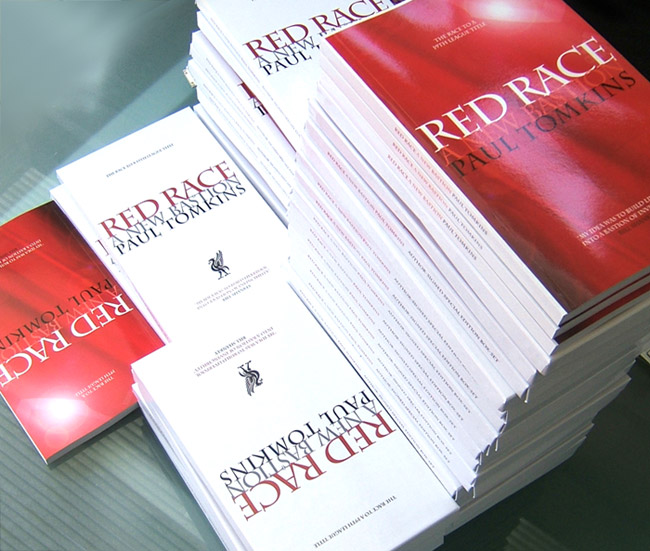 "Red Race: A New Bastion" has been released, and can be ordered below.
A review from David Gill, the great-nephew of Bill Shankly can be read here. A sample chapter can be read here.
Buy the special edition from me (postage added makes £14.99) using Amazon.co.uk

Red Race: A New Bastion includes:
• An in-depth analysis of the 2008/09 season, with both anecdotal and original statistical analysis of the entire Liverpool squad. How did the team perform with certain players in the side? whose absence was most keenly felt? who contributed most in the big games? and many more relevant questions are answered;
• A unique analysis of the wherewithal it takes to win the title in the Premiership era, with evaluations of all major title challengers, and the money they've spent, using the Relative Transfer System™ devised for Dynasty. Who has got the most league points in relation to the money they spent? –– looking at the entire Premiership in the 2008/09 season, and in particular at those challenging for honours over the past 17 years;
• A look at the controversial youth structure at Liverpool, combined with an examination of the average ages of every successful team in the modern era, to see if you really can win league titles with 'kids', and how the current squad fares by comparison;
• Ferguson vs Benítez: a look at the rivalry that intensified over the course of the season, as well as the similarities in the situations each faced in the early years of the job; leading to the inevitable look at Ferguson vs Dalglish, from when the United manager was in pretty much the same situation to his current Liverpool counterpart;
And much more. Beyond anything else, it is an examination of what the Reds have to do to land a 19th title in the near future.
Red Race: Fact Pact
Thank you all for your continued support. Buying my books helps me to continue to write about Liverpool Football Club.