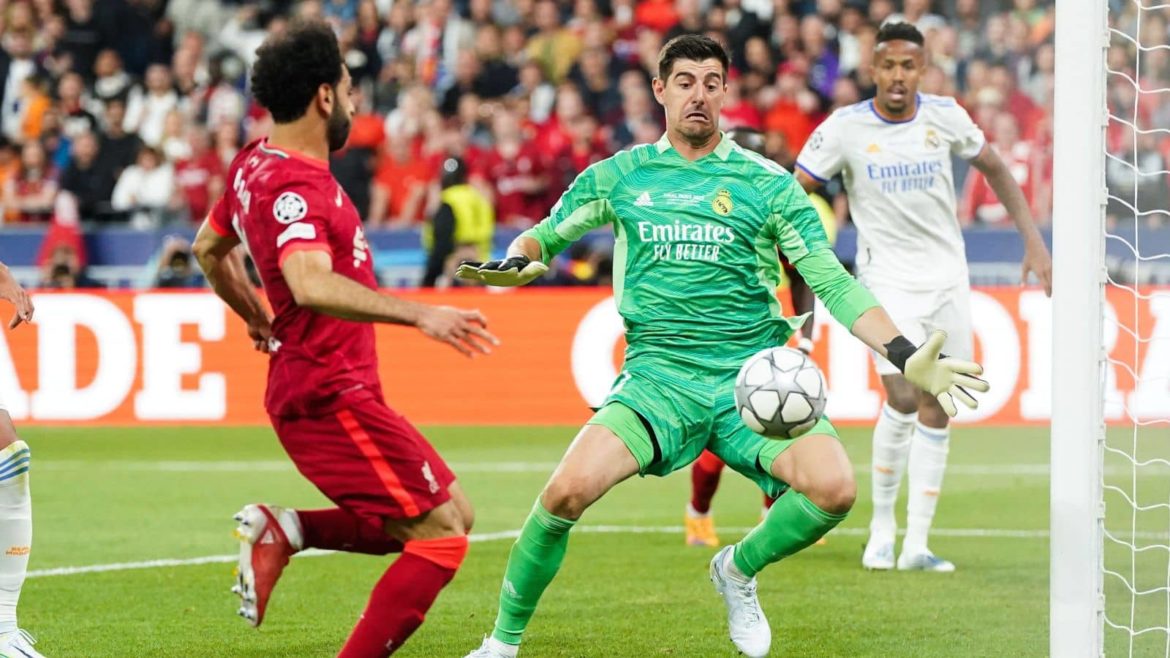 Paul Tomkins, Andrew Beasley, Daniel Rhodes, Chris Rowland and other TTT regulars will give their thoughts on the match for 24 hours after the game, and there's post-match statistics and videos too.
Post-Match Thoughts
Paul Tomkins
Before the game I lamented the times Mo Salah has six shots in game, and how sometimes there were never six half-chances, never six options to even consider shooting. I said I love him when he has six meaningful shots; six chances or half-chances. Last night he had six efforts on target, and bar the soft header, he was testing Thibaut Courtois to his 6'7″ limit. The only better player on the park than those two was arguably Ibrahima Konaté, albeit Salah and Courtois were busier.
As I noted on the site last night, all of Salah's efforts were there to be hit – all were snap shots from the right areas, and to my delight, I thought he'd scored yet again by going on his right-side (which he doesn't do nearly enough) and, defying belief, forcing the best of Courtois' saves.
As I noted elsewhere on the site at 1am, when dazed but restless:
Alisson: 0 saves. One goal kick.
Courtois: nine saves, 10 goal-kicks.
Liverpool had 24 efforts, and Madrid had one shot on target, one shot off target and one blocked shot. It was floodlight robbery.
Liverpool had enough efforts to win three finals, and while it's hard to get clear-cut ones against packed defences, the saves to deny Salah on his right foot, the near-post block by his knee, the early Salah flick into the bottom corner and the strong hand on Sadio Mané's first-half effort were all outstanding. You can't argue that Liverpool didn't do enough; they did more than enough.
Also, scoring is random. To not score in three finals is odd, but the xG was over 2.0 each time. The ball just didn't go in, as happens.
The team has scored 147 goals in a season suggests goals are not the problem, and many of them came in big games; seven came against Man City, a better team than Chelsea and Real Madrid. Nine came against Man United but, ah well.
Perhaps after 63 games there were some tired minds out there, and a few patched-up bodies, for sure, with the games coming just a bit too thick and fast. The relentless schedule of games since just before December, and the AFCON and World Cup qualifiers for the African strikers, made this a crazy 2022. Liverpool won 49 games this season, and lost four. Winning ten times as many games as you lose suggests zero problems, albeit you can always try to find ways to eke a bit more out.
I wrote before the game a eulogy to the brilliance of this team. Read it (link bel0w) if you want something to lift your spirits. We all need to decompress, but this great team isn't going anywhere, with the exception of one of two players, perhaps, who will be replaced.
You can also read about the TTTers at the match and the horrors they experienced getting into the stadium.
What follows below is some extra-special post-match roundups by the usual crew, who have written some truly superb pieces after each and every game this season.
My free article on the way to cope with a disappointing end to a magical season can be found here.
Andrew Beasley
2.03 vs 1.11. 3.59 against 0.68. 1.98 to 0.39. And finally, 2.12 plays 0.74.
63 games negotiated with just four defeats. If you haven't now guessed, the above figures are the expected goal scores for Liverpool's losses in 2021/22 in chronological order, taken from FiveThirtyEight and with the Reds' tally listed first.
In the league, it was arguably some of the draws which ultimately proved more fatal to the title charge. What really stings about last night is that a draw in 90 minutes was the bare minimum Liverpool deserved.
During the post-match debrief in the pub, my main thought was that for all that the Reds dominated the 2022 Champions League final, they didn't have a chance anywhere near as good as the one with which Real Madrid won the match.
Looking at the numbers this morning, that undoubtedly remains true. However, a brilliant article by Mark Taylor which I often refer to came to mind. He showed if one team has lots of low-grade chances but the other team has a couple of good ones, the latter is more likely to win. So I put the shot values from last night in to the simulator and here's what I found (with Liverpool in red and Real in blue).

The rest of this article is for subscribers only. Sign up for £5 a month.
[ttt-subscribe-article]